The Lost Films of Cinema's First Vamp
Theda Bara "the most beautifully wicked face in the world" made dozens of films that you'll never be able to watch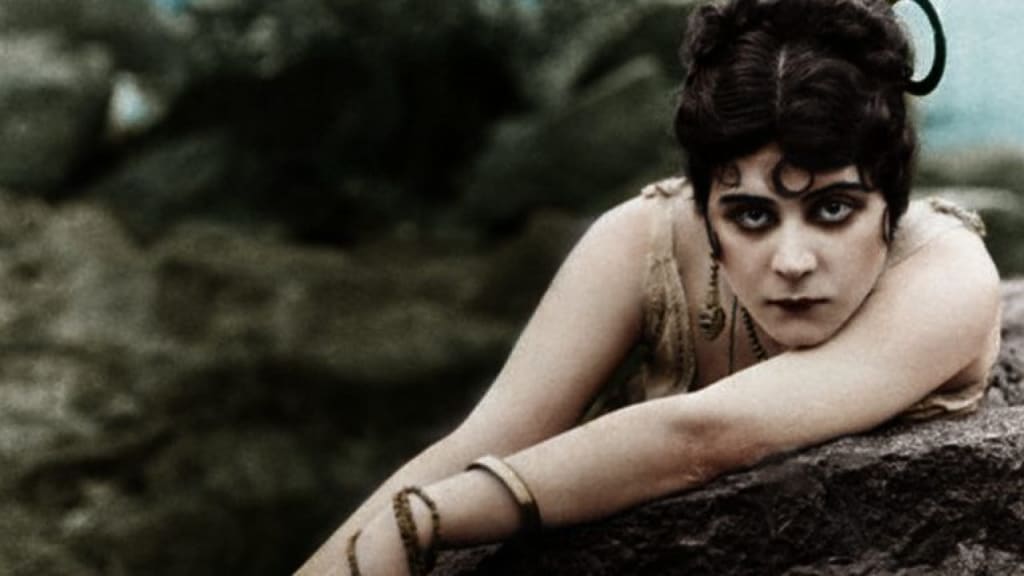 Theda Bara was an early movie star, who was wildly popular and prolific between 1915-1919, starring in 10 feature films in 1915 alone. She was called the first "Vamp" in cinema--meaning she tended to play characters that were exotic, erotic, and led men to their ruin. You will never get the chance to see most of her movies, as they were almost all destroyed in the 1937 Fox vault fire. See, early film was made of nitrocellulose, and it's hard to understate how flammable this nitrate film was. It could spontaneously combust and nitrate generates its own oxygen, so it can not be extinguished once it starts burning. Nitrate fires can keep burning underwater. Since the Fox vault wasn't ventilated, and decaying nitrate film generates flammable gas, the whole building was basically a bomb waiting to go off. Much of early cinema was destroyed that day, and this article will go through some of what was lost.
When talking about film's without seeing them, we run the risk of completely mischaracterizing them. One of the few Theda Bara films that survives is her breakout role, A Fool There Was. Synopsis of this movie talks about how Bara plays a woman of the vampire species--who uses her charms to seduce men, only to leave after ruining their lives. Except this film is about a millionaire who actively decides to go have a very public affair, no one made him do that. And one of the more interesting scenes from the film--a car chase through a crowded street--never gets mentioned.
Today Bara is remembered as a "Vamp" but in contemporary material, starting with A Fool There Was, she was called a straight up "vampire." Which is just such a mischaracterization of vampires and the characters she played. A vampire is an inhuman monster that overpowers victims and drains their lifeforce. Bara just played women who were like "Hey buddy, why don't you party with me?" It's such a demonization of women who aren't domestic or submissive. Lord, this article has turned into a You're Wrong About episode. Let's get to the list.
The Kreutzer Sonata (1915)
Bara's first lost film, a romantic drama based off a play based off a Leo Tolstoy novella.
The Clemenceau Case (1915)
Another romantic drama, based off a novel by Alexandre Dumas fils (not the good Dumas, his son)
The Devil's Daughter (1915)
This movie had almost the exact same plot of A Fool There Was-- Bara, seduces a married man and leads him to ruin. though she supposedly "suffers a fearful end" in this story. The film faced heavy censorship across the country since it included things like Bara "half-clothed" on the beach, of which we have a still: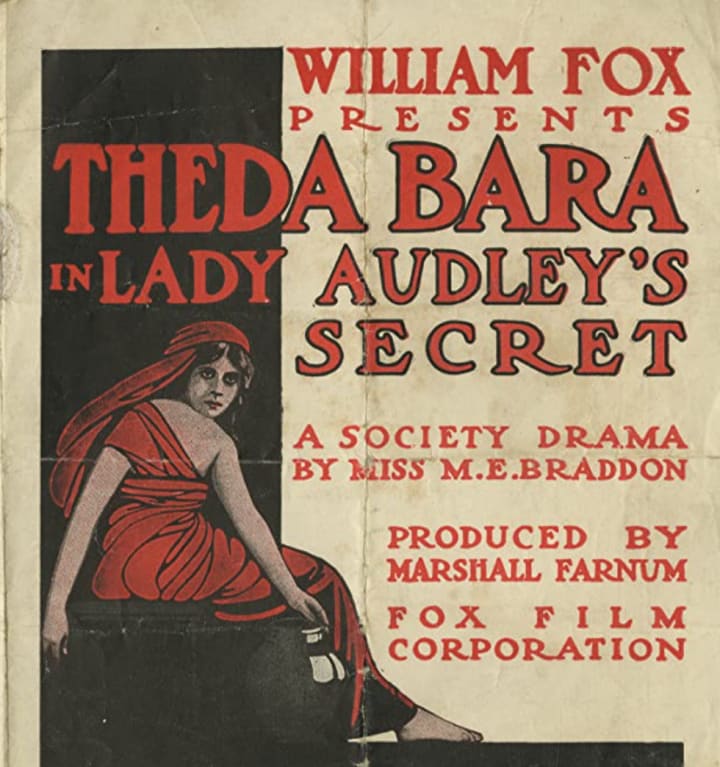 Lady Audley's Secret (1915)
Wikipedia says this one was less popular because Bara wasn't playing a vampire in this one, but promotional material for the film refer to her as "the vampire woman." Her character is a murderous bigamist.
The Two Orphans (1915)
A melodrama that takes place during the French Revolution.
Sin (1915)
It's from promotional material for the movie Sin that we get one of the more memorable images of Bara, pulling her hair up. This film was about Bara being in a love triangle with most of the sinning being done by men.
Carmen (1915)
We got some incredible hyperbole about this film "Supreme beyond dispute, superbly solitary in conceded pre-eminence. Gorgeously gigantic gem masterpiece photoplay accomplishment. Imitation preposterous and futile."
The Galley Slave (1915)
It seems this movie is more about an inheritance and a disastrously failed marriage, I can't tell if there are any ships or slavery involved at all.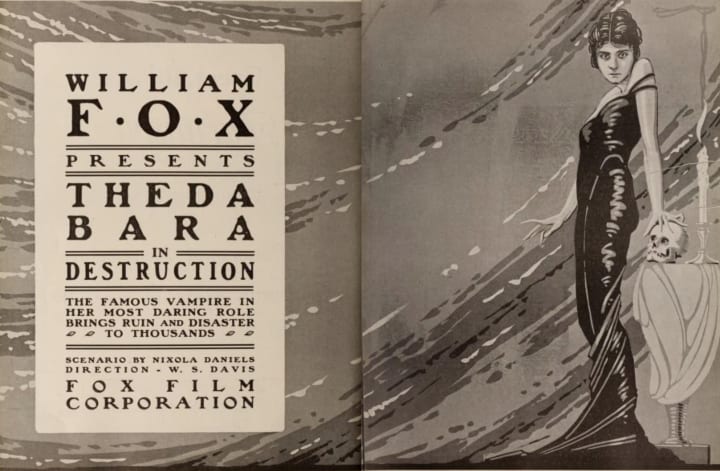 Destruction (1915)
Also about an inheritance and a disastrously failed marriage, but with Bara more overtly villainous.
The Serpent (1916)
This one has the most eyebrow raising plot. A wronged woman seduces a son and father in a elaborate revenge plot, set in a war torn Russia.
Gold and the Woman (1916)
Bara trying to con another man out of his fortune, this time in Mexico.
The Eternal Sapho (1916)
In this one Bara's scheme to marry rich fails and leads to her downward spiral.
Under Two Flags (1916)
Bara isn't a vamp at all in this one, but an earnest woman sacrificed for the sake of a British solider. Her character name is "Cigarette."
Her Double Life (1916)
Bara plays a woman on the run from multiple sexual predators who takes on the identity of a woman killed in WWI. Except twist, that woman turns out to still be alive.
Romeo and Juliet (1916)
Bara played Juliet. She would later complain that people assumed she would be doing some kind of vampire version of Juliet.
The Vixen (1916)
Classic Bara, scheming to get marry rich, this time in the context of a naval family. It still always catches me off guard when I see a swastika on pre-Nazi material, the Nazis really ruined that one for everyone.
The Darling of Paris (1917)
A take on The Hunchback of Notre Dame with Esmeralda (Bara) as the main character. I'm going to spoil the ending of this film you can't see: she ends up with Quasimodo.
The Tiger Woman (1917)
This movie seems like it has big squeal energy, as it has Bara chewing up and spiting out one man after another across the world.
Her Greatest Love (1917)
"A picturization showing Theda Bara in a role depicting a girl's love sacrificed for a mother's ambition..." This description had me scratching my head as Bara would be old to play the daughter but young to play the mother.
Heart and Soul (1917)
"A photodrama replete with thrilling incidents-showing the incomparable Theda Bara in a staring role." I really want to see this one just to know what a "patriotic thrill" would be.
Camille (1917)
Though Bara had the title role, this film focus on her suitor. A non-vampire role.
Cleopatra (1917)
The most notable of the lost films. A big budget take on Shakespeare's Anthony and Cleopatra which was a huge hit. There was a whole movie that tried to reproduce it, Lost Cleopatra (2017) but I can't see where that movie is available. A few seconds of Cleopatra survives:
The Rose of Blood (1917)
Bara vamping through Russia. Spurned by the prince, she joins revolutionaries and eventually murders him.
Madame Du Barry (1917)
Bara lives it up as the mistress to the king of France until she gets swept up in the revolution.
The Forbidden Path (1918)
Bara starts out innocent but men take advantage of her till she turns to vampire mode.
The Soul of Buddha (1918)
There are some disparate descriptions of Bara's character in this film. One describes her as "a Javanese priestess" another as " a half caste Indian girl." The film, written by Bara, seems to include a lot of mystical dancing and a convoluted plot.
Under the Yoke (1918)
A film where American colonizers are the heroes and native Filipinos are the villains. Oofff.
Salomé (1918)
The second most notable lost film, loosely based off the second most notorious execution in Christianity.
When a Woman Sins (1918)
Bara starts off innocent, is scorn by men, makes a hard turn to vamp, and eventually is redeemed. Though I don't know if I'd call marrying a Episcopal priest a happy ending.
The She-Devil (1918)
Another subtly titled film. Bara is a vamp dancer whom every man desires, except the one she wants...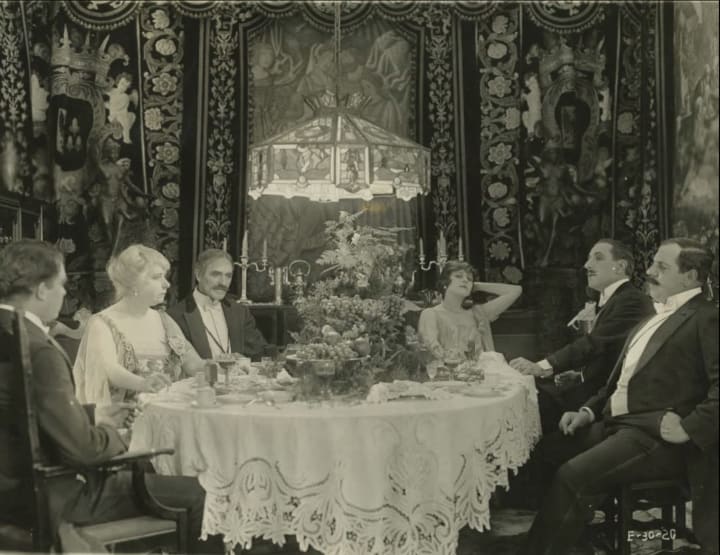 The Light (1919)
Bara plays "the wickedest woman in Paris" because she lives large instead of joining the war effort.
When Men Desire (1919)
Bara is an American in Germany when war is declared. She needs to get out post haste as German officers in war time are permitted to have any woman that they fancy.
The Siren's Song (1919)
The plot revolves around the supreme singing voice of peasant girl (Bara). Which is an odd choice for a silent film.
A Woman there Was (1919)
Bara portrays a sweet pacific island princess--soooo not her best role.
Kathleen Mavourneen (1919)
Bara plays an innocent Irish girl who just wants to marry a humble dirt farmer. Bara would write an article about how pleased she was to do Kathleen, a very non-vamp role, and that she would not be doing vamp roles going forward. In fact this would be her career winding down. People didn't want to see her in non-vamp roles. Additionally, Bara got started relatively late in cinema, now in her mid-thirties she was past the point of being able to pivot to playing Ingénue (a young woman who is endearingly innocent).
La Belle Russe (1919)
Bara seems to be easing her transition here by playing twins, one vamp and one Ingénue.
Lure of Ambition (1919)
Bara plays another good girl scorned and turned vamp. This would be the last film of her heyday. She would marry Charles Brabin, who directed many of her films, in 1921. She would attempt a comeback in 1925 with The Unchastened Woman, one of her few films that is not lost, but that would be her last feature film.
Yet these films are not hopelessly lost. Bara's film East Lynne (1916) was thought lost but then discovered in 1971. Her first ever appearance on film, The Stain (1914), where she appears under her birthname Theodosia Goodman, was rediscovered in the 1990's. Hell, footage from Salomé was discovered last month.
celebrities
About the author
Served in the Peace Corps in Ukraine, 2005-07.
Viscount of Hyrkania and private cartographer to the house of Beifong.
Reader insights
Be the first to share your insights about this piece.
Add your insights