The Little Mermaid (2023) ... why?
Disney studios have disappointed us in the past, but this one takes the cake... and the film hasn't even been released yet.

The Little Mermaid (2023)
The Little Mermaid (2023) is set for theatrical release on May 26th in the US. In the run-up to this new Disney remake, the studios released a teaser trailer back in September, and have now released the highly anticipated full-length trailer just a few days ago. As usual, people have their issues with it. Myself included. Based on the fact that I have not seen the full film I cannot comment on it as a whole, or the acting as such, but I do not need to see the whole film to know why I have an issue with it.
When the teaser was released to the public, the biggest controversy surrounding it was the casting of a black actress (Halle Bailey) to play Ariel, who was white in the original 1989 Disney cartoon. People came up with many reasons, most ridiculous, as to why she shouldn't be played by a black actress. In my opinion that is the only thing the studio has done right with this remake of a Disney classic.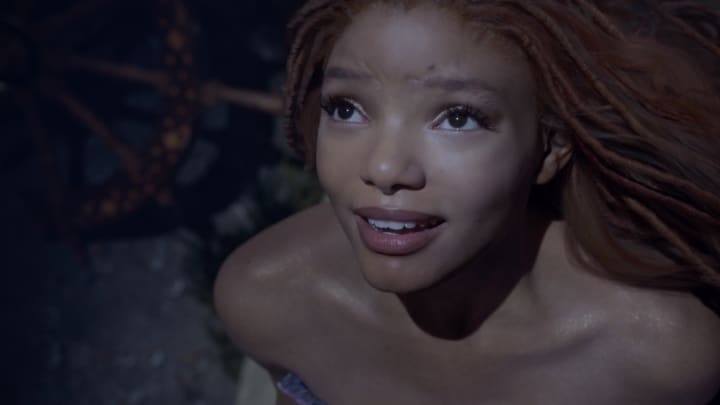 The point of these remakes - other than to make a lot of money - is to adapt these classic films for a modern audience, for the kids of today. We know, as a society, that the representation of people of colour in film and television has been incredibly low, Disney studios being one of the main perpetrators in the past. The first Disney princess of colour was Jasmine in 1992 from the film Aladdin. The first black Disney princess was not created until 2009 in The Princess and the Frog, Tiana. In recent years, Disney has been far more inclusive with their films and the characters they create, for example, Moana (2016), Coco (2017), and Encanto (2021), and it seems apparent that they will continue to do so.
Not long after the teaser trailer's release, a video began circulating the internet, which showed the reactions of little girls seeing an Ariel that looked just like them, and it was deeply heartwarming.
You can watch it here > Black Kids' Heartwarming Reactions to 'The Little Mermaid'
Unfortunately, my issue is with everything else. Sorry! The CGI is nothing short of terrifying.
What is this?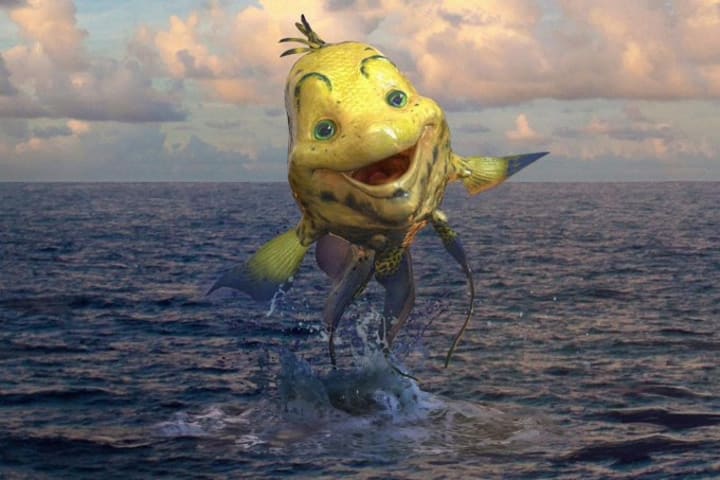 This would have given me nightmares as a kid! We know how good animation and special effects can be, and Disney studios have all the money in the world. So what gives?
Who signed off on this?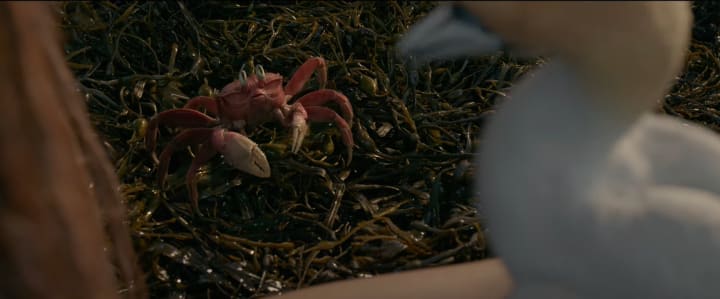 The teaser, being pretty minimal in what they chose to show, looked very good, quite dark, and more realistic - aside from Ariel's tail. Then the official trailer came out and suddenly everything was bright and colourful, almost cartoon-like when it's supposed to be a live-action version of the cartoon.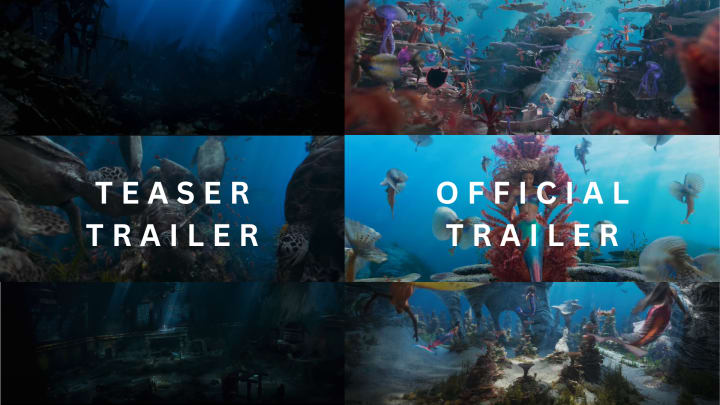 I understand that a lot of visual effects have to go into a film like this considering there's singing and dancing and talking underwater, but…
If an Australian TV show like H2O: Just Add Water (2006-2010) - with a severely lower budget than Disney has - can make a mermaid tail look as real as this…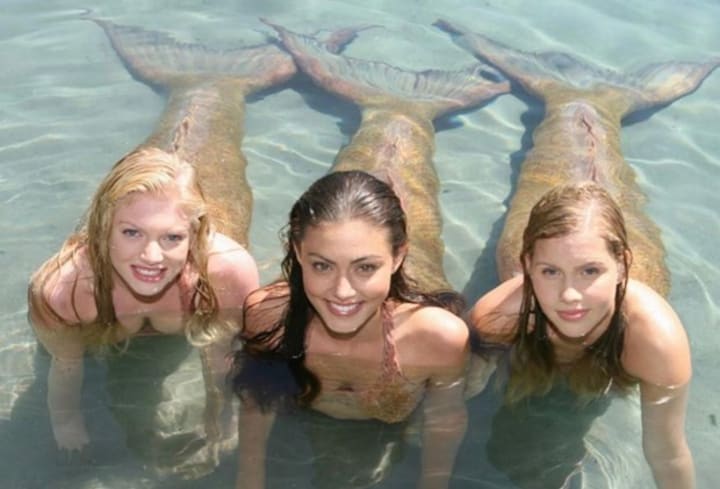 Then why can't Disney? Instead, they gave us a completely CGI shiny blue/purple tail. I know Ariel's tail is blue/green, but that's not the issue, it's the fact that we have a human body on a basically cartoon tail, and not just the tail but also the top that is supposed to be shells covering her breasts, is completely CGI.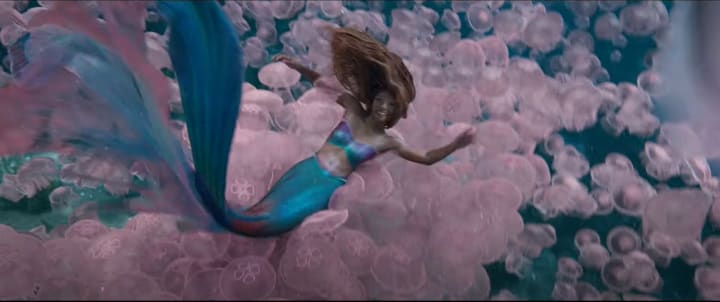 Also, I might just be nit-picking at this point, but she has a full face of makeup on… underwater. Look at this eye makeup. That is glittering rose gold eyeshadow and fake lashes.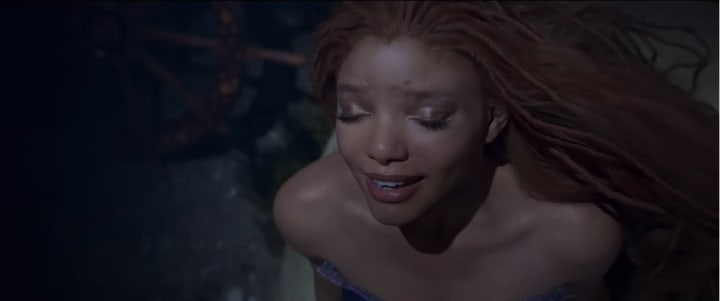 My one hope for this film is that Rob Marshall is directing it. He directed Chicago (2002), Into the Woods (2014), Mary Poppins Returns (2018), and my personal favourite, Rodger and Hammerstein's Cinderella (1997) starring Brandy as Cinderella and Whitney Housten as the fairy godmother.
However, I think it will be pretty difficult to get past that CGI. People from all over the world had different reactions to the trailer, some excited, some feeling very nostalgic, but a lot of the feedback on the trailer was predominantly to do with the bad CGI, with some people describing it as 'cheap' or 'undercooked', and some even comparing it to the universal flop that was Cats (2019).
It's no secret that Disney has unlimited resources and should be making films with a higher technical quality, but it seems like they are more interested in their 5-year plan (probably longer) of remakes, sequels, prequels and spin-offs. I don't think they care anymore about the quality of the films they are making, they are just interested in pumping out mediocre cash-grab films.
Honestly, I would much rather see a film based on the original fairy tale that was written by Hans Christian Anderson. The beginning of the story stays relatively the same as The Little Mermaid story we grew up watching - the mermaid sees the prince on his ship and falls in love with him at first sight, and rescues him when his ship goes down in a horrible storm. She is told that humans have much shorter life spans than mermaids but that they have an eternal soul that lives on in heaven. The mermaid longs to be with her prince and to have an eternal soul, so she visits the Sea Witch and makes a deal with her by exchanging her beautiful voice for legs.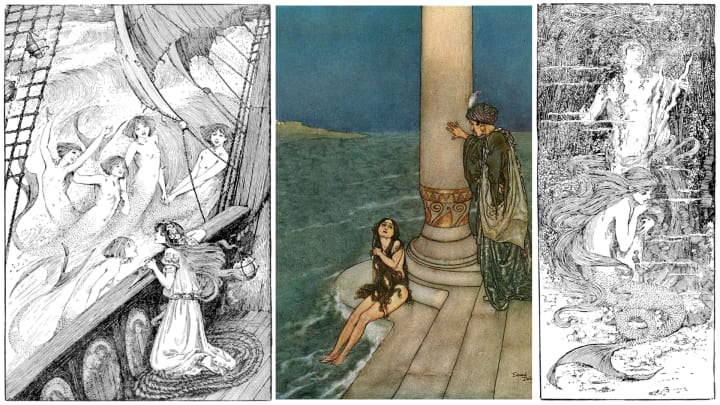 However the transformation causes excruciating pain, like a knife through her chest, and after the transformation is complete, every step she takes will feel like she is walking on knives. In the end, the Prince chooses to marry the princess from the neighbouring kingdom, who he believes is the one who saved him from the shipwreck. In a last attempt for the little mermaid's life, her sisters bring her a dagger that they got from the Sea Witch, in exchange for their hair. They tell her that if she kills the prince with the dagger she can become a mermaid again, and live. However, the mermaid says that she cannot kill him because she still loves him, and instead throws herself off the ship and dissolves into sea foam.
However, instead of ceasing to exist, she becomes a spirit. Because of her selflessness, she is given the opportunity to earn her soul by doing good deeds for 300 years, and will one day end up in heaven.
This story would never be made by Disney obviously, and we wouldn't want it to be. I think adapting this story would be much better suited to an independent film company, or perhaps A24. I would definitely watch it.
If you haven't seen the teaser, or official trailer for The Little Mermaid (2023) you can see them here in the links below:
Teaser Trailer The Little Mermaid | Official Teaser Trailer
Official Trailer The Little Mermaid | Official Trailer
About the Creator
I am a Scottish writer and filmmaker who loves to write about films, TV shows, and literature!
Reader insights
Be the first to share your insights about this piece.
Add your insights