The Law According to Lidia Poet
It's Woman Crush Wednesday (WCW) and the final one for the month of March, which just so happens to be National Women's Month! I meant to write something up for my favorite women of time (and in media) all month, but as per usual, fell quickly behind my own deadlines. In any case, I figured why not write about this amazing gem of a show that I just discovered last week to at least help finish the month off appropriately.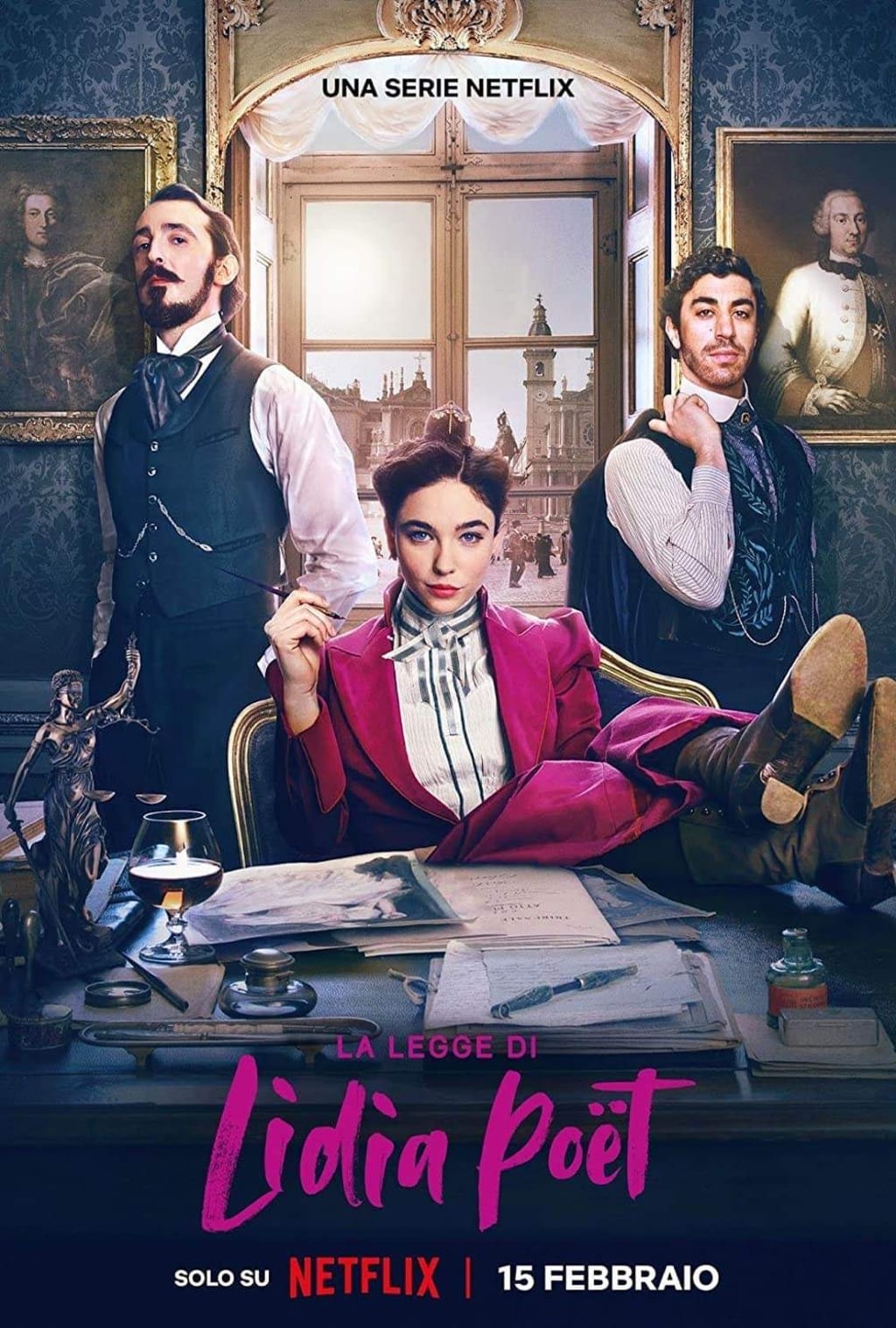 *A promotional image taken straight from Google images.*
I should preface that this show is not made for CHILDREN in any capacity. So basically, it's rated TV-MA for a reason. What might seem like a fun Enola Holmes adventure is quickly brought to a screeching halt within the first ten minutes of the show. I'm not harping on it. I find that while I loved Enola Holmes (which is also highly recommended if you are into female heroines and want to watch something suitable for the whole family) I did find this more adult version of the mystery thriller a bit more engaging for my own personal interests. However, for all the reasons I have stated in appreciation of Enola Holmes, I cannot recommend both movies enough, especially if you have younger children. They're great movies!
However, if you are interested in something a bit more "adult-centered" with an independent and strong female lead, then I definitely recommend this Italian masterpiece. The Law According to Lidia Poet is a newish Netflix show (literally came out last month if I recall correctly) based "loosely" on a real Italian heroine and hallmark of law practices for females in Italy of the late nineteenth and twentieth century.
Now, I have to say loosely, because much like The Great (also highly recommended) the show centers on Lidia Poet as the main character and takes small aspects of her life to create a cinematically interesting and encompassing show. I read quite a lot of reviews, since finishing the show, mostly giving the show low ratings because of certain liberties bordering fact/fiction that take place. And while I have no doubt that the real life of Lidia Poet is extremely fascinating and definitely worth being told, there's other ways to get "said" information. Thus, I think that's why I find this recreation to be worth the time and effort of watching it even more if you're someone who, like me, enjoys a good historical fiction piece.
For example, I had never heard of this woman until I'm late night scrolling on Netflix at like midnight on a week night, as you do. I had never even heard of this show, but Netflix recommended it to me, and I read the description and thought, why not? AND I WAS NOT DISPLEASED. I was hooked—line and sinker—by the first half of the first episode.
In fact, I was so hooked. I stopped watching, went to sleep, and while eating dinner the next evening with my husband, I went back to the first episode and asked his opinion. He, too, thought the show was done well and we watched the other five episodes within two days. So, let that be a testament to how engaging the content is. Plus, it's six episodes that are actually less than an hour long a piece (they're like 45 minutes long). So, easily watchable in like a week.
And in my typical, hyper-fixation, fashion I started researching Lidia Poet's life more after I finished the show and learned some pretty cool stuff about this legendary female baddie. In fact, I'm a little bit sad that all biographical information related to her is in Italian because, like, I can't read Italian. Who knows? Is this the final piece of motivation I need to learn the beautiful Italian language? I would say yeah, but then my hyper-fixation will change over to something else after about a week, so I'll be basically back at square one.
Now back to the show, so while I came across a lot of negative reviews from a lot of people who got angry after the first episode and then decided to write a long article complaining that the show strayed too far from factual events, used sex to sell the show, and didn't like the modern music. I thought the music was amazing just to clarify. I, also, read a lot of equally amazing reviews discussing how great the casting for the show is and how stunning and beautiful the setting along with the costume design is, as well. So, I'm here to reiterate that the cast, setting, and clothes are all S-tier! Everything Lidia Poet wears is beautiful! Like she's wearing dragonflies and beetles on her ears and neck! How can you not like her?!? The actress, Matilda De Angelis, who I had never come across until now, being unfamiliar with Italian cinema, does an excellent job at portraying the very essence of this female legend. She shows Lidia Poet to be this phenomenally high spirited and stubborn woman, who is also, completely sensitive and vulnerable to her own emotions and the heartache of others in every facet.
I immediately felt that touch of sympathy and respect for a character that I could see myself in. And that's the true beauty of being able to blend the seemingly separate lives of historical figures with a modern audience. Women, all over, can sympathize and understand the obstacles that Lidia Poet faces throughout the show and the chance of watching her succeed and get ahead in this vastly male dominated world keeps all of us engaged and desperately hoping for more.
Now, I've blathered on for too long, but I hope I was able to at least scratch the surface of this amazing show in order to peak some of the audience's interest. So, if I did, please give the show a chance and come back and tell me what you thought! And I'll end by also stating that if you like the lawyer aspect of the show and you want something a bit more family friendly with a strong female lead still, I recommend The Extraordinary Attorney Woo, which is a Korean masterpiece and a bit longer than Lidia Poet at this juncture. Both are one season long though with hopefully more to come, but there you go.
Here's the small list of female baddies in shows/movies I like that I've mentioned throughout this essay:
1. The Law According to Lidia Poet (Netflix)
2. Enola Holmes — both movies are good! (Netflix)
3. The Great (Hulu)
4. The Extraordinary Attorney Woo (Netflix)
About the Creator
Avid Sims fanatic, sometimes streamer over at twitch.tv/everybodysims, who loves a good love story and poetry that speaks to the romantic in her <3.
Reader insights
Be the first to share your insights about this piece.
Add your insights