The Invisible Life of Addie LaRue by V. E. Schwab
A Book Review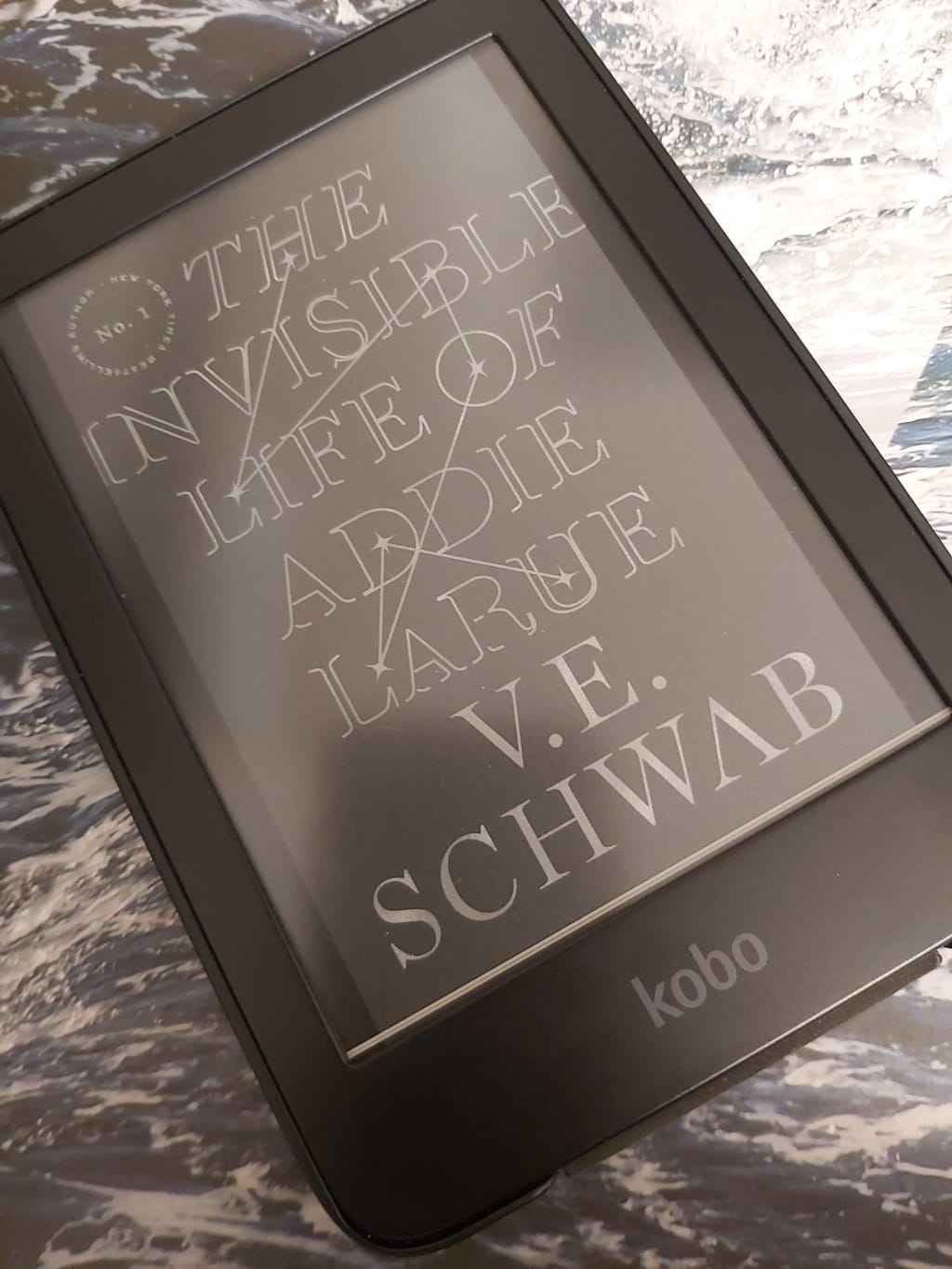 The Invisible Life of Addie LaRue is a book that carries a deep undercurrent of sadness. There are moments of vibrancy, moments where Addie's love for life and art shine beautiful and bright, but they are just that, moments. It is a book of a life lived too long and not long enough. A life that, while never remembered, is imprinted on many ideas from many artists.
I am a fan of all of the books I have read so far by V. E Schwab. I find her stories fascinating, I enjoy her characters, and I love the worlds she builds. However, The Invisible Life of Addie LaRue feels like a very different book from the others I have read by Schwab. The writing in this book has a particular, artistic flair to it. When reading, the feelings and artistic beauty of the events in the book shine through more than the actual events themselves. It is a book more interested in detailing the internal thoughts and struggles of the characters than anything else. This style of writing lends to a very different reading experience; the reader is left to navigate the ebb and flow of the mind of an artist through different times and trials.
Addie LaRue is wild and vibrant. She is an artistic girl who was born in Villon-sur-Sarthe, a small village along the bank of the Sarthe River. It is a closed minded town steeped in its traditions; it is never big enough to foster the ever curious mind of Addie LaRue. It is Addie's refusal to spend her life the way others have planned for her, a blink and it will be gone life, that sends her into the forest on the eve of her wedding. She pleads with the old gods as she long has, asking for freedom, for more time, for an escape from her fate. It is only as the sun dips below the horizon and darkness floods the forest that her pleas to the old gods are finally heard and answered. And thus begins the immortal, forgotten life of Addie LaRue. Her body does not age, does not die, but she can be wounded, can feel pain and emotion. She cannot say her name, cannot make people remember her. She is left to become a ghost, drifting through the crowd. Addie flees her village and sets out to explore the world. To experience life and all the wonder and pain that comes with it. For all the sadness and the anger that Addie experiences, she loves her life. Loves the new things that she sees. Loves the time she spends with people though they cannot remember her. Through it all she dances her never ending dance with the darkness, the god who gave her this curse, who has taken the name and face of the lover she once imagined for herself.
Addie's interactions with other characters are a fascinating thing. Addie grows fearless in her dealings with other people; why be afraid when they will not remember as soon as they cannot see her? She has relationships with others. She shares the evenings and nights, but leaves in the morning before she has to see them struggle to remember why there is a stranger in their bed. When she meets Henry, her pattern changes. Henry can remember her. Though they are opposites in many ways, they fit together. They are two pieces of something broken that manage to slide together and stay together. They find reprieve from their curses in each other and it is beautiful in its own way.
I have read nothing like The Invisible Life of Addie LaRue before. It is a book filled with artistic flair and deep melancholy. I highly recommend this book, but I would caution readers that there are many heavy subjects prevalent throughout it.