The Hidden Symbolism of Owls in Hieronymus Bosch's Paintings
Bosch's fixation with owls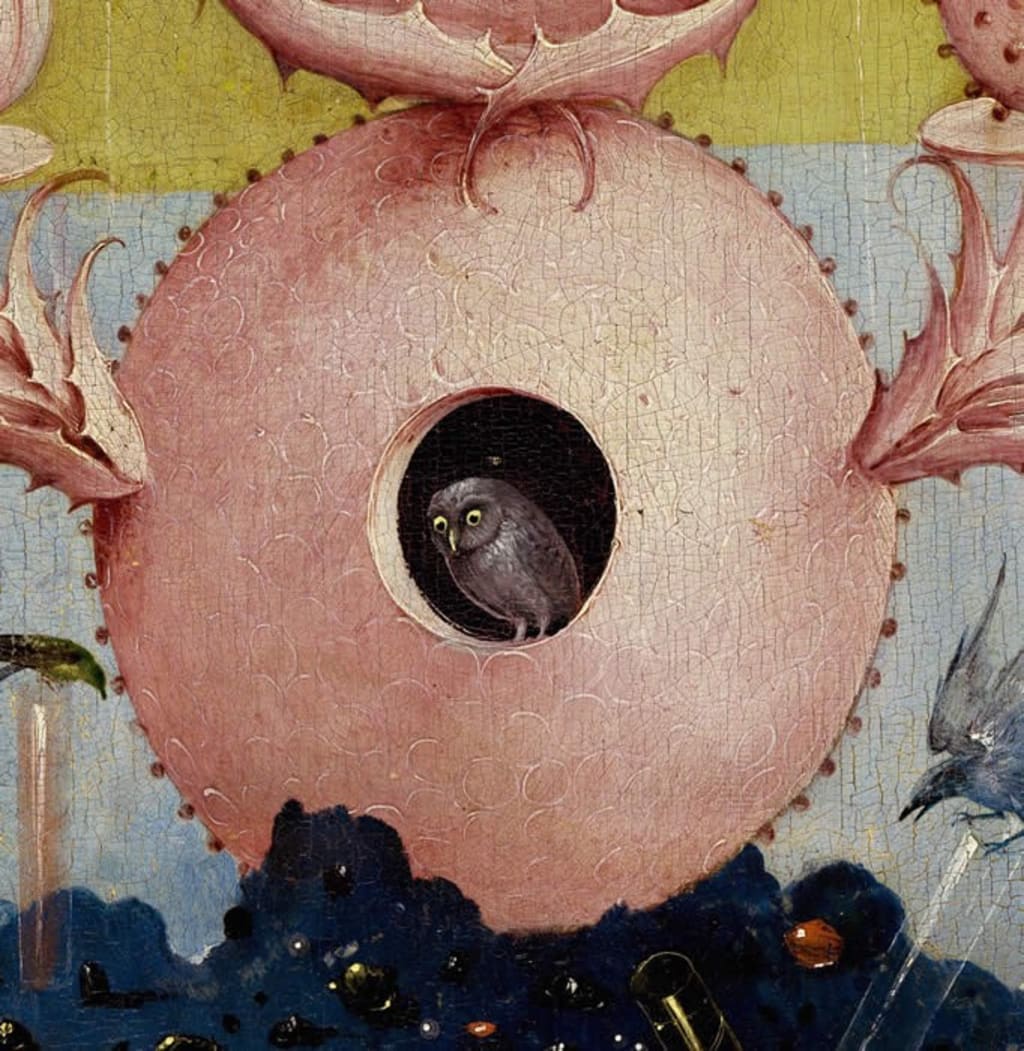 Pygmy Owl in the Left Panel of The Garden of Earthly Delights
Hieronymus Bosch was a precursor to surrealism.
He created this bizarre world of fantastical creatures and alienated humans when other artists were busy commissioning biblical figures and mythology.
Bosch wisely satiated his own curiosity while pleasing his patrons.
Typical of Bosch, every element in Bosch's paintings are imbued with Christian symbolism.
His fixation with owls needs little to no introduction. Tiny, exaggerated, or hidden- you name it, and you would find multiple types of owls in Bosch's paintings.
The only difference was that when owls were considered sinister and ill omens in the medieval age, Bosch believed these nocturnal creatures to be wise. He used owls as a specific indicator for his wisdom paintings.
Beneath his bizarre symbolism, there was this esoteric teaching -
Owls could see in the dark when all others were blind.
Here I present a few of his famous paintings filled with tiny, oversized, or hidden owls.
Let's see if you can spot some.
---
1. The Garden of Earthly Delights (1503–1515)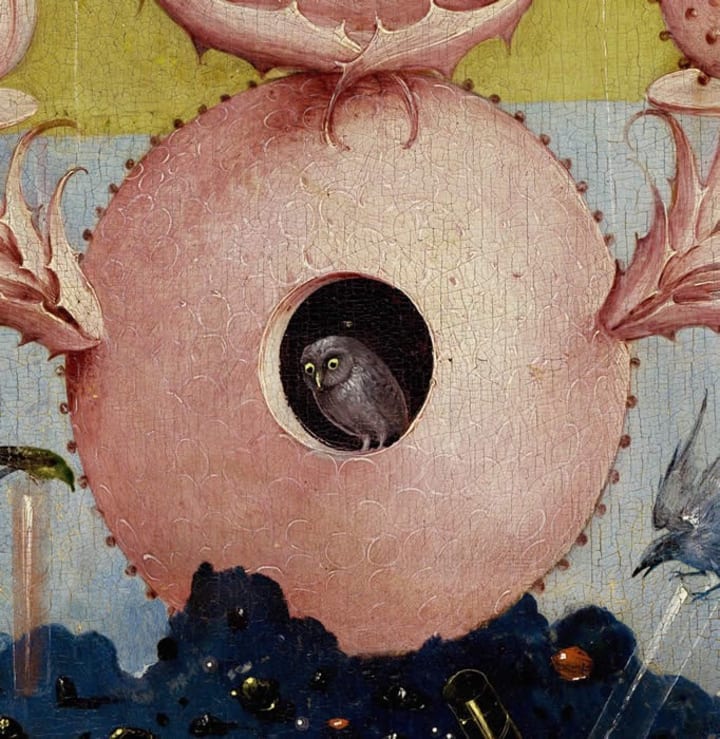 This painting has more owls than you can catch at first glance.
To be precise, 6 owls are present in The Garden of Earthly Delights. One of them is almost invisible.
The tiny pygmy owl sneaks a peek through the Fountain of Paradise.
Although owls were considered evil in traditional folklore, Louis Charbonneau-Lassay's Bestiary of Christ states that pygmy owls accompanied the late traveler along country roads.
He says, "In the bird that sees clearly in the dark when all others are blind, and when it is hunted has the good sense and the caution to remain hidden all day, the Greeks saw a symbol in which were united the three qualities of wisdom, knowledge, and Prudence."
The oversized owls present in the center panel gaze directly at the viewer. What does it mean?
Maybe Bosch reminds us of the forgotten human wisdom.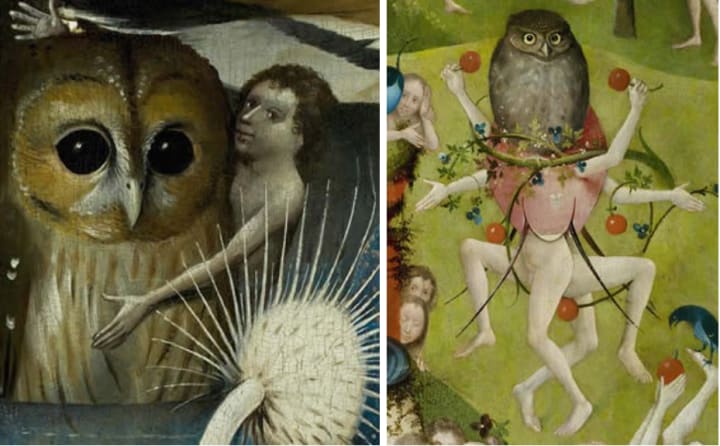 ---
2. Ecce Homo (1480)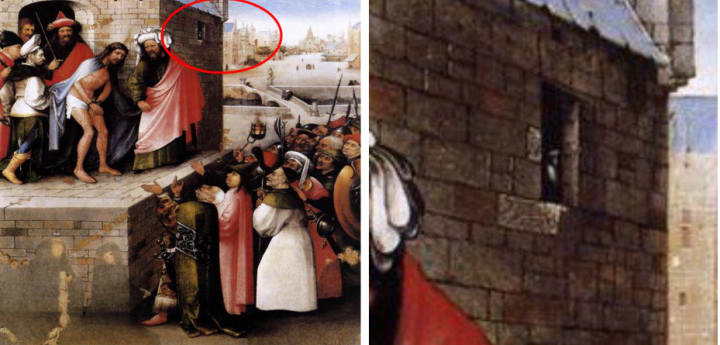 When Jesus parades in front of an angry mob in Jerusalem just before his crucifixion, an owl lurks in the darkest eaves, nearly invisible.
In usual medieval iconography, this would mean an owl to be evil, but Bosch's imaginative mind featured an owl to depict human folly.
---
3. The Wayfarer (1500)
Can you spot the diminutive pygmy owl in The Wayfarer?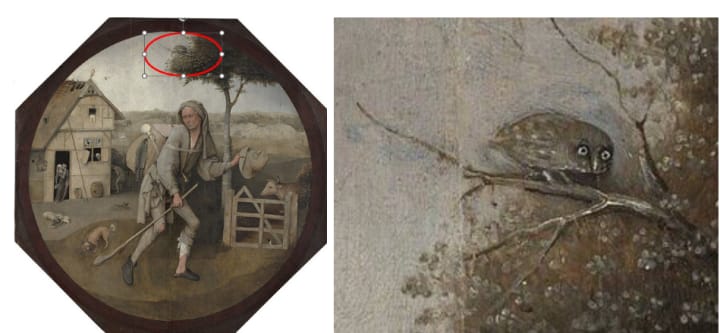 ---
4. The Haywain Triptych (1516)

The Haywain triptych follows a similar narrative to The Garden of Earthly Delights.
Adam and Eve are present in the Garden of Expulsion. The center panel has a recurring theme of fantastical creatures, alienated humans and nuns.
The chaos and an infinite number of characters scream through the canvas. A large wagon of hay is surrounded by fools engaged in various sins.
The tiny owl perches behind them and mocks their folly.
---
5. Triptych of the Temptation of St. Anthony (1501)

The barn owls were represented in several renaissance paintings.
Although their presence is marginalized in Bosch's paintings, their symbolism is not.
---
6. Ship of Fools (1490–1500)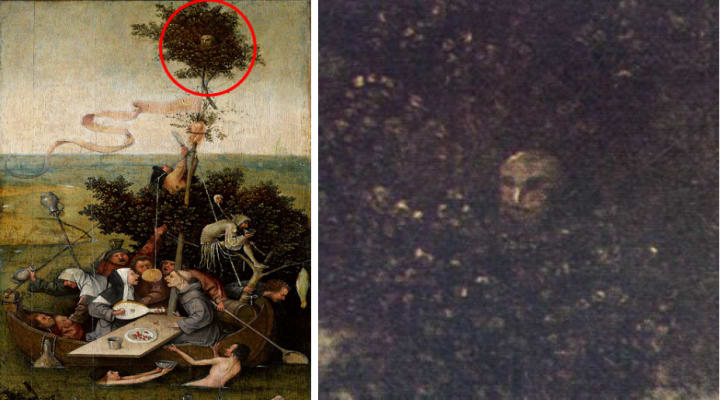 A group of people is engaged in one of the deadly sins - gluttony. The nun playing the flute is a direct attack on the church.
An invisible owl perches on a branch of a tree and examines human vices.
---
An owl was a signature motif in Bosch's paintings. It was like when the owl was missing in his paintings; something could be wrong.
What do you think about Bosch's owls?
---
References:
1. http://www.esotericbosch.com/owls/boschsowls.htm
2. Hieronymus Bosch's Creepy Owls
---
Here's my latest eBook 10 Paintings to See Before You Die.
For a limited time, I am running a promotion to give it away for 50% off. Please leave a comment for the discount coupon.
About the Creator
Art enthusiast. I engage with art at a deep level. I also share insights about entrepreneurship, founders & nascent technologies.
https://linktr.ee/kamnakirti
Reader insights
Nice work
Very well written. Keep up the good work!
Top insights
Easy to read and follow

Well-structured & engaging content

Expert insights and opinions

Arguments were carefully researched and presented

Eye opening

Niche topic & fresh perspectives
Add your insights