The First Poet To Win America's Got Talent
"The next morning, I pulled up YouTube and found one of my favorite poets of all time."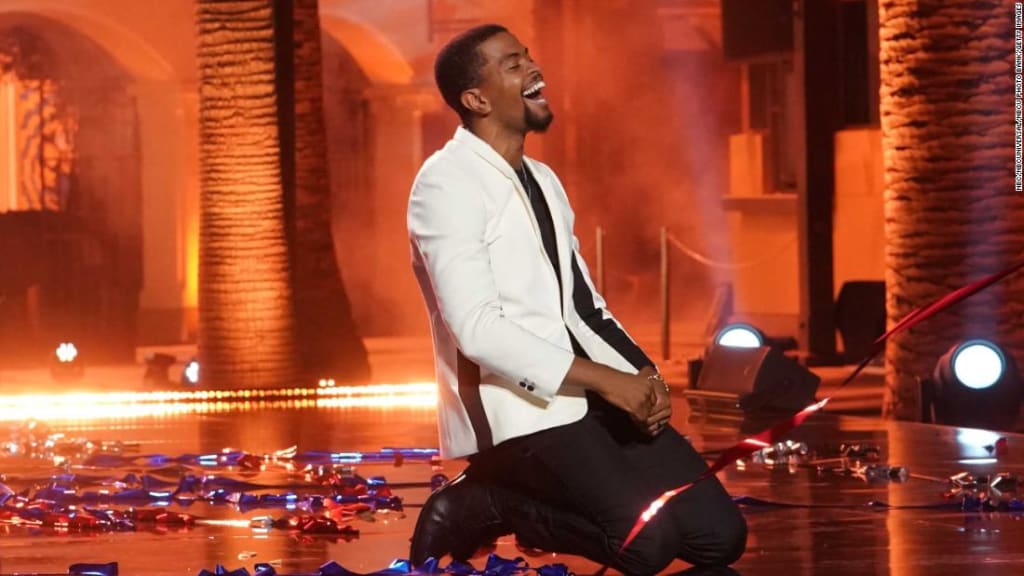 Earlier this week, I met with my Grandparents to get groceries and to help with their own shopping. I was struggling, in that moment, to stay focused because I knew I was behind on writing a story this week and still had no idea what to write.
While we were shopping, my Grandma stopped me in the middle of an aisle and told me there's something she wants to talk about before she forgets to mention it later.
Of course, I was sweating and worried to hear what she had to say. She goes on to tell me that there's a poet she thought I should check out who won the most recent season of America's Got Talent. She tells me that she was really moved by his poetry and that she thought I would like to hear him perform.
Internally, my monologue was jealous and hoping that one day someone's Grandma would tell her Grandson to read my poetry. Nevertheless, I shook my head and told her I would try to find him on YouTube.
That evening, I received a text: "The name of the poet I mentioned to you is Brandon Leake". The next morning, I pulled up YouTube and found one of my favorite poets of all time.
Brandon Leake is a spoken word poet from Stockton, California who, for a second time, auditioned to be on Americas Got Talent in 2020 and later went on to win the 15th season.
Before coming to the show, Brandon had worked as a high school English teacher and a counselor for a community college while also working as a motivational speaker and found the organization Called to Move – an artistry initiative that helps youth through poetry.
Leake has also released full albums of poetry, his debut album being titled In My Thoughts. Albums like this allowed for him to travel from Los Angeles to New York and everywhere in between so that he could perform his pieces, hold poetry workshops, and even attend conferences as a keynote speaker.
The morning that I looked up "Brandon Leake AGT", I came across his first performance on America's Got Talent in 2020. It's pretty obvious that the judges weren't really expecting anything spectacular from a spoken word poet, however, he moved them all and clearly grabbed ahold of their emotions with his poem about his sister who passed away when they were young. Even Simon Cowell was touched by his performance (and we all know how hard that is).
The poem is exceptional and continues to give me goose bumps every time I listen to it. His words strip everything else away and pull you into the poem where the only thing you can do is sit, listen, and feel.
Throughout the rest of the season, he performed one breathtaking poem after another, and they all revolved around real issues such as the Black Lives Matters movement, his absent father, and his love for his daughter.
I really enjoy the way he performs poetry; it's so emotionally impactful. Every word he uses is expressed in such a way that it's hard to miss the emotion behind it. And I love that he knows what topics are important to him and uses his voice to speak out on them.
I haven't watched many people perform poetry but the way he uses his hands and how his stage is set up makes it feel like more than just poetry - it's like watching a short, incredible play.
As a poet, it's inspirational to see another artist succeed so massively! Although my innate jealous tendencies make me wish it would've been me standing on that stage, I know his voice is the one our world needs right now. And what a voice it is!
Due to the pandemic, Leake hasn't been able to get to work on the projects he's so passionate about like teaming up with athletes for educational workshops centering around social justice and change within communities, but he's still spending time planning and meeting with people to eventually be able to achieve all that he's been working towards.
If you're as moved by his compassionate heart and incredible poetry as I am, check out this impressive human on Instagram (brandon_leake_ctm) and YouTube (Brandon Leake - CTM) to continue to support him and stay updated on what he's working on next. I know I'll be keeping a close eye on him!
Watch all of his performances on America's Got Talent:
Thank you for reading! If you enjoyed, then please share, leave a like or a tip, or check out some of my other writing by clicking on my profile icon. Thank you for your support, I truly appreciate it!
Let me know your thoughts on Instagram/Twitter - @doitlikederk
tv
About the author
Hello! I'm Derek, a writer based in Portland, OR. Author of short stories, poetry, and blog posts about the things that interest me. Be kind to yourself and others, always.
IG: deverswriting