The Failure of the DCEU
Time to Start Again?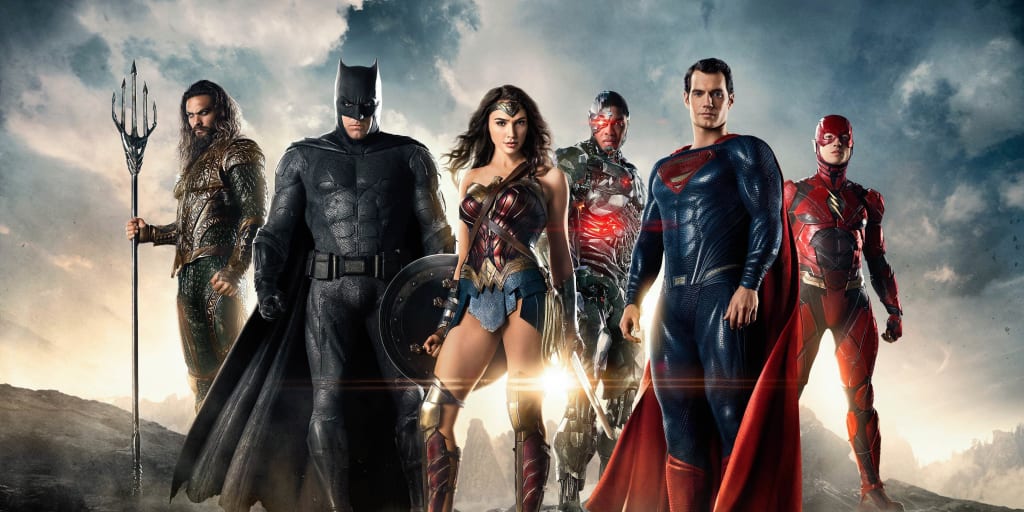 The Justice League
After watching Marvel reign supreme for years without any cinematic universes to contend with, DC finally gave fans what they had been waiting for in 2013, when Batman V Superman was announced. Hopes were high, and rightly so. Marvel had seemingly provided DC with a foolproof template to follow, all but ensuring the DCEU could be just as successful and beloved. Just five years later and to me and many other fans, the DCEU has, for the most part, been a colossal failure. So, what went wrong?
Man of Steel had given the DCEU a complicated start. Although Henry Cavill looks the part and in my opinion does a stellar job as Clark Kent, the DCEU's version of Superman is almost unrecognisable when compared to the popular comics version. Taking inspiration from the Dark Knight trilogy, and with Christopher Nolan involved as a producer, the film saw Superman become a much darker character who saw his powers as a burden rather than a gift. The film however did have many positive aspects including a formidable villain in General Zod and some excellent CGI. All in all, it may have been a rocky start, but the general consensus was that things could only get better from here.
Three years later we were finally treated to the first DC team up with Batman vs Superman: Dawn of Justice. Despite a fan backlash to the casting of Ben Affleck and a marketing campaign that seemed determined to spoil every aspect of the film, anticipation was high. In my opinion the film can only be seen as a disappointment. The problems with this film would probably fill a full article in itself. To be brief, the bringing together of the heroes, as opposed to the MCU where it always feels natural and organic, felt rushed and forced. The dream sequences were confusing and now, having seen Justice League, a large element of the teasers in this film (the Flash scene) make absolutely no sense. Instead of us getting to know Wonder Woman and Batman in their own solo movies first, they are thrown into a confused Superman sequel that never quite knows what it wants to be. Synder and the rest of the creatives were clearly too proud to follow Marvel's template and therefore shoehorned their major characters into this convoluted mess in order to rush towards a Justice League film. From keeping Superman dark and mopey, making Batman a killer and Lex Luthor a bumbling fool, it is clear this film thought they could rewrite characters the way Nolan rewrote the Joker. It was an experiment that simply did not work.
Then came Suicide Squad, one of the finest casts ever assembled in a comic book movie. The problems here, like most of the DCEU movies, came with the script. The first twenty five minutes of this film are spent having exposition thrown at us followed by the generic CGI army and world ending skybeam scenario. Of all the DCEU films, this is the one that shocked me the most. It seemed ridiculous that a film with such a talented cast and director could be anything less than exceptional. However, the film chose to follow the trend of reinventing characters. In a clear attempt to distance themselves from Heath Ledger's award winning turn as the clown prince, they opted to turn the Joker into a lovesick gangster. The biggest problem with this is that all of the Joker's actions were influenced by his pursuit of Harley Quinn, which as anyone who's read the comics will know, this is not how the Joker acts. The Joker is both mentally and physically abusive to Harley and often uses her as bait in his run ins with Batman. To see the Joker act in this way felt like a slap in the face to one of cinemas most intriguing villains. In fairness, this film, like all DCEU films might I add, does feature some excellent and truly memorable performances. This is all the more frustrating, as the actors deserve a better film to showcase their talents.
Finally, in 2017, just when all hope seemed lost, we were treated to Wonder Woman, the world's first female-led superhero movie. Simply put, this film is brilliant. Patty Jenkins does the character justice. She is exactly what Superman should have been, a symbol of hope. With excellent supporting characters and a terrific performance from Gal Gadot, the film proves exactly why it is so ridiculous that we have had to wait so long for a female-led superhero film. Although it does fall victim to several third act potholes, Wonder Woman is a great watch and it proved that a superhero film doesn't have to be bleak; they can be colourful and fun and even funny. If only another cinematic universe had demonstrated this before...
Hope was finally lost with the release of the Justice League, the DCEU's answer to the Avengers, a team up of everyone's favourite superheroes (and a couple of other less popular ones). Given that a moustache proved fatal for this film, it's no surprise the box office numbers were as low as they were. Fresh from her record breaking solo movie, Wonder Woman is back to being eye candy for men. Batman looks as exhausted as Ben Affleck now is in the role and the other characters do what they can with their limited screen time as they wait for their solo outings. If the Avengers wrote the book on how to create a fun and exciting superhero movie, this film sets fire to it. I walked out of the cinema for the first time in a DCEU film, feeling as if I had wasted my money. The CGI villain is laughable and so is the plot. Given the tragedy that led to Zack Snyder leaving the project, I have no issue with the obvious changes in tone throughout the movie. I cannot however, overlook the paper thin plot and terrible character development, and worst of all, Henry Cavill's CGI top lip.
The future of the DCEU is up in the air at the minute. Aquaman, Shazam, and Wonder Woman 2 are all confirmed but other than that the future is unclear. With reports of Ben Affleck being replaced, the Flash movie failing to hold onto a director and Man of Steel 2 showing absolutely no signs of life, it is hard to be excited about anything. Given the even more confusing development of a second DC universe that will exist totally separate to the DCEU it feels to me as if it is time for this universe to call it a day, and come back in a few years having learnt from their mistakes. One things for certain though, I won't be rushing to the cinema to watch a DCEU film anytime soon.