The Empress: A Hidden Netflix Gem
"My family has a talent for using pretty things for ugly purposes"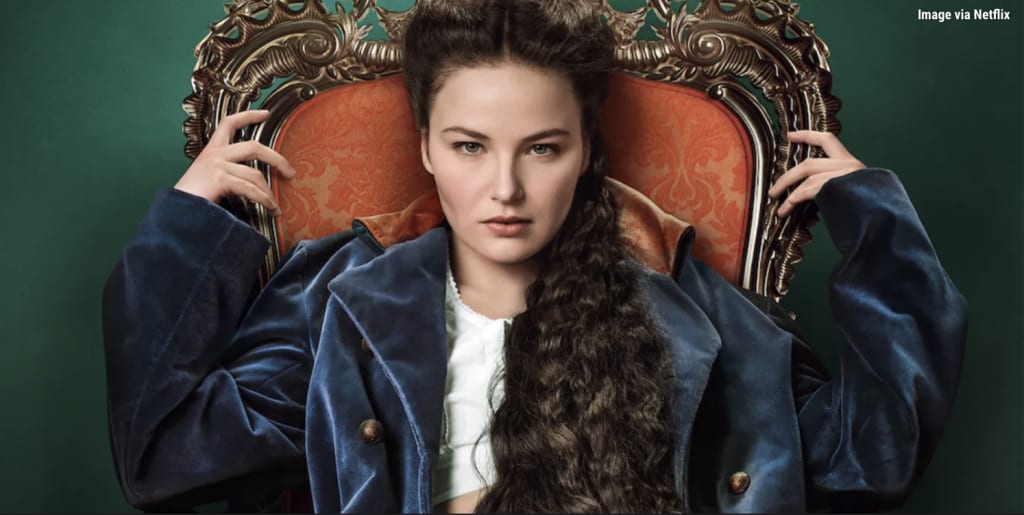 https://collider.com/the-real-history-behind-the-empress/
It was late last night while in bed scrolling through my Netflix account that I stumbled across the period drama that is The Empress. After watching a snippet and with a 97% match, I went ahead and started watching and within minutes I was hooked. The Empress follows the story of Elisabeth of Austria (1837-1898) played by Devrim Lingnau. The synopsis is as follows:
"Sixteen-year-old Bavarian duchess Elisabeth "Sisi" falls in love with her sister's intended fiancé Emperor Franz Joseph and the two later marry. She moves to Vienna and finds herself having to navigate the complexity of court politics and her husband's scheming family members. Her mother-in-law Sophia, who is also her aunt, antagonizes her almost immediately. Her brother-in-law Maximilian, Franz Joseph's younger brother, keeps trying to outshine his older brother and prove that he is more worthy to rule."
Netflix offers six beautifully put-together episodes that you could definitely get through in one sitting - I mean, I did. Stupidly enough, it took me a whole episode to realise that I was watching a dubbed version of the show. Originally in German, and filmed in Germany I was shooketh, to say the least.
This show gives it all in a simple and eloquent manner that makes me want more. A conspiracy for revolution, a lady in waiting in disguise, a bitter brother and even a hint of romance. Oh, and of course, a rebellious Empress who refuses to follow the rules. Now, I must admit my knowledge of the Habsburg Monarchy is pretty much non-existent so I went into this story with fresh eyes and a curious mind.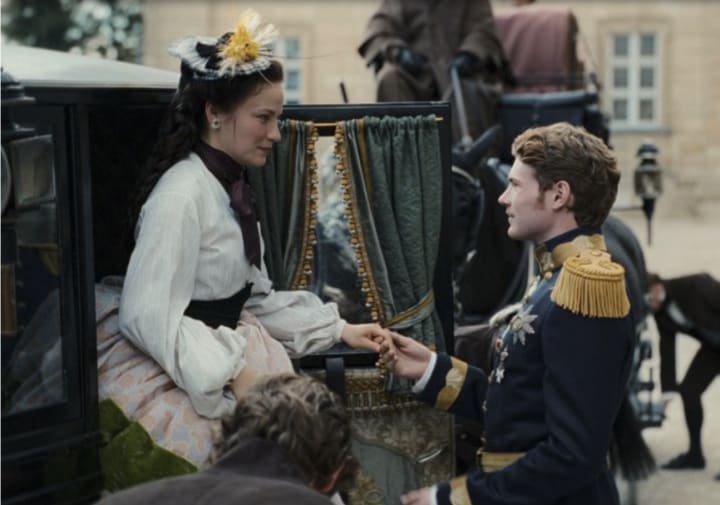 What captivated me about the show was its deliverance. I had never watched a German-made TV series before, and the first thing that struck me about the show was the creative shots and angles that gave the scenes an intimate and unique perspective. Side-by-side shots were consistent throughout, with my personal favourite being the groud-to-ceiling shot that shows Elisabeth feeling queasy while revealing the beautiful grand baroque painting that rests above her.
As well as being easy on the eye, with detailed costumes, extravagant sets, and interesting hairstyle choices, the music hits just right also. This is what pulled me in, but what forced me into a necessary binge was the themes of power, imperialism, and traditions, and how these themes are all very much relevant and still present within our modern society.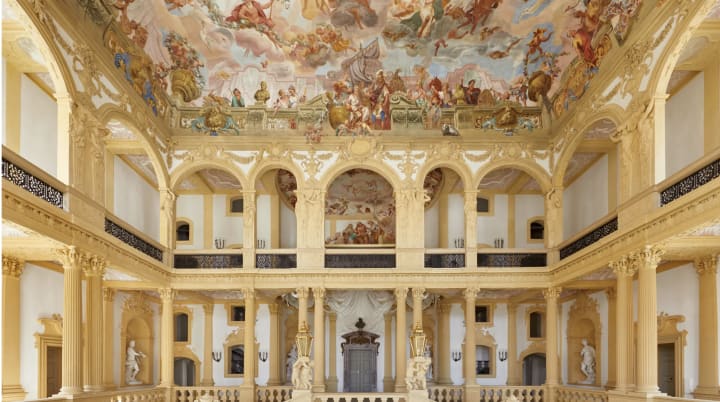 An imperial royal family ignoring their restless struggling people has never ended well for those forever trapped in the history books. It made me consider what place does Imperialism have in the modern world? And how we should instead of hating imperialists, we should pity them. As the old saying goes:
"Heavy the head that wears the crown."
The simplicity of it all really is what makes it, the subtle points that are made are wonderfully written. Now, this is where there is a little spoiler but is not detrimental to the main plot, so continue reading this paragraph at your own will...
*SPOILER*
The Empress visits the people, she comes across a young girl who is evidently poor as she has no shoes. The Empress hands her over her shoes gifting them to the young girl, who is of course delighted, but Esterhazy (lady appointed to keep Elisabeth in line) is horrified. God forbid the Empress barefoot in the mud like a wild feral child! She is then quickly whisked away and pulled by tradition, yet still demands to be put down.
The Empress is the symbol of change, and that theme is so relevant because much is changing in our world, a new world that we are I'm sure, terribly uncertain of. Most traditions don't have a place in our society, we just keep them out of habit, letting ourselves succumb to the peer pressure of the dead. I think our old world died when the pandemic started, something changed then, and now, well, I don't really know. Does anyone?
Needless to say, the Empress is a great Netflix addition, that I will most certainly be re-watching all over again very very soon. There is already plenty of talks for another season and I am thrilled. What is even better you can book an Airbnb at Weissenstein Castle (Pommersfelden, Germany), the filming location for the show! Huzzah!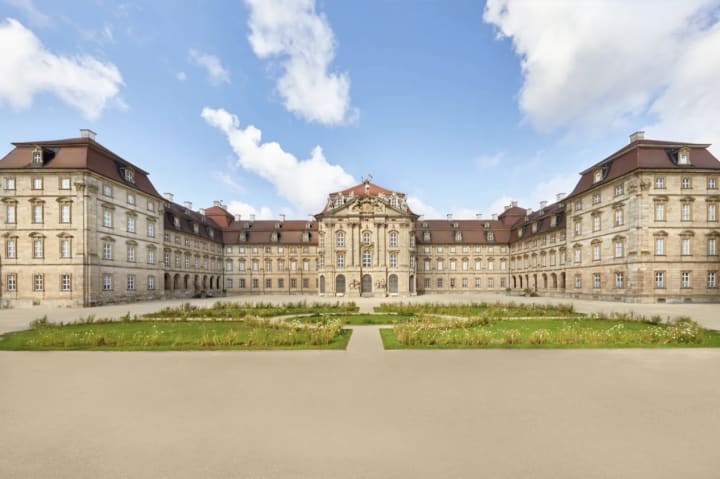 Go and head to Netflix now and watch the divine gem that is The Empress.
Trailer:
Stay safe, stay hopeful, stay blessed!
References:
https://collider.com/the-real-history-behind-the-empress/
https://en.wikipedia.org/wiki/The_Empress_(TV_series)
https://247newsagency.com/entertainment/210047.html
https://www.cosmopolitan.com/uk/entertainment/a41528316/the-empress-season-2-release-date-cast/
https://www.radiotimes.com/tv/drama/the-empress-season-2-release-date-netflix/
https://www.houseandgarden.co.uk/article/netflix-the-empress-airbnb-austria
https://www.youtube.com/watch?v=KfySe96FPr8
About the Creator
Hello, my lovelies! Welcome, I write everything from the very strange to the wonderful; daring and most certainly different. I am an avid coffee drinker and truth advocate.
If you're open to an argument follow me on Twitter @NuttallJasmin :)
Reader insights
Be the first to share your insights about this piece.
Add your insights