'The Devil All The Time' Has All the Star Power, Not Enough Shine
A review of the latest buzzy film to come to Netflix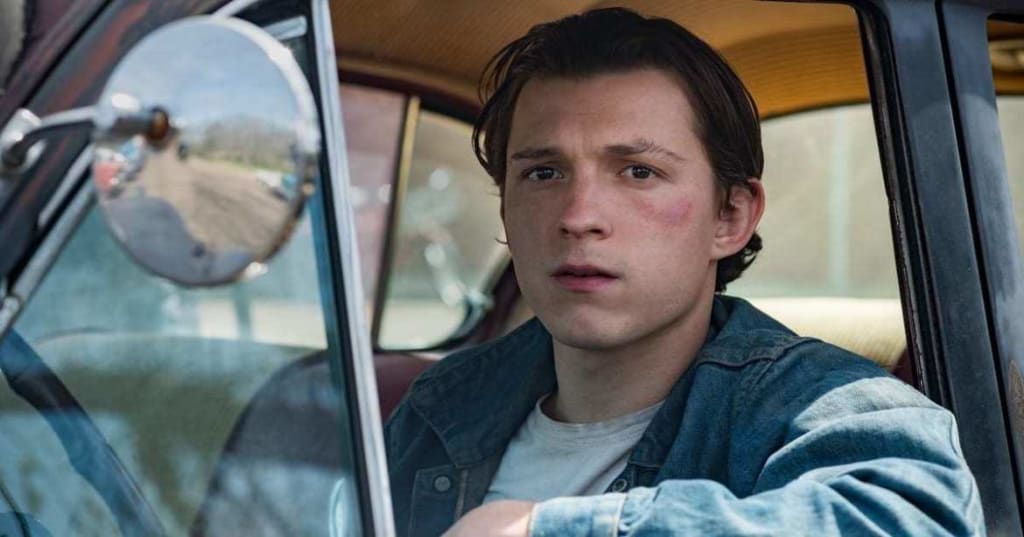 Netflix
It is rare that I am pleasantly surprised by a movie, especially a Netflix movie. Especially a Netflix movie that so far, has been deemed mediocre by critics and fans alike. Especially an allegedly unimpressive Netflix movie that focuses on Appalachian religion in the 1950s and 1960s. Yet, The Devil All The Time comes in, and I genuinely liked this movie. I never want to watch it again, but Antonio Campos does a great job of building a lot of narrative suspense, which ultimately pays off. It was too long, and the story threads came together in a way that ultimately felt forced, but the all-star cast and general atmosphere still made for, what I thought, was an interesting story.
Hell is Other People
Based on the novel of the same name by Donald Ray Pollock, The Devil All The Time follows a myriad of lower-middle-class white people in mid-century Appalachia, namely in Ohio and West Virginia. Now, I love films that act as a sort of anthology of different stories that end up fitting together. Some favorites include Love, Actually and Hail Caesar!, but this is by no means an uncommon trope. It's simply hard to pull off, because it requires a lot of planning and near-perfect execution. Not only do all the characters have to be interesting and worth watching, but they all have to relate to one another, and that isn't very easy to make happen in 120 pages. I admit, I have not read the original novel, but I think this film's main downfall was in the poor execution of connecting everything.
We are first introduced to Willard Russell (Bill Skarsgård), a World War II veteran who meets the love of his life, Charlotte (Haley Bennett), and marries her upon returning from war. He was initially supposed to be set up with Helen Hatton (Mia Wasikowska), but she marries the enigmatic preacher Roy Laferty (Henry Melling). Both couples have children, Arvin Russell (Tom Holland) and Lenora Laferty (Eliza Scanlen), but through a tragic series of events both children are orphaned and left in the care of Emma Russell (Kristin Griffith), Willard's mother, and her brother, Uncle Earskell (David Atkinson). We are also introduced to Carl (Jason Clarke) and Sandy Henderson (Riley Keough), who are serial killers who live in the same town Charlotte did when she and Willard met. Sandy is also the younger sister of the corrupt sheriff, Lee Bodecker (Sebastian Stan).
All these introductions and exposition take up the first 45 minutes of The Devil All the Time, and in these first 45 minutes, Tom Holland and Robert Pattinson are nowhere to be found, and they were, at least from what I saw, the two main parts of the marketing campaign. Pattinson doesn't even play any of these characters! Eventually, Pattinson comes in as the dirtbag preacher, Reverend Preston Teagardin, and Pattinson's accent for this was…a choice.
All of these characters, beyond their connections to one another, are bonded by their experiences with religion and the questioning of it. Arvin is ardently opposed to prayer, Lenora is particularly pious, Carl plays god, Willard became delusional with ideas of how he could get in God's good graces, and Preston, well, he uses his work as a "good Christian" to manipulate and humiliate people he has power over. I thought the theme of religion and prayer and personal relationships to prayer was poignant and impactful throughout the film, even if Pollock's narration often felt like beating a dead horse.
Angels Among Us
The casting saved this film. Had any actors of a lower caliber than these come into these roles, it would be an instant failure. It was really through the performances of Holland, Scanlen, Pattinson, and Keough that the film shined at all.
...
READ THE REST OF THIS REVIEW ON OUR WEBSITE: https://moviebabble.com/2020/09/21/the-devil-all-the-time-has-all-the-star-power-not-enough-shine/