The Broken Hearts Gallery Review: A Lighthearted Rom-Com With Small But Forgivable Issues
A lighthearted young adult comedy that struggles with pacing but overall worth a watch for a casual movie fan.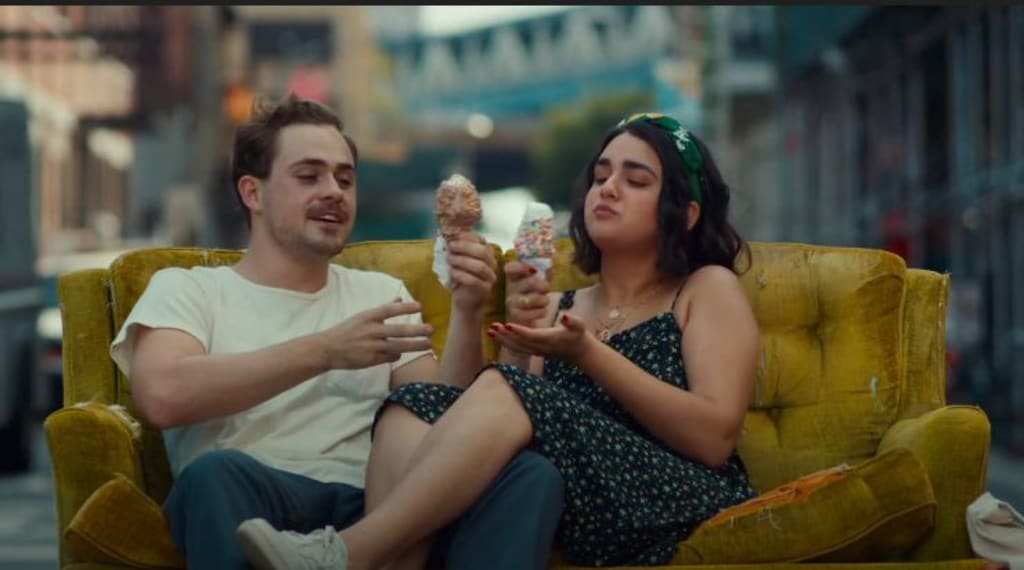 Dacre Montgomery and Gereldine Viswanathan
Spoiler Free
So, this movie is was the first one I got to go watch at a theatre in a long time, a drive-thru, but still counts. My fiance and I got our camping chairs, Icee, and popcorn and were so excited just to watch a new release live. This also comes with an interesting perspective because just being able to go out and watch a movie again gives me rose-colored glasses while reviewing this, but I'm going to take those off and give you an honest opinion.
This film is headlined by Geraldine Viswanathan and Dacre Montogomery. Two charismatic actors who've been on the cusp of breaking out and becoming big names, but have yet to find the roles that land them in that next tier of Hollywood stardom, and unfortunately, these roles will not be the ones to do it.
Both gave solid performances, but I think the overall story was going to be hard to pick up from the beginning.
The premise follows a young woman attempting to make her way in the art world of New York while dealing with a break-up that inspires her to start her gallery in the under-construction hotel of her new friend Nick.
At its core, it's a decent premise. Trying to find peace with yourself after a breakup through items that remind you about the relationship. There is a story behind every object that only you could understand, but there are lessons to be learned from each one.
The movie itself has some funny moments, but the tone bounces back and forth between trying to take itself seriously while having these unrealistic characters. The main character of Lucy herself is a hyperbole of the stereotypical heartbroken woman while also having this odd amount of energy for a woman going through such traumatic heartbreak.
This was director Natalie Krinsky's debut after a career writing for TV shows like Grey's Anatomy, Gossip Girl, 90210, and Red Band Society. Looking at her credits, this movie does remind me of an awkward comedy show with its humor and unfortunately, it just didn't fit with the overall tone I think Krinsky was going for.
An example: there were also these interview-style scenes at random points in the film where each of the characters would talk about a memento they took away from bad relationships. It felt really out of place to have so many in the middle of the film and I couldn't tell at times if it was the actors themselves talking about real-life experiences or if they were the character's experiences.
Either way, it felt like something suited better for the credits rather than being placed awkwardly in the middle of a plot that never revolves around anything interview related.
While it had pacing and tone issues, the film itself had genuinely funny moments, and it was easy to like all the characters involved. Each actor seemed to be enjoying their roles and definitely boosted the film.
This a rom-com in every fragment of its DNA, and while it's got a decent amount of laughs and moments that will make you smile, this will not transcend the genre. There are plenty of stereotypical moments sprinkled in from the beginning, middle, and end; that's what really hurts the movie to me. Nothing about this film besides maybe Viswanathan's performance is above average.
Overall, it's a cute movie that if you're looking for something really lighthearted that leans more in the young adult genre then this is a great choice for you and your significant other. Or even more on the nose, if you just went through heartbreak and need something you can relate to.
5 out of 10.