'The Bigot'
Troubled Lives.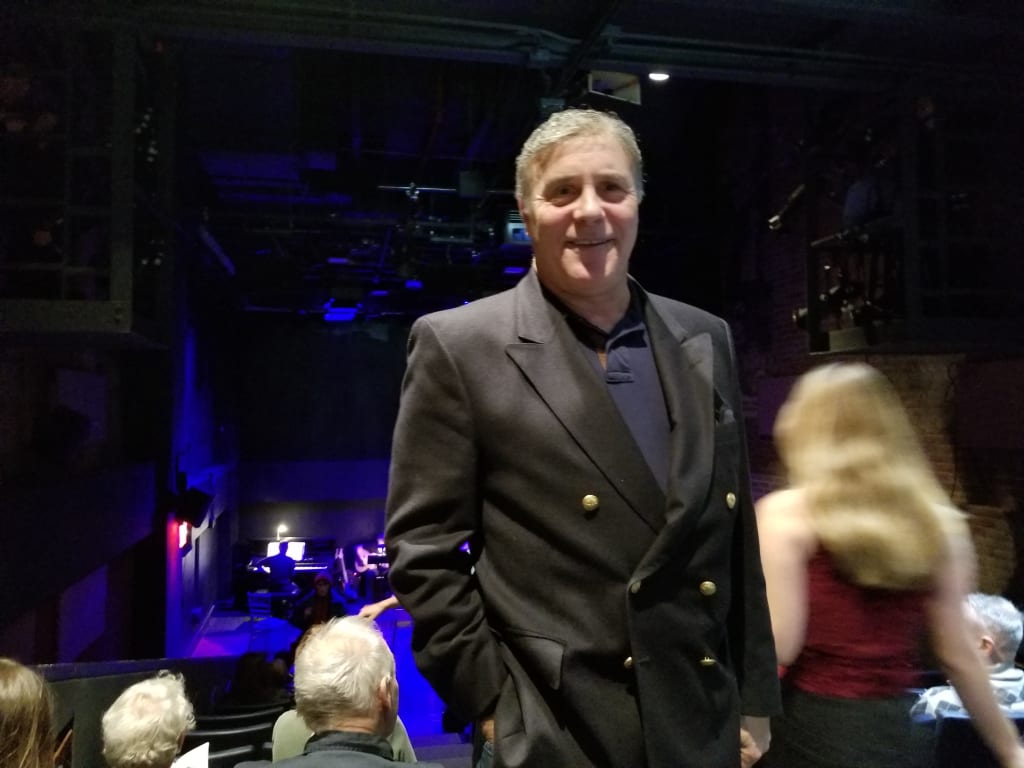 Robert Massimi.
The Bigot playing at the Theatre At St. Clement's is a play very similar to the TV series "All In The Family." There is a big difference, however–Jim (Stephen Payne), is a smart man and has an answer for his liberal teacher son, Seth when they discuss history.
Jim needs a kidney transplant, and is in pain constantly. He is a curmudgeon, and we find out later in this ninety minute intermission-less play why he is the way he behaves. Jim is a prejudiced man, and he is steadfast in his beliefs. He is a well-read man, not some yokel who hates blindly. Some of his beliefs are deep rooted from his father when Jim was just a boy.
In a split setting, we see Jim's apartment, and two lesbian lovers who have been dating for a few months. The two lovers are opposites in every way. Paula (Jaimi Paige) is caring, care free, and warm. Aysha (Faiven Feshazion), is cautious, meticulous, and dedicated to her career.
Adam Crinson gives us a wonderful split set up, so that we can see the action from both apartments, as well as the two different lifestyles of these Brooklyn neighbors. We feel the love in one apartment with the women, and the tension in the other between father and son. To further separate the two lives, we have romantic lighting that makes the pleasure and the love of these women more emotional. In Jim's apartment we see stronger lighting from a man who is always ready to lash out at anybody.
Barbara Erin Delo does a terrific job in the costumes. Jim is old, tired and angry. His clothes reflect that of a man who just wants to die. In Seth, we see more neatly dressed person, that of a man who is a member of the intelligentsia, the liberal elite. From the professional to the casual bedroom attire, Paula and Aysha are very much in style, and the costumes are as much of the play as the dialogue is.
Director Michael Susko keeps The Bigot moving along nicely. A good story written by Gabi and Eva Mor, Susko moves the characters in and out of both love and hate. The tension between all four characters at times hits top gear. Susko is especially good in directing Paula, a women who looks hate right in the eyes, and challenges it. Willing to sacrifice just about anything to see the good in everyone, she seems naive, but she is anything but.
The Bigot does many things well. It has a lot of different issues within this melodrama. All the characters have been hurt at some point in their lives. How each person reacts, how each have been shaped by hurt and tragedy, is what makes this play so interesting. The Mors take what is a seemingly hopeless situation, and take it to a whole new level. The audience sees what exactly bothers Jim and Seth (Dana Watkins). We see the commitment of the women to do a good thing for a tainted man.
In The Bigot, the writing lets the audience see the lives of these four people. All have been tainted in one way or another. The writer and director deftly put the four lives out there for the audience to view and make decisions, as well as judgements. What is effective about this is that we see both sides, not just one.
Stephen Payne was regal as Jim in his performance. His dialogue with Jaimi Paige made this a sensational, fun show to watch. Whether it was their love for stamp collecting, or that Paige(Paula), wore Payne down, and softened him by her goodness and caring. Never knowing where The Bigot was going made it a fun, and at times, a very funny, ride.
review
About the author
I have been writing on theater since 1982. A graduate from Manhattan College B.S. A member of Alpha Sigma Lambda, which recognizes excellence in both English and Science. I have produced 12 shows on and off Broadway. I've seen over700 shows
Reader insights
Be the first to share your insights about this piece.
Add your insights