The Best Video Editor Software For YouTube Creators
What Video Editing Software Do YouTubers Use in 2022
Gone are the days when only professional video editors utilized video editing software to make and edit videos. Anyone who wishes to create and upload their videos on YouTube can employ one of the many video editing software available.
You can create quality content with a few clicks and make a video to impress everyone around you. But the best video editing software might be different for everyone depending upon their requirements and the detailing needed.
Someone who edits video for a professional firm that produces movies or TV shows will require sophisticated software. But for someone who just wants to edit their vacation footage, basic video software will do the trick. Let us now discuss the best video editing software in the market that will perform all the essential and complicated functions with ease.
Filmora
If you are a beginner in the field of video editing or are not a full-time video editor, Filmora is the perfect choice for you. It provides its users with an engaging interface that is easy for them to use irrespective of whether they have previously used video editors or not.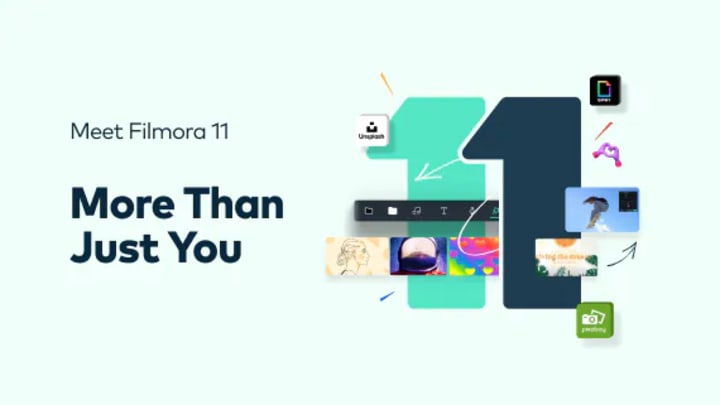 There are a good number of convenient built-in tiles, filters, and effects to make the work of YouTubers and other social media creators easier. Moreover, they have provided a complete library of free sound effects and music to make your video even better. You also have the option to record your own sounds and add them.
The latest update to the software came with many new features that are sure to excite users. These are HDR support, both speech-to-text, and text-to-speech, an audio visualizer, and a simple way to insert subtitles in your video.
You can opt for the free version of Filmora and use it for your basic video editing purposes. A premium plan is also available where your edited videos won't have a watermark. You can purchase an annual plan or a lifetime plan which comes with a one-time fee.
One can easily navigate through Filmora due to its drag and drop interface. The video editor also provides many resources like title designs, stock music, color tuning, video stabilization, background music and much more. You get well-designed templates that can be customized also. All these features make editing easy.
An Unlimited plan is also available, allowing you to download as much as you want from the stock library and gain access to new effects each month. You can download Filmora from the following links:
Filmora for Windows: https://filmora.wondershare.com/video-editor/
Filmora for Mac:https://filmora.wondershare.com/video-editor-mac/
Filmora for iPad:https://apps.apple.com/us/app/filmora-video-editor-on-ipad/id1459336970
Adobe Premiere Pro
Adobe Premiere Pro is a widely used industry-standard video editing software. Its editing interface is non-linear and convenient to use. Its powerful tools are compatible with all kinds of users. The software has made the import and export process much simpler than before.
Adobe Premiere Pro has added the feature of automatic caption creation and enabled a helpful integration with Flame.io. Experienced and professional video editors who have been long-time users of nonlinear digital editing will particularly enjoy Adobe's software.
Vimeo Create
This video editing service is provided by YouTube's direct competitor, Vimeo. This software is a blessing for beginners who do not have any prior experience in video editing. Vimeo offers its users with pre-made templates that you can use in your videos with the help of a simple click-and-drag and create magic.
If you have not recorded your own content, you also have the option to use any of the millions of stock photos, video clips, and other licensed music audios without having to pay a single penny. You can do all of this without having to quit your browser.
The interface is also user-friendly and lets you make videos for a wide range of aspect ratios for all social media platforms, including YouTube. The aspect ratios available include horizontal, vertical, and square.
Clipchamp
Clipchamp is Windows' official video editor. The company was acquired by Windows in the year 2021. The software has been developed keeping in mind the needs of small traders and making excellent social media posters.
Clipchamp can be considered a PWA or progressive web app. This means that it is not an application but a website that imitates software. The app is very similar to Canva since it prioritizes the requirements of marketers who want to make their mark on social media with the help of attractive templates.
Lightworks
You might have to learn some stuff before you fully understand its features. But, it is easy to use owing to its drag and drop interface. You can easily trim and crop videos and even add royalty-free music and clips. Animated text effects are also available. Multiple 2D and 3D titles will also make your video stand out from the rest.
Lightworks also works seamlessly with Pond5 to provide you with access to stock music and video. But all the premium features such as transitions, title text, presets can only be availed by purchasing the Pro Lightworks package.
Conclusion
There are a lot of video editing software that are available for editors today. But not every video editor for Youtube can provide the same results and power to you. If you are confused among these options, you can go for Filmora since it has almost all the basic features required for video editing and has a user-friendly interface as well.