The Best Thing About 'Stranger Things 3'
Warning for Spoilers.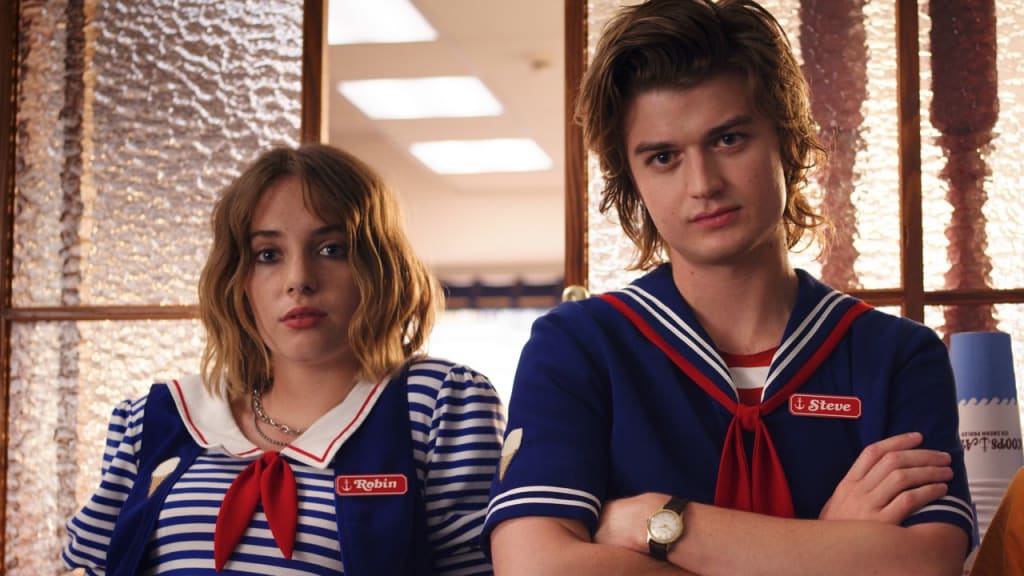 So season 3 of Stranger Things dropped on Netflix on the 4th of July and if you're anything like me, you binged the whole thing in a day. There was a lot to love in season 3, although there was a lot that could have been done better, such as Max (Sadie Sink) and El's (Millie Bobby Brown) growing friendship, Nancy (Natalia Dyer) once again proving she's a badass and Hopper's (David Harbour's) shirt. However, from the very first episode, my favourite part of season 3 was the new character of Robin, played by Maya Hawke. Robin works at Scoops Ahoy with Steve Harrington (Joe Keery) where she constantly makes fun of him and wonders how many children he has. However, Robin is also a genius. She speaks four languages, translates Russian code, cracks the code and is tortured and drugged by Russians. To summarise, I would die for Robin.
When they first introduced Robin, I picked up on her dynamic with Steve and instantly groaned, thinking "here we go again." I assumed that they would pull the usual traits; Robin isn't Steve's type but she makes him laugh and cracks Russian codes so obviously he's going to fall in love with her. And Robin probably had a huge crush on Steve in high school even though he was an asshole. Yeah, I smelt that heteronormative shit from a mile off. And for most of the season, this is exactly how it went; they teased each other, and Dustin (Gaten Matarazzo) attempted to push the two of them together on several occasions. When Steve and Robin are held captive by Russians, Robin tells Steve she was obsessed with him in high school, and then later, after the two have thrown up in the mall bathroom, Steve admits his feeling for Robin. This is the point where I was like, "kill me now," however Robin curled into herself, hiding her head in her arms, which screamed to me that she didn't feel the same way. Huge twist. Robin reveals that she was obsessed with Steve not because she had a crush on him, but because the girl she had a crush on liked him. That's right folks. She's gay!
The Duffer Brothers hit us with what I will now refer to as the reverse queerbait. Queerbaiting is a concept in which creators of a show will hint at a relationship between two people who could be part of the LGBTQ+ community before revealing that they are actually straight. This includes teasing which could be read as flirting (which Steve and Robin do), holding hands (again which Steve and Robin do) and dialogue that can be read as more than friendly (jackpot for Steve and Robin). The Duffer Brothers gave us this exact thing only in reverse, and I am living for it. It's a clever way to highlight the issues with queerbaiting that take place in media today and also super fun to watch straight people loose their minds.
Also, this is a great way to showcase Steve's character development over the seasons. In the first season, he was an asshole, and when Robin tells him this, he agrees with her. He also openly used the word "queer" to describe Jonathon Byers in a derogatory way; however, when Robin comes out to him, he reacts supportively, making fun of her taste in women. Robin and Steve are the perfect example of how men and women can just be friends, and I am so looking forward to seeing what the two of them get up to in the next season.