The Best of Peter O'Toole
Today marks legendary actor Peter O'Toole's 88th birthday. To celebrate, this article counts down five of the actor's best roles for essential cinema viewing.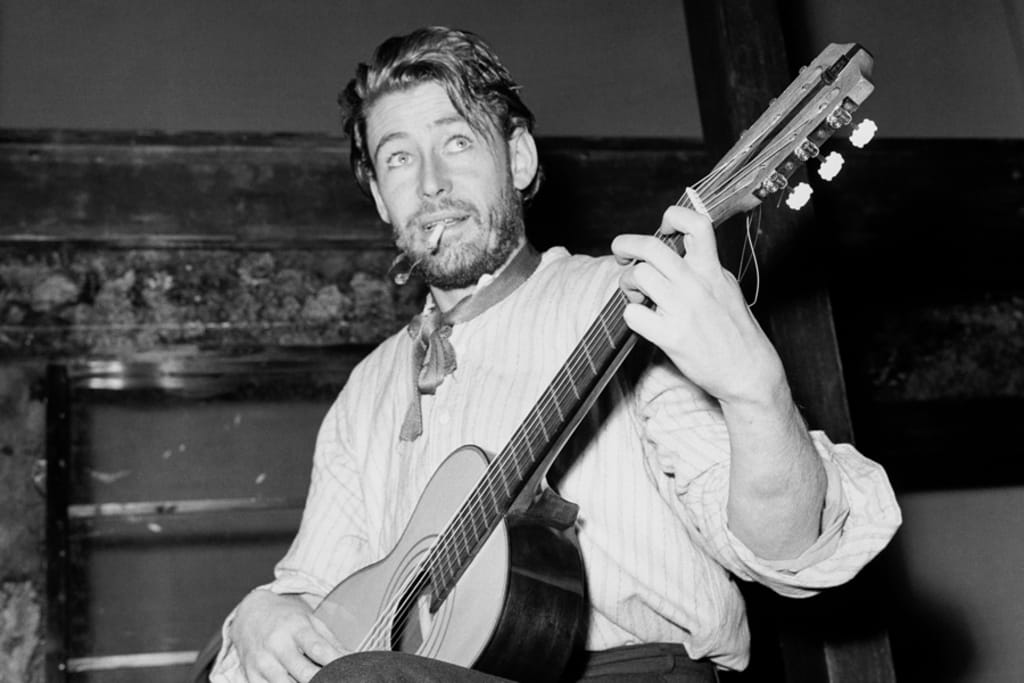 O'Toole onstage in the Bertolt Brecht play 'Baal', circa. 1960s.
Nominated for no less than eight Academy Awards without winning a single one, it is undoubted that O'Toole stands alongside the ilk of actors wrongly snubbed for a lifetime of outstanding performances. Like Burton, Harris and Sharif, O'Toole set the bar in the 1960s for the next generation of actors.
Notorious hellraiser and party animal, O'Toole shone brightly among a whole host of talent emerging from the dramatic arts colleges in 1950s England, and went on to commit some truly mesmerising performances to screen.
August 2nd 2020 marks 88 years since his birth in Leeds, England in 1932. To mark the occasion I've composed a small list counting down the films I regard as holding O'Toole's very best performances.
5. Lawrence of Arabia (1962)
O'Toole's first major film, 'Lawrence' is hailed by filmmakers like Scorsese as one of the best pieces of celluloid to ever grace the screen. Aside from David Lean's stunning direction sweeping over the vast desert, the film is pushed to iconic status by its charismatic lead.
O'Toole swaggers about the screen in his white robes like a natural, as if the leap from stage to screen had been a mere puddle for him to cross. His Lawrence, although not regarded as historically accurate by any means, is a complex protagonist - outwardly heroic but with a seedy undertone that makes him cold and callous at times.
His onscreen rapport with Omar Sharif's Ali is wonderful, and their interactions serve as some of the film's best moments. Overall, one can understand why the movie propelled him to stardom overnight. Despite being a stage actor primarily beforehand, Peter O'Toole truly rules the screen with ease in this legendary epic.
4. Night of the Generals (1967)
Returning to act alongside his 'Lawrence' co-star Omar Sharif, O'Toole appears in this forgotten classic as a radical Nazi general. If that wasn't unsettling enough, he has a deeply abhorrent secret under his belt. Despite the seeds of darkness sewn into his portrayal of 'Lawrence' five years prior, no glimmers of light are visible in this truly unnerving performance. O'Toole, with his cold stares and frightening onscreen presence, is arguably what keeps an otherwise mediocre movie afloat.
Once I finished the movie, all I could think about was O'Toole's unexpected brilliance in delivering a convincing psychopathic performance. I found myself quite literally holding my breath when he stared down the barrel of the camera, or was pacing around the gallery during his exploration of Paris culture during the Nazi takeover. It is an enormous contrast to his brave, if a little unhinged, hero Lawrence, and it is testament to O'Toole that his performance makes this World War II murder mystery worth seeing.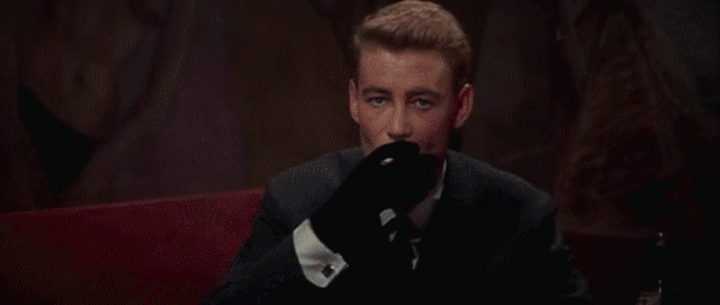 3. The Stunt Man (1980)
Another rather sinister injection into his character list, 'The Stunt Man' belongs entirely to O'Toole, despite his part being relatively sparse in appearance.
'The Stunt Man' follows the production of a film, with one man (Steve Railsback) accidentally embroiled into a dangerous and seemingly lethal stunt by the director (Peter O'Toole).
O'Toole's blase characterisation and effortless cool will leave you guessing until the very end as to whether his intentions for the film's finale are sinister or innocent. His constant flitting between leering jibes and uncomfortable suggestions will certainly entertain and enthrall, as well as possibly unnerve, for the better part of the film.
2. Becket (1964)
Becket is one of those films where the medium of stage-play transcends beautifully onto the screen. The film surrounds the friendship and love between King Henry II of England (O'Toole) and his Chancellor, Thomas Becket (Richard Burton), which soon cools to a bitter break-up when Burton's Becket is forced to choose between the king and his beloved Church.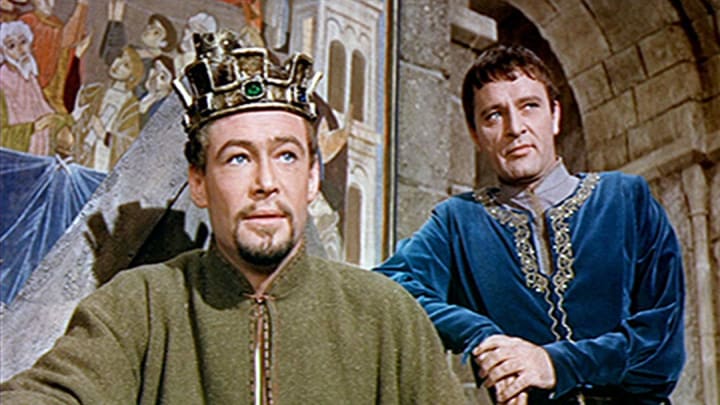 The fact that both O'Toole and Burton were drunk for most of the shoot doesn't negate their exquisite performances. O'Toole is shrill, erratic and utterly enthralling as this demanding king twisting things to get his way. His hatred for his wife and children, to whom this rogue feels chained, is painfully evident in a scathing monologue delivered to his wife, Eleanor. O'Toole's tone and words are cutting, and every syllable is pronounced with a perfect poisonous vigor that makes the viewer cringe with the sheer force of his resentment.
Across the film, O'Toole teeters expertly on the line of irresistibly lovable and completely detestable as the controlling Henry II, and his chemistry with Burton is electric. The two play off each other brilliantly, as one would only expect the real-life pals to.
1. The Ruling Class (1972)
I think I could wax lyrical about Peter O'Toole's performance in 'The Ruling Class' for an endless stream of pages, but I'll try and keep it concise: this film is one of two halves, and this goes for Peter's performance. Quite literally split by the film's dramatic events, it follows a despairing family of upper class aristocrats as they attempt to lure the nominated heir Jack out of his psychosis. Since the deceased predecessor was also apparently suffering from an unknown mental disorder, it appears delusions run in the family.
In the beginning of the film, O'Toole is charming and hilarious as a delusional but benign man who fancies himself as Christ's reincarnation on earth, even going so far as to tie himself to a crucifix for a good portion of the film's first act. In the second, just when one thinks Jack has been cured of his madness, a chilling monologue in the attic delivered with spine-chilling brilliance by O'Toole, reveals the 'Jack' he thinks everyone was telling him to be, is actually Jack the Ripper. From there on, his insanity takes on a more disguised, dastardly form.
The sheer difference in performance between the film's two acts demonstrates Peter O'Toole's extraordinary ability, and the role of Jack requires so much dedication, that one cannot help but watch O'Toole throwing every ounce of energy into it. From dancing joyously with guests as the Christ-like Jack, to uttering a gurgling, frustrated and ear-splitting scream as Jack the Ripper. Nowhere does O'Toole appear recognisable in either version of the same role; he disappears completely.
'The Ruling Class' is O'Toole at his best, simply because it showcases his talent outright. The switch between the two phases of Jack is one of the most stark onscreen, and O'Toole does it flawlessly.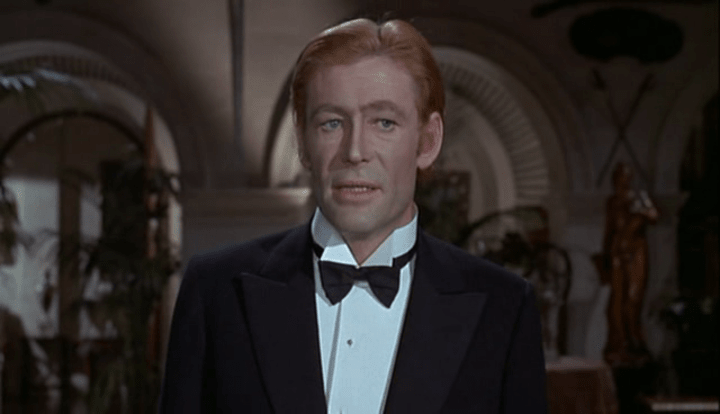 Honourable Mentions
In all honesty, this list was difficult to compose without screaming in frustration that I'd left out an essential O'Toole film. So, while (reluctantly) sticking to my guns I've also compiled a small list of films that, should you find yourself becoming a fan of his acting work and wish to watch more than the initial list provides, are fantastic examples of Peter O'Toole at his best:
The Lion in Winter (1968) - with explosive rapport with onscreen wife Katherine Hepburn, O'Toole reprises his role as Henry II in an intense family drama.
What's New Pussycat? (1965) - starring as a man struggling to commit to one woman, this film follows the temptations of a man aching for monogamy, but also consumed by sex. Though the film is a little bizarre and messy, his scenes with Peter Sellers are nothing short of hilarious.
My Favourite Year (1982) - life imitates art in this underrated comedy in which O'Toole appears as an alcoholic, washed-up TV actor ferried around and cared for by comedy writer Benjy (Mark Linn-Baker).
Venus (2006) - his final Oscar-nominated performance, 'Venus' is a vulnerable, warm and moving portrait of an aging actor captivated by a young niece of one of his friends, ultimately longing for his lost youth and wishing to take her under his wing.