The Best 'Game of Thrones' Scenes
My Top 5 Moments from the Show - Spoiler Warning (TV and Books)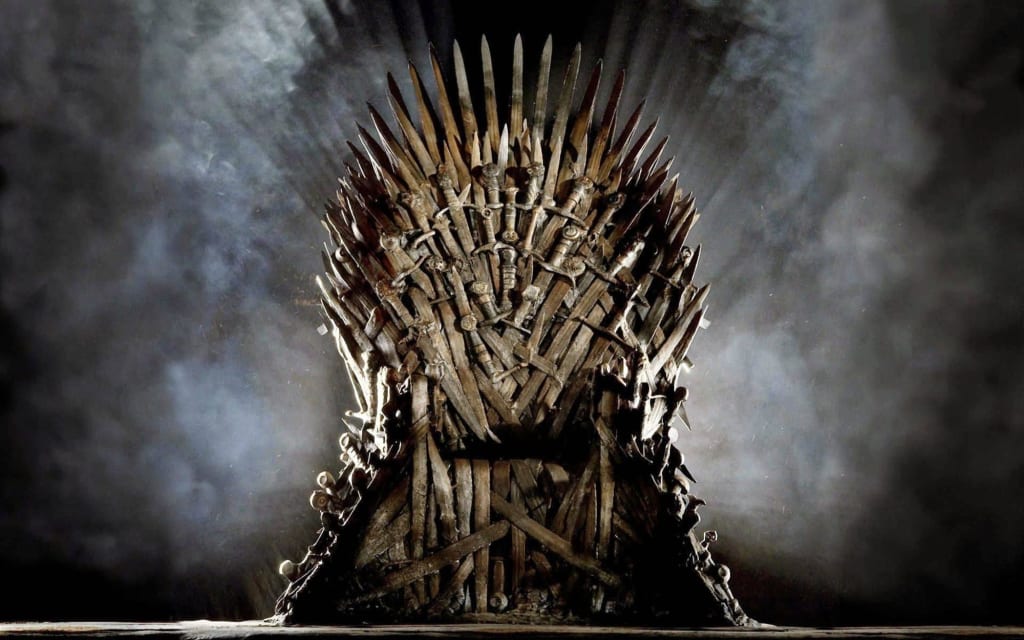 I realised that something I do when I'm drinking alone is watch my favourite scenes from 'Game of Thrones' and marvel at how brilliant they are, but it had never occurred to me to write about them. I, like many, thought the show dropped in quality after it stopped being based on the books, but although I do think that Benioff and Weiss were poor when it came to making the narrative themselves, they were masters in the art of adaptation, and that is something I've made clear here in some of the scenes I've chosen. I also might disappoint a lot of people because I haven't included any scenes from the night's watch/beyond-the-wall narrative or the Daenerys Targaryen narrative. That isn't because I didn't enjoy those storylines, I just always found the Westeros narrative far superior, and was disappointed that the potential that was there in those other two narratives never really took off. I will have to give an honourable mention to the birth of the dragons, which is an epic ending to the first season (which, as a season overall, I think is the best one), but that scene, brilliant as it is, just reminds me that it was part of a narrative with so much potential that was ruined tremendously in the last couple of seasons. Not including these storylines might annoy a lot of readers, but that would require there to be a lot of readers, which I imagine there won't be given I do not work for a big Journalistic outlet much as I'd like to. Anyway, after much deliberation, I've narrowed my favourite moments down to 5. Here goes:
5. 'I will be your champion'
This is the first example of a scene that demonstrates the writers' skill for adaptation. This conversation, between Oberyn Martell and Tyrion, does take place in the book, but it takes place when they first meet, not when Oberyn agrees to stand for Tyrion in his trial by combat. The scene where Tyrion tells the morally bereft King's Landing congregation at his hearing that he demands said trial by combat was a contender, but this scene is more powerful I feel. Oberyn's description of his disappointment at how normal he perceived the infant Tyrion to be shows just how horrible Cersei is, always has been and the brutal nature of Tyrion's family. His description of his own personal loss only adds to this, before we get a glimmer of hope from his vow to avenge his sister. It wouldn't be 'Game of Thrones' if this storyline had ended any other way than Oberyn having his skull crushed by the Mountain after he had for all intents and purposes beaten him, and the Mountain gloating about his crimes as he does so, but that doesn't stop this scene being powerful, even when you know. Maybe it's just the music and the lighting that comes with the nature of it being on telly rather than in a book, but I think moving the conversation to this moment has a great effect, as of course does the performance by the actors.
4. 'Trant had armour, and a big f***ing sword!'
Arya and the Hound's journey was one of the hightlights of the whole series. Not only did it produce some of the best lines, it was also a good character arc for both of them. Arya's passion and determination and the Hound's brutal cynicism made them an interesting combination who, it's fair to say, came to greatly respect and even admire each other. This scene isn't only one of the funniest, but one of the most brilliant because the Hound seems to be one of the few charaters in 'Game of Thrones' who seems to have accepted the nature of being a character in 'Game of Thrones.' Still passionate for revenge, Arya idolizes Syrio Forel, but the Hound writes him off as an idiot to be killed by Meryn Trant. It doesn't matter how brilliant you are, the relaity is quite literally, 'Trant had armour, and a big f***ing sword!'
3. 'The ladder'
Another aspect of the show that demonstrates the excellent adaptation abilities of the writers is the scenes with only Varys and Littlefinger, sparring with words as two people who are massively talented at scheming and plotting behind the scenes, albeit to very different ends. I always found Littlefinger to be one of the best characters, fascinating and despicable, and he certainly is the more evil out of the pair. Here, as he details some of the barbarous consequences of his actions, he challenges Varys's aim to protect the notion of the 'realm,' depsite a notion being all that it is. Another scene that picks apart the idea that anything in the world has meaning or destiny, Littlefinger highlights the selfish nature of one man's use of this to his own end. 'Chaos isn't a pit, chaos is a ladder' he says, highlighting him, essentially, one of the most dangerous characters in the show. Shame this entire characterisation was seemingly abandoned shortly before his death.
2. Tyrion asks for Casterly Rock
Any scene between Tyrion and Tywin is absolute perfection. Charles Dance and Peter Dinklage had two of the finest performances on the show. It's hard to pick one scene that stands out but I think I'll have to go with this one. It sets the scene, as many of their encounters do, for the downfall of Tywin's character, in that he fails, or rather refuses, to see that Tyrion is the most like him out of all his children, because he cannot see him as anything other than a dwarf who 'killed his own mother to come into the world.' His ruthlessness makes him appear positively headstrong but this was always his fatal flaw. Tyrion is shooed away effortlessly by Tywin just for demanding what is rightfully his. The scene for this relationship is set here, followed by similar powerful scenes such as Tyrion berating Tywin for the red wedding before being shot down again. This finally comes to a conclusion when Tyrion finally snaps and murders his father, who once more tells him 'you're no son of mine' only for the last words he ever hears to be Tyrion's 'I am your son. I have always been your son.' That scene nearly made it to this position instead, but I did find it more interesting in the book. Those who have read it will likely know why. Anyhow, the scene with Casterly rock is where it all began, and is arguably more powerful.
1. The Red Wedding
Sorry to seem unoriginal, but number one has got to be this. The series established itself as one where anything is possible with the shock death of Ned Stark at the end of the first season. The ability to do this again is what makes the red wedding so stunning. It is of course a plot point that we have George RR Martin to thank for, but it's adapted incredibly well. Minor changes from the book, as well, such as the death of Robb Stark's wife and her unborn child, or the person Catlyn kills being a young girl, make it all the more harrowing. Only brilliant storytelling, adaptation and acting meant nobody saw this coming, even after we watched our lead character be slaughtered shortly after we met him in the first series, and despite all the foreboding, with many signs being there after we know about them. Right up until and including where the band started playing 'The Rains of Castamere,' nobody expected this. And, although it was a shock to the heart at Ned Stark's execution when Joffrey announced, despite pleas from his advisors,' to 'bring me his head,' it isn't quite the same as the decrepit, sleazy and conniving Walder Frey announcing, after Catlyn threatens to kill his wife, that he'll 'find another.' Fantastic telly.
tv
"I have opinions of my own - strong opinions - but I don't always agree with them."
George H.W. Bush
Twitter: @eardstapa_