The Beautiful Mind Of The Professor - 1964 J.R.R. Tolkien Interview - How He Created The Lord Of The Rings And Other Musings
"Even the smallest person can change the course of the future."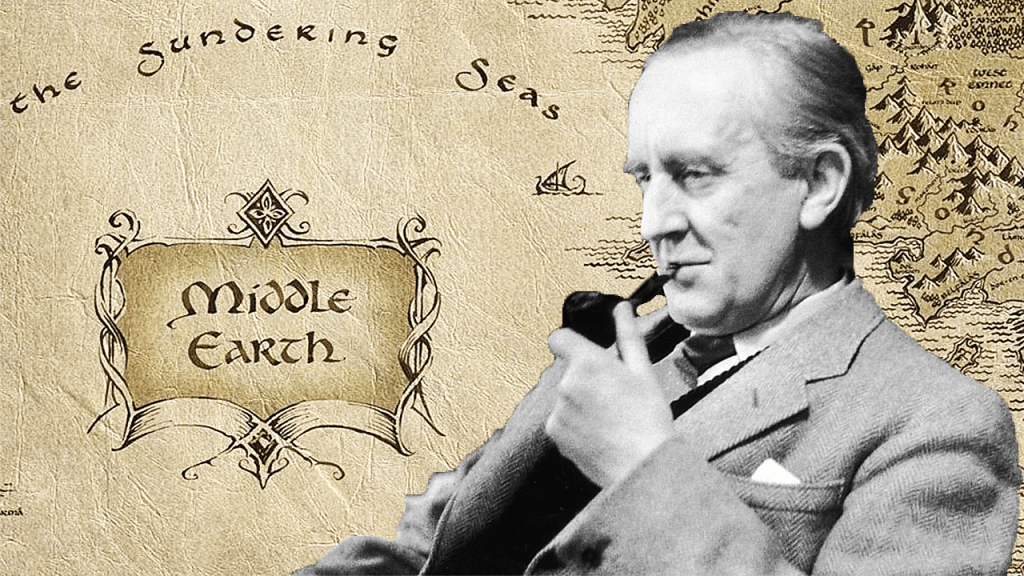 Written By Jerah Rose
Listening to The Professor speak on anything is an experience as otherworldly as the great adventures in his written works. This interview with Professor J. R. R. Tolkien was conducted in 1964 by Denys Gueroult (His name has varying spellings based on the source material.) BBC Radio 4 first broadcast the interview in 1971. It takes a very dedicated listener to follow the Professor at times through this interview. Just as a reader must be to wade through his written works. But that is the beautiful mind of Tolkien.
The comparison of Tolkien as an extraordinary academic scholar with his creative brilliance as an eccentric creator of worlds is something that radiates and intrigues throughout this interview. In some ways, Tolkien himself is so like a Hobbit. I could not help but smile, starry-eyed, through this interview, hearing my hero wander, sometimes in circles, through his own mind in an attempt to answer questions and explain his works in between match strikes and pipe smoke that can be picked up on the recording.
Tolkien explains in this interview how his knowledge of different languages and the mythology of various cultures aided him in writing his languages and naming his characters. The Norse mythology and Finnish language greatly influenced his character names. It was fascinating to learn how much went into the naming of characters. Not only for the sake of being named but also that the way each name sounds is essential. Tolkien references the difference between the emotional impact of Galadriel and Ugluk, one a beautiful and powerful elf, the other a leader of the evil Uruk-hai.
The most significant piece of history concerning the writing process for The Lord of the Rings in this interview is Tolkien's explanation of looking for an idea to continue the story after The Hobbit's success. Tolkien referred to the ring as the "germ" taken from The Hobbit that grew into the trilogy's epic adventure tale. This was the turning point for the characteristics of the One Ring itself as Tolkien explained that he "wanted to make a big story" and that it has "got to be 'THE Ring' that's not 'A magic ring.'"
One of the reasons that Tolkien is so beloved, and not just as a creator or writer, is that he can follow that epic revelation of such a small detail and launch the success of a written work. To this day, Tolkien's work still has a growing and active fandom, nearly seven decades later. Another unique detail of his masterpiece's long-term success is Tolkien's absurdly human commentary that he invented the "One Ring" poem just while he was sitting in the bath one night.
The history provided in this interview, both for this world and Middle-earth, is so intriguing for the Tolkien fan that I must recommend listening for yourself to hear the Professor state that he "liked (Gollum) better than all the other characters." Anecdotes such as Tolkien refuting criticism that The Lord of the Rings is a happy story. He explained that a friend once reported that they could only read the trilogy during Lent because it was heavy and solemn. This showcase's Tolkien's passion for his project as well as his wit and his humor.
The video included in this article is forty minutes of Tolkien's 1964 interview with Denys Gueroult, which aired on BBC Radio 4 in 1971. I recommend listening to this video with the included option for subtitles to get the most out of the experience. While the forty-minute interview is the best source for these anecdotes and a deep dive into Tolkien's mind, below is a brief transcript of part of the interview provided by Tolkien Library:
J.R.R. Tolkien: Long before I wrote The Hobbit and long before I wrote this I had constructed this world mythology.

D. Gerrolt: So you had some sort of scheme on which it was possible to work?

J.R.R. Tolkien: Immense sagas, yes … I got sucked into it as the Hobbit did itself, as you know The Hobbit was originally about these dwarves and as soon he it got moving out into the world he got moving and slipped into it.

D. Gerrolt: So your characters and your story really took charge. [silence] I say took charge; I don't mean that you were completely under their spell or anything of this sort.

J.R.R. Tolkien: Oh no no, I don't wander about dreaming at all, no [laughs] no no, it isn't an obsession in any way. You have this sensation that at this point [ticks his pipe] A, B, C, D only A or one of them is right and you've got to wait until you see. I had maps of course. If you're going to have a complicated story you must work to a map, otherwise you can never make a map of it afterwards. The moons, I think, finally were the moons and sunset worked out according to what they were in this part of the world in 1942 actually. Must have been something around it.

D. Gerrolt: You began in '42 did you, to write it?

J.R.R. Tolkien: Oh no, I began as soon as The Hobbit was out - in the '30s.

D. Gerrolt: It was finally finished just before it was published.

J.R.R. Tolkien: I wrote the last ... in about 1949 - I remember I actually wept at the denouement. But then, of course, there was a tremendous lot of revision. I typed the whole of that work out twice and lots of it, many times, on a bed in an attic. I couldn't afford, of course, the typing. There's some mistakes still and also it amuses me to say, as I suppose, I'm in a position where it doesn't matter what people think of me now. There were some frightful mistakes in grammar, which from a Professor of English Language and Lit, are rather shocking.

D. Gerrolt: I hadn't noticed any.

J.R.R. Tolkien: There was one where I used bestrode as the past participle of bestride! [laughs]

D. Gerrolt: Do you feel any sense of guilt at all that as a philologist, as a Professor of English Language, with which you were concerned with the factual sources of language, you devoted a large part of your life to a fictional thing?

J.R.R. Tolkien: No. I'm sure it actually done the language a lot of good! There's quite a lot of linguistic wisdom in it. I don't feel any guilt complex about The Lord of the Rings.

D. Gerrolt: Have you a particular fondness for these comfortable homely things of life that the Shire embodies: the home and pipe and fire and bed - the homely virtues?

J.R.R. Tolkien: Haven't you?

D. Gerrolt: Haven't you Professor Tolkien?

J.R.R. Tolkien: Of course, yes yes yes.

D. Gerrolt: You have a particular fondness then for Hobbits?

J.R.R. Tolkien: That's why I feel at home … look, The Shire is very like the kind of world in which I first became aware of things. Which was perhaps more poignant to me because I wasn't born in it. I was born in Bloomsdale in South Africa. I was very young when I got back, but at the same time it bites into your memory and imagination, even if you don't think it has. If your first Christmas tree is a wilting eucalyptus and if you're normally troubled by heat and sand … then, to have just at the age when imagination is opening out, suddenly find yourself in a quiet Warwickshire village, I think it engenders a particular love of what you might call central Midlands English countryside. Based on good water, stones and elm trees and small quiet rivers and so on, and of course, rustic people about.
To read more of this transcript, click here.
This recording is proof that the brilliance of J.R.R Tolkien will never be replaced. As more new fans emerge in the upcoming years, interviews like this are a great asset to help fans get new insights into their favorite authors and adventures.
What are your favorite anecdotes from this fantastic interview? Who is your favorite character from The Lord Of The Rings? Discuss your passion for Lord Of The Rings and more nerdtastic news on our Facebook page! Also, bookmark our website to keep up with our latest podcasts and news stories.
Source(s):