"The Batman" Rogues' Gallery Fancast
Who will Pattman be facing in 2021?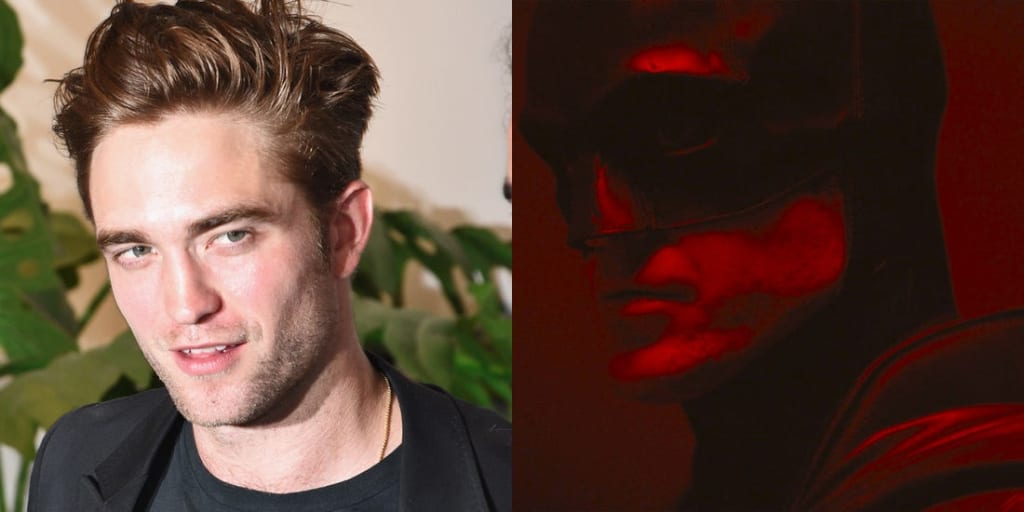 Ever since the 2021 Batman movie was announced, the internet has been filled with nerdy conspiracy theories and fan-casts. Every Batman fan has their idea on who should play their favourite super hero's rouges gallery . In my opinion, Robert Pattinson is the dark knight we didn't know we all needed. He has all the characteristics of the classic Bruce Wayne, the strong jaw, full head of hair, not to mention the sex appeal.
All that's left for the characters is to find out what enemies Batman will be facing in the new movie, and with that comes the need to cast his notorious rogues gallery. Since Batman has the largest rouges gallery in almost all of superhero history, I will only be casting my 10 favourite villains and as always this is my own humble opinion.
10. Mr Freeze - Forest Whitaker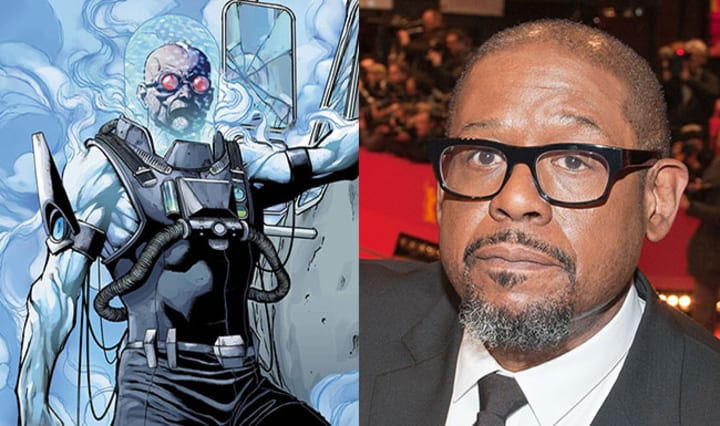 It's fair to say that Mr Freeze has not had a respectable representation in Hollywood, with the only notable appearance being the meme worthy Arnold Schwarzenegger in the weird, fever dream known as Batman & Robin (1997). Mr Freeze has been a meme for far too long, it is time for a serious actor to make the role their own and bring some realism to the character.
The actor to do this is none other than Forest Whitaker. Whitaker is best known for his work in The Last King of Scotland, Black Panther and Rogue One. I think that he could adapt his character in Rouge One which is similar and bring a gritty realism to the role of Mr Freeze and truly be a terrifying foe to Batman.
9. Penguin - Paul Giamatti
The Penguin is known as Oswald Cobblepot and is one of the most classic Batman villains of all time. A shady, greasy, little criminal mastermind, Matt Reeves has already cast Colin Farrell as the Penguin which I think is an excellent choice. In my opinion I would like a more comic accurate, small stature, creepy looking Penguin.
Paul Giamatti would ace this role, not only does he resemble the comic book Penguin, he is also an unbelievable actor who has been in many high budget productions. Giamatti is probably best known for his roles in 12 Years a Slave, American Splendor and Cinderella man. Giamatti could play this role sarcastic and snide and he would bounce off of the serious Batman brilliantly.
8. Bane - Dave Bautista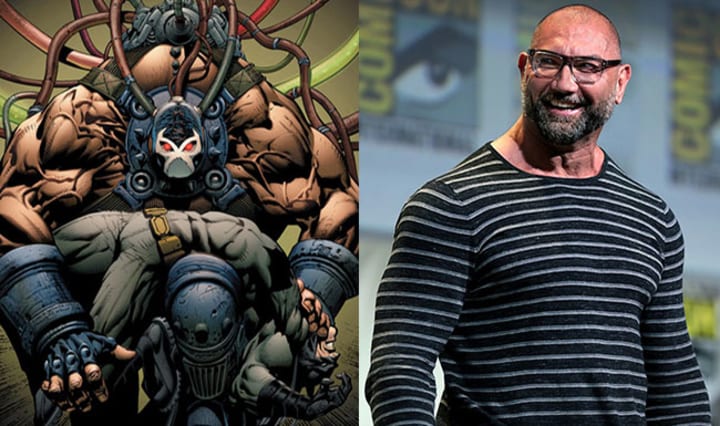 Bane is a super assassin and an escaped prisoner from an island prison in South America. Bane also has unbelievable superhuman strength due to undergoing experiments with a human altering drug. Bane has been included in The Dark Knight Rises (2012), even although Tom Hardy's performance is amazing, his overall body build leaves something to be desired.
This is why I believe Dave Bautista would be the perfect match for this role. He has already proven he can tackle the superhero genre with his performance as Drax in Guardians of the Galaxy and I would love to see him in the form of a villain. Not to mention with his build and his past experience as a wrestler he could ace the role of Bane.
7. Catwoman - Alexandra Daddario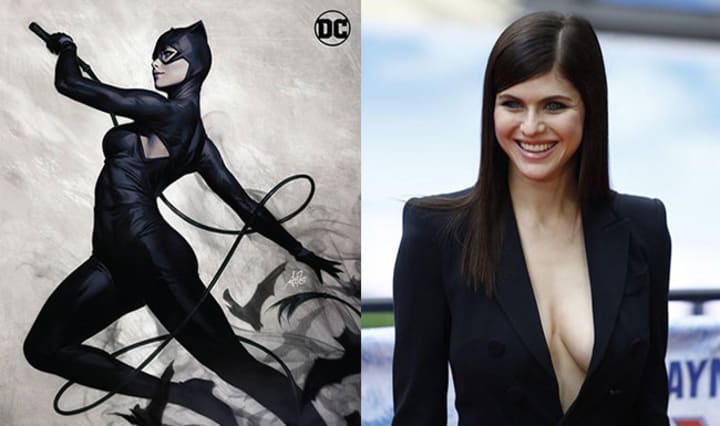 Catwoman is the alter ego of Selina Kyle, an orphan growing up she had to learn to steal and fight to survive in the streets of Gotham city. As she got older she trained in martial arts to perfect her skills in cat burglary. She switches frequently between foe and ally of Batman while keeping a complicated romantic relationship with him.
Alexandra Daddario is the perfect candidate for the role of Catwoman. Over the past decade there have been many calls for her to be cast in the role. She has the overall looks of the character and has been in many critic rated movies such as Baywatch (2017), Texas Chainsaw (2013) and the Percy Jackson Series. Daddario could bring a maturity to the role and be the perfect love interest for Pattinson's Batman
6. Riddler - Neil Patrick Harris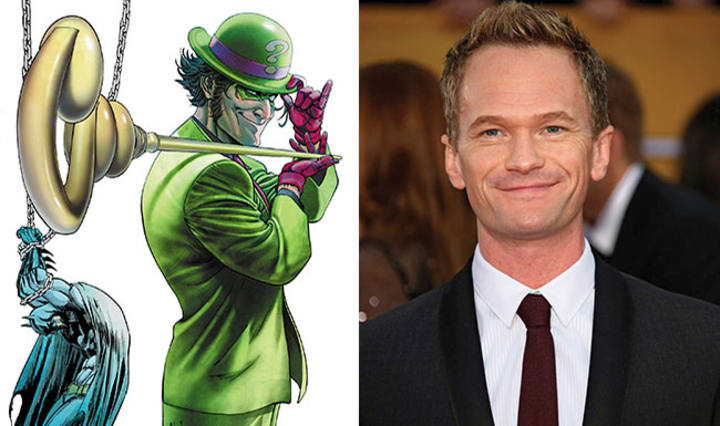 The Riddler, also known as Edward Nigma is one of Batman's most famous enemies. Known mainly for his Green question mark suit and question mark cane. He is obsessed with riddles and word games, usually telling the police and Batman of his crimes in the form of clues. Matt Reeves has already cast Paul Dano in the film, I like Dano in the role as he fits the creepy face with the dirty blonde hair.
However, Neil Patrick Harris is the perfect man to take the role as The Riddler. He already has the sarcasm needed for the riddles and clues from his work as Barney in How I Met your Mother. He has also played serious roles before in the highly rated film Gone Girl (2014). I feel like he could bounce off of the seriousness of Pattinson's Batman and bring some much needed comic relief.
5. Poison Ivy - Madelaine Petsch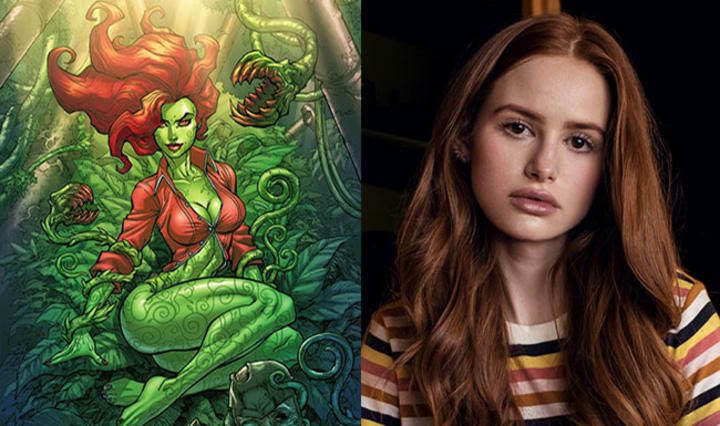 Poison Ivy is the alter ego of Dr. Pamela Lillian Isley, a promising botanist that was seduced into helping her professor in stealing rare herbs. Fearing she would hand him into the police he tried to poison her with the stolen herbs. Surviving this murder attempt she woke up with an immunity to all natural disease and toxins. Moving to Gotham she became an enemy to Batman and potential love interest.
Madelaine Petsch would be the perfect person for the role of Poison Ivy. She obviously already has the looks for it with the red hair. She has been one of the stars of Riverdale since it first aired for which she is best known. No matter what your thoughts on that show are, she is still an incredible actor in it and plays a villain for a lot of the show.
4. Scarecrow - Adam Driver
Scarecrow is the alter ego of Dr. Jonathan Crane, a deranged former psychology professor who uses drugs and psychological techniques to use the fears of his enemies to defeat them. Crane does not do this for money or fame, he does this as a type of sick research into fears in humans.
Adam Driver has got to be the best person for the role of Scarecrow. He has the unsettling looks already that makes Crane creepy. Also he has proven his ability to play a villain in the Star Wars sequel trilogy as Kylo Ren. Driver could bring an unsettling erratic energy to the role and could be well used in a horror type character.
3. Two Face - Oscar Isaac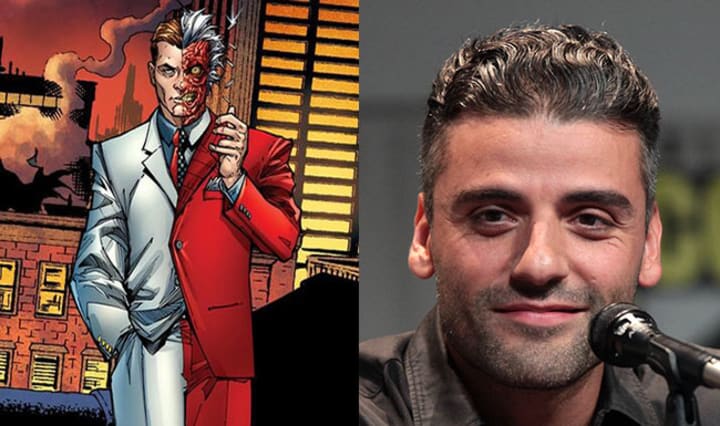 Harvey Dent was once the golden boy of Gotham City and the district attorney. He was also one of Batman's closest allies until a tragic event that left him with half his face burnt off . Causing him to become a schizoid criminal obsessed with chance known as Two Face. Armed with a Two headed silver dollar coin he flips this to decide the fate of his enemies, usually ending badly for his enemies.
Oscar Isaac is the best actor to be cast as Two Face, he has shown his ability to act as a leader in the Star Wars Sequel Trilogy as Poe Dameron which he can use while his character is still Harvey Dent. He has also tackled playing a villain before in X-Men Apocalypse (2016) as the main villain.
2. Harley Quinn - Kaley Cuoco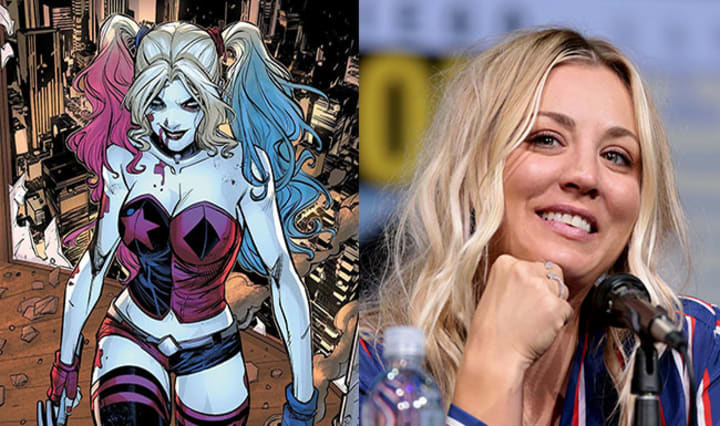 Dr. Harleen Frances Quinzel was a psychiatric intern at Arkham Asylum, she studied the Joker and became madly in love with him turning her somewhat insane. From there on she helped Joker escape multiple times, resulting in her medical license being revoked and becoming Harley Quinn. She has been played by the magnificent Margo Robbie for years but now there is need for a recast.
Kaley Cuoco has got all of the potential to play Harley Quinn in the Matt Reeves Batman film. Cuoco is best known for her role as Penny in The Big Bang Theory which she played for years. However she is currently the voice of Harley Quinn in the current DC animated shows. This shows that she could bring Harley to life on the big screen easily .
1. Joker - Bill Skarsgård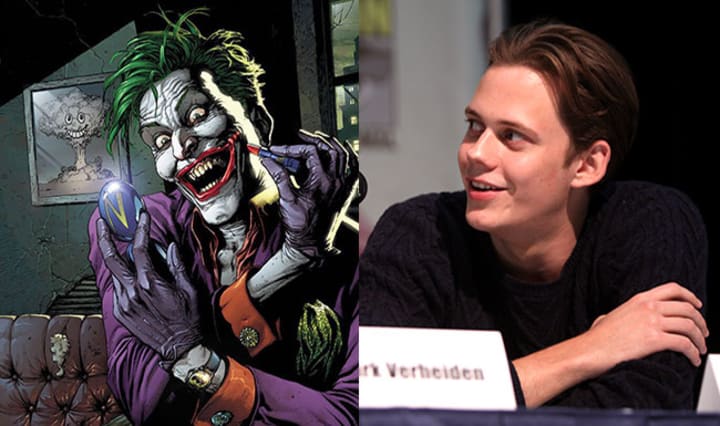 The Joker is the archenemy of Batman, he is a violent insane criminal that kills people for his own enjoyment. No one really knows his backstory as he willingly keeps changing it to keep his enemies in the dark. He is known as one of the smartest criminals in Gotham city. He has been played by some excellent actors over the years such as Heath Ledger and Joaquin Phoenix.
I think Bill Skarsgård is the perfect person to take on the role of the Joker if he is included in the Matt Reeves Batman. He is an unbelievable actor best known for his work in the two recent IT films. Which I dont need to mention is about a killer psychotic clown, he could use that work to crush this role and bring some much needed insanity into Pattinson's life.