The 10 Worst Films of 2003 (according to the critics)
A list full of bad career choices...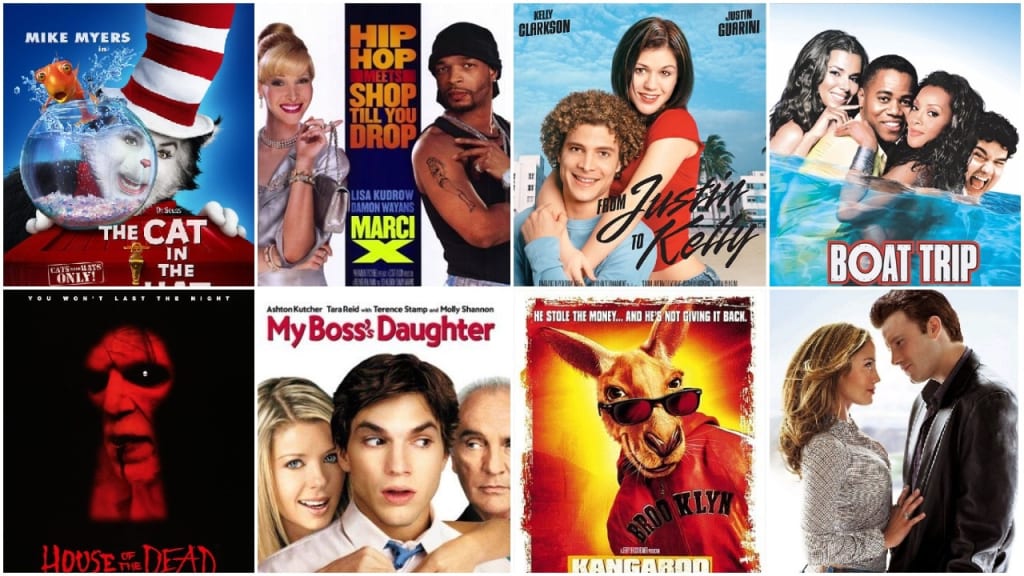 2003 is a year now primarily known for one thing: the controversial invasion of Iraq by a US-led coalition of forces under the premise of finding weapons of mass destruction (WMDs), which would ultimately lead to the Iraq War. The decision to invade the Middle Eastern country, the worldwide anti-war protests and the invasion that followed would dominate news and television for the bulk of the year in one miserable slog that would only worsen as the decade progressed.
However, while all that was happening, the other major news of 2003 was a mixed bag. Part of the year would see the world (not involved in the Iraq War) leaving the past behind. Yugoslavia would change its name to Serbia and Montenegro, officially ending the country's 75-year existence. The European Union would expand its list of members, with the former Soviet Union states of Slovakia, Hungary, Poland, Czech Republic, Estonia and Latvia all joining the fold. Concorde would record its final flights before being quietly retired, ending the age of supersonic commercial air travel. 2003 would also see the birth of several new things, for better or worse. The first cloned deer was born at Texas A&M University. Tesla Incorporated was founded by engineers and entrepreneurs Martin Eberhard and Marc Tarpenning in Silicon Valley and Christopher Poole would launch the controversial imageboard website 4chan.
Finally, Americans who were already beaten down by the effects of 9/11 and the Iraq War would also have to deal with the second-largest blackout in history. In August, a software bug in the alarm system of a mjaor enrgy company would leave the US states of New York, New Jersey, Maryland, Connecticut, Massachusetts, Michigan, Ohio, and Pennsylvania, plus the Canadian state of Ontario without electricity for up to 4 days.
However, when the news was getting people down, they found solace in cinema. Once again, franchise movies, especially movie sequels, would prove the most popular among worldwide consumers. Lord of the Rings: Return of the King would top the worldwide box office, becoming the first movie since Titanic six years earlier to gross over $1 billion. Other sequels like X2, Bad Boys 2, Terminator 3 and the two Matrix sequels would also bring in the punters. Disney would have a good year in both the live-action and animated worlds as Finding Nemo and Pirates of the Caribbean: Curse of the Black Pearl would make for entertaining family viewing. Plus, Jim Carrey and Tom Cruise would prove their power as movie stars, managing to make Bruce Almighty and The Last Samurai into smash hits.
As well as topping the box office, The Lord of the Rings: Return of the King would also dominate in the critical sphere, hoovering up awards wherever it went. The third in the epic trilogy would equal Ben-Hur and Titanic in winning 11 Academy Awards while becoming the first to win 100% of its nominations. Other critical favourites would include the crime drama Mystic River, which would deliver awards for Sean Penn and Tim Robbins, and the comedy-drama Lost In Translation, which would see Bill Murray earn the highest critical praise of his career while providing an effective platform for rising star Scarlett Johansson to showcase her talents.
However, while 2003 saw many an actor or director delivering career-best performances either critically or commercially, this calendar year also saw other members of the trade attempting to sink their careers with their choices of film. Many film careers would never recover following this year, while others were lucky to survive. It's time to look at the ugly side of 2003 filmmaking. The following list was made by finding a mean average of each movie's critical consensus score on Rotten Tomatoes and Metacritic. Here are the the 10 worst critically-received movies of 2003. Enjoy!
10. Marci X (Dir. Richard Benjamin) 14%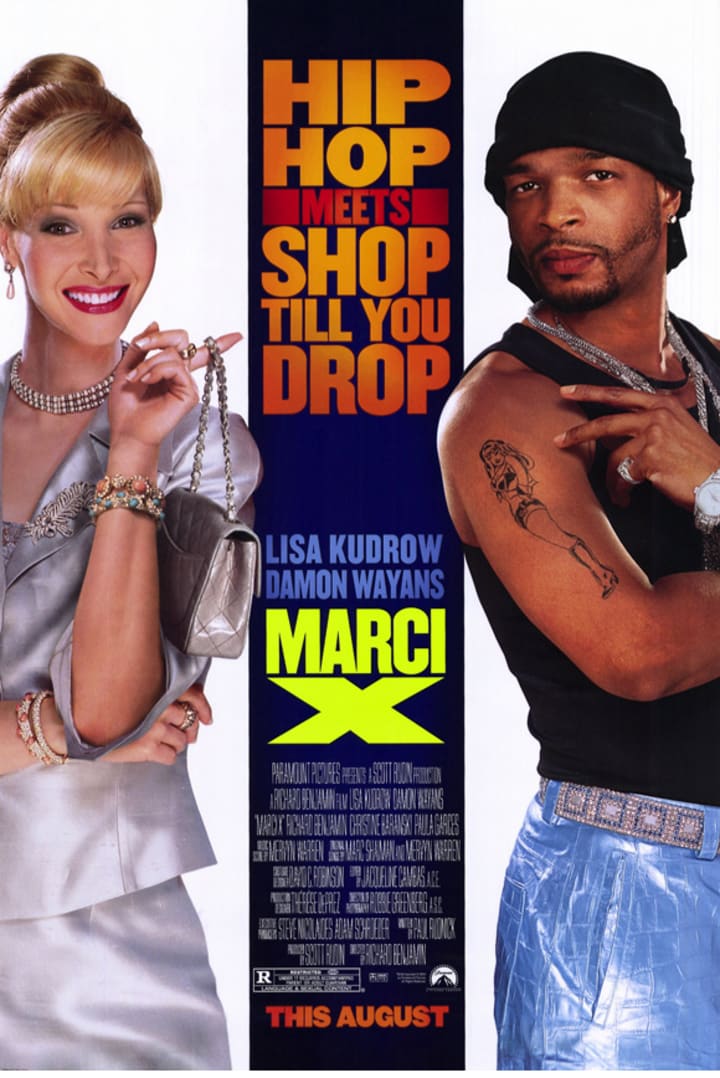 Of all the Friends cast members, Lisa Kudrow has found the best critical notices outside the show. This was evident even by 2003. She had mainly avoided movies like Ed and Kissing a Fool, instead choosing movies like Clockwatchers, Analyse This and Romy and Michelle's High School Reunion. However, she wasn't immune to her fair share of clunkers during this time. 2000 brought the double whammy of Hanging Up and Lucky Numbers, while 2003 would also see her feature in the crime drama Wonderland. Yet, as Friends was starting to reach its end, Lisa Kudrow would attempt to kill her career as a leading movie actor by starring in the romantic comedy Marci X.
According to its poster, Marci X is a romantic comedy where 'hip hop meets shop 'til you drop'. When her father (director Richard Benjamin) suffers a stress-induced heart attack, heiress Marci Feld (Lisa Kudrow) is forced to take over and run his rap label Felony Assault. Once in charge, Marci is tasked with toning down the image of the label's biggest star, rapper Dr S (Damon Wayans). Dr S's latest single has received criticism from a conservative senator (Christine Baranski), who wants the rapper banned from the airwaves. During Marci's campaign to make Dr S more family-friendly, the pair fall in love as Marci tries to keep the Doctor away from controversy.
Marci X would serve as the third and final release for Paramount Pictures during the 2003 summer movie season after the two sequels Rugrats Gone Wild and Lara Croft: Tomb Raider-The Cradle of Life. Unlike the other two films that finished as box office successes, Marci X would flop horribly. Made with a budget of $20 million (an unbelievable budget considering how cheap the final film looks), Marci X would open 18th at the US box office with an opening weekend gross of $872,950. Considering that Lisa Kudrow and Damon Wayans both had leading roles in US network sitcoms at the time (Friends, My Wife and Kids), an opening weekend this low was embarrassing. The film grossed lower than the 9th weekend of Charlie's Angels: Full Throttle. After this disastrous first weekend, Marci X's commercial performance would never recover, either domestically or internationally. From a $20 million budget, Marci X would make back $1.7 million. No wonder director Richard Benjamin never directed another movie after this.
If the box office receipts weren't bad enough, the critics would not be any kinder to Marci X. Wesley Morris of The Boston Globe would underline one of the main sources of criticism, stating, "Marci X...is just clueless and sad, seemingly having missed the point that hip-hop is no longer a novelty to be slapped on the cheek with a white glove." Tim Cogshell of Box Office Magazine would discuss the film's "complete and total disconnect from the contemporary zeitgeist of hip hop culture in American society". Newsday's Gene Seymour would reason that the movie could have been edgy and satirical if it had been released in 1994 "at the latest" while Village Voice would also call out Marci X for its "woefully outmoded cultural stereotypes". Others would criticise the movie's thin plot, with Slant Magazine's Ed Gonzalez referring to Marci X as a "sketch comedy that misses more than it hits". Slate's David Edelstein would call it "drag show dinner theatre".
If you want to see scenes of Phoebe Buffay rapping while she and the rest of the cast play out tired old gags and cultural stereotypes that would have last been acceptable about twenty years earlier, then watch this hip-hop rom-com directed by a 65-year-old man. This movie was written by Paul Rudnick, for goodness sake, the man behind Sister Act, Addams Family Values and In and Out. Marci X is a rom-com that you can easily skip or choose to forget. Thinking about it will only make your day worse.
9. The Cat In The Hat (Dir. Bo Welch) 14%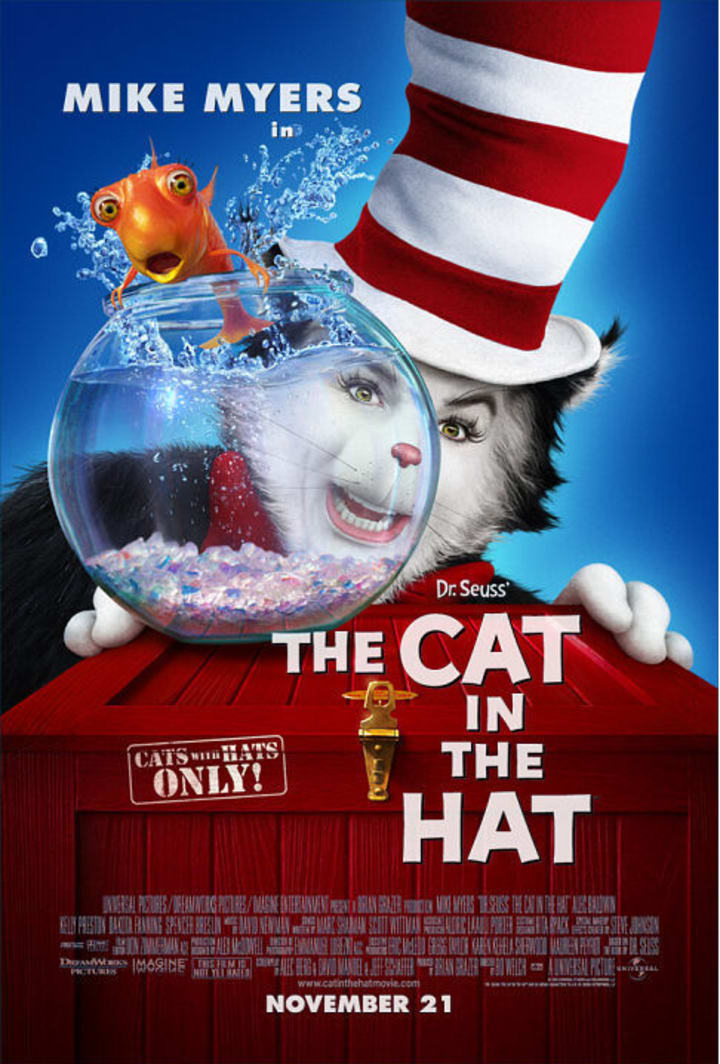 At the start of 2003, Mike Myers was one of Hollywood's biggest box office draws. The Austin Powers trilogy had been a surprise hit, grossing $686 million between 1997 and 2002. In addition, Shrek had become the first movie to win the Academy Award for Best Animated Feature and had been the 4th most-popular film of 2001.
With all this success behind him, Universal Pictures thought that Mike Myers would be the perfect choice to lead their big-screen adaptation of one of the world's most beloved children's books, Dr Seuss's The Cat in the Hat. In their plans, Myers would be playing the titular Cat. However, this wasn't a case of Myers lending his voice to an animated movie, as he had done with Shrek. No, Mike Myers would be portraying the Cat in the Hat in a live-action version of the book. The studio's original choice Tim Allen had dropped out due to scheduling conflicts and Myers would step in as part of an agreement he had with the studio and the film's producer Brian Grazer (of Imagine Entertainment). This agreement had come into place after Myers had cancelled a film adaptation of his Saturday Night Live sketch Sprockets, so he felt obligated to pay Universal back by starring in this movie.
The Cat in the Hat was the second live-action adaptation of a Dr Seuss book. How The Grinch Stole Christmas, starring Jim Carrey as the green Scrooge, was a huge hit back in 2000 and now Universal wanted to repeat this success by having another of the world's top comedy actors play a Dr Seuss creature on-screen. The film would be directed by Bo Welch, whose previous movie work had come as a production designer on The Colour Purple, The Lost Boys, Beetlejuice, Batman Returns and Men in Black. The studio had managed to get Seinfeld writers Alec Berg, David Mandel and Jeff Schaffer ('The Bizarro Jerry', The Pool Guy, The Susie) to write the script. They had managed to get Alec Baldwin among the supporting cast. How would the film turn out? Horribly.
The film version of The Cat in the Hat follows the basic story of the original book with a few changes added to pad the tale out to a feature-length runtime. You know how the story goes. Workaholic single mother Joan Walden (Kelly Preston) is forced to leave her kids Sally (Dakota Fanning) and Conrad (Spencer Breslin) in the hands of a narcoleptic babysitter (Amy Hill) for the day. However, when the babysitter falls asleep and the kids are bored, the titular Cat (Mike Myers) shows up to show the kids how to have fun, and hijinks soon ensue. Also, Sean Hayes voices the family's talking CGI fish, and Alec Baldwin plays a next-door neighbour who wants to marry Joan for her wealth while sending Conrad away to military school.
The Cat in the Hat would be produced on a rather large budget of $109 million. However, the popularity of the original book and Mike Myers' box office bankability would surely cover that price, wouldn't it? It seemed that way as The Cat in the Hat opened No.1 at the US box office with $38.3 million grossed. The film would even retain the top spot over the Thanksgiving weekend. However, following the holiday, and as the film's hostile critical reception came in, The Cat In The Hat's popularity would soon nosedive, grossing just $7 million in its 3rd week. The film would then drop out of the top 10 before Christmas 2003, eventually finishing with a US domestic gross of $101 million, failing to break even financially. A $32 million international gross, with nearly $14 million coming from the UK alone, added to the domestic results, would see The Cat the the Hat finish with worldwide box office takings of $133.9 million. However, based on its production and marketing costs, and the size of the source material, the live-action adaptation of The Cat In The Hat was a commercial failure.
It also wouldn't help that the film was panned by nearly every critic who laid eyes on it. Many, including Richard Roeper, would point out the ridiculousness of turning a 1,600-word book into an 82-minute film, saying that the plot was needlessly stretched out. The resulting gaps in the story would lead to what The New York Post's Megan Lehmann would describe as "inane filler". Another common complaint was that this big-budget adaptation of a heart-warming children's tale had ended up as a soulless movie. Marc Savlov of The Austin Chronicle would say that The Cat in the Hat was "A film adaptation with big-buck effects, but no soul to speak of". Kirk Honeycutt of the Hollywood Reporter would call the film "a lacklustre and nearly charmless affair". Nick Shrager would even state, "The Cat in the Hat isn't so much a movie as an extremely long commercial for Universal's Dr Seuss-inspired products and tie-ins."
Movie critics would even disagree on what audience the movie was intended for. Todd McCarthy of Variety would say that "the younger the viewers, the better reactions are bound to be, while grownups will sit still in varying states of bemusement and discomfiture." However, several writers would point out the film's often adult humour. Also, there were numerous references to hairballs and cat litter when describing The Cat In The Hat, with the Evening Standard's Antonia Quirke writing, "The Cat In The Hat is dog food. However, even some harsher critics would praise the movie for its visuals and production design. Others would even give props to Mike Myers for his performance, the latter view not being shared by all.
However, the most negative reaction to The Cat In The Hat would come from Audrey Geisel, the widow of Dr Seuss. Geisel was so critical of the movie that she forbade further live-action adaptations of her late husband's work. Since The Cat In The Hat, all adaptations of Seuss's work have been animated movies.
The two leading bad movie award ceremonies would also have their fill of Universal's big blunder. From nine Golden Raspberry nominations (including Worst Picture, Worst Actor, Worst Director and Worst Screenplay), The Cat In The Hat would win the special, one-time award of Worst Excuse for an Actual Movie. It would later be nominated for the Worst 'Comedy' of the Razzies' first 25 years, but would ultimately lose out to another film on this list. The film would be 'more' successful at the Stinkers Bad Movie Awards, winning four gongs from twelve nominations. These awards were for Worst Picture, Worst Screenplay, Most Annoying Non-Human Character (for Mike Myers' Cat) and Worst Performance by a Child Actor for Spencer Breslin's performance as Conrad.
Luckily, Mike Myers did not have to think about the failure of The Cat In The Hat for too long as 2004 would see him star in the highest-grossing movie of the year, Shrek 2.
8. Boat Trip (Dir. Mort Nathan) 12.5%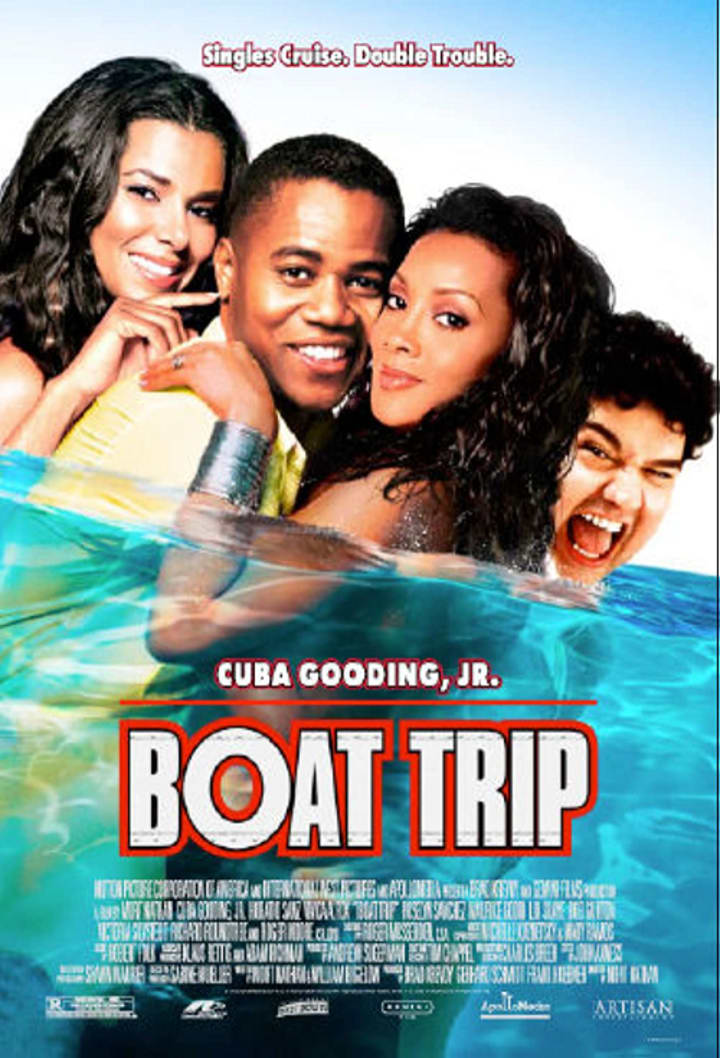 Cuba Gooding Jr. is often considered an actor who 'wasted' his Academy Award win with the career choices he made following his victory. In 1996, Gooding Jr would win Best Supporting Actor for his role as charismatic football player Rod Tidwell in the awards-favourite romantic comedy Jerry Maguire. Cuba would follow up his big win by playing a supporting role in As Good As It Gets, another critical darling. However, nearly every film he made following As Good As It Gets would fail to hit the mark. Remember those Cuba Gooding Jr films A Murder Of Crows, Instinct, Chill Factor or Men of Honor? Me neither. The early 2000s would also bring the world Snow Dogs and Pearl Harbour, so there's that.
By 2003, Mr Gooding Jr had already made plenty of bad career choices, not a good look for an Academy Award winner. He would soon make another one by choosing to star in the romantic comedy Boat Trip. The film was written and directed by Mort Nathan, who had won an Emmy for writing The Golden Girls. However, as has been shown by The Cat In The Hat, getting great sitcom writers to turn their hands to writing a comedy movie does not always work. Boat Trip is another example of this, featuring a plot which would not fly today.
The plot for Boat Trip sees recently-dumped Jerry (Cuba Gooding Jr.) and his friend Nick (Horatio Sanz) preparing to go on a singles cruise in a bid to find a mate and improve their miserable lives. However, after Nick insults a member of the travel agency (an openly gay man), the agency's manager (Will Ferrell) gets revenge by unwittingly booking Jerry and Nick on a cruise intended for gay men. Once they realise their situation, the pair learn that gay men are not as objectionable as they first thought. They try to make the best of their holiday, finding potential partners with cruise dance instructor Gabriella (Rosalyn Sanchez) and model Inga (Vitoria Silvstedt). Although to get close to Gabriella, Jerry poses as a gay man.
Boat Trip would first release in the UK on 4th October 2002. The film would open 7th at the box office with a $655,423 gross and finish with a $1.5 million gross after 12 weeks in cinemas. The film would then release everywhere else in 2003, including in the USA on 21st March. Opening in 1,714 theatres, fewer than the average wide release, Boat Trip would gross $3.7 million on its opening weekend. This was only enough to place it 10th at the US box office. Within two weeks, Boat Trip had dropped out of the top 20 placings and was now grossing slightly over $439,000. Boat Trip had been made with a production budget of $20 million. However, the movie would fail to recoup this comparatively small budget. A domestic gross of $8.6 million and international receipts of $6.4 million would result in a worldwide gross of $15 million, making for a disappointing box office failure.
With a plot such as that I described earlier, it is no surprise that Boat Trip was seen as unfunny and probably offensive by those who reviewed it. Richard Roeper would call Boat Trip "a tasteless, tacky farce laced with cheap homophobic jokes and cringe-inducing stereotypes." Marjorie Baumgarten and Connie Ogle would describe the film's humour as puerile. The Washington Post's Michael O' Sullivan would say of Boat Trip, "so much for subtlety, not to mention sensitivity to stereotypes". Charles Taylor would say, "In a time of war, our troubled nation yearns for fat guys telling gay jokes and black men dancing. Hollywood answers the call." However, whether the jokes were offensive or not, many critics would say that the film was terrible regardless. Peter Bradshaw of the The Guardian would give Boat Trip a zero-star rating, saying, "It's offensive to gays and straights and everyone else with a brain." Roger Ebert would echo these sentiments, saying, "This is a movie made for nobody, about nothing."
Some reviewers thought so lowly of Boat Trip that they called into question the career of its leading man. Ed Gonzalez of Slant Magazine would say that Boat Trip was watching Cuba Gooding Jr "putting another nail in his career coffin." John Monaghan of the Detroit Free Press would wonder, "How low can Gooding go?"
Well, Mr Monaghan, Cuba Gooding Jr would follow up Boat Trip with the musical comedy The Fighting Temptations and inspirational sports drama Radio. Gooding's performances in these two films, plus Boat Trip, would earn him a nomination for the Golden Raspberry Award for Worst Actor. Boat Trip would also earn director Mort Nathan his first Razzie nomination. Both he and Cuba would lose out in their categories to the next film on this list. However, Boat Trip would get awards gold from the Stinkers Bad Movie Awards, winning the gong for Most Painfully Unfunny Comedy, with Gooding also receiving another nomination for Worst Actor and the movie getting shortlisted for Worst Picture.
After Boat Trip, the career of Cuba Gooding Jr would continue to decline for the rest of the 2000s, taking in the likes of Norbit and Daddy Day Camp. It would take until a decade after Boat Trip's release for the former Oscar winner to start picking the correct roles consistently.
7. Gigli (Dir. Martin Brest) 12%
A question: Why is it so hard for real-life romantic couples to replicate their actual chemistry when starring in movies together? Then-married couple Angelina Jolie and Brad Pitt couldn't do it in 2015's By The Sea. Kim Basinger and Alec Baldwin failed to achieve it in the 1994 action movie The Getaway. Then, in an echo that resonates right to the date that this article is being written, Ben Affleck and Jennifer Lopez would stink up the screen together in 2003's Gigli. This movie has confounded people for nearly two decades.
Jennifer Lopez and Ben Affleck first became romantically involved on the set of Gigli, where the pair played lead characters Ricki and Larry. Their connection was enough for Lopez to leave her then-husband Cris Judd and form the relationship that would later become known simply as 'Bennifer'. When Gigli was released into cinemas in August 2003, the pair had gotten engaged, leading to more tabloid publicity surrounding their relationship. However, if the pair was so in love, how did they fail to replicate this connection on-screen?
Along with the publicity caused by Bennifer, Gigli had a great filmmaker leading the project. The one and only Martin Brest would serve as the Gigli's director, sole writer and co-producer. Brest had made his name producing crime comedies, being responsible for such genre classics as Going In Style, Beverly Hills Cop and Midnight Run. He had also led Al Pacino to an Oscar with 1992's Scent of a Woman. With Brest helming Gigli, another 'crime comedy', there was reason to be optimistic, especially with Pacino and Christopher Walken appearing among the film's supporting cast. The film would also form part of a packed summer movie season for Sony/Columbia Pictures, releasing in between Bad Boys 2 and S.W.A.T. The film's summer release was also backed up by a $75 million production budget, showing Sony's confidence in Gigli.
What is Gigli about? Low-ranking Los Angles mobster Larry Gigli (Ben Affleck) is tasked with kidnapping the mentally challenged brother (Justin Bartha) of a powerful federal prosecutor to use as a bargaining chip in keeping Gigli's mob boss Starkman (Al Pacino) out of prison. To ensure that he gets the job done, Larry's organisation hires a woman named Ricki (Jennifer Lopez) to assist him. However, the more time Larry and Ricki spend together, the more they fall for each other.
Despite featuring Ben Affleck and Jennifer Lopez in the lead roles, Gigli would become the most high-profile box office bomb of 2003. Made for $75 million, Gigli would gross $7.2 million. Released on 1st August 2003, the same week as American Pie: The Wedding, Gigli would open 8th domestically, grossing $3.7 million. The movie also had to compete with Finding Nemo, Pirates of the Caribbean: The Curse of the Black Pearl, Spy Kids 3: Game Over and Bad Boys II, all of which performed better in their later weeks than Gigli managed in its first. After one week, the movie had dropped to 16th in the standings, only managing to bring in $678,640, an 81% drop from the previous week. This 81% drop was the largest in movie history. These numbers were enough for Gigli to be pulled out of all but 73 cinemas in the USA. In its third week, the movie would bring in just $18,702, a 97% drop for week two. After this, Sony would pull the film from all US cinemas, marking the film's three weeks as one of the shortest circulation time for a big-budget picture.
Similar box office results would happen outside of the USA. The film would gross $1.2 million internationally, and $355,000 of that would come from Mexico. With a total worldwide gross of $7.2 million from a $75 million budget, Sony Pictures would ultimately lose $72 million on the project. Gigli is now one of the most infamous commercial failures in Hollywood's long history.
Gigli is also known as one of the worst movies ever made. The film currently holds scores of 6% on Rotten Tomatoes and 18% on Metacritic. Even audiences hated it, with user scores of 13% on RT and an average of 2.6/10 on IMDb proving this fact.
In a word, professional critics would describe Gigli as 'unwatchable'. More than one critic would question whether the film had gone into the realm of 'so bad it's good'. Geoff Pevere of the Toronto Star would describe Gigli as an "exquisitely bad movie" before explaining that it is "One to be savoured, marvelled over, shared with friends and generally appreciated in a state of awestruck wonder."However, Lisa Kennedy of the Denver Post would say that the movie ultimately "fell short" in its attempt to be 'so bad it's good'. Criticism would come towards the performances of Ben Affleck and Jennifer Lopez, whom many critics would say were more interested in each other than in the movie they were making. Peter Travers of Rolling Stone wrote, "The stars display zip chemistry, but seem to find themselves adorable. They're so taken with each other they don't need an audience." A.O. Scott would agree, calling Gigli "[A] hopelessly misconceived exercise in celebrity self-worship.".
However, most critics would lay most of the blame for the movie's failure on Martin Brest's script. Bill Murray of Arizona Republic would say, "There's virtually no story, no conflict, no tension and no suspense, just the endless droning of the worst dialogue written in recent memory." Jan Stuart of Newsday would say Brest "freights his actors with leaden pacing and a theatrical gangster-speak somewhere to the left of Damon Runyon and the right of Elmore Leonard." Ed Gonzalez would describe Gigli as a film that "pretends to be a sophisticated comedy of the sexes" but is written "with the adolescent gusto of a fifty-year-old who's finally discovered that a penis goes inside a vagina." Detroit critic Tom Long would wonder how Martin Brest managed to keep Gigli being released straight-to-video. Roger Moore would underline the movie's overall lack of quality when describing it as "a comatose comedy about mental illness, contract killers and corpse desecration." Indeed.
Gigli would end up as the big winner at the Golden Raspberry and Stinkers Bad Movie Awards, winning a combined 12 awards from 20 nominations. At the former, Gigli would walk away with the 'Big Five' (Worst Picture, Worst Director, Worst Actor, Worst Actress, Worst Screenplay) and Worst Screen Couple for Bennifer. At the latter, the movie would avoid winning Worst Picture but would again pick up the Worst Actor, Actress and Screen Couple Awards in addition to both Worst Fake Accent awards for the two leads.
Martin Brest has not worked on a major motion picture since Gigli. Jennifer Lopez's career would rebound with leading roles in Shall We Dance and Monster-In-Law, both romantic comedies that made a profit. For Ben Affleck, Gigli would mark another failure in a series of bad movies, including Daredevil, Paycheck, Surviving Christmas and Jersey Girl. Jersey Girl would be the second and final film that Affleck and Lopez made as a couple. The pair would attempt to get married in the months following Gigli's release but would ultimately split in early 2004. However, they would eventually find each other again, and they didn't need Gigli to help them.
6. Kangaroo Jack (Dir. David McNally) 12%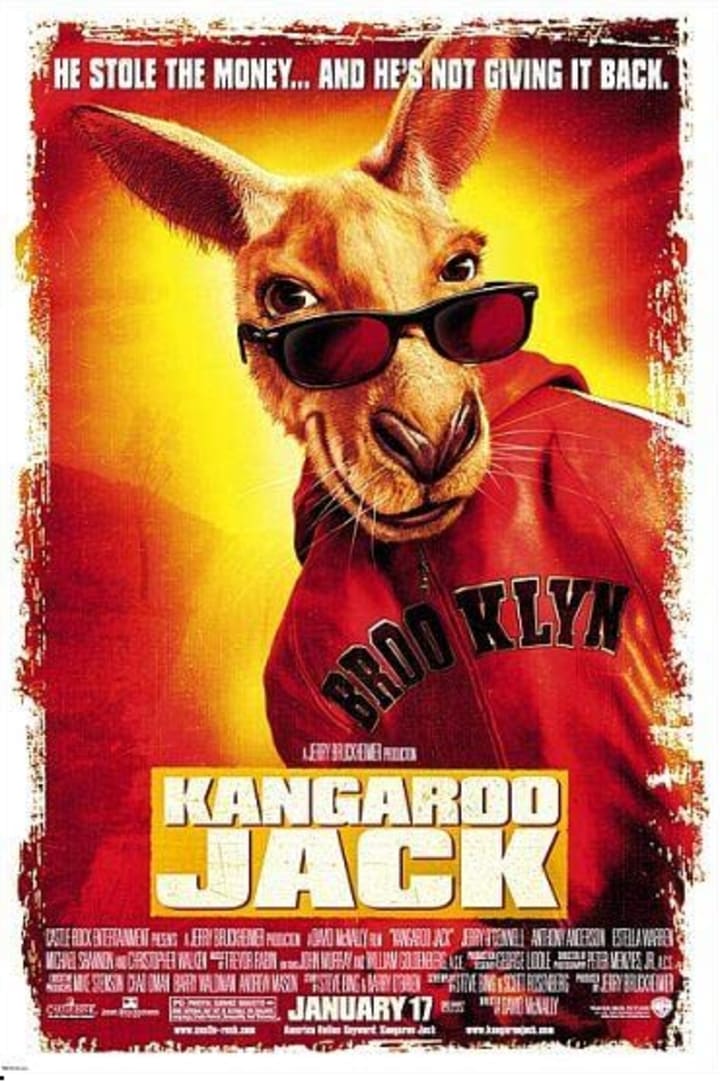 For his supporting role in Gigli, Christopher Walken was nominated for a Razzie for Worst Supporting Actor. However, this nomination was also prompted by the former Oscar winner's supporting role in another bizarre 2003 movie, Kangaroo Jack. Released in early January in the USA but later serving as a prime summer movie in Europe, Kangaroo Jack is another poor career choice for everyone involved.
Kangaroo Jack tells the story of Charlie Carbone (Jerry O'Connell) and Louis Bokker (Anthony Anderson). Charlie runs a beauty salon for which the majority of profits are taken by the mob. As the stepson of prominent mobster Salvatore Maggio (Christopher Walken), Charlie is sometimes tasked with running jobs for the firm. However, after Charlie and Louis botch a job involving stolen TVs, the pair are given one final chance to prove themselves: deliver a package containing $50,000 to a Mr Smith stationed in Australia. Once in Australia, Charlie and Louis accidentally run over a kangaroo. Posing for a photo with the unconscious creature (even putting Louis's coat containing the money on it), the kangaroo wakes up, attacks the pair and runs away with the $50,000. Charlie and Louis then engage in a wild marsupial chase as they try to reclaim their money from the kangaroo. At the same time, Mr Smith and several of Sal's henchmen are on Charlie and Louis's tail, wanting the pair dead for botching another job.
If you are wondering why I've barely spoken about the kangaroo named Jack, the only thing on the film's theatrical poster, there is a reason. Kangaroo Jack is not and was never planned to be the main focus of Kangaroo Jack. The movie wasn't initially called Kangaroo Jack. All the marketing materials that showed the kangaroo rapping and talking? The kangaroo only speaks during a hallucination. Otherwise, he is just a regular kangaroo.
Kangaroo Jack is a film that the studio tried to save in post-production and marketing. The film was initially titled Down and Under and was originally supposed to be a black Mafia comedy featuring violence, strong language and sex. However, after six months of shooting, the producers found from test screenings that the only thing audiences liked about the movie was the hallucination scene where the kangaroo talked. Warner Bros. then decided to market the film around the kangaroo and this one scene while toning down the film's more adult elements to make it acceptable for a PG rating. What you are left with is a confusing mish-mash of elements as a dark comedy involving hitmen trying to kill our main characters while they chase down a kangaroo, all while the movie dabbles in both family-friendly and adult humour. Critics and audiences noticed this mess of elements and quickly cried foul.
Glenn Lovell of the San Jose Mercury News would underline Kangaroo Jack's problems in moving from being an adult film to a more family-friendly one. He would tell parents to take heed before taking their kids to the cinema, writing, "Kangaroo Jack -- filled with Mafioso heists and hit men, camel flatulence and at least one wet T-shirt soak -- will hop right over the perplexed heads of your little darlings." Orlando critic Jay Boyar would say the film was "off limits" to kids due to the film's combination of "scatological humour, gunplay and sexual references", including a scene where Charlie fondles female character Jessie's breasts off-screen. Nell Minow would write that Kangaroo Jack "shows how inadequately the MPAA rating system handles the kinds of materials that are of concern to parents."
However, other critics would identify the movie as one for preteens and teenagers if even those groups would manage to enjoy this presumed comedy. The Seattle Times Moira McDonald would describe Kangaroo Jack as "A collection of tepid chase scenes perked up, sadly, by moments of camel flatulence." The Observer's Rex Reed would proclaim the film as "89 minutes of pure agony without a laugh in sight". Finally, Tom Long of the Detroit News would recommend that cinemagoers "take a camcorder to the zoo and make your own kangaroo movie", stating that their home movie would be superior.
Despite a January release, Kangaroo Jack would top the US box office in its opening weekend with $16.5 million. It wouldn't drop the following week, only falling to 2nd with $11.5 million. In total, Kangaroo Jack would spend five weeks in the US top 10, meeting its $60 million production budget with a $66 million domestic box office gross. When the film was released internationally in 2003, it would post positive results in the UK, Mexico, Germany and Australia. In the UK, Kangaroo Jack would open 2nd at the box office and spend six weeks in the top 10 placings before finishing with $5.2 million. Kangaroo Jack would top the charts in Mexico in its first week, eventually making $4.2 million. Added grosses of $2.3 million from Germany and Australia would ultimately result in a $21.9 million international gross for the movie. In total, Kangaroo Jack would make $88.9 million worldwide. Not enough to cover the film's total production and marketing budget, but far more than would have been expected for a movie like this. The deceptive kangaroo poster worked.
Christopher Walken and Anthony Anderson would be nominated for the Golden Raspberry Award for Worst Supporting Actor for their performances in Kangaroo Jack, with neither man triumphing. Both would miss out on representation at the Stinkers Bad Movie Awards, but the film would still receive four nominations for Worst Supporting Actress (for Estella Warren), Most Painfully Unfunny Comedy, Least 'Special' Special Effects and Most Annoying Non-Human Character for Kangaroo Jack's title character. However, the movie was not considered bad enough to win any of these awards. In fact, the only prize that Kangaroo Jack would win was for Favourite Fart in a Movie, as selected by the Kids' Choice Awards. Well, I guess the film did end up appealing to kids after all.
5. My Boss's Daughter (Dir. David Zucker) 11.5%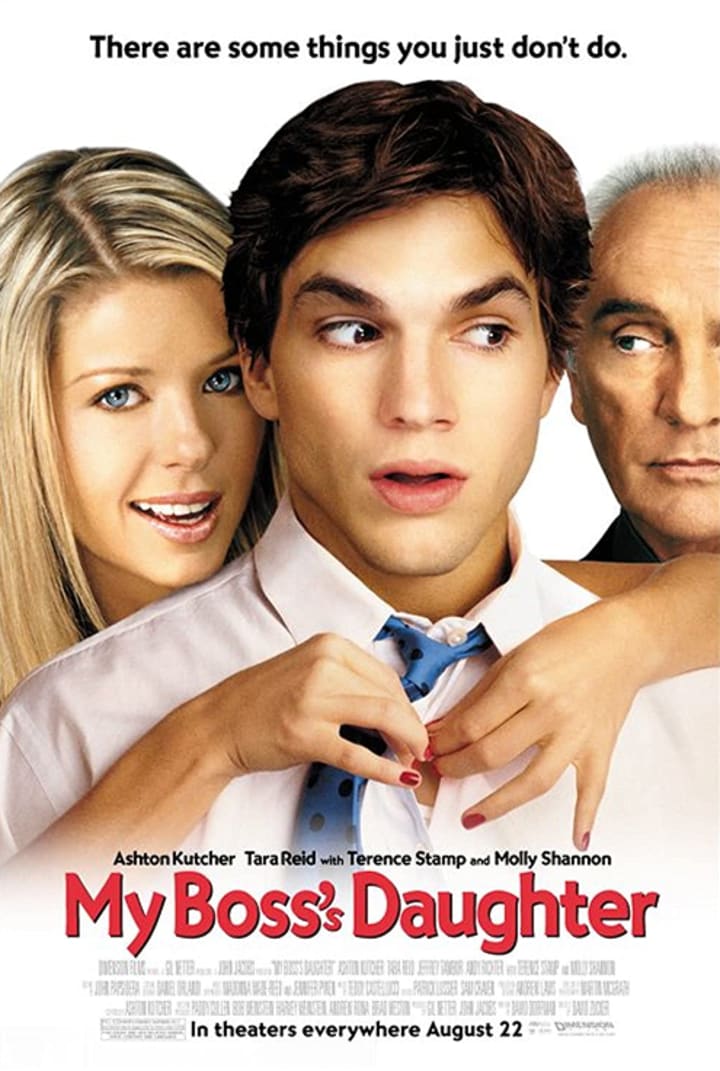 There is an unwritten rule when it comes to choosing which movie to watch at a cinema. If you see a poster for a comedy movie that features red text on a white background, avoid it. There is a strong likelihood that the film in question will fail to amuse you. There are exceptions to this rule, like Wedding Crashers and I Love You, Man, but this unwritten rule is often backed up by more misses than hits. The 2003 romantic comedy My Boss's Daughter only served to prove the rule rather than subvert it.
If you want a sign of when My Boss's Daughter was released, the movie's central couple is played by Ashton Kutcher and Tara Reid, two names on the rise in the early years of the new millennium. Tara Reid was part of the company of actors that was made famous by American Pie in 1999. Appearances in Urban Legend, Dr T and The Women and Van Wilder would only bolster her appeal to Hollywood's comedy producers. Meanwhile, Ashton Kutcher had become the breakout star of Fox's period-based sitcom That 70's Show. Kutcher's high-energy performance as dumb but chaotic pretty boy Michael Kelso made him a must-watch part of the series. After some minor appearances in teen comedies, Kutcher made his big-screen breakthrough in the 2000 stoner comedy Dude, Where's My Car? The following two films from Kutcher had then taken him in entirely different directions, from playing a post-American Civil War-era Texas Ranger in Texas Rangers (AKA Young Guns for the 2000s) and as a romantic lead alongside Brittany Murphy in Just Married. The latter would make over $100 million off an $18 million budget, showing that Kutcher could effectively lead a romantic comedy, even if the movie were terrible.
With their combined successes, Tara Reid and Ashton Kutcher would be teamed together in My Boss's Daughter, a late-summer release from Miramax Pictures. The movie would be directed by David Zucker, of the famous Zucker, Abrahams and Zucker trio that directed classic comedies Airplane and The Naked Gun. Zucker's only prior work as a solo director had come with the 1998 Trey Parker and Matt Stone movie BASEketball. Take from that what you will. Gil Netter, who had previously worked with Zucker on The Naked Gun and with Ashton Kutcher on Dude Where's My Car, would serve as one of the film's primary producers along with John Jacobs. Jacobs had helped release the Adam Sandler/Jack Nicholson comedy to commercial success earlier in the year. The Anger Management theme would continue with that film's writer David Dorfman providing the screenplay for My Boss's Daughter.
David Dorfman's screenplay is about Tom Stansfield (Ashton Kutcher), a researcher at a publishing company. Tom has a crush on Lisa (Tara Reid), the daughter of Tom's boss Jack Taylor (Terence Stamp). Through conversation with Lisa, Tom finds that she has been asked to house-sit for her father on the same night as a party she wants to attend. Tom encourages Lisa to ignore her father's demands and go to the party instead. However, this advice leads to Tom watching his boss's house for the night. What ensues is a comedy of errors involving drug dealers, checking friends' breasts and a deeply depressed pet owl as Tom tries to impress and get closer to Lisa while hoping that his boss does not discover what is happening in his home.
My Boss's Daughter contains an impressive cast of known comedy actors, including Andy Richter, Molly Shannon, Jeffrey Tambor, David Koechner, David Foley and Kenan Thompson, and appearances from Michael Madsen and Carmen Electra. However, this cast could not stop My Boss's Daughter from being a critical and commercial flop.
Made for less money than Ashton Kutcher's other 2003 rom-com Just Married, My Boss's Daughter would end up grossing 1/5th of what its earlier counterpart had managed. Released in late August, the movie would open 10th at the US box office, grossing $5 million in its opening weekend. This gross was less than the $5.4 million managed by American Wedding in its 4th weekend of release. After these less than impressive numbers, My Boss's Daughter would drop out of the top 10 the following week and remain on the fringes before truly nosediving into obscurity in mid-September. The film would finish with a $15.5 million domestic gross, scraping past its original $14 million production budget. My Boss's Daughter would also struggle to drum up business overseas. A total of $2.6 million raised internationally would give My Boss's Daughter a final gross of $18.1 million worldwide. Not a box-office bomb, but definitely a flop. I bet Tara Reid wished she'd been cast in American Wedding now.
J ames Berardinelli would get the ball rolling on My Boss's Daughter, describing sitting through the movie as "a critic's worst nightmare". Nick Shager would say that "few films are as consistently pathetic". Susan Walker of the Toronto Star would write "A pink slip is in order for all concerned." Many critics would compare My Boss's Daughter negatively with the comedic movies of the Farrelly Brothers (There's Something About Mary, Dumb and Dumber). Elvis Mitchell of the New York Times was one, calling My Boss's Daughter a "muddled comedy of confusion [that] feels as if it were a Farrelly brothers' comedy that has sat exposed to the elements long past its expiration date." Michael Wilmington of the Chicago Tribune would write that the movie "makes the average effort by the Farrelly Brothers look like a Merchant-Ivory film" while saying that My Boss's Daughter is a "bad taste" comedy that "boggles the mind". The film was also criticised for its lack of humour while attempting to seemingly be both a screwball comedy and a gross-out comedy. Carla Meyer said the movie failed at being both, while the many comedic situations faced by Ashton Kutcher were viewed as contrived.
Like many films on this list, My Boss's Daughter would be rewarded (or punished) for its poor quality with nominations from the Golden Raspberry Awards. The film would receive three nominations: Worst Actor for Ashton Kutcher, Worst Supporting Actress for Tara Reid and Worst Screen Couple for Kutcher and Reid. The movie would luckily walk away empty-handed on the night.
The year after My Boss's Daughter, Ashton Kutcher would get his first major serious role, leading the sci-fiction time travel thriller The Butterfly Effect. Meanwhile, Tara Reid's career would begin to decline.
4. From Justin To Kelly (Dir. Robert Iscove) 11.5%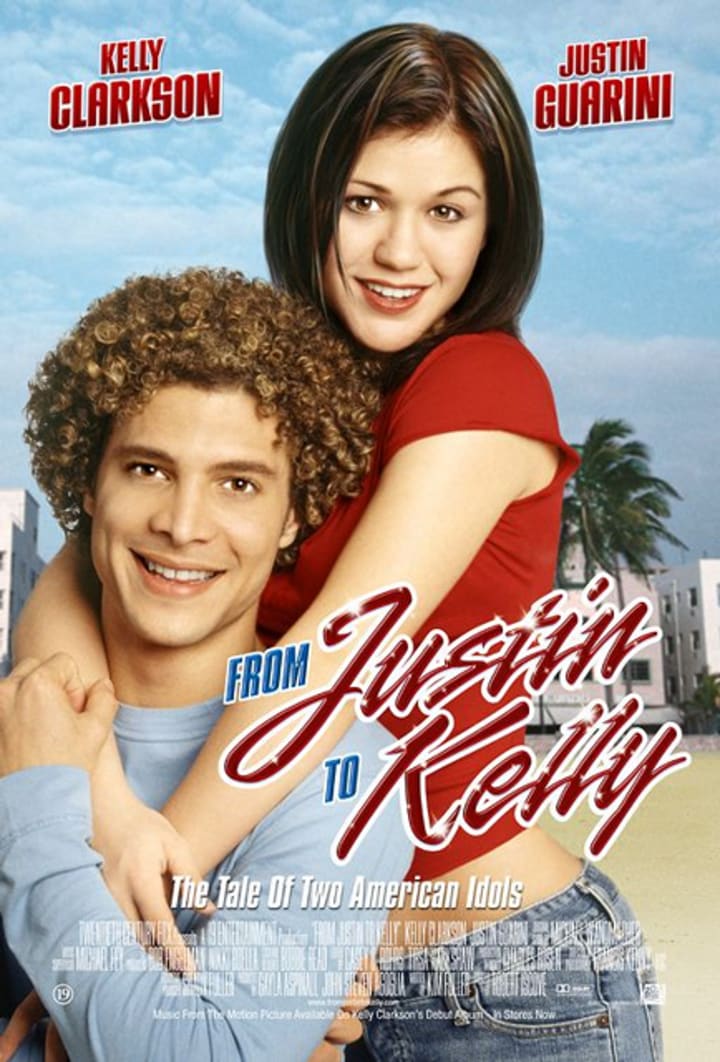 In the early 2000s, TV and record company executives came up with the same idea: take a member (or members) of the general public and turn them into the next hit music star through the vessel of a multi-week TV singing competition. This idea would be proved genius, as the shows Popstars and Pop Idol would air with much commercial success in the UK in 2001 and early 2002. The subsequent winners of these competitions, Hear'Say and Will Young, saw their careers begin with instant success due to these shows. After the success of Pop Idol, show creators Simon Fuller (the man behind the creation of The Spice Girls and S Club 7) and Simon Cowell decided to take the show to the largest market possible: the USA.
American Idol would debut on Fox on 11th June 2002. The show would air weekly until 4th September, when Kelly Clarkson was crowned the show's inaugural winner over runner-up Justin Guarini. As had been the case in the UK, American Idol was a massive hit for Fox. Debuting with 9.85 million viewers, Idol would increase in popularity across its run, eventually finishing with 22.77 viewers tuning in to watch the season finale. These numbers would see American Idol top the Nielsen Ratings for the week. The show's popularity was also shown on the music charts, as Kelly Clarkson's debut single 'A Moment Like This' topped the Billboard Hot 100 chart for two weeks.
Seeing all this success, Simon Fuller and the American Idol producers saw more opportunities to increase the stardom of Clarkson and runner-up Justin Guarini. Fuller's plan was to produce a motion picture starring the two in the lead roles. The film would be a romantic comedy musical with Clarkson and Guarini portraying the two main lovers. Simon Fuller's brother Kim would write the screenplay, the same job he had performed on Spice World. Idol producer Nikki Boella would also produce this film along with Robert Engelman. Engelman had previously lent his input to such projects as Mortal Kombat, Blade and The Mask. To fit with the film's primary demographic of young people, Robert Iscove (She's All That) would direct the movie, soon to be called From Justin To Kelly.
From Justin To Kelly is a movie about a romance between two college students who fall in love while on spring break vacation in Miami. Our two leads are Kelly Taylor (Kelly Clarkson), a waitress and bar singer from Texas, and Justin Bell (Justin Guarini), a college student from Pennsylvania in town running a party promotion company with two friends. As the pair bump into each other more than once, Kelly and Justin soon start to bond through their love of music and eventually fall in love. However, their path to be together isn't without hurdles, including love rivals and Kelly's boyfriend from back home threatening to spoil the fun.
From Justin To Kelly was produced by 20th Century Fox for $12 million. The movie was made over two-and-half months, including a six-week shooting schedule. It was eventually released on 20th June 2003. However, despite the popularity of American Idol and Kelly Clarkson at the time, From Justin to Kelly would open 11th at the US box office, grossing $2.7 million. One week later, this number had dropped by 77% to $625,649. After this underperformance, Fox decided to rush the film to DVD and VHS to recoup the film's losses. However, From Justin to Kelly would eventually finish with $4.9 million grossed, just over a third of its production budget, making the movie a box office bomb.
The idea behind From Justin to Kelly was clearly money-driven and an attempt to milk more cash out of Kelly Clarkson, Justin Guarini and the American Idol brand. However, casting Clarkson and Guarini as romantic leads in a movie when neither had any acting experience was just opening Fox and Simon Fuller up for criticism. Therefore, it was unsurprising to see From Justin To Kelly receive overwhelmingly negative reviews from film critics regarding the acting, plot, music, direction, production and choreography.
Wesley Morris of the Boston Globe would write, "What's depressing about From Justin to Kelly...is that it's been made without a lick of love, skill, or, apparently, money." Owen Gleiberman of Entertainment Weekly would describe the movie as "Grease: The Next Generation acted out by the food-court staff at SeaWorld." Steve Davis would compare From Justin To Kelly to recent successful musicals Moulin Rouge and Chicago, describing the former as "16 steps back for the movie musical". Greg Braxton of the LA Times would see through the film to its true purpose, calling it "less a movie than a big-screen bobblehead of Fox TV's phenomenon American Idol". Otherwise, critics would describe the movie as insipid, an experiment used to show off the singing abilities of its two leads, which ultimately came at the expense of its main plot. Jan Stuart of Newsday would describe it as "An 80-minute cavalcade of music-video-style numbers, strung together with little fits of dialogue for pretty, gym-toned performers who are given the names of characters". The New York Times' Stephen Holden would describe it as "The motion picture equivalent of Cheez Whiz."
The bad movie awards would have a field day with From Justin To Kelly, as the film received eight Razzie nominations and Stinkers Bad Movie Awards nominations. From these nominations, which included the top awards, the movie would walk away with a combined two honours. At the Stinkers, From Justin To Kelly would win the award for Worst Song or Song Performance in a Film or Its End Credits for the song 'Anytime' performed by Kelly Clarkson and Justin Guarini. At the Razzies, the movie would receive a special 'Governor's Award' for 'Distinguished Under-Achievement in Choreography', a tribute to the work of choreographer Travis Payne.
Kelly Clarkson and Justin Guarini have stayed away from acting following their acting debuts as have the American Idol crew. However, the dumpster fire that was From Justin To Kelly would give us Anika Noni Rose, so that's something to celebrate.
3. House of the Dead (Dir. Uwe Boll) 9%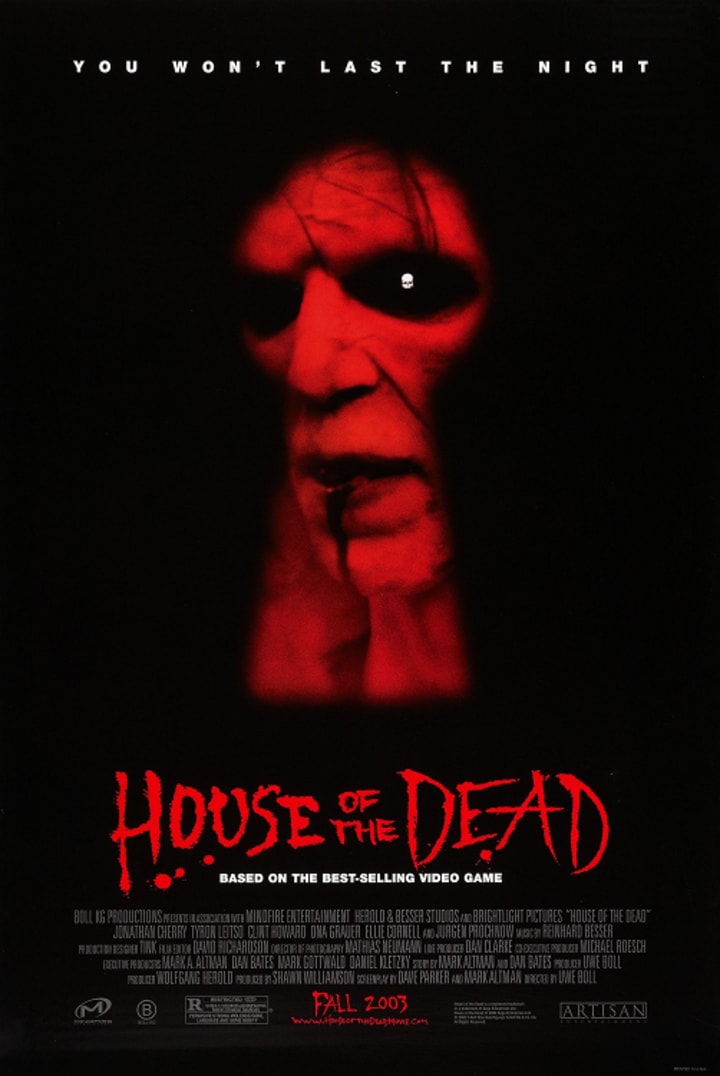 Uwe Boll is often considered one of the worst directors in cinema history, seemingly without a good movie in his filmography. He currently holds an average career score of 19% on Metacritic while not one single motion picture he has made has received a positive critical or user score on Rotten Tomatoes. None of his bad movies have even sunk to the depths of being 'so bad they're good'. They are just plain rubbish. I promise you this will not be his last appearance on one of these lists. A large chunk of Uwe Boll's negative contributions to modern cinema are his many video game adaptations, with many being considered among the worst of their release year. This pattern began with his first video game movie House of the Dead.
House of the Dead was not Uwe Boll's first American movie. Still, it was his first working with a major company (SEGA) and the first with a significant budget, even if the eventual production only cost $15 million. After beginning his directing career in his native Germany in 1991, Boll's American debut, 2000's Sanctimony, would receive passing grades from some critics. However, the follow-up movies Heart of America and Blackwoods would fail to reach these average levels. Little did Uwe Boll and the rest of Hollywood know that his critical approval would soon sink even lower. In the early 2000s, Boll agreed to direct and co-produce an adaptation of House of the Dead, the popular arcade lightgun horror shoot-em-up series that had helped to popularise zombies within popular culture in the late 1990s and early 2000s.
On House of the Dead, Uwe Boll would reunite with frequent collaborators Wolfgang Herold and Shawn Williamson. The pair had worked with the German director on his two previous films, Heart of America and Blackwoods. For the movie, Boll would work from the script co-written by Dave Parker, Mark Altman and Dan Bates. Altman had written independent films like Free Enterprise and The Specials, Parker had worked on low-budget projects like Young Warlocks and The Dead Hate The Living while Bates was making his writing debut.
The House of the Dead movie is not a direct adaptation of any of the House of the Dead video games. In interviews, Uwe Boll would describe his work as a prequel to the original game. Instead of agents travelling to an island to tackle scientifically engineered zombies, the movie follows college students Simon (Tyron Leitso), Greg (Will Sanderson), Alicia (Ona Grauer), Karma (Enuka Okuma) and Cynthia (Sonya Salomaa). The five miss a boat that was supposed to take them to a rave held on an island off the coast of Seattle known as Isla Del Morte. In their hour of need, pair Victor Kirk (Jurgen Prochnow) and Salish (Clint Howard) offer to take them to Isla Del Morte on their boat. Arriving on the island, they find the place deserted. However, when they start to investigate the area, they encounter zombies, who pick off the group one by one. Now, the survivors need to find a way off the island while managing to keep themselves alive.
House of the Dead was released on 10th October, three weeks before Halloween. Made on a budget of $12 million, House of the Dead opened 6th at the US box office, grossing $5.5 million in its opening weekend. However, the film would then quickly fall to 13th place and $1.7 million in its second week, despite opening in more cinemas. When the spooky day rolled around, the film had fallen to 27th in the domestic box office rankings. Failing to attract an audience, House of the Dead would finish with a US gross of $10.2 million, failing to recoup its budget. The film would end up as a box office failure. However, international returns of $3.5 million (boosted by numbers in Italy and Mexico) would see the film break even with a worldwide gross of $13.8 million.
Cinematic adaptations of video games rarely get good notices from film critics, and this was the case even in 2003. However, you will be hard-pressed to find reviews as bad for any video game movie as the ones released for House of the Dead. The film currently holds a 3% consensus rating on Rotten Tomatoes and was ranked by the site as the 41st Worst Movie of the 2000s. A 15% score on Metacritic is also a pretty poor return. User ratings of 10% on Rotten Tomatoes of 2.1/10 on IMDb also do not make matters any better.
Scott Brown of Entertainment Weekly would write that "to properly convey the jaw-dropping shoddiness of this video game-based 'horror' 'movie,' one must approach what scientists call Absolute Stupid". Roger Moore of the Orlando Sentinel would claim that House of the Dead was "a staggering failure on pretty much every level", saying the movie was "idiotically written, badly acted and directed" by Uwe Boll. The words' dumb' and 'idiotic' would be thrown around in many a review, with Lou Lumenick writing that viewers would be "hard-pressed to find a duller, more incompetent-and less scary-flick with cheesier effects in a remainder bin crammed with direct-to-video horrors". Liam Lacey would call House of the Dead "unpretentiously dumb". Many critics would say that House of the Dead was so bad that unintentional laughs at the film's utter shoddiness were the only thing keeping them going. Marc Savlov (Austin Chronicle) would even write that House of the Dead "could easily become a midnight staple along the lines of Showgirls, as aesthetically frazzled as Ed Wood's finest, and as howlingly, inadvertently funny as, well, pick a Sybil Danning movie".
The complete and utter failure of House of the Dead would not stop Uwe Boll from directing more video game movies. After a break in 2004, 2005 would see a pair of video games given the Uwe Boll treatment, sending video game fans and cinema critics running for cover.
2. Jersey Guy (Dir. Elia Zois) 8%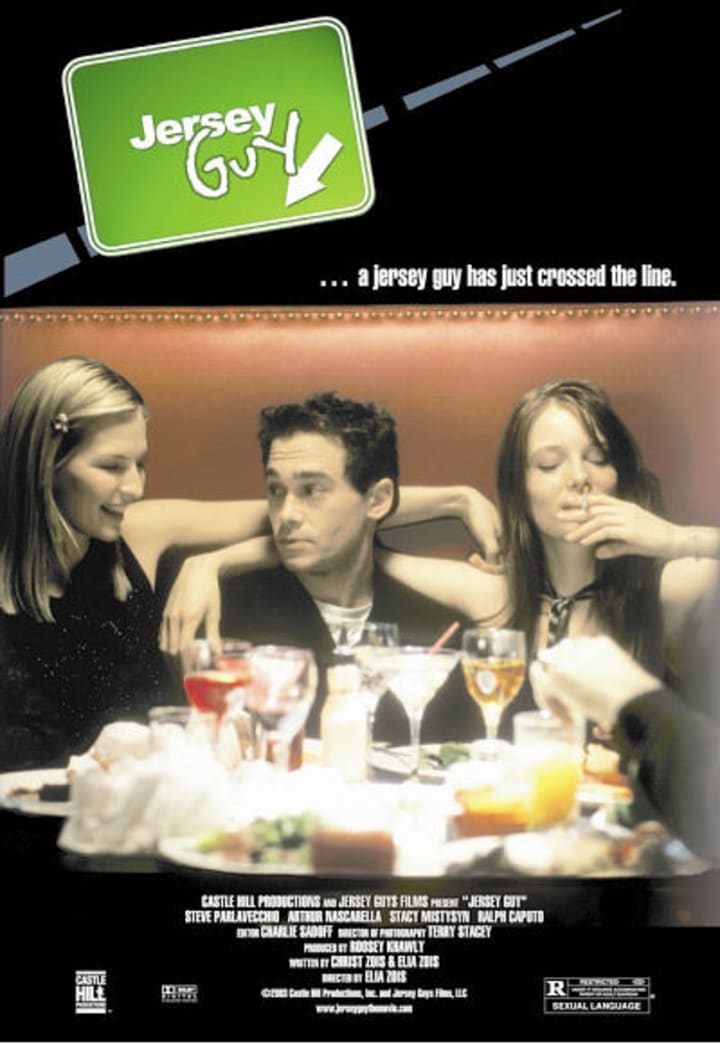 You know a film is obscure when the film's title and production company share the same name. These things also tell you that the film is of a small scale and is unlikely to have had a wide theatrical release. Such is the case with comedy-drama Jersey Guy, made by Jersey Guy Films.
Jersey Guy is the only credit on IMDb for director and co-writer Elia Zois. Despite his inexperience as a director, Zois would write the movie with his brother Christ. Christ had previously co-written the screenplays for the Abel Ferrara movies Blackout (1997) and New Rose Hotel (1998). In addition, Castle Hill Productions, who owned the rights to Orson Welles' Othello, John Ford's Stagecoach and Woody Allen's What's Up Tiger Lily, would agree to distribute the movie.
Jersey Guy tells the story of Jack, a 25-year-old nursing home worker from New Jersey. Jack still lives at home with his parents but is considering moving out and potentially asking Samantha, his girlfriend of seven years, to marry him. On a night out in New York City with his friend Merle, Jack attracts the attention of model Susan, and the pair start an affair behind Samantha's back. Jack fully embraces the world of his new love interest while keeping up the deceit with Samantha. However, there comes the point where he has to choose between his loving girlfriend and his attractive new mistress, but which side does Jack choose?
Jersey Guy would open in three (that's 3) cinemas on 25th April 2003. Despite its 'limited' release, Jersey Guy would gross $2,324 in its opening weekend, an average of $774 per screen, enough to rank 122nd in the domestic box office standings. The following week, the film would gross $886 in just a single theatre. Jersey Guy would finish with a worldwide gross of $4,268.
Of the handful of critics who actually saw Jersey Guy, none would give the movie a positive review. Phil Hall of Film Threat would call it "a painfully awful film" that is "obnoxious to the point of being emetic". Lawrence van Gelder (New York Times) would say that the 90-minute movie was too long, not helped by being "monotonously paced". The small clutch of reviewers would also comment on the unlikeability of Jersey Guy's main character Jack. Newark critic Stephen Whitty would write, "We're supposed to find this loser likeable?" while TV Guide's reviewer Frank Lovece would write that Jack is "narcissistic and tough to like...and his crude sense of humour borders on the disgusting". Keith Phipps of the AV Club would also write about Jack being an "asshole", adding the character to the film's other problems, including "stilted dialogue [and] clueless portrayals of women".
In the end, Mike McGranaghan of Aisle Seat would underline Jersey Guy in one sentence, writing that the movie was "made by people who had the means to produce a movie, but not the talent necessary to produce a good one." Indeed.
1. The Singing Forest (Dir. Jorge Ameer) 0.5%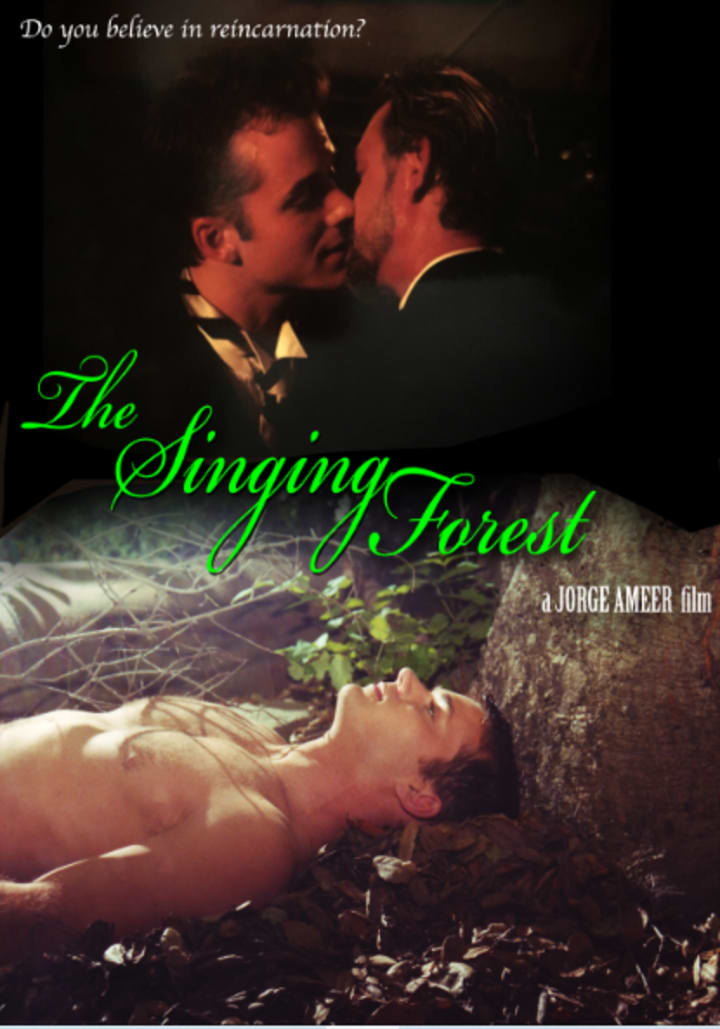 Yes, you read the average score right there. Based on the scores provided by Rotten Tomatoes and Metacritic, the worst-reviewed movie of 2003 received an average score of 0.5%. Since Metacritic is yet to award a film a score of 0, this is the lowest possible average score that a motion picture could receive. For such a movie to receive the lowest possible scores from both websites (a score of 1 on Metacritic and 0 on Rotten Tomatoes), it has to be something so ill-judged, so offensive, so utterly reprehensible that it makes other bad movies look like all-time cinematic classics. Enter The Singing Forest.
The Singing Forest is a romantic fantasy drama that asks the question 'Do You Believe In Reincarnation?' on its poster. Directed, written and produced solely by Jorge Ameer, the film looks at the story of a doomed love affair that is rediscovered through their ancestors in the modern day. Christopher (Jon Sherrin) is a recent widower. Struggling to cope with the loss as his daughter's wedding approaches, Chris becomes interested in the idea of having lived past lives. He soon believes that in a past life, he was a resistance fighter called Jo (Eric Morris), a man hanged by the Nazis for hiding Jews during the Holocaust. During this period, Jo was in a homosexual relationship with a man called Alexander (Craig Pinkston). However, the modern ancestor of Alexander is Chris's daughter's husband-to-be Ben (also Pinkston). Convinced by this notion, Chris tries to seduce his daughter's fiance. Ben soon finds out from a psychic that he is Alexander. Ben and Christopher then begin an affair, rekindling the gay relationship shared by Jo and Alexander during the Holocaust behind his daughter's back. Plus, there is a twist ending.
The Singing Forest comes in at a slim-line 72 minutes. However, these 72 minutes turned out to be the worst of 2003. The absolute fury generated by this movie was underlined by Chuck Wilson of LA Weekly, who wrote: "Bad movies can be a hoot, but rather than campy, Ameer appears to be dead serious; and it's hard to feel anything but fury toward a filmmaker whose opening title sequence intersperses black-and-white flashbacks of his sexy young lovers with actual concentration-camp photos of stacked, emaciated corpses."
Ken Fox of TV Guide would mirror the sentiments of Wilson, writing that The Singing Forest was "A trivial tale of romance and reincarnation that would be simply laughable if it weren't such a senseless exploitation of atrocity." Connie Ogle of the Miami Herald would say that The Singing Forest is "The sort of movie that makes you question the entire concept of independent film. Hollywood at its worst isn't this ghastly or insulting." Florida critic Phoebe Flowers would also call the movie "breezily offensive" while pointing out that The Singing Forest was "incompetently written, directed and performed". In 'kinder' reviews, Megan Lehmann (New York Post) would call The Singing Forest "an amateurish, irritatingly gabby indie". At the same time, Variety's Dennis Harvey would say that it "provides scant entertainment value, intentional or otherwise".
One of the more notable reviews of The Singing Forest would come from Stephen Holden of the New York Times, who would write, "The Singing Forest was written and directed by Jorge Ameer, whose film "Strippers" opened three years ago and remained the single worst movie I had ever reviewed -- until now." The thing is, The Singing Forest might not have been the first time a Jorge Ameer movie topped a 'Worst Movies' list. On 'The Worst Movies of 2000', the worst critically-reviewed film of the year was DJ Pooh's 3 Strikes. However, it could also have been the Jorge Ameer movie Strippers. Strippers was the worst-received movie on Metacritic in 2000, earning a 5% score. However, since the film does not have a score on Rotten Tomatoes, it was not included on the final list. However, Jorge Ameer has his exposure now, as The Singing Forest is the worst-received motion picture of 2003.