The 10 Worst Films of 2002 (according to the critics)
A good year for badly-titled films and career-ruining pictures...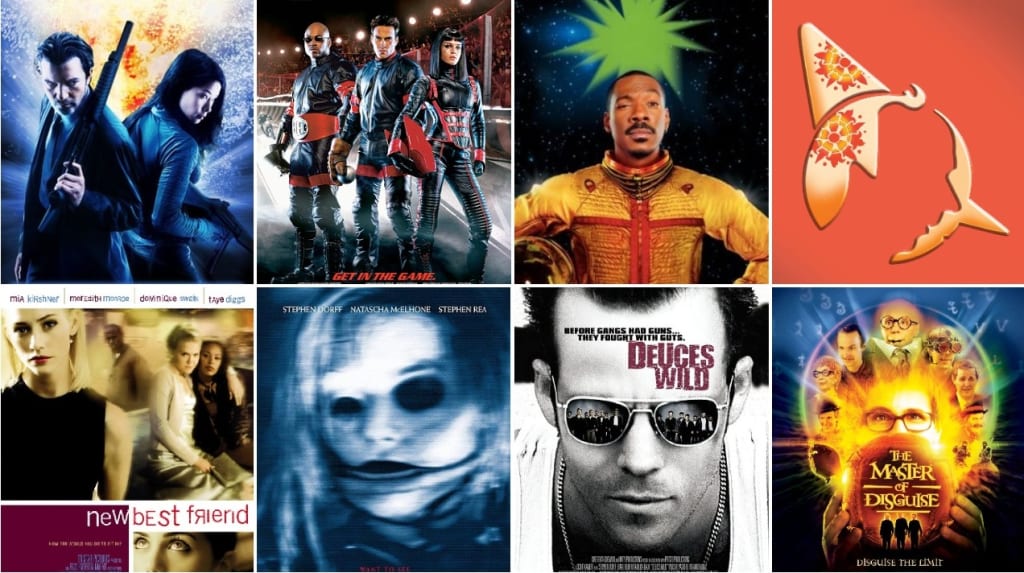 The world of 2002 was mostly dominated by the aftermath of the attacks on September 11 2001 and the resulting War on Terror, but the year also contained several future echoes of the world we currently live in. Queen Elizabeth II celebrated her Golden Jubilee, commemorating 50 years as the the Queen of the United Kingdom and the head of the Commonwealth. The Euro became the new standard currency for 19 different European countries including France, Germany, Spain, Ireland, Italy and Greece. On the other side of the world, while Japan and South Korea became the first Asian countries to host the FIFA World Cup, China was troubled by SARS, a virus which would eventually infect 8,000 people from 29 different countries, causing 774 deaths.
In the movie world, franchises were starting to increasingly take over our cinematic viewing habits. Five of the top 10 highest-grossing films of the year worldwide were cinematic sequels as Lord of the Rings (The Two Towers), Harry Potter (The Chamber of Secrets), Star Wars (Attack of the Clones), Men In Black and James Bond (Die Another Day) all saw new entries to their series. The year would also see the first proper movie adaptation of Spider-Man with The Evil Dead's Sam Raimi in the director's chair and Tobey Maguire portraying the iconic web-slinger. Meanwhile, in the animation world, two stories would capture the public's imagination. Ice Age, telling the story of a mammoth, a sloth and a sabre-toothed tiger as they tried to return a child to its people during the ice age, would gross nearly $400 million and introduce Blue Sky Studios as a new rival to the established group of Disney, Pixar and Dreamworks. At the same time, Spirited Away, the story of a 10-year-old girl getting trapped in the Japanese Shinto spirit world, would steal the critics' hearts, winning Studio Ghibli the Oscar for Best Animated Feature. On those awards, musical Chicago would triumph to win the top prizes ahead of WWII drama The Pianist, psychological drama The Hours, historical drama Gangs of New York and Lord of The Rings: The Two Towers which continued to bridge the gap between the peaks of the critical and commercial mountains.
However, you and I are not here to talk about what was good in 2002 movies. Quite the opposite. Yes, it is time once again to dredge through the cinematic waters to find the proverbial cigarettes, old boots and single-use plastic bottles that serve to muddy said waters. Let me tell you, the quality on this year's list is so low that the worst-reviewed movie in the history of Rotten Tomatoes only ranks at #7. Three of the most disastrous box-office bombs in cinema history also appear. However, along with the now-familiar fare of bad gross-out comedies, boring teen dramas, horrors that fail to raise a scare and movies made by rappers starring rappers, 2002 provided us with several movies that killed movie careers stone dead for both directors and actors.
As per usual, this list was compiled by looking through the deepest troughs of leading critical review aggregators Rotten Tomatoes and Metacritic to find the lowest scores. When one low score is found on one site, it is averaged out with the score found on the other site. The 10 movies with the lowest average critical scores are featured below. Finally, a film can only be eligible for this list if it has been reviewed by both sites. Let's get onto the list!
10. Slackers (Dir. Dewey Nicks) 11%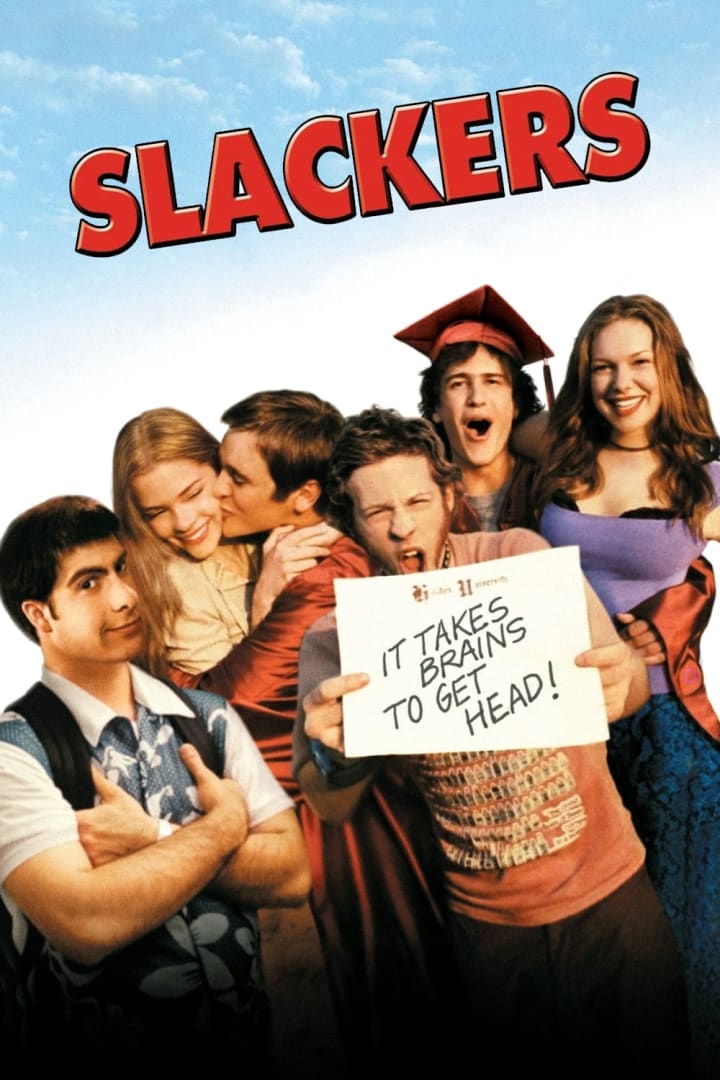 In 1999, the release of American Pie would breathe new life into the tired, old sex comedy. Featuring a talented cast of young starlets, American Pie did for gross-out comedies what Scream had done to slasher horrors three previously, grossing $235 million off an $11 million budget, turning its cast into must-see actors, creating a franchise and spawning a host of imitators. In 2002, one of these imitators would wind up being one of the worst received movies of the year. That movie would be Slackers.
Written by David H. Steinberg, one of the writers of American Pie 2, Slackers would also be a gross-out comedy that featured an ensemble of bright young acting things. Neal H. Moritz and Erik Feig, who had experience making movies for young people with the successes of I Know What You Did Last Summer and Cruel Intentions, would also lend their weight to the project. In addition, much of Slackers' cast already had name value resulting from other projects, including Devon Sawa (Final Destination), Jason Schwartzman (Rushmore), Michael Maronna (The Adventures of Pete and Pete), Jason Segel (Freaks and Geeks) and Laura Prepon (That 70's Show). What it is about though?
The film focuses on friends and college students Dave (Devon Sawa), Sam (Jason Segel) and Jeff (Michael Maronna). Dave, Sam and Jeff have managed to scam their way through college by cheating on every exam. During an exam in their final semester, a nerdy classmate called Ethan (Jason Schwartzman) discovers their misdeed and proceeds to blackmail the trio. If Sam, Jeff and Dave do not manage to get Ethan a date with popular classmate Angela (Laura Prepon), Ethan would turn them in, getting the trio expelled. However, as the three friends try and fail to get Ethan a date, Dave develops his own attraction toward Angela, and the two begin seeing one another behind Ethan's back. When Ethan finds out, he sets out to ruin Dave's chances at love.
Slackers would mark the directorial debut of Dewey Nicks. He would later regret this decision when he saw the abysmal reception that his first-ever movie received. Slackers would receive scores of 10% and 12% on Rotten Tomatoes and Metacritic respectively with nary a positive review to be found. Critics would view Slackers as the worst type of gross-out comedy: the type with unfunny jokes and utterly unlikeable characters. Stephanie Zacharek would say that "Slackers is supposed to be a gross-out comedy, but the tastelessness of its jokes is nothing compared to its sheer cluelessness." Patrick Z. McGavin of the Chicago Tribune would say that "Not only is Slackers painfully bad, but it's also about as morally unpleasant as a teen sex comedy can be." Mick Lasalle would say that Slackers gave "bad taste a bad name" while Rita Kempley would that it stank "like a cat box that hasn't been changed in a hundred years." Finally, Roger Ebert would give Slackers a zero-star review, calling it "A dirty movie. Not a sexy, erotic, steamy or even smutty movie, but a just plain dirty movie. It made me feel unclean, and I'm the guy who liked 'There's Something About Mary' and both 'American Pie' movies." Well, despite these negative reviews, many critics would still offer praise for Jason Schwartzman, who did the best he could with the material he was presented with.
Luckily for these movie critics, Slackers would not be around long enough to leave much of a mark on the pop cultural sphere. The film would open 11th at the US box office, making $2.7 million, but Sony would make the decision to pull the film out of domestic cinemas after just two weeks. After opening on 1st February, Slackers would not even make it to Valentine's Day. After releases in the UK and France later in the year, Slackers would finish as a box office failure, having grossed $6.4 million against its $14 million production budget.
Like so many of its contemporaries, Slackers would end up lying in the wake of the much more successful American Pie movies it was trying to replicate.
9. FeardotCom (Dir. William Malone) 9.5%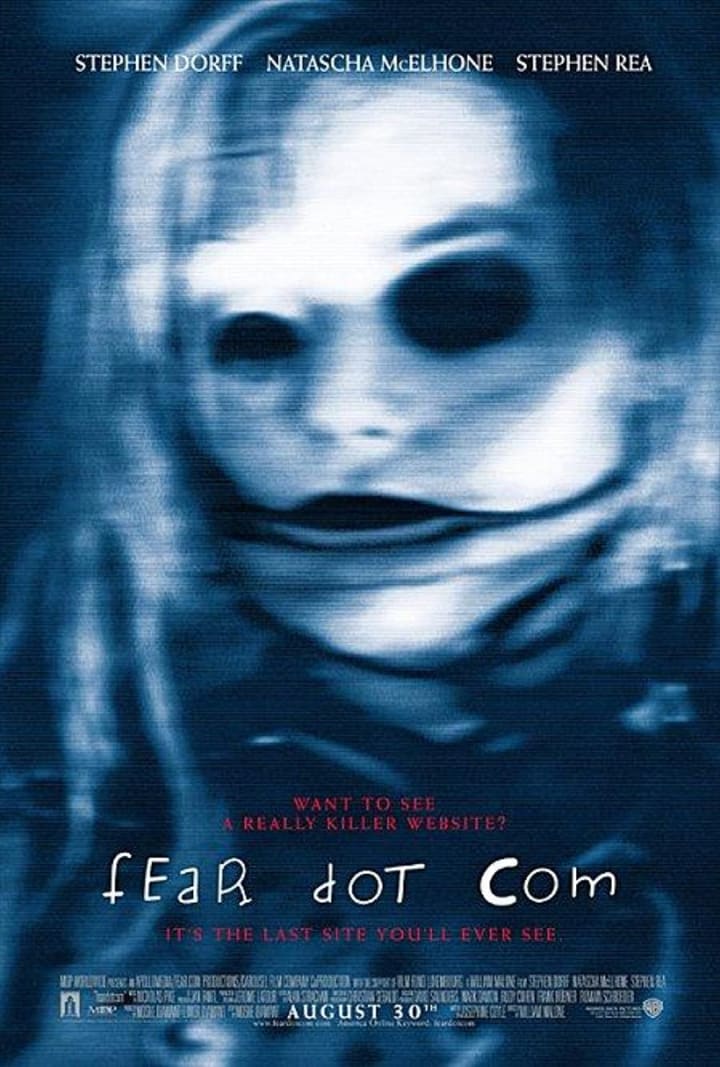 Sometimes you can tell if a movie is going to be good or not just by looking at the title. As you will soon learn, there are two other infamously bad films on this list which have woefully bad titles. However, who was expecting a film with the title FeardotCom to be anything better than below average? It is a name that screams of spitballing ideas in an early-2000s production meeting, where those present try to find a name that can connect to the youth of today and those people who use this new-fangled thing called the Internet. However, after that brainstorming, they end up with a title that sounds like something that even a media student would term too 'on the nose'. I know that coming up with movie titles that instantly grab the audience's attention is a difficult job and the finalised title is relevant to the movie's plot, but FeardotCom does not sound like a movie made with a budget of $40 million.
In FeardotCom, New York Detective Mike Reilly (Stephen Dorff) is called to investigate a series of deaths where the victims have perished with a frozen look on their faces while bleeding from their eyes. After some digging with help from Department of Health researcher Terry Huston Natascha McElhone), Reilly finds that the deaths are caused by a website called feardotcom.com which subjects its victims to gruesome imagery that ultimately drives them insane and kills them within 48 hours. Now, Reilly has to find out who is responsible for these horrific deaths, while making sure that he himself does not become another victim.
FeardotCom would be directed by William Malone. Malone had begun his career in the 1980s with the sci-fi horror movies Scared To Death (1981) and Creature (1985), two low-budget creature features which made very little of an impression outside some genre fanatics. However, in the years between Creature and FeardotCom, Malone had found his work in multiple crime, sci-fi and horror TV series, directing episodes of Freddy's Nightmares, Tales of the Crypt and Dark Justice. While FeardotCom's director came from horror origins, the film's producers came from a more action-oriented fare. The film's main producers were brothers Moshe and Limor Diamant, who had previously collaborated on the 1996 Jean-Claude Van Damme vehicle Maximum Risk and the 1999 Dennis Rodman vehicle Simon Sez. Moshe, who would also compose the story for FeardotCom, had produced every JCVD movie from Double Impact (1991) to Knock Off (1998). He had also begun his career producing Creature, which was directed by William Malone.
FeardotCom would open on 30th August 2002, releasing over Labour Day weekend in the United States with no real competition. The film's opening weekend take of $5.7 million would place it 5th at the US box office behind the already-established Spy Kids 2, xXx, My Big Fat Greek Wedding and Signs. However, Feadtocom's next two weekend grosses would each decrease by more than half and the film would drop out of the top 10 after just two weeks. Made for $40 million, FeardotCom would gross $13.2 million in its home country. Mexico would be the only other place to take in $1 million in box office receipts as international numbers of $5.6 million would lead to a total worldwide gross of $18.6 million. With these numbers, FeardotCom was a certified box office failure.
Critics would view FeardotCom as a film bereft of scares filled with incoherent plotting and more than a little nastiness. The Washington Post's Ann Hornaday would call FeardotCom "A depraved, incoherent, instantly disposable piece of hackery." J.R. Jones of the Chicago Reader would continue along this route, calling the movie a "shameless exercise in high-tech sadism". Film Threat's Rick Kisonak would say that just viewing FeardotCom made him feel "guilty and unclean". However, Roger Ebert would give the movie 2/4 stars, saying that despite the incoherence of the film's screenplay, "[FeardotCom] is one of the rare bad films you might actually want to see."
Audiences would not respond well to FeardotCom. The film would become the 7th movie to receive an 'F' grade from film audiences surveyed by Cinemascore. User scores of 3.8 on IMDb and 18% on Rotten Tomatoes would back up the lack of enjoyment felt for this high-tech horror.
William Malone has directed one film since FeardotCom, the 2008 independent horror Parasomnia. Producer and writer Moshe Diamant would immediately follow up FeardotCom with the action thriller Extreme Ops, another box office failure.
8. Deuces Wild (Dir. Scott Kalvert) 9.5%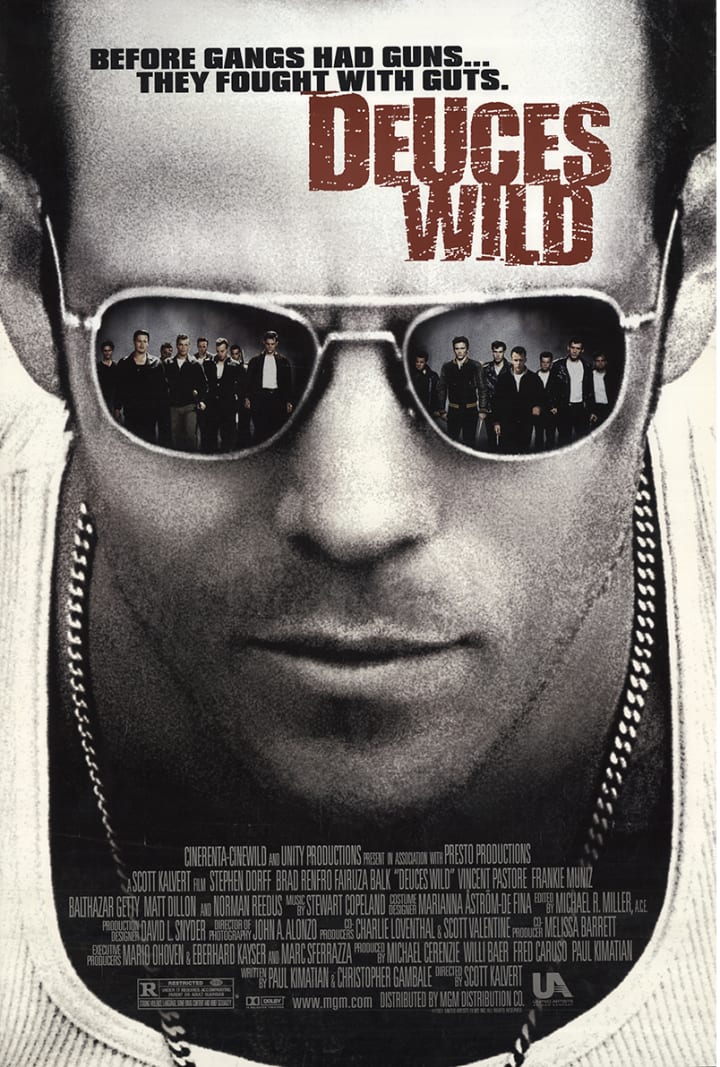 Whenever prominent music video directors decide to take the leap into helming motion pictures, the results are mixed. For every David Fincher and Spike Jonze, you have McG. Scott Kalvert sits somewhere between the two ends of that scale. Scott Kalvert had been one of the top music video directors in the 1980s and 1990s, working with 2Pac, Snoop Dogg, LL Cool J, Cyndi Lauper, Rod Stewart, New Kids on the Block and Billy Ocean. Some of his most notable work includes 'Girls Ain't Nothing But Trouble' and 'Parents Just Don't Understand' for DJ Jazzy Jeff and The Fresh Prince, 'Good Vibrations' for Marky Mark and the Funky Bunch, 'Shoop' for Salt 'N' Pepa and 'Breakfast At Tiffany's' for Deep Blue Something. In 1995, Kalvert would make the step into film directing with The Basketball Diaries, a biographical crime drama starring young rising stars Leonardo DiCaprio and Mark Wahlberg. Despite mixed reviews and making $2.4 million commercially, the film would leave an impact, especially in the careers of its two leads. Seven years later, Kalvert would decide to again try his hand at filmmaking with another crime drama called Deuces Wild.
Deuces Wild would be written by Paul Kimatian and Christopher Gambale, both making their writing debuts. Kimatian would also produce along with Fred Caruso, whose filmography included Network, Blue Velvet, Casualties of War, Super Mario Bros. and The Bonfire of the Vanities. Deuces Wild would also feature an interesting cast with Vincent Pastore, Frankie Muniz, Norman Reedus and Matt Dillon all appearing in supporting roles.
In Deuces Wild, Stephen Dorff makes his second consecutive appearance on this list playing Leon Anthony, a member of the Brooklyn-based street gang The Deuces along with his younger brother Bobby (Brad Renfro). In 1958 Brooklyn, the drug-free Deuces are in a rivalry with fellow street gang The Vipers who continue to sell drugs in the local neighbourhood of Sunset Park. With a potential gang war imminent, Bobby soon complicates matters by falling in love with Annie (Fairuza Balk), the younger sister of Vipers gang member Jimmy Pockets (Balthazar Getty). Then, the tension between the Deuces and Vipers spills over the edge into an all-out conflict.
Despite being made on a relatively low budget of $10 million, Deuces Wild would manage to underperform. Released the same week as Sam Raimi's Spider-Man, Deuces Wild would gross $2.7 million from 1,480 domestic cinemas. Released in only a handful of other countries, the movie would finish with $6.2 million in box office takings, losing money for MGM.
A major reason that Deuces Wild performed so poorly was due to the fact that it offered nothing new to the gang/juvenile delinquent genre. Even the most positive of critics would call the movie cliched, comparing it to the 50's gang movies that underlined the movie's setting. Claudia Puig of USA Today would state that "Scott Kalvert never met a cliché he didn't like. No telegraphing is too obvious or simplistic for this movie." Lou Lumenick would call Deuces Wild 'West Side Story without the music or competent storytelling' while Steve Daly would describe the film's script as "West Side Story, Mean Streets and The Warriors in a blender". In more negative terms, Jack Matthews of the New York Daily News would call Deuces Wild "the worst thing to have happened to Brooklyn since the Ice Age severed it from the mainland" while Stephen Holden of the Times would compare the film's quality to a music video from 1983. In a sentence, Deuces Wild was boring, unoriginal and felt artificial to those who watched it, hence the 3% rating on Rotten Tomatoes.
7. Ballistic: Ecks vs Sever (Dir. Kaos) 9.5%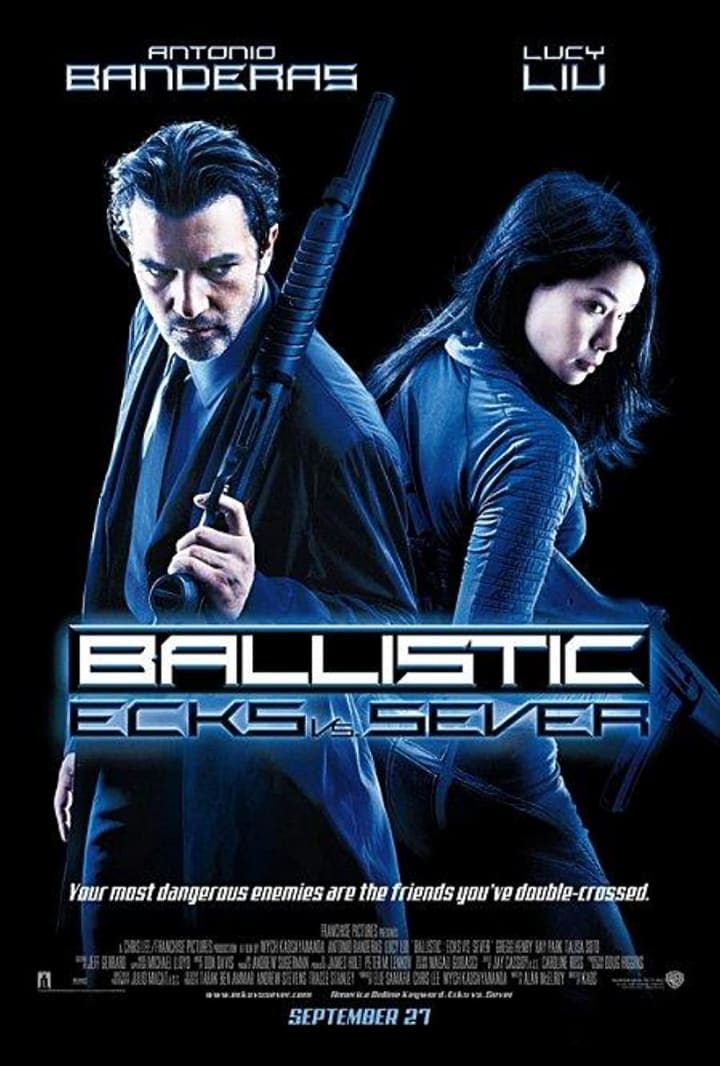 Entrant number two in the 'terrible film with terrible title' stakes is the action romp Ballistic: Ecks vs Sever, a title that would work much better for a video game. In fact, this movie would receive a video game tie-in released exclusively for the Game Boy Advance. However, the video game version of Ballistic: Ecks vs Sever would do something its source material couldn't manage, receive good reviews. Even the game Ecks vs Sever, based on an earlier draft of the film's script and released in 2001 for the Advance would get scores of 80% on Metacritic. With that said, how can two video games based on this film's script produce such great video games while the original source material that they draw from becomes known as one of the worst movies ever made?
Ballistic: Ecks vs Sever was released on 20th September 2002. It is the second movie on this list distributed by Warner Bros. and Franchise Pictures, a production company that had produced mostly mediocre efforts since forming in 1999. In 2002, Franchise Pictures was also responsible for the production of FeardotCom, remember that?
Ballistic: Ecks vs Sever is a story about two agents sent to destroy each other who end up teaming up to take on a bigger foe. After the son of the Defense Intelligence Agency (DIA) director is kidnapped, FBI agent Jeremiah Ecks (Antonio Banderas), mourning his wife's death, is sent to track down the kidnapper, former DIA operative Sever (Lucy Liu). However, once Ecks reaches Sever, he finds out that she may be the only person he can trust as a much larger situation begins to unfold and involve them both.
Ballistic: Ecks vs Sever was written by Alan B. McElroy (Halloween 4: The Return of Michael Myers, Spawn) based on a spec script he'd written back in 1986. After passing through numerous studios, the film had begun development in 1999 under the Ecks vs Sever title. After Wesley Snipes and Jet Li then Sylvester Stallone and Vin Diesel had been attached to the two lead roles, the script would undergo a re-write and Antonio Banderas and Lucy Liu would agree to star as Ecks and Sever. The movie would also feature the Western movie debut of Wych Kaosayananda in the director's chair under the pseudonym Kaos.
Made with a meaty budget of $70 million (a lot for 2002), Ballistic: Ecks vs Sever opened 4th at the US box office behind Barbershop, The Banger Sisters (never heard of it) and the 23rd week of My Big Fat Greek Wedding with a gross of $7 million. However, the film's takings would then drop 61% and 63% over the next two weeks as the reviews would come in and interest in the movie would quickly wane. Despite the money spent on production and marketing the movie, Ballistic: Ecks vs Sever would finish with $20 million at the worldwide box office, having recouped les than 50% of the movie's original budget. When all was said and done, the box office failure of Ballistic would cost Warner Bros. $70.1 million ($106 million adjusted for inflation), making Ecks vs Sever one of the biggest box bombs in the history of cinema.
If the box office wasn't embarrassing enough, the critical response to Ballistic: Ecks vs Sever equalled downright humiliation. From 118 critical reviews on Rotten Tomatoes, the film has a 0% approval rating, meaning that no critic who saw the movie gave it a positive review. Of all the films to receive a 0% rating on Rotten Tomatoes, none have achieved the feat with as many reviews as Ballistic: Ecks vs Sever, making it the worst-reviewed movie in the site's history. The only thing that places the movie 7th on this list and not higher up is the 19% the film received on Metacritic thanks to three 50% ratings on the site. The woeful reception for Ballistic: Ecks vs Sever probably wasn't helped by the knowledge that the filmography of the film's producers included such recent failures as Battlefield Earth, Driven and Final Fantasy: The Spirits Within.
Ballistic: Ecks vs Sever is inept, unoriginal and incomprehensible, featuring too much action and too little plot or any reason to care. Mike Clark of USA Today would write: "For years, people have joked about an action movie that might eliminate plot altogether and simply cut to the pyrotechnics. Someone has finally done it." Jami Bernard of the New York Daily News would write: "To pay for all the explosions and stunt work, the filmmakers must have decided to skimp on the screenplay. The rule of thumb is that one page of script equals one minute of movie, but there is so little dialogue in Ballistic that it could have been written on a matchbook." The film's overdose on pyrotechnics and explosions would lead some critics to call the film a 'crushing bore'. Finally, Roger Ebert in a 0.5-star review would write of Ballistic: Ecks vs Sever: "The movie is a chaotic mess, overloaded with special effects and explosions, light on continuity, sanity and coherence."
Following, Ballistic: Ecs vs Sever, the film's director Kaos would never direct another Hollywood movie of any significance. However, writer Alan B. McElroy would fare slightly better the following year with the horror movie Wrong Turn, a film that earned a comparatively more respectable 40% on Rotten Tomatoes.
6. New Best Friend (Dir. Zoe Clarke-Williams) 9%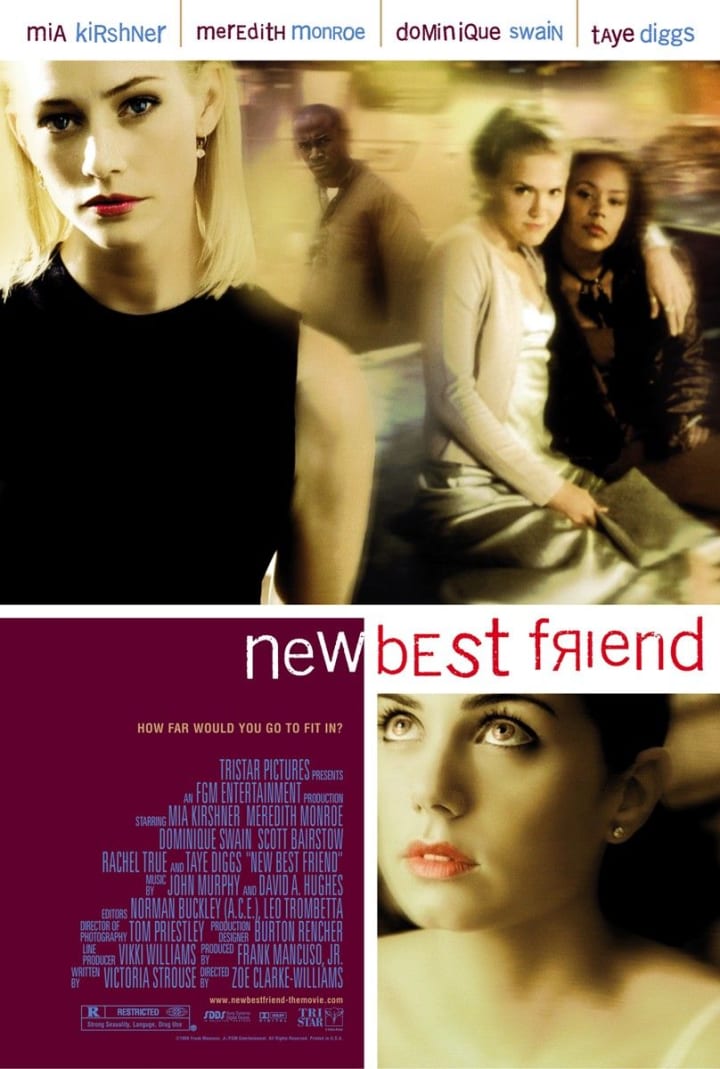 Genres like the psychological thriller are often difficult to pull off when the movie's focus and its intended audience is young people. Younger audiences are more likely to watch more mainstream psychological thrillers than the ones directly intended for them or are more likely to turn to teen horror movies. Also, these teen/college-age thriller films tend not to do particularly well commercially or critically. The only exception to this fact is 1999's Cruel Intentions, which transposed the story of the 18th-century French novel Les Liaisons dangereuses onto a late-1990s American prep school to much success. One film that attempted to create a compelling psychological thriller aimed at a younger audience was the 2002 movie New Best Friend. However, it never really had much of a chance to succeed.
When a working-class college student named Alicia Campbell (Mia Kirshner) experiences a near-fatal drug overdose in North Carolina, local police sheriff Artie Bonner (Taye Diggs) is called to investigate her circumstances. Through his investigation, he and the audiences discover the details of Alicia's life, including the incidents that led to her descent into debauchery and her overdose. There, Artie discovers the world inhabited by upper-class girls Hadley (Meredith Monroe), Sidney (Dominique Swain) and Julianne (Rachel True), who befriended Alicia and subsequently brought her into their environment.
Trawling through the critical reviews, the word which came up often to describe New Best Friend was 'trashy'. The Boston Globe's Loren King would say that New Best Friend was a "tawdry, trashy yawn-fest that makes the viewer long for the days when bad girls were dangerous dames with sultry style." Marc Savlov of the Austin Chronicle would call the movie "The trashy teen-sleaze equivalent of Showgirls." In a more positive review (50%), Mick LaSalle of the San Francisco Chronicle would say that New Best Friend was "great trash, one of those mediocre movies that in its own crass way is more enjoyable than most things that get nominated for Oscars." Aside from trashy, other words used to describe New Best Friend included 'sleazy', 'tacky', 'dumb', 'hoary', 'preposterous' and 'exploitative'. In a zero-scored review, LA Weekly's Chuck Wilson would go as far as to say that "This movie could have easily been shot as porn, a transition that would have given it a modicum of respectability and, better still, true social purpose."
During its production stage, New Best Friend was on the 2002 release slate for MGM. However, the major studio would decide to drop the movie before its final release. Eventually, Tristar Pictures would acquire the rights to distribute New Best Friend, mostly for the home video market. However, the studio would still give the movie a limited cinema release beginning on 12th April 2002. In its opening week, New Best Friend would open in 100 US cinemas and would gross $28,658, finishing 61st in the box office charts. After a few weeks, the film would quietly leave the cinema sphere, aside from a run in Spain in June 2003.
5. Rollerball (Dir. John McTiernan) 8.5%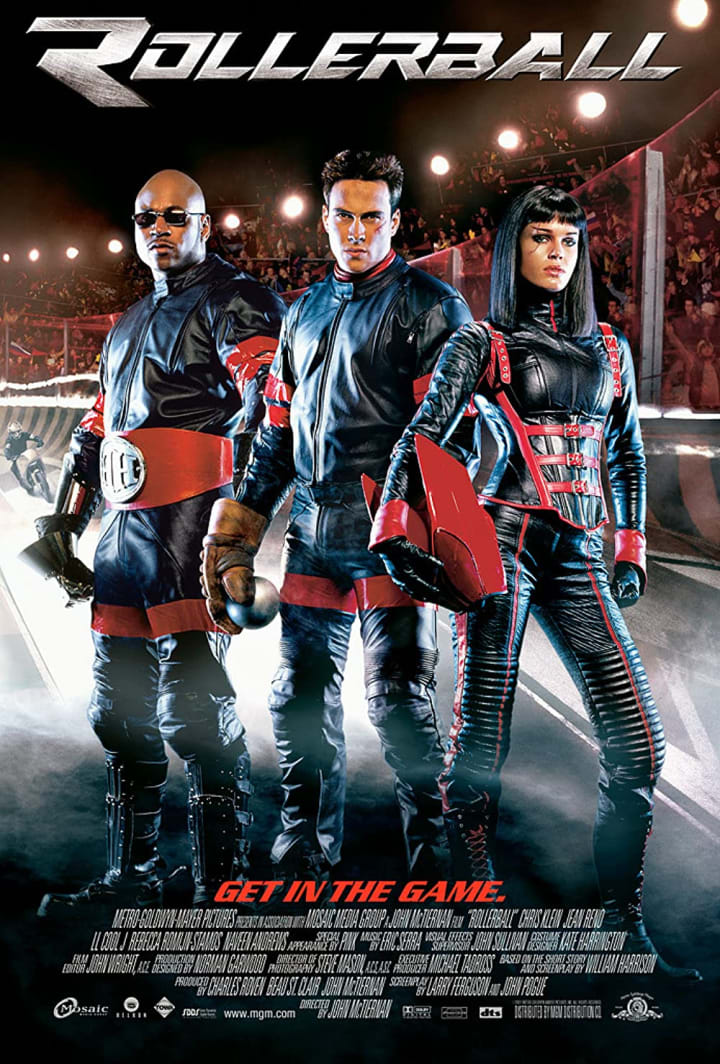 From the late 1980s to the early 2000s, John McTiernan was one of the leading directors in Hollywood. McTiernan's run of success would begin with 1987's Predator. After Predator came Die Hard, the movie which turned TV star Bruce Willis into a star of the silver screen. After this pair of smashes, McTiernan was off to the races, and the 1990s would see the releases of The Hunt for Red October (1990), Last Action Hero (1993) Die Hard With a Vengeance (1995) and The Thomas Crown Affair (1999). However, McTiernan would end the 20th century with The 13th Warrior. Along with mediocre reviews, the historical action movie would end up as one of the biggest box office bombs of all time, grossing $61 million against combined production and marketing costs of $160 million costing Disney up to $129 million.
After a failure of this kind, John McTiernan needed to balance his fortunes. He would look to do this by directing and producing a remake of the 1975 sci-fi movie Rollerball. McTiernan had previous success with remaking older movies having successfully remade The Thomas Crown Affair in 1999 to much success. John McTiernan was confident he could do the same with Rollerball. MGM would trust McTiernan's confidence, ponying up $70 million to produce this remake.
The original 1975 version of Rollerball, directed by Norman Jewison, told the story of the dystopian future world of 2018, where the most popular sport on the planet is 'rollerball', a combination of roller derby and basketball. In this future world controlled by major corporations, a rollerball captain played by the late, great James Caan is asked to retire by the corporate businessman who owns his team. When he refuses, the businessman changes the rules of rollerball to force Caan's character to quit, while Caan helps his Houston team progress to the championship rollerball game. Despite being a box office success, Rollerball would fail to win over 1975 critics, earning mixed reviews. Therefore, a remake complete with a bigger budget and better special effects was not the worst idea in the world.
The new Rollerball would be co-written by Larry Ferguson (Highlander, Beverly Hills Cop II, The Hunt For Red October) and John Pogue (US Marshals, The Fast and the Furious). Atlas Entertainment founder Charles Roven (12 Monkeys, City of Angels, Three Kings) would lend his hand to producing the movie with McTiernan as would Beau St. Clair, who had previously collaborated with the director on The Thomas Crown Affair.
What is the plot of the new Rollerball? I'll tell you. The movie is set in the futuristic year 2005, a full three years into the future. NFL hopeful Jonathan Cross (Chris Klein) is encouraged by Marcus Ridley (LL Cool J) to take up the sport of rollerball, which has taken the world by storm. Joining a team in Kazakhstan, Jonathan quickly becomes his team's star player and one of the best rollerball players in the world. However, when he finds that promoter Alexi Petrovich (Jean Reno) is planning to take the violence of the sport to new levels in a bid to improve television ratings, Jonathan, Malcolm and their teammate Aurora (Rebecca Romijn) try to escape Kazakhstan. However, Petrovich has other ideas, including killing Jonathan, to keep his sport's popularity intact.
Instead of the social commentary of the original, John McTiernan would take a more action-oriented approach to his remake, leading to script re-writes. Once the production of the movie was completed, test screenings were held in mid-2001. However, the audience response was so bad that extensive re-shoots were ordered by MGM including changing the ending, delaying the movie's release from August 2001 to February 2002 and changing the movie's certificate from an R rating to PG-13.
Despite so many re-writes and re-shoots, Rollerball would still end up receiving overwhelmingly negative reviews from film critics. Everything about the movie received criticism, including the plot, screenplay, editing, cinematography and acting performances. LA Weekly's Paul Malcolm would proclaim that Rollerball "pushes the Hollywood action movie to stratospheric new levels of incoherence; it has mashed story, character, time and space into a chunky hash." The Washington Post's Stephen Hunter would criticise the film's lack of strategy, calling it "mayhem set to rock music". Mick LaSalle would label the film unwatchable "expanding to say Rollerball was "remarkably empty, noisy and pleasureless". Finally, online critic James Berardinelli would underwrite his review by saying "The most depressing thing about this movie is not that it's such a complete waste of time, but that there are people in Hollywood who think this kind of thing is what American movie-goers are interested in seeing." True. After that overwhelming reception, six subsequent Stinkers Bad Movie Award nominations also wouldn't help the film's cast and crew sleep well at night.
It was a shame about the film's reception as the original first draft script for Rollerball was considered by everyone except for John McTiernan to be excellent and even better than the 1975 original. However, McTiernan didn't like the script's focus on social commentary and instead believe that the remake would be better if it instead focused more on mindless action.
It also didn't help that Rollerball ended up becoming one of the more notable box office bombs of 2002. After opening 3rd at the US box office with a $9 million gross, the film would drop ten places in its second week, earning less than older films like Black Hawk Down (8 weeks) and Snow Dogs (5 weeks). Such a dramatic fall would not spell good news for Rollerball, and the film would fail to bring in cinema audiences long-term. The film would finish with $18.9 million in domestic box office takings, making the movie a commercial failure. In addition, Rollerball would fail to catch on overseas, and international takings of $6.8 million would produce a total worldwide gross of $25.7 million. After failing to recoup less than half of its original production budget, the 2002 remake of Rollerball was a certified box office bomb.
John McTiernan would direct one more movie after Rollerball, the 2003 military-based mystery thriller Basic. Despite a cast of John Travolta and Samuel L Jackson, the movie would also fail at the box office and would turn out to be another ridiculously bad effort from the Die Hard director. Rollerball would later involved in the wiretapping case which eventually sent John McTiernan to prison in 2013. In 2000, McTiernan had paid a private investigator to set up an illegal wiretap on the film's producer Charles Roven during Rollerball's production stage to find out his intentions about making the movie. One more nail in the coffin.
4. The Adventures of Pluto Nash (Dir. Ron Underwood) 8%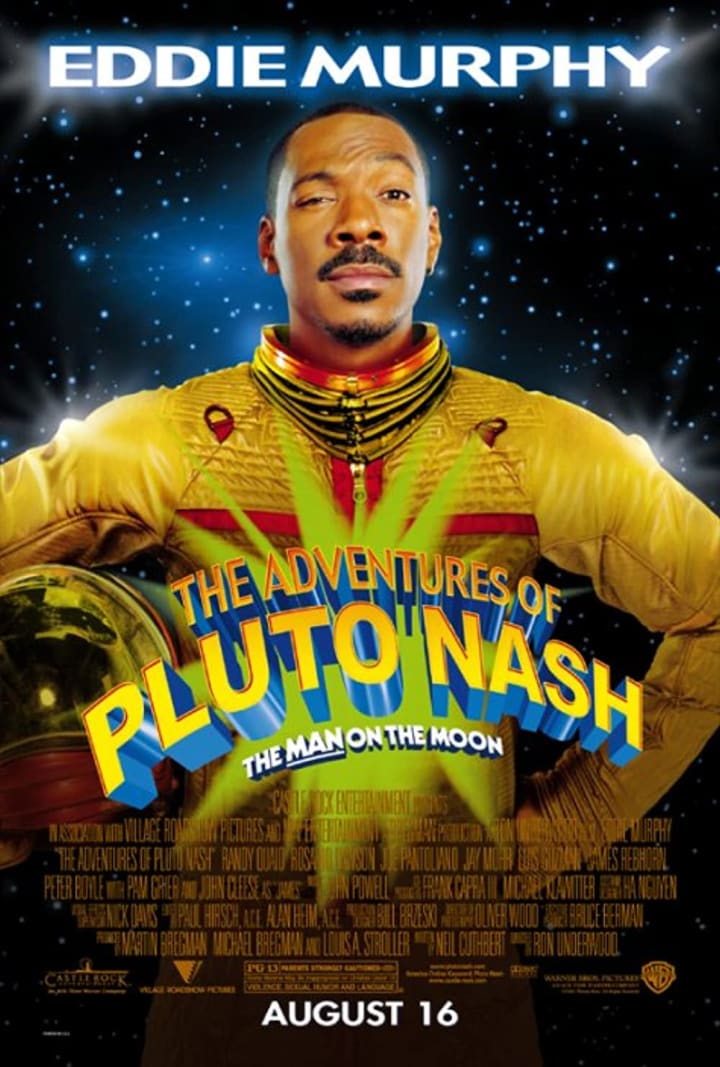 The third and final entry in the 'terrible film with a terrible title' listings is the film that killed Eddie Murphy's first comeback, the sci-fi comedy The Adventures of Pluto Nash. Perhaps the biggest box office bomb of all time, this movie could have ended Murphy's career if not for later films keeping him afloat.
1996 had seen Eddie Murphy end a six-year cinematic slump with the surprise hit comedy remake The Nutty Professor. The film would earn much praise for its outstanding makeup and Murphy himself would receive plaudits for his performance playing seven different roles. A commercial gross of $254 million would subsequently announce Eddie Murphy's triumphant return to mainstream cinema. Following this, Murphy would lend his voice to animated roles in 1998's Mulan and 2001's Shrek, the latter earning the first ever Oscar for Best Animated Feature. His live-action roles in Dr Dolittle (1998) and its sequel (2001), Bowfinger (1999) and a Nutty Professor sequel (2000) would also become commercial, if not all critical hits. He would also have his fair share of failures during this time with Metro (1997), Holy Man (1998) and Life (1999) failing to hit the mark, but as 2002 hit, Eddie Murphy was still considered a major draw in Hollywood. In fact, he would soon be approached to lead a big-ticket sci-fi comedy set to release during the 2002 summer season with a budget of $100m. The film was called The Adventures of Pluto Nash.
In 2080, smuggler Pluto Nash buys a failing nightclub on the Moon in order to stop an old friend from being killed by the Mafia. Seven years later, the nightclub is now a prime hotspot under Pluto's management. However, a mysterious businessman named Rex Crater wants to buy the club, and when Pluto refuses to sell, he orders the Mafia to destroy the place. Now without a livelihood, Pluto, along with server Dina Lake (Rosario Dawson) and android Bruno (Randy Quaid), attempts to discover the truth about the mysterious Crater and try to find a way to get his club back, all while being pursued by the Mafia.
The main crew behind The Adventures of Pluto Nash had experience in producing successful films. The director Ron Underwood had previously helmed Tremors and City Slickers. The film's two leading producers, brothers Michael and Martin Bregman, had been responsible for Scarface (1983), Sea of Love (1989), Carlito's Way (1993), Matilda (1996) and The Rock (1997). Even writer Neil Cuthbert had worked on Hocus Pocus. The film also had an enviable cast. Outside of Eddie Murphy, Rosario Dawson and Randy Quaid, The Adventures of Pluto Nash would also feature Joe Pantoliano, John Cleese, Peter Boyle, Pam Grier, Burt Young, Jay Mohr, Illeana Douglas, James Rebhorn and Luis Guzmán. However, such a cast could not stop Pluto Nash from hitting the iceberg that was the film's critical and commercial response.
Made for $100m, The Adventures of Pluto Nash would open on 16th August 2002 with its main competition being the surfing drama Blue Crush. However, despite this seemingly open goal to create a big splash at the box office, Pluto Nash would gross just $2.1 million in its opening weekend, finishing 10th at the US box office. The next week, it would drop seven places, making just $636,904 before dropping again to $102,827 in week three. With these numbers, you wouldn't be surprised to learn that The Adventures of Pluto Nash made a total of just $4.42 million in its home country. Add to that some woeful international receipts of $2.68 million and you have a cast-iron failure on your hands. Produced and marketed by Warner Bros. and Village Roadshow Pictures for a combined $120 million, The Adventures of Pluto Nash had subsequently made back just $7.1 million of that total, a measly return 0f 5.9%. Warner Bros. would eventually lose $96 million on this project. It probably didn't help that the movie's title sounded like a B-movie from the 1960s.
Despite all the money spent and the cast assembled for it, The Adventures of Pluto Nash would forget to be a funny movie and instead end up as something rather dull. In one of the film's least-negative reviews, TV Guide's Ken Fox would say "Rarely has so much money delivered so little entertainment". Stephen Hunter of The Washington Post would sum it up as "1 1/2 hours of pure blankness". The LA Times' Jan Stuart would call it "90 minutes of air conditioning and production design". Other critics would say that the talented cast was simply slumming their way through the film's incoherent script. Kevin Courrier would write that "even [Murphy] seems embarrassed to be part of [Pluto Nash]" Finally, Christy Lemire of the Associated Press would write "It's boring. It's flat. It's ugly. Worst of all for a comedy, it's not even remotely funny."
Adding to these ringing critical endorsements of Pluto Nash were five Golden Raspberry Award nominations (Worst Picture, Actor, Director, Screen Couple, Screenplay) and six nominations from the Stinkers Bad Movie Awards for the same awards plus Most Painfull Unfunny Comedy. Luckily for Warner Bros., the film would leave both award shows empty-handed. However, that wouldn't stop Rotten Tomatoes from later ranking The Adventures of Pluto Nash 79th in their list of the Top 100 Worst Movies of the 2000s. Both Eddie Murphy and director Ron Underwood would later express their regret for having made The Adventures of Pluto Nash.
After a year which also saw the failures of buddy comedy Showtime and big-screen TV adaptation I Spy, Eddie Murphy would respond in 2003 with Daddy Day Care, which despite negative reviews, would still end up grossing $161m commercially. Then, Shrek 2 would end up becoming the biggest film of 2004, meaning that Eddie Murphy did not have to worry about the failure of Pluto Nash for too long.
3. The Master of Disguise (Dir. Perry Andelin Blake) 7.5%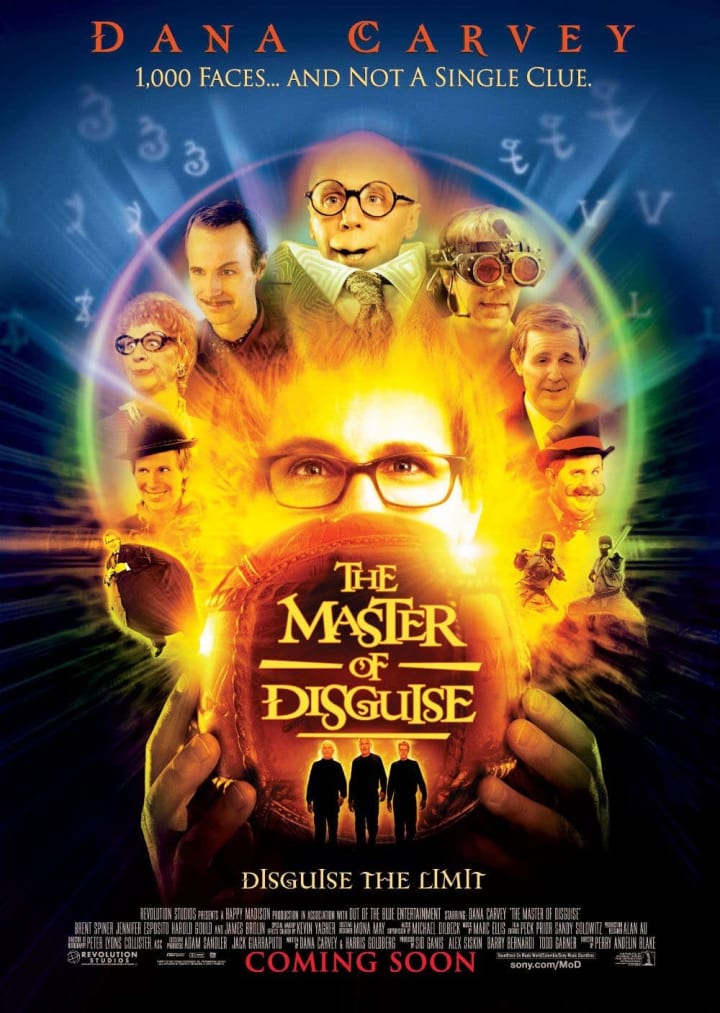 By the time he departed Saturday Night Live in February 1993, Dana Carvey was the leading light among a cast that also included Mike Myers, Phil Hartman, Chris Rock, Rob Schneider, David Spade and Adam Sandler. During hist time on the show, Carvey created a host of memorable characters including the Church Lady, Hans (from Hans and Franz), the Grumpy Old Man on Weekend Update and, most memorably to modern viewers, playing Garth Algar alongside Mike Myers' Wayne Campbell in the Wayne's World sketches. This latter sketch had later been adapted into pair of 'excellent' film adaptations in 1992 and 1993.
In addition to his original characters, Dana Carvey was also the go-to impressions guy on SNL. Most memorably, he portrayed George H.W. Bush during his entire presidency, in addition to 1992 third-party candidate Ross Perot, which led to a memorable 1992 presidential debate sketch in which Carvey played both roles through clever editing. Jimmy Carter and Dan Quayle were two other political figures that saw themselves satired by Dana Carvey. Aside from politics, Carvey's list of impressions was large,including Jimmy Stewart, Mickey Rooney, Paul McCartney, John Travolta, Regis Philbin and Bob Dylan, just to name a few. Being SNL's 'Man of A Thousand Voices', you'd think someone would capitalise on Carvey immense talents for mimicry, and you'd be right. How though? A one-off special? A TV series ? No, even bigger. A full-length motion picture called The Master of Disguise.
By 2002, it is fair to say that Dana Carvey's post-SNL career had not lived up to expectations. Aside from Wayne's World, everything he'd touched had been a flop. His 1994 comedy movie Clean Slate failed both critically and commercially as did both Trapped in Paradise and The Road To Wellville (where Carvey played a supporting role). Even his 1996 ABC sketch show The Dana Carvey Show, which featured Steve Carell, Stephen Colbert, Bob Odenkirk, Charlie Kaufman, Greg Daniels and Robert Smigel among its cast and writing staff, managed to get cancelled after just seven episodes. However, after many years of dealing with health problems and spending time with his family, Dana Carvey would return to the mainstream two years into the new millennium with an idea he had originally thought up in the early 1990s. After many re-writes with different collaborators which changed the film's plot numerous times, Carvey would combine with Harris Goldberg, the co-writer and co-producer of surprise 2001 hit Deuce Bigalow: Male Gigolo to create The Master of Disguise. Adam Sandler would lend his support to his good friend, agreeing produce Carvey's film idea through his Happy Madison production company. Happy Madison's in-house production designer Perry Andelin Blake would become the film's director, and Sony Pictures would distribute The Master of Disguise through their Revolution Studios subsidiary. Would this movie be Dana Carvey's comeback into the big time? It would not.
In The Master of Disguise, Dana Carvey is the stupidly-named Pistachio Disguisey, a young man who works in his family's pizza restaurant. After his father Fabbrizio (James Brolin), a former secret agent known as 'The Master of Disguise', is captured by the evil smuggler Devlin Bowman (Brent Spiner) and forced to use his disguise talents to steal legendary artefacts, Pistachio's grandfather (Harold Gould) tells him the truth about his unique family heritage. After much training by his grandpa and being aided by his assistant Jennifer (Jennifer Esposito), Pistachio sets out to stop Bowman's evil plans and save his father while using his abilities as a 'Master of Disguise'. Thus ensues Dana Carvey portraying a mix of celebrities and original characters, from Al Pacino and George W. Bush to an Indian man, an old lady and a 'turtle', in his quest to save his father.
If Dana Carvey were hoping that The Master of Disguise would lead to a career comeback, he would be deathly wrong. The movie currently has a 1% rating on Rotten Tomatoes based on 104 reviews. The site would later rank The Master of Disguise as the 18th Worst Movie of the 2000s. In the end, the movie was seen as a misguided attempt to utilise Carvey's immense talent for mimicry, resulting in an unfunny family comedy filled with fart jokes and painful scene after painful scene. Keith Phipps of The AV Club would proclaim the film "as funny as a seeping wound". "Never have so many jokes clunked off the screen to such a silent audience. And never has 80 minutes seemed like such an eternity", said the BBC's Jamie Russell. The Chicago Reader's Jonathan Rosenbaum would compare the film negatively to Ace Ventura and Austin Powers, calling The Master of Disguise "a feeble Dana Carvey farce". Finally, Alan Morrison of Empire Magazine would declare that The Master of Disguise is "a film about idiots, made by idiots, for idiots." However, The Baltimore Sun's Chris Kaltenbach would call it "the best James Brolin-in-an-Italian-accent movie ever."
The Razzies would completely pass over The Master of Disguise for its 2002 awards, instead giving its nominations to Star Wars Episode II: Attack of the Clones, showing how good they are at actually identifying the worst movies of the year. However, the Stinkers Bad Movie Awards would not be so lenient, levelling the movie with four nominations including Worst Picture, Actor and Fake Accent (Male), with the film eventually winning the award for Most Painfully Unfunny Comedy along with Kung Pow: Enter The Fist.
However, The Master of Disguise would become a box office success. Made on a $16 million budget and with Dana Carvey still retaining some star power from his early 1990s heyday, the film would earn $12.5 million in its opening weekend to rank 3rd at the US box office behind Signs and Austin Powers in Goldmember starring Mike Myers. The film would remain in the US top 10 for three weeks and would finish with an impressive $40.3 million domestic gross. That's right. Somehow a film this abysmally bad managed to keep the punters coming in beyond the first week. Despite completely bombing overseas, The Master of Disguise would finish with a worldwide gross of $43.3 million, recouping 1.5 times its budget.
However, despite commercial success, the dreadful critical response to The Master of Disguise effectively killed Dana Carvey's movie career. Aside from voice roles in Hotel Transylvania 2 and The Secret Life of Pets franchise and cameos in Adam Sandler movies, Carvey has stuck mainly to stand-up shows, podcast appearances and guest roles on animated TV shows. He is still well-regarded on Saturday Night Live and makes guest appearances every now and then. However, his career never truly took off after originally leaving the sketch show back in 1993.
2. Pinocchio (Dir. Roberto Benigni) 5.5%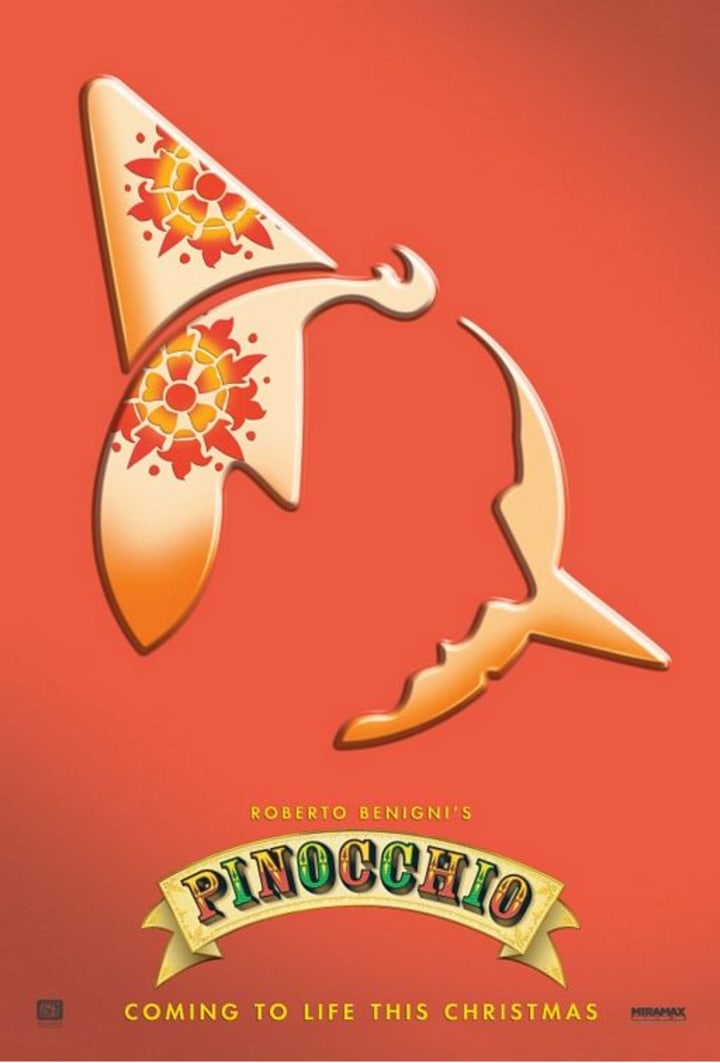 For one night in 1998, Roberto Benigni was the king of Hollywood. After his Italian WWII comedy-drama Life Is Beautiful was nominated for seven Academy Awards including Best Picture, Director, Actor and Screenplay, the Italian writer, actor, producer and director would end up winning two Oscars at the 71st annual awards cermony. After winning Best Foreign Language Film, Benigni would upset Tom Hanks (Saving Private Ryan), Ian McKellen (Gods and Monsters), Nick Nolte (Affliction) and Edward Norton (American History X) to win the Best Actor award, equalling his win from the BAFTA Film Awards. With Benigni the toast of Tinseltown, critics were already looking ahead to see how the charismatic Italian would follow up the resounding success of Life Is Beautiful. Four years later, this follw-up would arrive.
For his next movie, Roberto Benigni would choose to make his own version of the classic Italian children's novel Pinocchio. As had been the case with Life Is Beautiful, Benigni would direct, co-write the film with collaborator Vincenzo Cerami and star in the lead role. Yes, 50-year-old Roberto Benigni would play the wooden boy known as Pinocchio. The movie would also be a family affair as Benigni's wife Nicoletta Braschi would play the Blue Fairy and his brother-in-law Gianluigi Braschi would be the film's main producer.
You don't need me to explain the story of Pinocchio to you, so let's move on. Roberto Benigni's Pinocchio would release in his native Italy in October 2002, topping the box office and grossing $10 million in its opening week. After another week at the top, the film would remain in the Italian top 10 for eight weeks, eventually grossing $25.6 million against its $45 million budget. The film would receive mixed reviews, with many domestic critics praising the film's acting, cinematography and special effects but criticising its lack of magic, personality and humour. However, the film would receive six nominations at Italy's David Di Donatello film awards, winning for its sets and costumes.
At this point, you are definitely wondering why Roberto Benigni's Pinocchio is on this list as the second-worst critically-reviewed film of 2002. Well, let me tell you a story. During production, the international distribution rights to Pinocchio were bought by Miramax. However, instead of simply subtitling the movie for its American release, Miramax executives would decide to spend more money on dubbing the film's dialogue with Hollywood actors to appeal to Western audiences. For this dubbing, Miramax would cast Breckin Meyer (dubbing Benigni's Pinocchio performance), Glenn Close, Eric Idle, John Cleese, Kevin James, Eddie Griffin, Cheech Marin, Topher Grace, Queen Lafitah, Jim Belushi and Regis Philbin. The film was even recut, with eight minutes of the original version being removed. However, to promote this dubbed version, Miramax would even agree to a deal with McDonald's where characters from the movie would be sold as collectable toys in Happy Meals.
The dubbed version of Roberto Benigni's Pinocchio would release on Christmas Day 2002 with no advance press screening and would completely crap the bed. The film would open 19th at the US box office, grossing just $1.1 million from 1,195 cinemas, and would eventually finish with $3.6 million in US box office receipts. This poor commercial performance, added to a $38 million international performance, meant that Roberto Benigni's Pinocchio would fail to recoup its $45 million production budget, becoming a box office failure.
While the original Italian version had received mixed reviews from critics, the dubbed version of Pinocchio would be downright panned. The film currently holds a 0% rating on Rotten Tomatoes from 55 critical reviews, while holding a mildly better 11% on Metacritic. It would also become the first foreign-language film to receive Razzie nominations, earning six for Worst Picture, Director, Actor, Screenplay, Screen Couple and Worst Remake or Sequel. Five years after his Oscar win, Roberto Benigni (as dubbed by Breckin Meyer) would receive the Worst Actor Razzie for his performance as Pinocchio. The film would also receive nine nominations at the Stinkers Bad Movie Awards, with Pinocchio's dubbed Hollywood cast winning the award for Worst On-Screen Group.
Understandably, much of the criticism for the American version of Pinocchio focused on the film's dubbing. Owen Gleiberman called the recut version of Pinocchio a "hastily dubbed disaster", while Jonathan Rosenbaum would call it "truly awful", elaborating that "a good 75 per cent of the film's awfulness is attributable to Miramax, the film's distributor." TV Guide's Ken Fox would say "There's no getting past the shockingly poorly dubbed voice work of the English-speaking cast; Meyer's voice is particularly shrill and grating." Jay Boyar of the Orlando Sentinel would say that Miramax should have hidden the film from everyone. However, another main area of criticism lay with the original movie, especially with the film's star and director Roberto Benigni, with many pointing out the weirdness of a 50-year-old man portraying a wooden boy. Stephen Hunter would describe Pinocchio as a movie about "an adult male dressed in pink jammies". Marilyn Moss of The Hollywood Reporter would write that "While Benigni seems to be having a wonderful time, he might be alone in that." Jennie Punter of the Toronto Globe would say the prospect of a Pinocchio with "a five o'clock shadow and tufts of arm hair" bordered on creepy. Other critics would call Benigni's performance 'insufferable' and 'grotesque'. Elizabeth Weitzman would sum up Pinocchio as "the most bizarre cinematic experience of 2002".
After Pinocchio, Roberto Benigni would release The Tiger and the Snow in 2005, a story about a poetry professor who travels to Baghdad to save his true love during the 2003 invasion of Iraq. The film would receive negative reviews.
1. State Property (Dir. Abdul Malik Abbott) 4.5%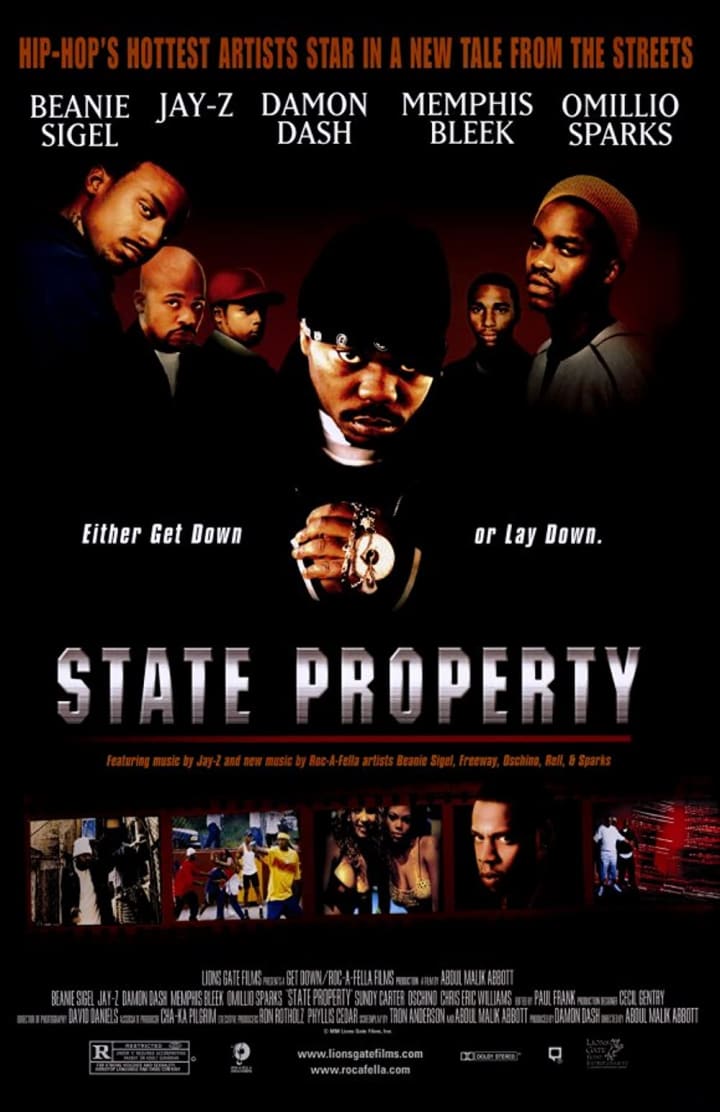 For the worst-reviewed movie of 2002, you have to go back to the first month of the year. Once again, a movie starring rappers trying and failing to act lands itself in critical jail. After 3 Strikes and The Wash in previous years, 2002 brings us State Property.
State Property is brought to us primarily by Roc-a-Fella Records, a record label owned and run by entrepreneur Damon Dash and rapper Shawn 'Jay-Z' Carter. Both Dash and Carter appear in State Property while Dash would co-produce the movie with regular production designer Phyllis Cedar. The film's director Abdul Malik Abbott (making his motion picture debut) was known for directing, writing and producing several of Jay-Z's music videos since the mid-1990s. Abbott would co-write State Property with Ernest 'Tron' Anderson, a man whose highest-profile work in Hollywood to that point had come working as Will Smith's on-set assistant for Bad Boys, Independence Day and Men In Black. For the film's cast, Dash and Carter would use rappers from the New York, Philadelphia and North Carolina markets, all of whom were signed to Roc-a-Fella Records. Even Jay-Z's jeweller got a role. Along with the film being a Roc-a-Fella production, State Property would be distributed by Lionsgate, who had previously done the honours for The Wash the previous year.
State Property follows the story of Beans (Beanie Siegel). One day, Beans decides that he is tired of being broke and decides to form his own empire in Philadelphia along with his crew, the ABM. Entering the drug trade, Beans and his cohorts, including Baby Boy (Omillio Sparks) and Blizz (Memphis Bleek), begin to grow their influence in Philly, causing mayhem along the way. However, the ABM soon run into conflict with gangsters, the police and local crime lords Untouchable J (Jay-Z) and Dame (Damon Dash). The ABM now need to move wisely to avoid facing some severe consequences for their actions.
Critics would view State Property as a formulaic gang drama filled with poor dialogue and terrible acting performances from its ensemble of rappers. In a zero-star review, Joe Leydon of the San Francisco Examiner would write "The acting is amateurish, the cinematography is atrocious, the direction is clumsy, the writing is insipid, and the violence is at once luridly graphic and laughably unconvincing." Lou Lumenick of the New York Times would call the film's script "a static series of semi-improvised (and semi-coherent) raps between the stars", an opinion shared by Luke Y. Thompson while saying that "no one involved, save Dash, shows the slightest aptitude for acting."Attention was also drawn to the film's level of violence and the bevvy of scantily-clad women and expensive cars, which would lead Bill Pearis to call State Property " a shoddy male hip-hop fantasy". Then, Elizabeth Weitzman would call the movie "the cinematic equivalent of a gangsta rap song" and that State Property served as "little more than a marketing tool for Roc-a-Fella Records". With that cast and crew, I think she might have a point.
Despite basically being made by a record label, the production budget for State Property would only add up to $600,000. Releasing in just 61 cinemas in the USA in January 2002, State Property would gross $452,028 in its opening weekend, finishing 24th at the US box office. The film would actually stick around until the end of March, finishing with a box office gross of $2.1 million, 3.5 times the movie's budget.
Along with State Property's commercial success, the film's accompanying soundtrack would bring in the money. Released by Roc-a-Fella and featuring tracks performed by the movie's cast (they are rappers after all), the soundtrack would top Billboard's Top R&B/Hip Hop Albums Chart, rank 2nd on the Soundtracks chart and, most notably of all, peak at 14th on the mainstream Billboard Top 200 Albums Chart.
Despite the film's negative reception, Lionsgate and Roc-a-Fella would combine again for a State Property sequel in 2005. Directed, produced and co-written by Damon Dash but lacking the involvement of Jay-Z, many cast members would return from the first movie in addition to appearances from Mariah Carey, Kanye West, and Ol' Dirty Bastard. With an increased budget of $2 million, the film would fail commercially but would receive marginally better, yet still negative, critical reviews. However, if your predecessor is the worst-reviewed movie of 2002, the only way is up.