That That by PSY feat. Suga of BTS
There it is folks! The brand new song of PSY featuring Suga, was released not too long ago. This is PSY's first release after several years of moving out of the spotlight. The 'Gangnam Style' king has been working in the music industry but he has not released any of his music for quite some time. However, he did not disappoint in his return after many years with a strong artist by his side which is none other than Suga of BTS.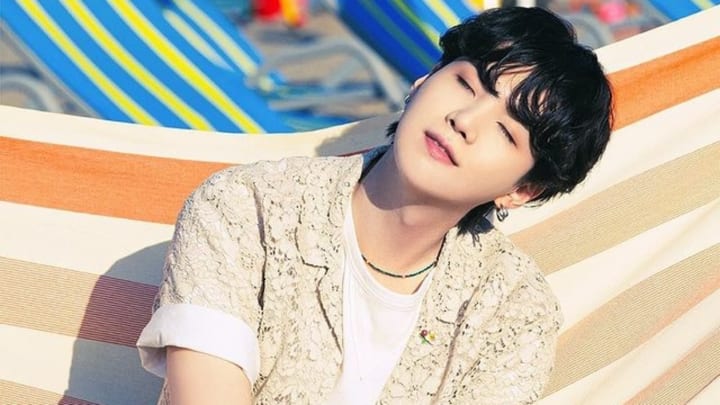 Suga is well known for his genius production in the music industry and combined with the talent of PSY, they created a really outstanding song! The song brings a new freshness of Zumba vibes that makes you want to actually go to the gym and rock it out. Of course, it is no surprise since both artists are well talented in their field.
So dig into the actual music video of 'That That' and some of the choreography that is seen in the video. PSY begins the video with his extravagant entrance that gives off the same energy as 'Gangnam Style', his first major global hit. However, PSY has given his new music video a Western type of theme and is surrounded by several cowboys and cowgirls dancers throughout the entire video. Perhaps he is attempting to appeal more t0 Western culture?
After roughly 1 min and 40 seconds, we see a man jump in front of the camera. As each ARMY holds their breath, we know well that is in none other than Suga. In which he begins his master rapping and looks like is doing a showdown with PSY. After much excitement, the video only gets better and better by seeing some playful fist fighting between the two artists. This comedic act results in PSY laying on Suga's lap with a fake bloody nose. This scene itself had many fans wishing they could be laying across Suga's lap with or without a bloody nose. Unfortunately folks, PSY had the pleasure to lay in his laps, sorry ARMY. As the video continues, we see more K-pop moves from the dancers as well as PSY and Suga.
Overall, the music video combines Western style themes with K-pop dance moves which is quite nicely done. However, PSY confessed that Suga reached out to him back in 2021 that he had a song that brought a very Latin tune to the mix, which resulted in 'That That'. Both artists kept in touch in writing back and forth to one another in creating the song. As always, Suga did not have any expectations to actually become part of the song. Suga had the idea of only being a producer for PSY on his 9th album but did not have any intentions of actually rapping, dancing, and producing the song. As many fans know, Suga has been in a similar situation before he debuted. He was promised a production based career that did not include much dancing or singing. However, many years later, that was not the case. Similar to his collaboration with PSY, he ended up rapping and dancing to his own production collaboration but it all ended in good fun. Both artists have expressed that working together resulted in a positive experience and connected at a professional level.
'That That' has resulted to be a musical sensation thus far that has not disappointed fans. It has been well received by fans of both artists and could result in another hit song that could surpass 'Gangnam Style' of 2013. So there it is readers, the catchy K-pop song that will likely make it to the Billboard charts and knock down several top hits.
Reader insights
Be the first to share your insights about this piece.
Add your insights