Taken Seriously
Here's one way for a nerdy teacher to be listened to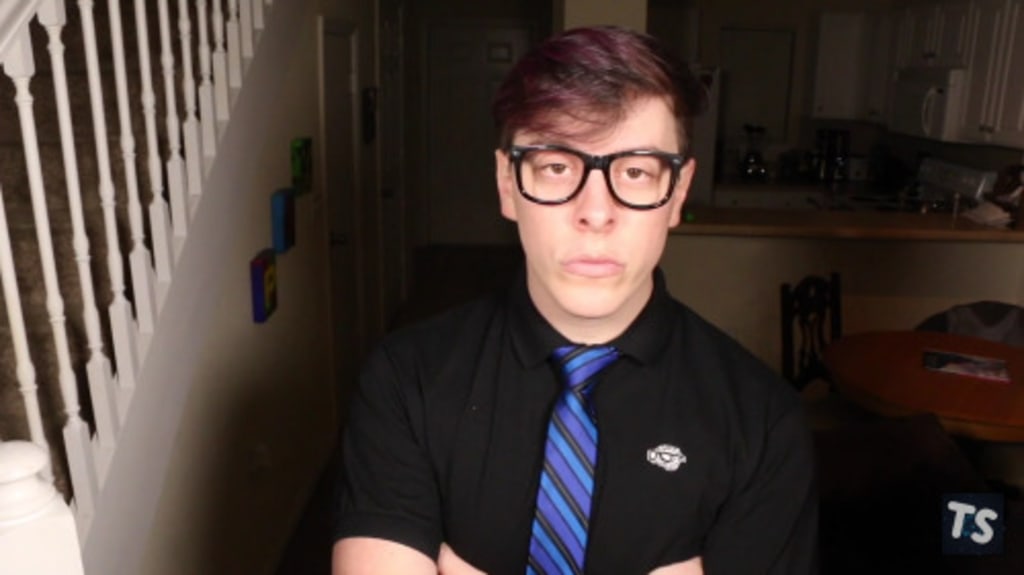 Logan Sanders was a high school teacher and had his fair share of incidents with his students. Now, he had students that actively engaged in his lessons, but there were the disruptive students that didn't take him seriously and served as the loud minority.
Among the disruptive kids in the entire school, there were the Yytrias Twins. Remus Yytrias was disruptive to the point where students and faculty had to volunteer weekends to clean up his deviant messes (usually flinging balls of unspeakable substances on the windows and walls). After many more incidents that made everyone fear Remus, he ended up being sentenced to juvie. As for Roman Yytrias, he wasn't as deviant, but he was basically Lord of the Drama Club disrupting class with his monologues and ranting about how dull the classes he was in were, making some groan and others laugh. Roman also took pride in working out in the school's weight room and during wrestling club for the sake of getting into his roles and fencing outside of school with the hopes of evolving into sword fighting. With all of that to consider, Logan dreaded the class period each day where he had to teach Roman. After all, why would Roman Yytrias ever take the nerdy Mr. Sanders seriously?
One afternoon, Roman was at wrestling club with some of his fellow students and they were all waiting for their coach to arrive. When they saw Logan walking to the coach's spot, though, to say they were surprised would be an understatement.
"Umm, where's Coach Anderson?" Roman called out and Logan flinched upon hearing the familiar voice.
Logan stood up straight and gazed at the entire group of high school wrestlers.
"Coach Anderson had sustained a hip injury and I allegedly had nothing better to do since I was doing some paperwork in advance, so I was pulled into the substitute position this afternoon," Logan explained.
Logan inspected everyone and brought them all to a big blue mat in the middle of the gym.
"You do know this is a club that requires physical activity, right?" another student, Dominic, asked before high-fiving Roman.
Logan took it as Dominic volunteering to wrestle with him. The students seemed to think it would be funny seeing the nerdy teacher get pinned down by an athlete, but what they got was Logan flawlessly putting some wrestling moves they were familiar with to good use and then giving a lecture on each of the moves he used in order of execution while Dominic was down. The other students were stunned, but thought Logan's victory was only a fluke, so they ended up challenging Logan only to get the same outcome after fights of different lengths to teach the club different wrestling moves.
Pretty soon, Roman was the only one who had yet to wrestle with Logan. He thought he saw a small smirk on the teacher's face before he stood up straight. Roman approached Logan expecting to tire the teacher out in order to claim victory. Although the round lasted a lot longer than the other rounds and even resulted in Logan using some advanced moves, everyone was in shock when they saw Roman defeated by the teacher. Logan looked at everyone and lectured about all the moves that were used and glanced at Roman a couple of times during his lectures.
As the other wrestlers were leaving for the day, Roman stayed behind while Logan was packing up.
"Mr. Sanders? How did you do that? I've never seen you in the weight room before," Roman asked while amazed.
"Oh, physical activity can do wonders for the brain. However, I don't wish to exercise amongst the rest of the student body. That being said, I work out at another gym elsewhere and don't show off that physical strength unless I'm in circumstances where it's a necessity," Logan explained.
"Well, why didn't you say something before? We'd certainly take you seriously if we knew what was at stake."
"I don't believe in using fear to get what I want. If you don't want to pay attention, it's your loss. Besides, in a hormonal environment such as high school, I wouldn't want to encourage students that are and aren't straight to try any funny business."
From that day on, the knowledge of what his teacher was capable of and the humiliation he felt during the afternoon of wrestling were enough for Roman to steadily keep himself reserved and focused in the class.