SXSW Movie Review: 'Chronicles of a Wandering Saint'
Monica Villa stars in an elegant, lovely and moving festival debut, Chronicles of a Wandering Saint.
Chronicles of a Wandering Saint (2023)
Directed by Tomas Gomez Bustillo
Written by Tomas Gomez Bustillo
Starring Iair Said, Monica Villa, Pablo Moseinco
Release Date March 12th, 2023
Published March 13th, 2023
We open inside of a church somewhere in Argentina. Rita (Monica Villa) sits praying in the first pew, alone. Beside her are cleaning materials that she has set aside for her particular need to pray at this moment. Observed by interlopers, Rita is unmoved and continues diligently in prayer. The interlopers are her prayer group who have arrived to pray with her. Rita's role in the church is rather unclear early on. Yes, she's cleaning the church but is she an employee or a volunteer? Is she a church leader or a member of the congregation.
In the end, I guess that doesn't matter. The point is that she is deeply religious, pious, and dedicated. The plot of Chronicles of a Wandering Saint kicks in when, while cleaning a storage area of the church, Rita finds a statue of a Nun and she steals it with the aid of her loving, devoted, and slightly goofy husband, Lucho (Iair Said). Lucho is unaware of his wife's ruse, even as he helps smuggle the statue of Saint Rita from the church to his home.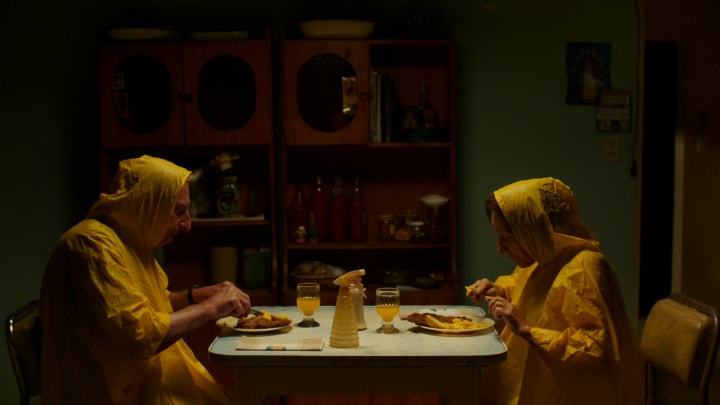 The plot thickens with Rita tells her pastor, Father Eduardo (Pablo Moseinco) that the statue simply appeared in her home. It doesn't take much for him to declare it a miracle, sight unseen and we're off to the races, so to speak. Rita begins to try and authenticate evidence of her miracle. Soon, Rita does let Lucho in on the ruse and together they work on staging the miracle. The slightly upgraded, more biblically accurate, Statue of Saint Rita will suddenly appear at the church with Rita discovering it there, a genuine miracle.
And then... well, let's just say, the movie... changes. Something happens at the midpoint of Chronicles of a Wandering Saint that shifts a potential comic farce about a deeply religious woman staging a miracle into something entirely, remarkably unexpected. I am not going to spoil anything; I am recommending this movie and I certainly want you to enjoy it. I will only say that the twist is entirely unexpected and rather ingenious. You are making assumptions about what the twist is but I promise you, you won't guess it.
Credit to writer-director Tomas Gomez Bustillo for taking what appeared to be a conventional narrative and turning it completely on its ear. The artfully unexpected story direction, that begins with one very big choice, works beautifully. It takes something seemingly familiar into an entirely new place, a graceful, lovely, slightly comic story, filled with warmth and beauty. I will admit, I was starting to dread where the story was going so after the twist and this amazing risk the filmmaker takes, I was reeled right back in.
I don't want to say much more. I will only say that I really loved this movie, especially after the twist. It's a terrifically surprising, sweet, weird and risky little movie. Chronicles of a Wandering Saint is playing at the South by Southwest, SXSW film festival on Sunday afternoon, March 12th. Hopefully, soon after that, it will find a distributor to bring it to a wider audience. I truly enjoyed it and I think anyone who gives it a chance will enjoy it just as much as me.
Find my archive of more than 20 years and nearly 2000 movie reviews at SeanattheMovies.blogspot.com. Find my modern review archive on my Vocal Profile, linked here. Follow me on Twitter at PodcastSean. Follow the archive blog on Twitter at SeanattheMovies. Listen to me talk about movies on the Everyone's a Critic Movie Review Podcast. If you have enjoyed what you have read, consider subscribing to my work here on Vocal. If you'd really like to support my writing, you can do so by making a monthly pledge or by leaving a one time tip. Thanks!
About the Creator
Hello, my name is Sean Patrick He/Him, and I am a film critic and podcast host for Everyone's a Critic Movie Review Podcast. I am a voting member of the Broadcast Film Critics Association, the group behind the annual Critics Choice Awards.
Reader insights
Be the first to share your insights about this piece.
Add your insights