'Suits': S09.E08. "Prisoner's Dilemma"
An old foe forces Harvey to account for past actions. Esther has a problem only Louis can solve.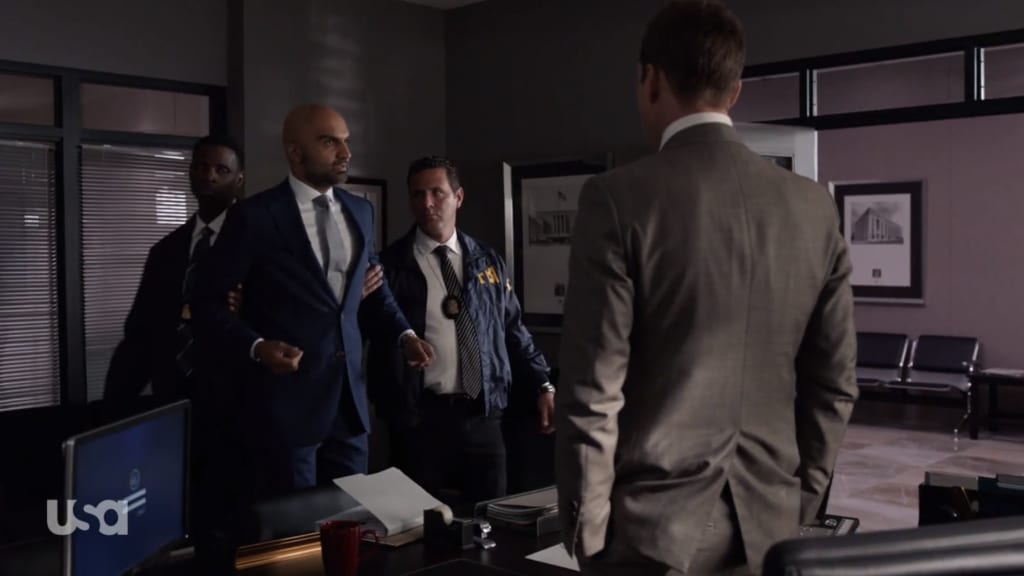 The latest episode of the USA Network's Suits landed Wednesday, September 11, 2019. The series is edging ever closer to the finale, and series creator Aaron Korsh's dramatic content is being ramped up to eleven.
Directed by Julian Holmes, the eighth episode sees the return of Amy Acker, Neal McDonough, Usman Ally, Erik Palladino, and Eric Roberts as Esther Edelstein, Sean Cahill, Andrew Malik, Kevin Miller, and Charles Forstman, respectively.
In the opening episode, Sean Cahill approaches Harvey Specter (Gabriel Macht) and tells him Andrew Malik had him arrested.
"He's claiming we conspired to swap Mike Ross for William Sutter (Alan Rosenberg)," Sean tells Harvey. "I'm here to get our stories straight."
A few seasons back, Harvey worked with Sean to get Mike Ross (Patrick J. Adams) out of prison. It now looks like the work Harvey did with Sean is coming back to bite them both where it hurts. Fortunately for Harvey, like a lot of things Forstman has ever been involved with, there is something seriously fishy about the way Malik was able to get his hands on the information he's using to take Harvey down.
Harvey has Sean hire him as his lawyer because anything they discuss from that point is inadmissible. This is a lawyer move anyone with a modicum of intelligence would make, because it takes what they discuss off the board for the opposing attorney.
"Andy Malik doesn't care about Sean Cahill," Donna Paulsen (Sarah Rafferty) tells Harvey. "If he's doing this, he's coming after you."
Donna is right, and Harvey knows it. Harvey doesn't have any choice but to trust Sean.
Malik doesn't like Harvey representing Sean, and he says as much in court. Unfortunately for him, the judge sides with Harvey and Sean. The defendant has a right to his counsel of choice. This didn't go down well with Malik; consequently, he complains to the New York State Bar Association's Special Master Faye Richardson (Denise Crosby).
Faye doesn't want Harvey representing Sean either, but what can she do? It's not as if Harvey is going to step aside so that she can represent Sean.
Meanwhile, Esther comes to Louis for help blocking a deal with Paul Richmond (Ron Lea). Esther, Louis' sister, is in jeopardy of losing her company to a sexual predator. Like many people of his ilk, without anyone coming forwards, these sexual predators typically always get away with their crimes.
With Louis needing a legitimate reason to stop a merger from happening, he goes to Katrina Bennett (Amanda Schull) for help. Within seconds of seeing the documentation, Katrina correctly notes one of the companies involved is Esther's. Without going into too much detail, Louis gets Katrina to work with him on tanking the deal.
When Katrina discovers Louis went to Samantha Wheeler (Katherine Heigl) for help on his sister's case, she wanted in on whatever it was the former named partner had planned because there was no way Katrina was going to stand on the side-lines and do nothing.
Esther isn't a client of Specter Litt Williams, the company is. That is a distinction that helps Esther in the long run, because the same applies to Richmond, and the attorneys that drew up confidentiality agreements for him. The client is the company, not Richmond himself. Subsequently, because of this distinction, client-attorney privilege doesn't apply.
Katrina and Samantha pit the attorneys against each other and gets the result they need to take to Louis. With their help, Louis successfully railroads Richmond's takeover of Esther's company.
Louis asks Sheila Sazs (Rachael Harris) to marry him. It's a touching moment which has been a long time coming.
The episode closes with an emotionally jarring kicker no one could possibly see coming. As Harvey arrives home to tell Donna the good news, Donna has unpleasant news to deliver. Harvey's mother, Lily (Brynn Thayer), has died of a heart attack.