'Suits': S09.E07. "Scenic Route"
Harvey and Samantha head out on a road trip together. Louis gets in over his head with a potential client.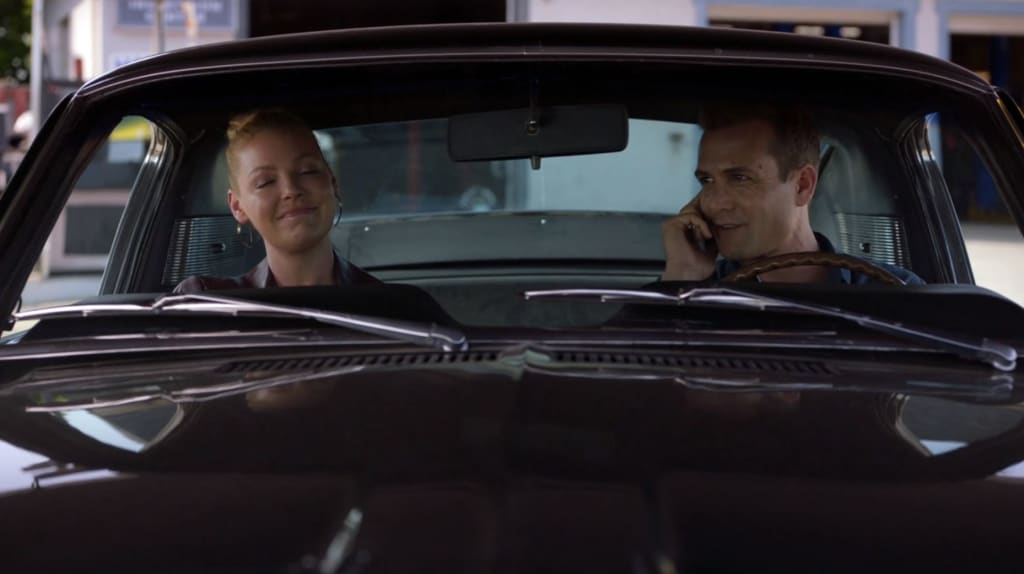 Screen Capture: Katherine Heigl and Gabriel Macht as Samantha Wheeler and Harvey Specter, respectively, in the USA Network dramedy 'Suits.'
The latest episode of the USA Network's Suits sees Harvey Specter (Gabriel Macht) go on that road trip with Samantha Wheeler (Katherine Heigl) that they discussed in the previous episode.
Louis Litt (Rick Hoffman), who has always wanted to measure up to Harvey, masquerades as Harvey to impress a potential client. This would not have happened if Louis had not have been sitting at Harvey's desk when the call came in.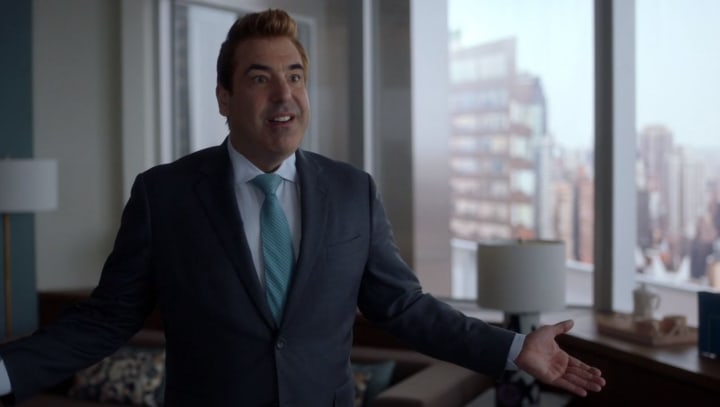 Did you see Louis in his 'Harvey wig'? I had the same reaction to the wig that Donna Paulsen (Sarah Rafferty) had when she saw him wearing it. At least it wasn't a fez. Yes, I know. Wearing a fez is cool. Wearing a bowtie is also cool, but I can't see Louis doing that in this episode or any time soon.
Louis, doing his Harvey Specter routine, arrives for his meeting with the potential client. While it's clear Louis is having the time of his life pretending to be Harvey, there is something seriously off about the luncheon meeting. It just feels more like a dream sequence than it does something that would actually happen in an episode of Suits, I am sure I don't have to remind you of the episode where Louis daydreams he's a judge and the entire jury panel is made up of Harvey Specter duplicates. The luncheon meeting has that kind of feel to it. The scene is positively comical.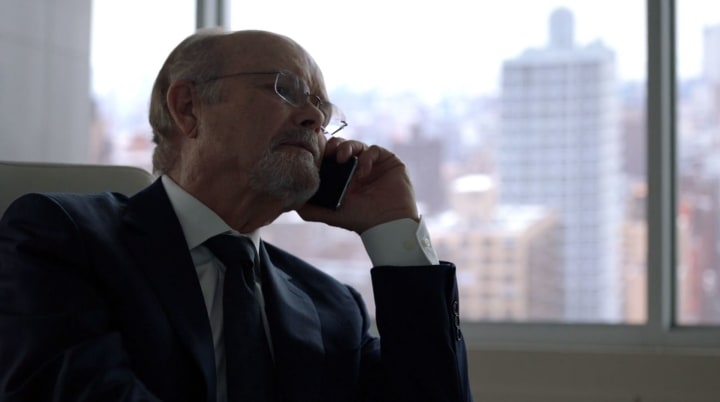 If you think the potential client looks familiar, you'd be correct. That there is none other than esteemed actor Kurtwood Smith. Smith, possibly best known in certain quarters of his fandom for playing Reginald "Red" Forman in That '70s Show, played the Federation President in Star Trek VI: The Undiscovered Country.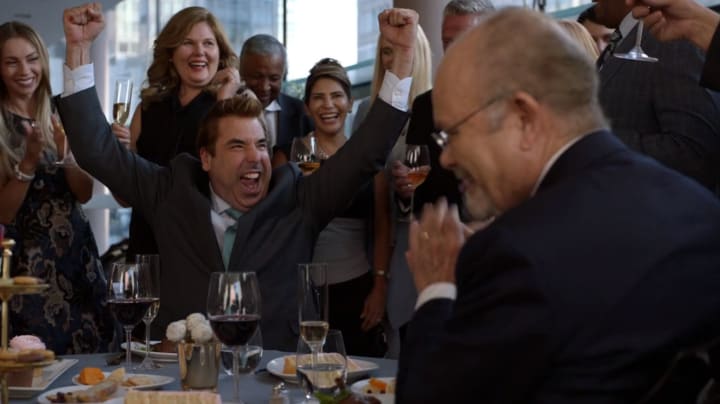 Smith, born in New Lisbon, Wisconsin on July third, 1943, has played many characters in his almost 40 year acting career. Based on his acting resume, it doesn't look like Smith will be retiring any time soon.
When Samantha sees the car Harvey's driving, it makes the former named partner uncomfortable because she has a history with a car of the exact same model. When we see a flashback to her childhood, it easy to why this car dredges up bad memories. The discomfort in Samantha's facial expression is apparent.
The flashbacks to Samantha's past not only give us a glimpse of the person she was, but also allow us to understand why she became the person she is today.
Harvey, after Harold calls him, discovers Louis has been running around town pretending to be him.
Does Louis seriously believe thinking like Harvey would get him out of sh*t? What would Harvey do? I'll tell you what Harvey would do. He would get Samantha to call Louis and pretend she is Harold Gunderson's (Max Topplin) secretary.
With Harold's help, Louis ends his little game of make-believe. Louis, off-screen, comes clean about not being Harvey. Consequently, because of his truthfulness, he was able to keep the new client. It did mean that he had to hire Harold back at the firm.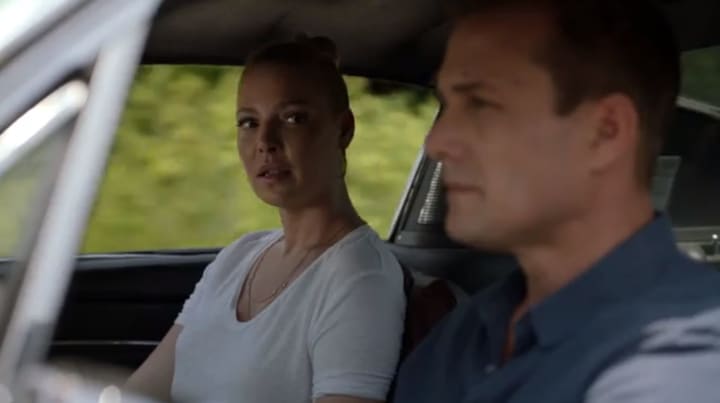 When Samantha met her biological father, it was a complete surprise to him. He had no idea he had a daughter. Subsequently, because Samantha's mother never told him about being a father, he wasn't responsible for Samantha having been placed into the foster care system. Even though he didn't know about being a father, he admitted not knowing what he would have done if he had known.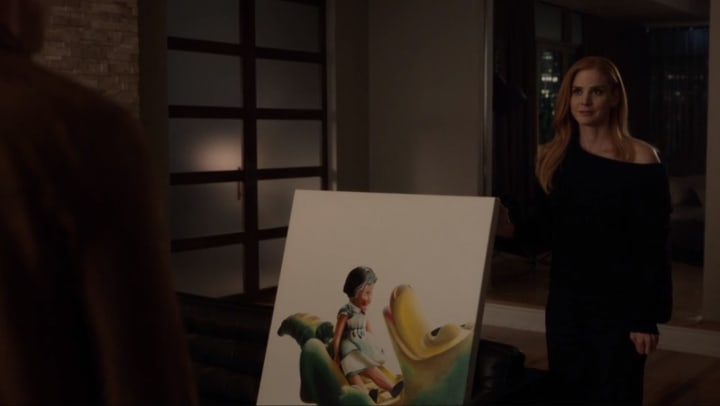 Donna got Harvey the best present anyone could get anyone they love. It's a painting that used to hang at Harvey's residence. It really is the one thing that Donna could have got for the man that has everything.
If it wasn't for Alex Williams (Dulé Hill) and Katrina Bennett (Amanda Schull), Donna would not have been able to get Harvey's prized painting back in his possession. This is what family members do for each other.
tv
I'm a freelance journalist. A member of both the NLGJA and SPJ, I currently write articles for Harsh Light News on Medium and HVY.Com. When I was a university student, I wrote articles for the NT Daily and TCU 360.