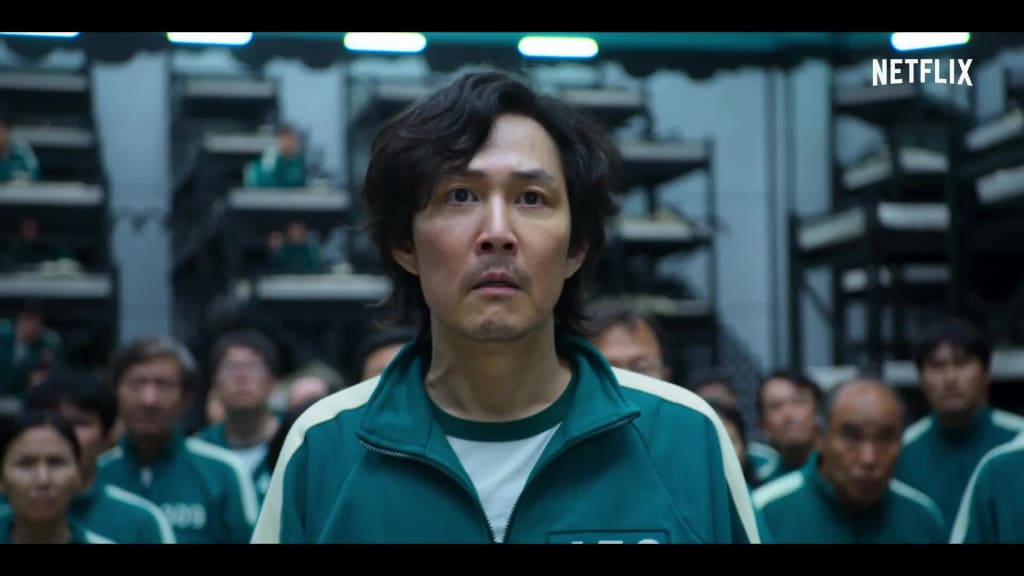 Squid Game (Korean: 오징어 게임) is a South Korean survival drama television series created by Hwang Dong-hyuk for Netflix. Its cast includes Lee Jung-jae, Park Hae-soo, Wi Ha-joon, HoYeon Jung, O Yeong-su, Heo Sung-tae, Anupam Tripathi, and Kim Joo-ryoung.
The series revolves around a secret contest where 456 players, all of whom are in deep financial hardship, risk their lives to play a series of deadly children's games for the chance to win a ₩45.6 billion (US$35 million, €33 million, or £29 million as of broadcast) reward. The title of the series draws from a similarly named Korean children's game. Hwang had conceived of the idea based on his own economic struggles, as well as the class disparity in South Korea and capitalism. Though initially written it in 2009, Hwang was unable to find a production company to fund the idea, until Netflix took an interest around 2019 as part of a drive to expand their foreign programming offerings.
Squid Game was released worldwide on September 17, 2021, to critical acclaim and international attention. It is Netflix's most-watched series, becoming the top-viewed program in 94 countries and attracting more than 142 million member households and amassing 1.65 billion viewing hours during its first four weeks from launch, surpassing Bridgerton for the title of most watched show. The series has also received numerous accolades, including the Golden Globe Award for Best Supporting Actor – Series, Miniseries or Television Film for O Yeong-su and the Screen Actors Guild Award for Outstanding Performance by a Male Actor in a Drama Series and Outstanding Performance by a Female Actor in a Drama Series for Lee Jung-jae and HoYeon Jung, respectively, with all three making history as the first Korean actors to win in those categories. The first series received fourteen Primetime Emmy Award nominations, including for Outstanding Drama Series, making it the first non-English language work to be nominated in this category; Lee won the Outstanding Lead Actor in a Drama series, making the first time an Asian actor had won this award for a non-English work.
In June 2022, the series was renewed for a second season, which is slated to be broadcast by late 2023 or early 2024. Netflix is also developing a reality competition program based on Squid Game, currently being filmed in the United Kingdom, featuring 456 players competing for a cash prize of £4.56 million.
Overview
Seong Gi-hun, a divorced father and indebted gambler who lives with his elderly mother, is invited to play a series of children's games for a chance at a large cash prize. Accepting the offer, he is taken to an unknown location where he finds himself among 455 other players who are all in deep financial trouble. The players are made to wear green tracksuits and are kept under watch at all times by masked guards in pink jumpsuits, with the games overseen by the Front Man, who wears a black mask and black uniform. The players soon discover that losing a game results in their death, with each death adding ₩100 million to the potential ₩45.6 billion grand prize.[a][b] Gi-hun allies with other players, including his childhood friend Cho Sang-woo and North Korean defector Kang Sae-byeok, to try to survive the physical and psychological twists of the games.[5][6]
Cast and characters
Main article: List of Squid Game characters
Main cast
Cast
Lee Jung-jae
Lee Jung-jae (Seong Gi-hun, Player 456)
Park Hae-soo (Cho Sang-woo, Player 218)
Wi Ha-joon (Police Officer Hwang Jun-ho)
Jung Ho-yeon (Kang Sae-byeok, Player 067)
Numbers in parentheses denote the character's assigned player number in the Squid Game universe.
Lee Jung-jae as Seong Gi-hun (성기훈, [sʌŋ gi hun] (listen), 456),[7] a divorced chauffeur and gambling addict. He lives with his mother and struggles to support his daughter financially. He participates in the game to settle his many debts, and to prove himself financially stable enough to have custody of his daughter, who is to leave for the United States with her mother and stepfather.
Thank you for reading my page
One like and subscribe
Reader insights
Be the first to share your insights about this piece.
Add your insights