Spoiler Alert: Let's Talk About the Ending of 'The Menu'
A battle of wills of wills, a compromise of morals, the end of The Menu has it all.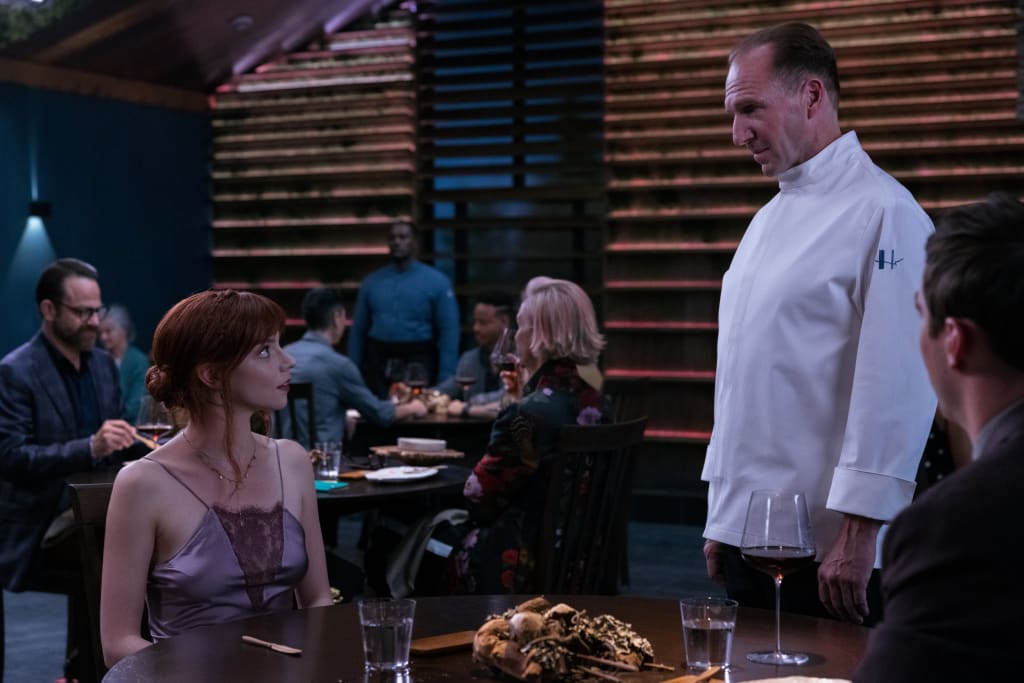 The Menu (2022)
Directed by Mark Mylod
Written by Seth Reiss, Mike Tracy
Starring Anya Taylor Joy, Ralph Fiennes
Release Date November 18th, 2022
Published November 21st, 2022
Let's talk about the end of The Menu and how there was simply no other way for this movie to end. The ending of The Menu is a bravura sequence that begins with a stalemate between Ralph Fiennes as the imperious and deadly Chef Slowik (Ralph Fiennes) and street smart Girlfriend Experience level sex worker, Margot (Anya Taylor Joy). Then it ends with a deconstructed S'More for a pitch perfect dessert.
If you're reading this, I hope you have already seen The Menu. It's a terrifically twisty and twisted thriller that deserves your attention. If you love two great actors in an extraordinary battle of wills, The Menu pits Ralph Fiennes and Anya Taylor Joy against each other, sort of. In a rather brilliant twist on expectations, Fiennes is a sympathetic villain and Joy is an entirely sympathetic innocent placed in the way of the villain by mere chance.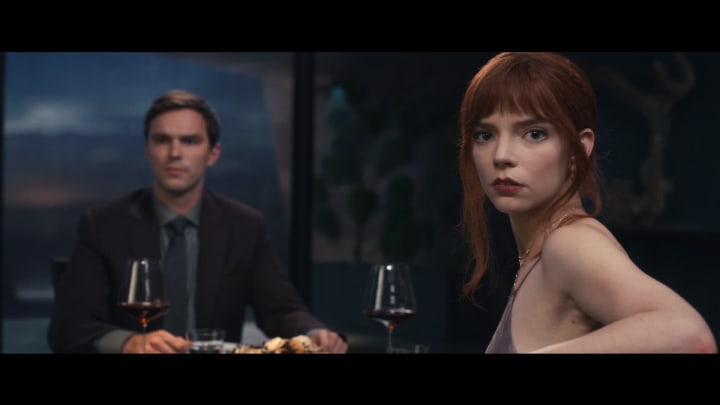 Their battle of wills is a breaking down of each other's moral positions to find a compromise that works for them both. Slowik wants everyone at his hyper-expensive restaurant to die on this night, including himself and his cult-like loyal staff, and especially his hated customers. Margot doesn't want to die and, being a normal person, she doesn't want anyone to die, even the hoity toity, uber-rich clients who would as soon spit on her as acknowledge her aside from what they can pay her to do.
The final moments are a button pressing series of scenes where Margot slowly gives up the idea of saving everyone and begins pushing to save herself. It's a barrier that Anya Taylor Joy brilliantly lets down over the course of the final act. She's a good person who doesn't want anyone to die and she's pushed to become someone willing to just save herself. Joy plays this aspect of her character, indeed all aspects of her character, brilliantly, making it a difficult decision but a completely understandable one.
On the other hand, Chef Slowik is a man of discipline. He's earned his place in the world through a rigorous dedication to ideals. He has immaculately and precisely designed this menu to end with everyone dead. It's a core tenant of his being that things go exactly according to plan. This is to the point where just the sight of Margot, a person who wasn't on the guest list, throws him for a loop. He's shaken by her because he doesn't know what to expect of her but also, he doesn't know if she actually deserves to die though he intends to find out.
That's the tension as the final moments of The Menu begin to play out. Margot decides to save herself and Chef Slowik regains just enough of his respect for humanity to allow Margot to live. Having discovered a photo of Chef Slowik smiling and making a cheeseburger and being named employee of the month at some fast food restaurant early in his career, Margot appeals to the young man in that picture, the young cook discovering his love of cooking. Margot sends back the curated meal of the night and demands a cheeseburger.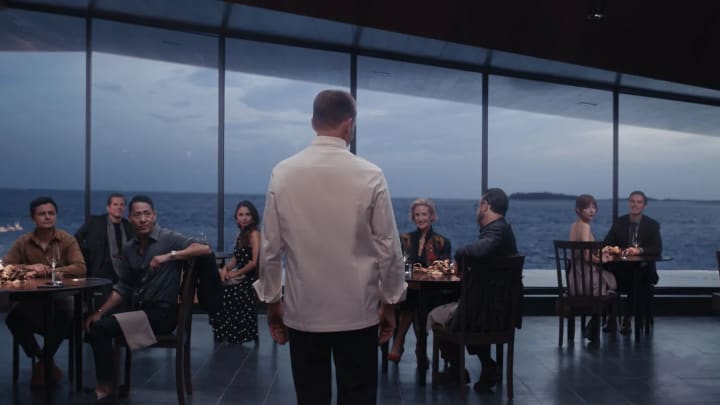 Chef Slowik, sensing his own past, recalling himself and who he was when he began to love making food, agrees. He prepares Margot an immaculate cheeseburger. It's made with the kind of loving attention to detail and care that only a master chef could provide. It's delicious just to look at it. Margot takes a bite and states how incredible it is. Then, with a desperate tremble in her voice and a steely resolve building inside, she asks for the burger to be boxed up to-go. The Chef agrees and Margot takes her burger to go.
As Margot scrambles to a boat at the dock, Chef Slowik and his team prepare dessert for their coterie of customers, rich snobs, criminals, abusers, and people that Chef Slowik feels are insufficiently grateful for their riches and their ability to pay him to give them high end food experiences. For Chef Slowik, the purity of creation has been poisoned by avarice. These uber-rich clients have taken from him and failed to appreciate the gift he gives them. There is a sympathetic quality to Chef Slowik where, you may not want people to die, but you understand the soul sick quality of the Chef and identify with it.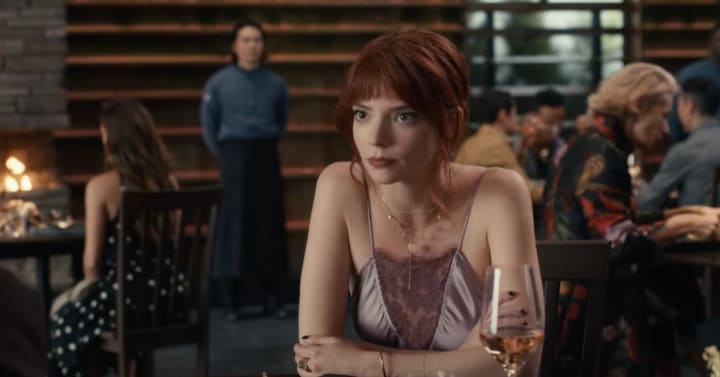 The Menu lets you live a fantasy of seeing people get what's coming to them. Rich criminals, abusers, those who have received so much without earning it. It's a catharsis that we can only get from the movies. In real life it would be a horrific crime and, unless you are psychotic, you could never feel the catharsis of it, the sense of justice. In the movies however, class warfare with an actual body count is satisfying and cathartic. The Menu taps into that feeling brilliantly. It also helps that Director Mark Mylod dresses up the karmic justice with a shocking comic visual.
So, how do these rich jerks die? Well, I mentioned deconstructed s'mores earlier. In order to tap into the childlike feeling of comfort food, Chef Slowik is making S'mores with high end chocolate and a vast amount of marshmallows. The twist is that his rich customers are the sticks on which these delights will cook over an open flame. In a bravura visual we watch the customers be fitted with chocolate hats and marshmallow straightjackets. In the middle of the restaurant, a fiery combination of cinnamon and gunpowder.
In a not quite literal interpretation of Rousseau's Eat the Rich concept, we watch as Margot enjoys her cheeseburger and fries from the nearby coast she's escaping to, as she watches the flames burst high into the sky over the island restaurant. Anya Taylor Joy's look of disturbed admiration for the scene in front of her is apt and mirrors our feelings in the audience. That sense of catharsis exists in her, our audience surrogate, as much as it does in us. She's undoubtedly traumatized by these events, her bemusement over the sight of the conflagration is as much an expression of that traumatic experience as would be any over the top expression of emotion.
Like us, Margot is caught up in the absurdity of the moment. It's more prominent for us, she doesn't know about the human S'mores, but it's a similar feeling. What she's been through, what she sees now, how she managed to escape, is all quite absurd and thus she's bemused. She's wrestling with the idea that she lived, they died. She's also wrestling with the twisted emotional identification she has with Slowik. He's a killer but she understands him, his frustration, and the burning hatred he had for the world that degraded what he loved.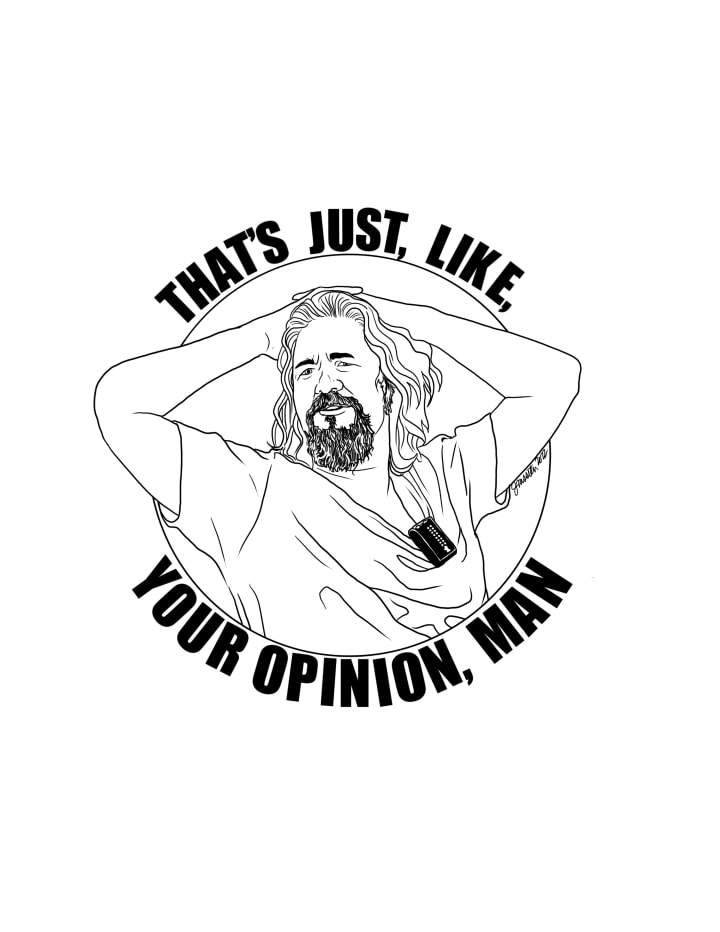 Admittedly, a lot of that is my reading, but that's what I got from her reaction to what she saw. I'm drawing this from Joy's performance, snatches of dialogue, implied meanings and so on. It's a reasonable conclusion on my part, even as I am stretching a little to match her performance with my take on the movie as a whole. The duality of audience and presentation, Joy the audience, the fire the presentation, is powerful, it's fraught with meanings. It's absolutely dripping with conflicting feelings.
I love it, and that's why the ending of The Menu is so perfect.
Find my archive of more than 20 years and nearly 2000 movie reviews at SeanattheMovies.blogspot.com. Follow me on Twitter at PodcastSean. Follow the archive blog at SeanattheMovies on Twitter. Listen to me talk about movies on the Everyone's a Critic Movie Review Podcast. If you've enjoyed what you have read, consider subscribing to my work here on Vocal. If you'd like to support my writing you can do so by making a monthly pledge or by leaving a one-time tip. Thanks!
movie
About the author
Hello, my name is Sean Patrick He/Him, and I am a film critic and podcast host for Everyone's a Critic Movie Review Podcast. I am a voting member of the Broadcast Film Critics Association, the group behind the annual Critics Choice Awards.
Reader insights
Be the first to share your insights about this piece.
Add your insights