'Spider-Man: Homecoming' - Tom Holland Reveals That He Modeled His Peter Parker On Another Teen Movie Icon
Like a streak of light, Spider-Man: Homecoming's release date is fast approaching, and anticipation is running at fever pitch.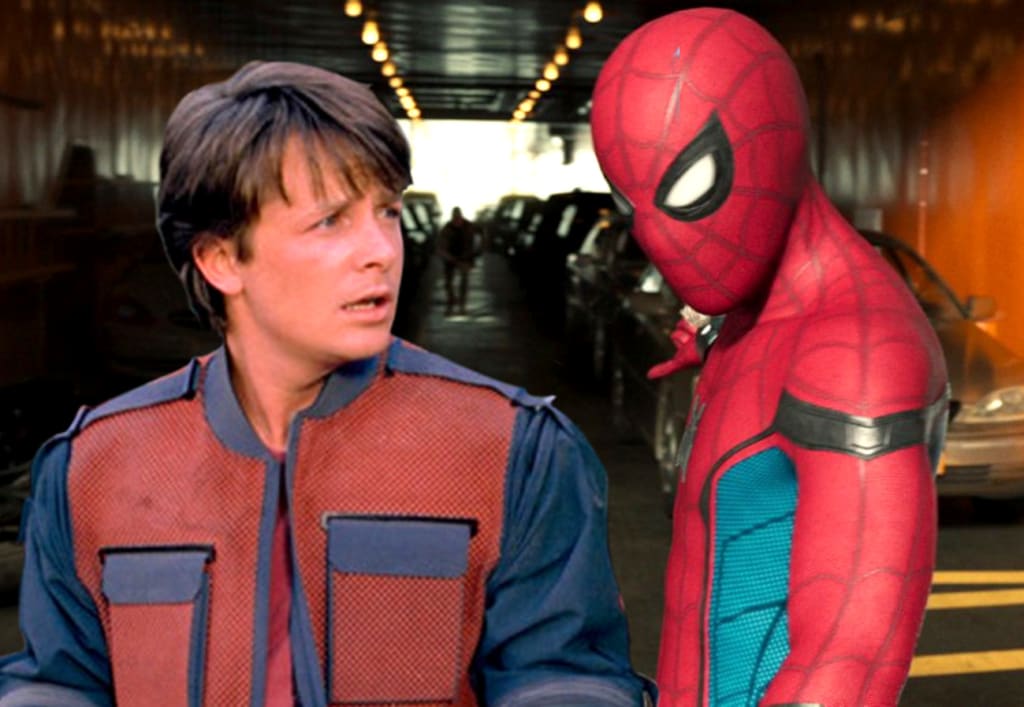 Tom Holland reveals that his Spider-Man is based On Michael J Fox's Marty McFly from 'Back to the Future'. [Credit: Universal, Marvel Studios & Sony]
Like a streak of light, Spider-Man: Homecoming's release date is fast approaching, and anticipation is running at fever pitch. Moviegoers can't wait to see more of Tom Holland's Spider-Man in action, even though he's the third incarnation of the wall-crawler in the last 15 years. Indeed, ever since his acclaimed debut in Captain America: Civil War, Holland and the minds at Marvel have paid tribute to — and borrowed from — the outings of previous Spider-Men. However in a recent interview, Holland also revealed that he was inspired by an unlikely character from a very famous movie series from the 1980s.
Tom Holland's Spider-Man Is Based On Michael J Fox's Marty McFly
The promotional tour for #Homecoming is already underway, and so in a Facebook Live interview with Yahoo! Movies, Tom Holland opened up about his portrayal of Spider-Man, and how he owes a great deal to the lead of the #BacktotheFuture series:
"... I was actually lucky enough that a journalist said, 'Oh, you're kind of like Marty McFly in this movie,' [and] that was what my all-time goal was... my goal was to try and kind of be our generation's Marty McFly."
Spider-Man and Marty McFly?! Actually, that totally makes sense, and we can definitely see how Holland has modeled his web-slinger on ol' Calvin Klein himself. Cast your minds back to Peter's introduction/recruitment scene in #CivilWar. Sure, in the comics and every adaptation since, Peter Parker has always been a tad socially awkward, but Holland's breathy, skittish delivery undoubtedly recalls the kind of nervy energy that infused Michael J Fox's performance in the Back to the Future films.
Check out the scene where Marty first meets his teenage mum, and you can already see the similarities between them. If that short clip isn't enough to convince you, then it's a good excuse to re-watch the whole film again:
On face value alone Marty McFly is a spirited, sassy kid who keeps secrets from his parents: sounds familiar, right? Yup, that description could easily fit Peter Parker as well, and it seems that the writers of Homecoming have been taking other cues from Back to the Future. Heck, our new Peter Parker even comes with an eccentric mentor figure who has a really, really cool mode of transportation! Though we must admit that #RobertDowneyJr is dressed far snappier than Christopher Lloyd's Emmet Brown.
As far as influences go, Michael J Fox's iconic teen is a solid and somewhat fitting choice on Holland's part. Back to the Future is a firm favorite for film-lovers, and many fans have even recognized that Michael J Fox would have been perfect for the role of Spider-Man back in the day. It's hard to disagree with that, really.
Throughout the Back to the Future series Marty notably impersonated his own son, inadvertently invented rock and roll and found himself transported back to the Wild West, so Fox definitely had experience of portraying an ordinary kid being thrust into strange situations. And according to #TomHolland, that teenage factor is a crucial part of Homecoming.
Tortured Teens, From Hill Valley To Homecoming
The defining aspect of Spider-Man: Homecoming is not just that Spider-Man is now part of the #MCU, but that the film is doubling down on his adolescent angst far more so than his previous cinematic outings. Indeed, Holland enthused that:
"One of the best things about this movie is if you stripped away all of the Spider-Man scenes, there's a really solid movie there [even] without the superhero aspect about Peter growing up, going to school, struggling..."
This certainly fits in with what we already know about the new #SpiderMan film. Due to set up a new trilogy charting the entirety of his time in high school, Homecoming also pays homage to the iconic films of John Hughes, who is famous for his examinations of the teenage mindset in The Breakfast Club, Ferris Bueller's Day Off and Pretty in Pink. In his interview with Yahoo, Holland even cheekily references the "Domino Days" that he and the cast and crew had while watching these particular movies.
It must be said that, along with the colorful, neon-infused aesthetic of both Thor: Ragnarok and Guardians Of The Galaxy Vol. 2, Marvel is really leaning into that 1980s vibe in all of their #superhero releases in 2017. However, this doesn't spell ill for Spider-Man: Homecoming. The fact that director #JohnWatts is mining these vibrant, thoughtful character-driven films only confirms just how committed he, #Sony and Marvel are in their attempts to deliver the kind of Spider-Man movie that we haven't experienced before.
Now all they need to do is to get Christopher Lloyd to cameo and shout "Spidey!" rather than "Marty!" and Homecoming will be even more awesome than it already looks!
About the Creator
A fanatical film-watcher, hill-walker, aspiring author, freelance writer and biscuit connoisseur.
These articles first appeared on Movie Pilot between Jan 2016 and Dec 2017. Follow me on Twitter @Farrow91
Reader insights
Be the first to share your insights about this piece.
Add your insights