Sonic the Hedgehog
I went into this movie with zero expectations and left with everything I didn't know I had subconsciously hoped for.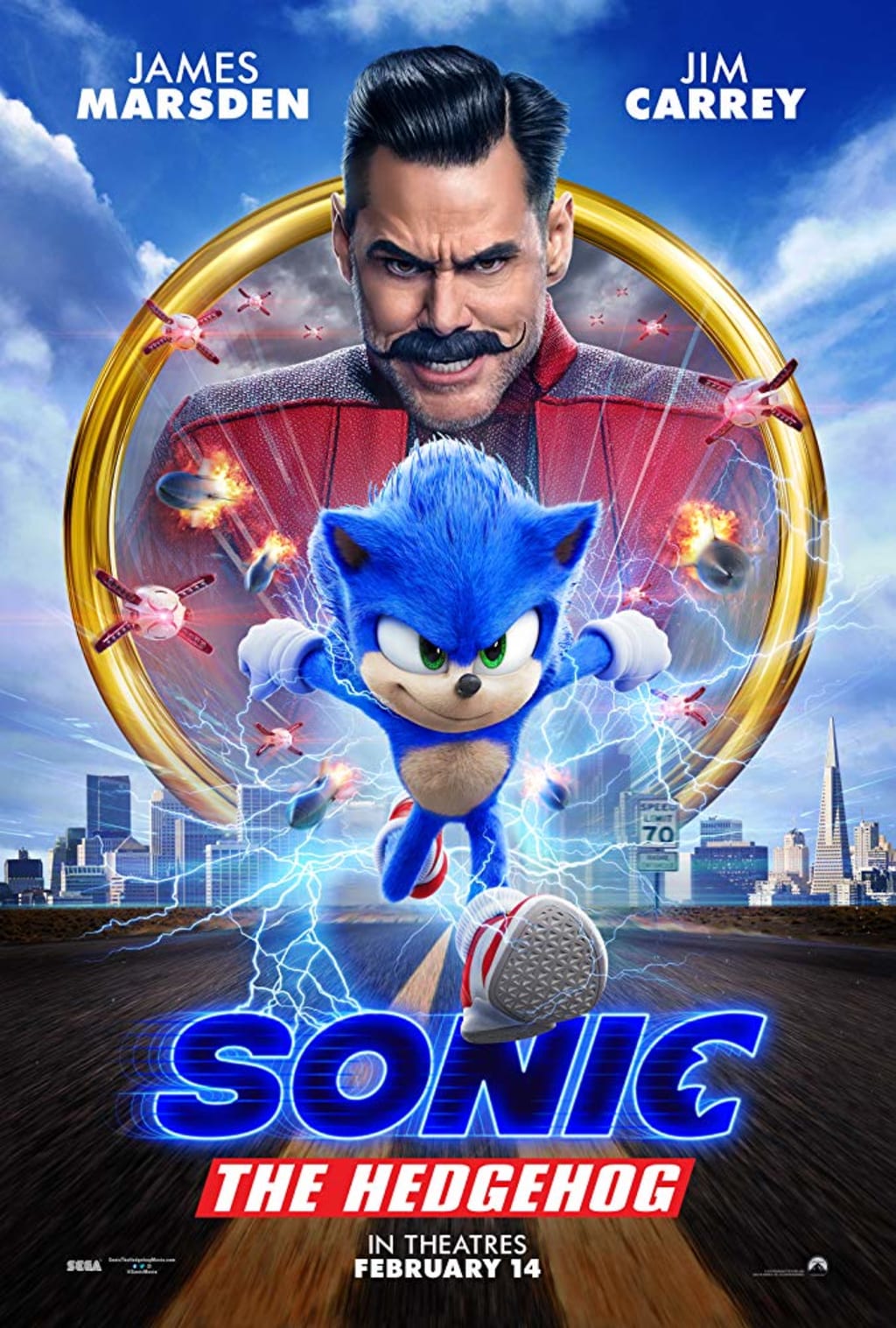 As a kid, I spent many a rainy-day playing Sonic on my big blue Sega Game Gear, but other than my childhood Sonic days I really didn't spend much time with the classic video game. So, I wouldn't consider myself a die-hard fan. With that being said, I think we all remember seeing the first trailer for the then-upcoming Sonic film and collectively cringed over the bizarre look of our beloved space hog. Luckily the CGI team heard our cries and retreated to the drawing board to revive Sonic's design. Well done and thank you!! I think without a doubt if they had stayed with their first design, the movie would've been unwatchable. Check out the comparison below.
I was pleasantly surprised at how well this movie was made. I'd even say, this is the best video game adaptation I've seen so far. My husband and I ventured out to an old school movie theater here in Dallas that we have not been to in our 15 years together. We mostly had a desire to visit said theater because we saw pictures of comfy couches and love seats and hell yes, we wanted to give it a try. In the previous weeks, we watched Jim Carrey on talk shows promoting the movie. We love Jim Carrey and honestly, he was the only reason I cared to go see it.
Carrey proves he still has his comedic styling from the 90s without seeming dated or stupid. He's such a joy to watch. His facial expressions and his physical comedy are still exactly what you want when seeing a Jim Carrey movie. James Marsden was also very funny as Tom Wachowski. By the way, how is it possible that he looks exactly how he looked 20 years ago?! It's like he hasn't aged at all. Anyway, he was great! He spent the most screen time with the animated blue devil and he added a realness to his CGI counterpart that really could've gone sideways had he done things differently. He made not only his own character but Sonic as well very relatable and sincere. Marsden's on-screen wife Maddie, played by Tika Sumpter was delightful and her on-screen sister Rachel, played by Natasha Rothwell was SO funny. I could watch an entire movie just about Rachel and her daughter JoJo.
Let's not forget to mention the man that gave Sonic life, Ben Schwartz. You might know him from Parks and Recreation as Jean-Ralphio; Aziz Ansari's annoying friend. That's what I know him from, but he's also known for his voicework as various characters including Dewey in Duck Tales and Rutabaga Rabitowitz in BoJack Horseman. I really appreciated him voicing Sonic. He gave Sonic a broad range of emotions that I wouldn't normally associate with a video game character and that is challenging to portray through voice acting. Bravo Jean-Ralphio! *ahem* I mean Ben Schwartz!
My husband and I are movie collectors and after everything we see we either say "buy it or pass." This was a "buy it" film for us. It's one that we'll see again and add to our collection.
To wrap up; from start to finish you'll be engaged in the story. It's a fast-paced action comedy that is fun for the whole family young, old, and everyone in between. The graphics are very well done and be sure to watch through the ending credits for a glimpse at what's to come in the sequel.
I want to hear from you! Have you seen Sonic yet? How did you feel about it? What are you looking forward to in the sequel?
Do you have a movie you want me to review? Contact me and tell me what you think I should see next.