Sheryl Lee Ralph Hosts the 30th Annual Divas Simply Singing!
HIV/AIDS Awareness Concert and Telethon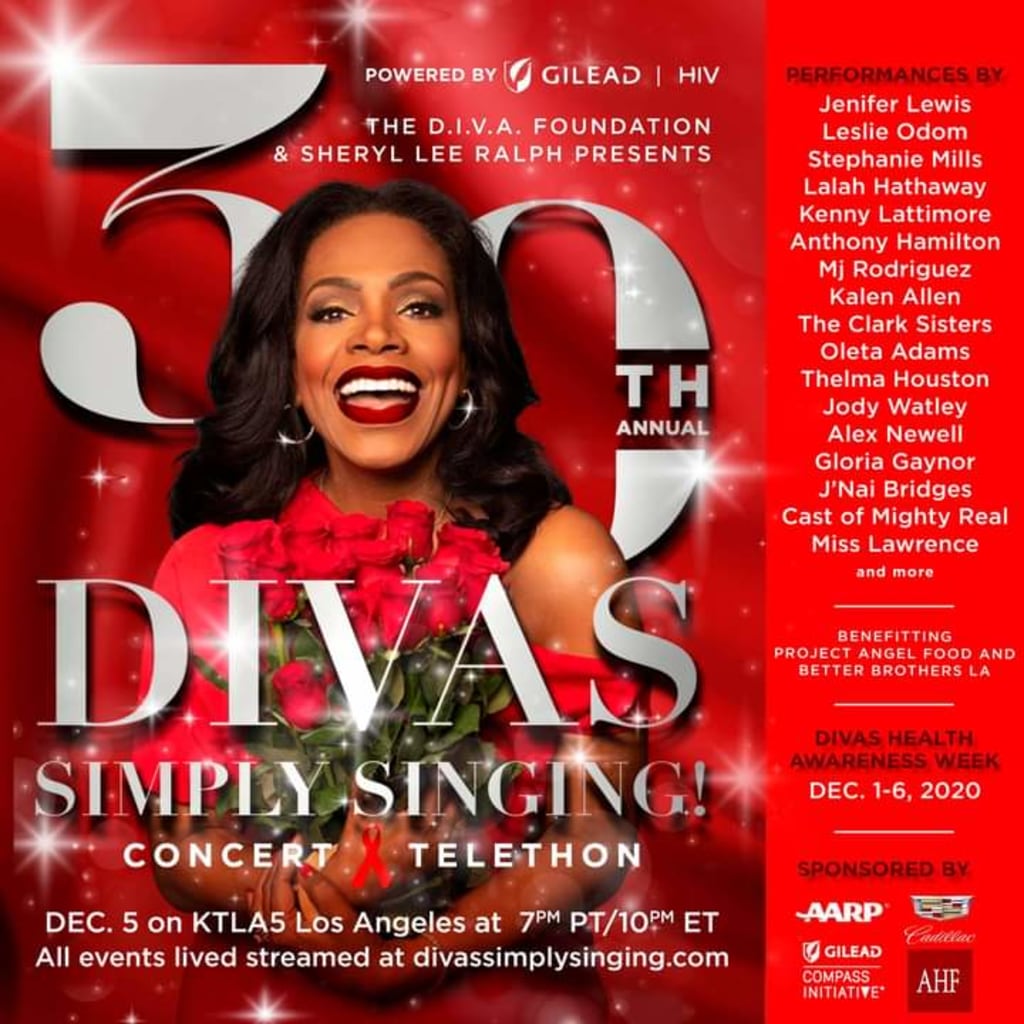 Sheryl Lee Ralph & The D.I.V.A Foundation Presents the 30th Annual Divas Simply Singing! Concert & Telethon December 5th, 2020 7 pm PST/10 pm EST on KTLA 5 Los Angeles.
The D.I.V.A Foundation is a non-profit organization that Tony-Nominated Actress & Activist Sheryl Lee Ralph founded after losing a lot of her friends to the AIDS epidemic during a time when she was on Broadway as Deena Jones in "Dreamgirls". At that time many people weren't aware of the causes and prevention of the disease.
DIVAS SIMPLY SINGING! is a magical evening of song and entertainment. This event features a host of the most talented artists in the entertainment business united to fight HIV/AIDS. Scheduled appearances and performances by Jenifer Lewis , Leslie Odom , Stephanie Mills , Lalah Hathaway, Kenny Lattimore , Anthony Hamilton , The Clark Sisters , Oleta Adams, Thelma Houston , Jody Watley , Alex Newell , Gloria Gaynor, The Cast of Mighty Real , Miss Lawrence & MANY MORE. The Concert & Telethon takes place during Divas Health Awareness Week December 1st through December 6th and will be benefitting Project Angel Food and Better Brothers LA. All events will be live-streamed at divassimplysinging.com.
I was honored to have a virtual sit down with Sheryl during her virtual press conference day in which she spoke about her passion and activism for HIV/AIDS awareness. Ralph is extremely humble in all of her humanitarian efforts. She has inspired millions with her creative artistry on Broadway, on TV, and, Film. Truly helping millions of people during the 30 years of the iconic event.
Vocal readers, please enjoy our interview!

Tammy Reese:
What inspired you to bring awareness to HIV/AIDS through entertainment?
Sheryl Lee Ralph:
The AIDS epidemic in the 80s happened when I was young and in the original company of "Dreamgirls" on Broadway. It was such a wonderful time in my life and then my friends just started getting sick and dying. Some of them were literally dropping dead. Some people found it so easy to ignore that and to act as if they didn't matter. Being a church girl, I said to myself that we as a society can do better than this. That's how I got involved when my friends started dying and suffering under stigma, shame, and silence.
Tammy Reese:
What feedback have you received over the years regarding the impact of The D.I.V.A. Foundation and the Divas Simply Singing event?
Sheryl Lee Ralph:
We've gone from strength to strength. There have been many times when it has not been easy, and I've thought to myself how is this going to happen, or where is the money going to come from. However for 30 years and sometimes twice a year we've been able to raise awareness on HIV/AIDS. We wave that red flag and let people know that we are here for you, we care about you, and this is the information that you need. I've traveled the world giving speeches, we've put on panels, and more.
This year, December 1st through the 6th we're having a DIVAS Health Awareness Week with trusted messengers delivering the messages that are needed for people to access health resources. We want everyone to please log on to Divas Simply Singing website and Facebook Page, along with my personal Sheryl Lee Ralph social media accounts with the blue checks to get all the information.
Be sure to watch the show on December 5th it will be streaming live. We'll be supporting Project Angel Food and Better Brothers so please be sure to watch and donate because it is a fundraising concert and telethon that we want people to get involved with and give, as well as be entertained. Baby, we've got the talent for you!
Tammy Reese:
Speaking of talent, who are some of the guest talents you're looking forward to this year?
Sheryl Lee Ralph:
Think of it this way, who doesn't love Stephanie Mills, Anthony Hamilton, Leslie Odom, MJ Rodriguez from "Pose", Kalen Allen, Jody Watley, and so many more. We're honoring the great Patti LaBelle and Sharon Stone. We have such a diverse group of people and when I look at the list of talent I just go wow because we have the best of the best. Who knows maybe next year we'll get Beyoncé. Also, we have messages from the President and Vice President-Elect which is so wonderful. We've got it all!
Tammy Reese:
Sheryl, you're so humble, you forgot to mention yourself.
Sheryl Lee Ralph:
I am the host, the hostess with the mostest, yes!
Also, I want to thank our sponsors AARP, Gilead, AIDS Health Care Foundation, Cadillac, and everyone who has been so helpful and wonderful in supporting us. It's interesting with the Coronavirus that sheets were pulled off and people who couldn't see you before really see you now. To give you the help and support that a lot of us have needed. It's amazing what we as people of color can do with nothing. Do you know what I mean?
Tammy Reese:
Yes, we've been pushing through during this time!
Sheryl Lee Ralph:
Yes! We push through baby! I said to myself when everybody ate the best parts of the pig and all they did was give us the garbage that was left we cleaned that garbage. We soaked that garbage in vinegar, we put hot sauce on the garbage, we put the oil in the pot, made it really hot, and we've created an American Delicacy. That's us!
Tammy Reese:
What words of encouragement would you have for the DIVAS who are currently living with HIV/AIDS?
Sheryl Lee Ralph:
I want the DIVAS to know that yes, you're divinely inspired. You're victoriously alive, aware, and awesome. If it was Sunday you would be anointed. You're not alone, others are there, and you're loved. During my travels, they would always say "In case of an emergency, put your own mask on first before you help anyone else". Just know you're that important and worthy. So put your own mask on first and help yourself. Like the great Drag Queen says, "If you can't love yourself how in the hell are you going to love somebody else"?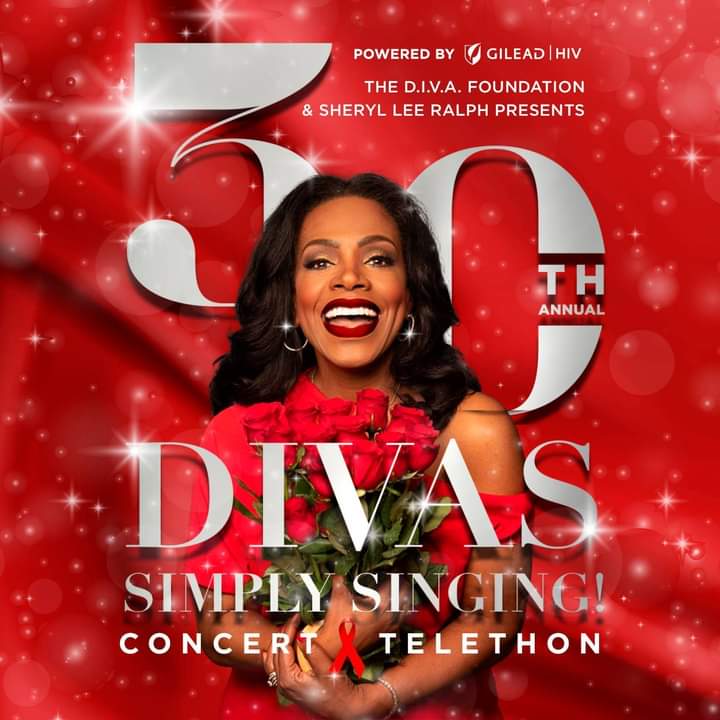 Don't miss DIVAS Health Awareness week December 1st through 6th and Divas Simply Singing Concert & Telethon on December 5th, 2020. Also, be sure to download Sheryl's book "Redefining Diva 2.0" currently available on Audible.
celebrities
About the author
Filmmaker/Actress/Writer/Journalist/Publicist
Award Winning Multimedia Creator
IG @TammyReeseMedia
Reader insights
Be the first to share your insights about this piece.
Add your insights