Schitt's Creek Withdrawal? Watch These Next (Based On What You Loved About It)
Dysfunctional family fun, Levy and O'Hara magic, and open, honest pride.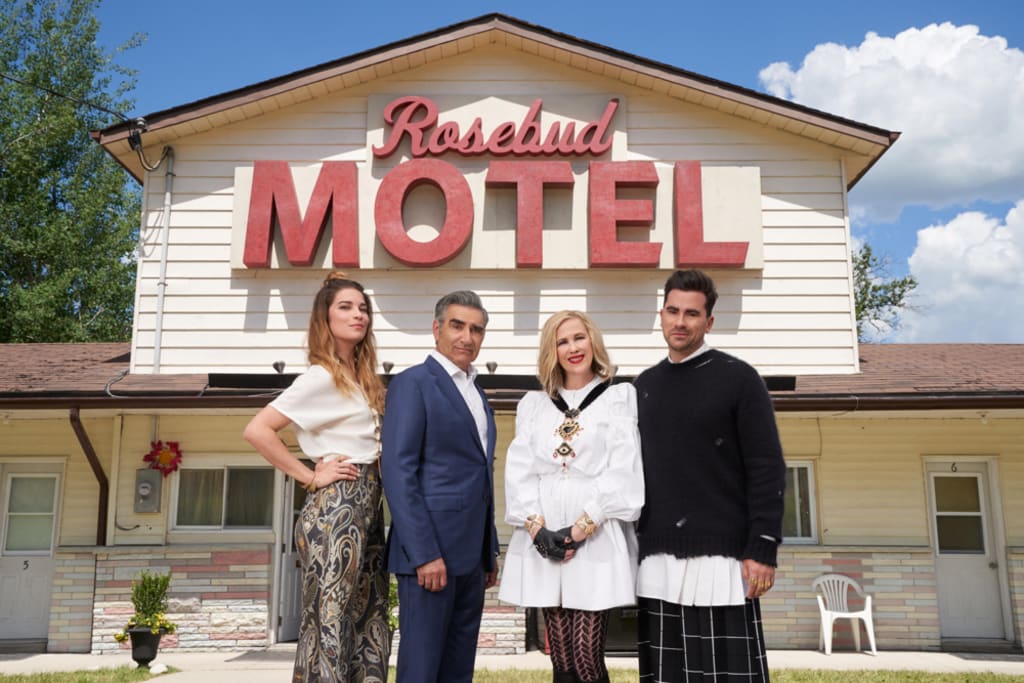 Rose family. Image from schitts-creek.fandom.com/wiki/Rose_family
I am reluctant to admit that I was not an early adopter of Schitt's Creek. Based on the promos I saw, I didn't think I would like it. Even though I had family urging me to watch it, I didn't. Not until it was starting to blow up in 2020. The ads didn't do it justice because I. Love. It. But
Now I am a total convert. Not quite a Schitthead, but almost. It is such a weird show, and I love weird, but I also understand those who say it's not for them. 
Those of us it spoke to, it spoke in a way we'd never heard before. And my guess is that's what will make it a lasting cult favourite.
Now that it's over and won a ton of awards, I'd like to recommend some other shows, depending on what it was you loved about The Creek. Though nothing will (of course) have the same chemistry, there are shows that have similar components.
I have watched and loved each of these shows. I'm sure there are many others that should be on this list but aren't. This is likely because I have not watched them and I don't like to recommend things I haven't experienced. 
Depending on what you loved about Schitt's Creek, here's what you should watch next.
If you loved the dysfunctional but loving (and lovable) family dynamics.
Modern Family - Super popular mockumentary about a large crazy, zany, family. They drive each other mad, and then all have brunch and work it out. Standout performances from Sofia Vergara, Julie Bowen, Eric Stonestreet, and Ty Burrell and so many more. 
Parenthood - More dramatic than others on this list, but also hilarious. Focusses on the parenting side of life for multiple generations. A huge family with plenty of passion and good intentions, and amazing performances by Bonnie Bedelia, Lauren Graham, Mae Whitman, Dax Shephard, and Craig T. Nelson and more. 
Arrested Development - funny, punny, and full of gags, but ultimately family accepting each other as they are. As with Schitt's Creek, also about rich people losing everything and figuring out what's important (or not). With Jason Bateman, Jessica Walter, Will Arnett, Michael Cera, Tony Hale, Portia de Rossi, David Cross, Jeffrey Tambor, etc.
If you loved everything about Moira and Johnny Rose. 
You need to see all of Eugene Levy and Catherine O'Hara's previous work together, especially the Christopher Guest movies. You want weird? Try these mainly improvised mockumentaries:
Best in Show --(My favourite. Because, dogs.) About the human and canine contestants in a prestigious dog show. Hilarious performances by Parker Posey, Jennifer Coolidge, Jane Lynch, John Michael Higgins, Michael McKean and more. 
Waiting For Guffman - About the making of a community theatre musical. Including Fred Willard, Bob Balaban, and more of the above actors again. 
A Mighty Wind - A folk music concert. Also features Harry Shearer, Fred Willard, Ed Begley Jr, Jennifer Coolidge, Jane Lynch and Parker Posey. 
If you loved the total acceptance of homosexuality and/or pansexuality.
One of my favourite TV moments of all time is the scene in which David is explaining that he likes "the wine and not the label." If you loved David's take on life and his incredibly sweel love story, these shows also feature people just living lives with same-sex partners:
Brooklyn Nine-Nine - One of the lead characters is the gay black captain of the precinct. He often talks about battling homophobia but no main character participates in it. Later in the series, another major character comes out as bisexual and has to deal with some family fallout, but again the homophobia is treated as the problem, not the person's sexuality.
Modern Family - Two lead characters are gay dads adopting a child together. We see more of a struggle with this from extended family members, so if you prefer not to see those kinds of jokes this one might not be for you. On the other hand, they always land on celebrating everyone for who they are and supporting each other in pursuing their ideal lives. 
Happy Endings - I have a soft spot for Max Blum (played by Adam Pally). I think he is one of the most exceptional characters I've seen in a sitcom. His identity as a gay man is celebrated and gay stereotyping is also addressed. Homophobia is rare to non-existent in this world.
Of course, nothing can take the place of the Rose family. My earnest wish is that the phenomenal success of the last season will lead to a movie (please??). Otherwise, we'll have to wait and see what the Levy's cook up next and hope that it is as kind, sappy, weird, and wonderful as Schitt's Creek.