Scary Carrey: Director Reveals Jim Carrey's 'The Mask' Was Meant to Be a Horror
Was the film originally meant to preempt the actor's unhinged role in 'Zodiac,' and why was 'The Mask' originally slated as a horror film?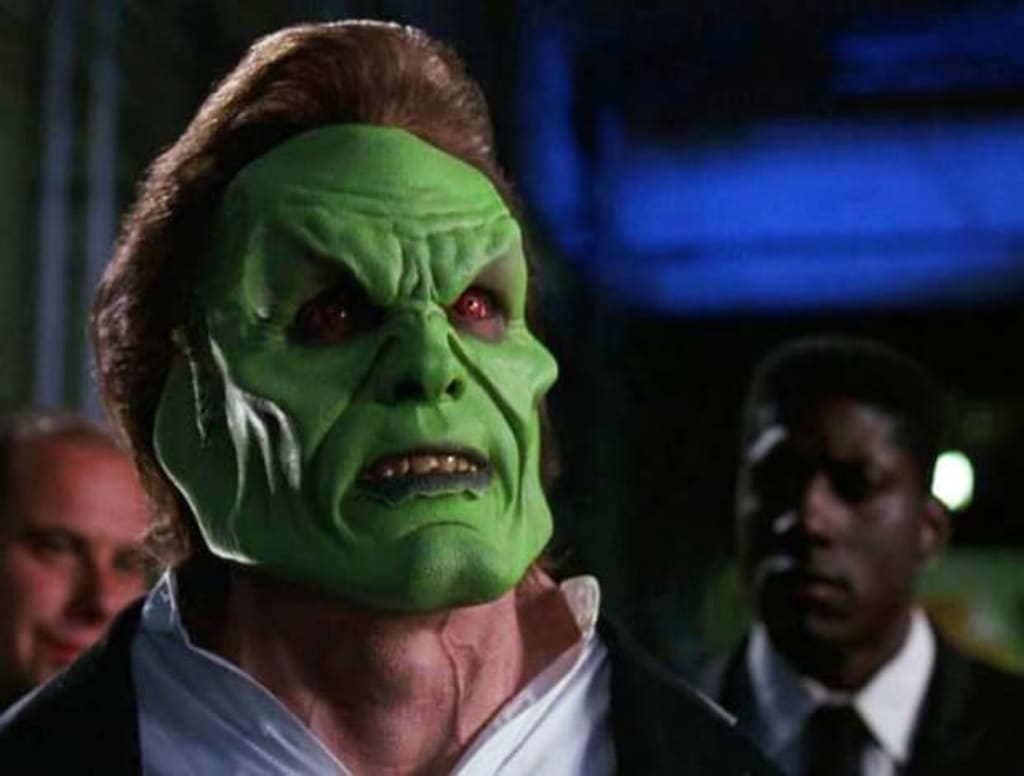 New Line Cinema was certainly onto a winner when #TheMask came "schmoooookin'" onto our screens in 1994. Spawning an in-your-face animated series, a video game, and a *erm* sequel (I guess), Chuck Russell's brassy comedy had you shaking your maracas in time to #JimCarrey's jiving hips down at the Coco Bongo nightclub. (Full disclosure: I have actually visited Carrey's Coco Bongo club in Mexico.) Admittedly, there was no sultry Cameron Diaz lookalike, although there was a little person painted green and wearing a canary yellow suit.
The Mask was pure lunacy, matching its Who Framed Roger Rabbit animation with a typically overzealous performance from Carrey as Stanley Ipkiss. However, was the film originally meant to preempt the actor's unhinged role in Zodiac, and why was The Mask originally slated as a horror film?
The Ip-Kiss Of Death
It was horror aficionado Chuck Russell who was the man behind The Mask, so you can easily see where New Line's idea for a gory story came from. Known as the director of A Nightmare on Elm Street 3: Dream Warriors and the 1988 remake of The Blob, Russell certainly had some pretty impressive credentials in the blood 'n guts department. When speaking to Xfinity around the recent 30th anniversary of Dream Warriors, Chuck revealed that although The Mask most definitely ended up as a comedy, it wasn't the original plan for our green-faced freak:
"It's a great example of really fighting for your vision in a film. We changed it from a horror film into a comedy. It was originally conceived as being a horror film. That was a real battle. New Line wanted a new kind of Freddy movie."
For those of you who don't know, The Mask's source was actually much more in the horror vein. The Dark Horse #comicbook series premiered in the '80s and followed a fedora-wearing madman who killed a bunch of innocent people. Russell went on to say how he was confused that New Line couldn't see the blatant similarities between the Mask and their own #FreddyKreuger:
"By coincidence, I had seen the same original Mask comic they ended up buying, and I thought, 'That's really cool, but it's too derivative of Freddy Krueger.' It really was. He would put on the mask and kill people. And have one-liners. It was a really cool, splatterpunk, black and white comic. They've redone the comics to be more like my movie, but the original comics were really cool, dark and scary. But I knew, as a film, it would be very reminiscent of Freddy Krueger."
Here's Jimmy
Clearly, New Line was only big enough for one of these guys, and Russell fought to switch the genre to a comedy. After trailing off into lame sequels about secret children and retconned storylines, the Elm Street series still wasn't quite in the graveyard that it finds itself in nowadays. Freddy was back and badder than ever in the meta Wes Craven's New Nightmare, which was ironically also released in 1994; so it was actually lucky for them that they didn't double up.
Although New Line didn't get their horror, they did inadvertently get their Freddy. Carrey embodied the madness of the Mask and his OTT performance was a highlight of the film. Russell also went on to admit that it was always supposed to be Carrey playing Ipkiss:
"Jim Carrey blew us away. He looked like a hallucination live on stage. While I was working with him, I used to sort of play challenge games with him to do physical comedy that he couldn't imagine and I couldn't imagine. We enjoyed that because it pushed him a little further. He would say, 'Man, I don't know. I just think of it and I go there.' He's very, very gifted. He's really a comic genius. I said, 'We've gotta use this guy, Jim Carrey.' It was really developed for Jim."
Just as Elm Street is synonymous with Robert Englund as Freddy, anyone cast in The Mask — you just know someone is going to try and reboot it — will always pale in comparison to Carrey. This is a fact that any future director and even Russell can't fail to escape:
"I looked at my old list recently, and I had Matthew Broderick and Nic Cage as possibilities at that time, but it was really Jim that inspired it. I felt there was no one else that could help me successfully make a comedy out of that except Jim. And then Jim read the draft and said, 'My god, it's like it was written for me.' And I said, 'Well, that's because it was, and I'll hope you do it.'"
Had New Nightmare and The Mask gone down the same path, it is hard to imagine that Hollywood wouldn't have shredded both movies like a sexy teen under Freddy's razor glove. Also, as comedies go, The Mask is a lime green gallop through the '90s and a brilliant performance from Carrey that we wouldn't have any other way. For anyone still sore that The Mask didn't end up being a horror film, I think you'll find the diabolical sequel gave us more than enough to be scared of and was enough to render the entire series kaput.
Check out the trailer for The Mask.