#SaveZoeysPlaylist if Only for This Writer's Sake
Zoey's Extraordinary Playlist has been cancelled and with it a corner of pop culture that I called my own.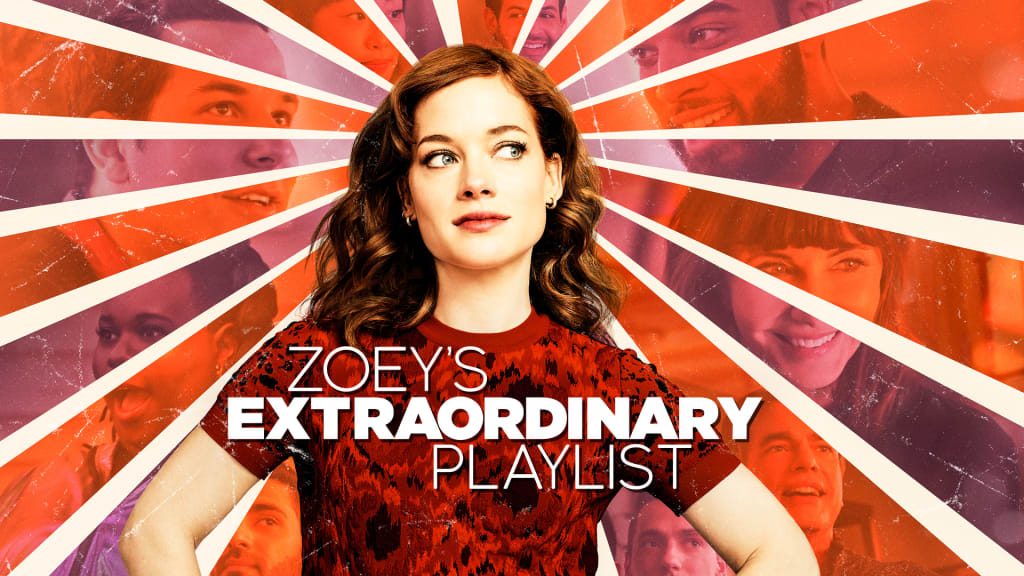 Headline "Zoey's Extraordinary Playlist Cancelled After 2 Seasons at NBC"
My heart broke reading this headline. Not because I am an obsessed fan of Zoey's Extraordinary Playlist, I am a huge fan but that's not why I was heartbroken. Zoey's Extraordinary Playlist represented an aspect of my life. You see, in the hardscrabble world of independent non-fiction writing, blogging, reporting and podcasting, there is a self created pressure to only do things you can monetize.
Zoey's Extraordinary Playlist was one of the rare things in my life that I simply enjoyed. I never angled to write about Zoey's Extraordinary Playlist, though I could have. I might have been able to find purchase in the world of episode by episode reviews. But I didn't. Something in my mind cried out for relief from the world of monetizing every moment and caused me to simply, mindlessly watch and enjoy Zoey's Extraordinary Playlist. Rather than view it as something I could write about for pay, I just watched it and losing that is like losing something important to me, something far more important than a television show.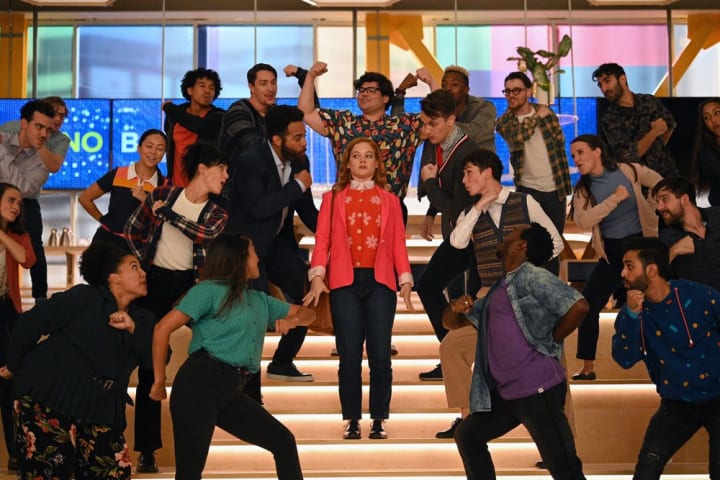 For the uninitiated to the cult of Zoey, Zoey's Extraordinary Playlist stars the exquisite Jane Levy as Zoey Clark, a computer programmer who has an accident in an MRI machine during an earthquake that causes her to start seeing and hearing the inner thoughts of others, in song. It's a crazy premise but Levy is so good that the fanciful plot feels organic and real within this universe. Of course, it helps that she has a murderers row of great musical performers in her supporting cast, eager to share the inner-selves of their characters in Broadway big, jukebox musical style.
Episode by episode of Zoey's Extraordinary Playlist there are these remarkable musical numbers, performances of well known and lesser known pop songs chosen perfectly and imperfectly to mirror the plot of that episode. The supporting cast was the impetus for most of the musical numbers and in another bit of fanciful plotting, Zoey would not stop hearing these people sing until she'd helped them solve their troubles. This trope was at its best when Zoey was pushed to confront the two sides of her romantic life, Skyler Astin as the handsome, pining, long term best friend and her growing attraction to the soon to be married Simon, played by John Clarence Stewart.
Through the wonderfully intricate yet playful plotting of show creator Austin Winsberg and his brilliant writing team and directors, Zoey would often have more information than the rest of the characters and she had to awkwardly navigate knowing everything about her friends, family and romantic relationships. The second season took Zoey's powers away for a little while and yet the show remained watchable and the new complications of not having musical powers played out effectively.
The secret emotional weapon of Zoey's Extraordinary Playlist is unquestionably Peter Gallagher. Creator Austin Winsberg cast the well known character actor with those extraordinarily expressive bushy eyebrows in a role that is both incredibly challenging and not typical of an actor of his recognizable nature. Gallagher's Mitch has Locked-In Syndrome, he can't move or talk and he's dying. From the first time we meet Mitch, we know that he's slowly fading away. Knowing this, the first season is grounded in these incredibly complex emotions, grief, regret, desire and even dark comedy.
With Zoey's power, she's able to steal moments with her dad that she can't share with anyone else and the combination of Gallagher's joyous performance and Jane Levy's heartache makes me well up as I write this. In the very first episode, Gallagher sings Cyndi Lauper's True colors and watching it is one of the most purely emotional reactions that I've ever had to a work of art. The song, the moment, the singer, perfection. I knew going into the episode that I wasn't going to write about Zoey's Extraordinary Playlist but it was at this point that I knew why I wasn't going to write about it, this would be my one thing, that one joy I would try to monetize.
I'm making the show sound sad and it's not. There is so much joy, romance and laughter in this show. Zoey's gift leads to numerous comedic instances and Jane Levy is equally adept at comedy and making you cry in sympathy. The comic side of the show, a heavy burden, is carried by the utterly divine, absolutely ingenious Alex Newell as Mo, Zoey's neighbor and the only person, at first, aware of her powers. Newell gets a few dramatic notes in the show, and nails those as well, but it's the comedy where Newell makes a mark. As a non-binary person of color, Newell pushed television boundaries and I can imagine that Mo means even more to people who've never seen themselves represented so joyously on screen.
But here I go writing the review I said I would not write and monetizing the experience I promised myself would remain un-moneyed. I can't help it this time. This particular post is symbolic of the loss of the one thing in my life I haven't considered finding a way to capitalize on as a pop culture writer, reporter, blogger and podcaster. NBC has torn this away from me and now I am symbolically mourning my loss by monetizing my love for the one thing I never monetized before.
It's all NBC's fault. They made me do this by taking away this thing I loved. I know, I need a work life balance that includes more than watching Zoey's Extraordinary Playlist and binging cooking show with my family at Sunday dinner, but I can't keep myself from the thought, the notion, the burning desire to see my words in print and the potential of those words being read widely and successfully. It's a compulsion, watch something, find an angle and communicate it with the world. I may be shy but I am opinionated and I like a good conversation under the right circumstances. My writing is a constant conversation with you, dear reader, whomever you are.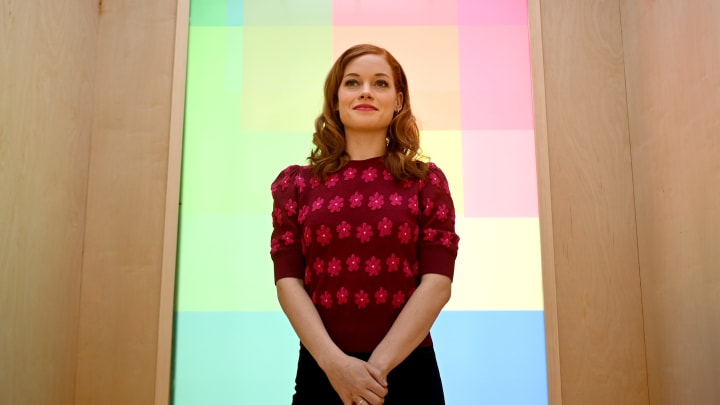 I kept this one thing to myself, this tiny corner of popular culture was mine. There was no pressure, no deadline, no concern about page views. Zoey's Extraordinary Playlist was comfort food, it was eating an entire cheesecake or a full bag of Doritos, minus the guilt, the fat, and the self loathing. I'm not explaining myself well here, this makes it seem like I only write movie reviews to make money which is not true, I barely make any money writing movie reviews. There is merely the potential to make money and that drives a modest portion of my desire to publish. I would be writing about popular culture regardless of money but I figure, if I am going to do it, I might as well add the potential to get paid for it.
I write from my heart, I write from the depths of my soul. I write because movies speak to me and I want to speak back. That conversation however can be daunting and the thought of getting things written in time to coincide with the release can be stressful and exhausting. Zoey's Extraordinary Playlist holds no deadlines for me. I don't have to schedule my time for it. I don't have to beg publicists for access to it or concern myself with angry reactions to something I wrote or spelling errors in my reviews, I die little deaths when I misspell something, it's awful.
Zoey's Extraordinary Playlist was my indulgence, a tiny corner of the pop culture world that I didn't share with the world. The conversation was private and my feelings were neither journalistic or objective, they were unabashedly emotional without the necessary veneer of professionalism. Losing that hurts. It wasn't just a television show for me, it was like a childhood blanket, it was like a cherished memory that was always there. It's still going to be there but it's too early for it to not continue, it's too early in Zoey's Extraordinary Playlist for the existing episodes to be the last.
I can and will binge replays but there will always be something missing in the end, like a book without a final chapter. I needed another chapter NBC. I need my Zoey's Extraordinary Playlist blanket to wrap me up for a little while longer and provide shelter for my unobjectively, uncritical adoration. I might find something else that I don't try to monetize in my pop culture realm but given the already extreme nature of my writing style, I am honestly not so sure about that. I don't watch TV that isn't Zoey's Extraordinary Playlist so the chances of finding another show are slimmer than you might think.
Damn it NBC! Damn it!
tv
About the author
Hello, my name is Sean Patrick He/Him, and I am a film critic and podcast host for Everyone's a Critic Movie Review Podcast. I am a voting member of the Broadcast Film Critics Association, the group behind the annual Critics Choice Awards.
Reader insights
Be the first to share your insights about this piece.
Add your insights