Sach Kahun Toh: An Autobiography by Neena Gupta is a Reader's delight.
Neena Gupta's book is out on the stalls now.
Neena Gupta is a veteran actress.
In Sach Kahun Toh, actor Neena Gupta chronicles her extraordinary personal and professional journey-from her childhood days in Delhi's Karol Bagh, through her time at the National School of Drama, to moving to Bombay in the 1980s and dealing with the struggles to find work. It details the big milestones in her life, her unconventional pregnancy and single parenthood, and a successful second innings in Bollywood. A candid, self-deprecating portrait of the person behind the persona, it talks about her life's many choices, battling stereotypes, then and now, and how she may not be as unconventional as people think her to be.
Reviews:
Much of Sach Kahun Toh's easy charm resides in Neena Gupta's wisdom while looking back, in excavating lessons from failing, and resistance to being a stereotype even as a rebel. Celebrities write about life to restore their public persona, storify their legacy. Neena Gupta uses life to dismantle her persona, rewrite her legacy. -- Indian Express
While Bollywood is a huge part of the book, your takeaway is the simple charm of a woman who is brave, resilient and refuses to back down. -- Elle
With Sach Kahun Toh, Neena Gupta turns her refreshingly forthright, candid gaze on her own life and journey. -- First Post
Sach Kahun Toh is a fascinating window into the sensibilities and influences of one of our finest actors. -- The Hindu
But what keeps you hooked is Neena's straightforward, sometimes melancholic, wise-with-age-and-experience voice. This is a woman looking back at her tumultuous life with grace and forgiveness. -- Anupama Chopra, Film Companion
Neena Gupta's Sach Kahun Toh is quite refreshing, engaging and to the point. If you plan to pick it up only for the 'juicy' bits then you might be disappointed, but if you are willing to know the person a lot more then this autobiography is highly recommended. -- Pinkvilla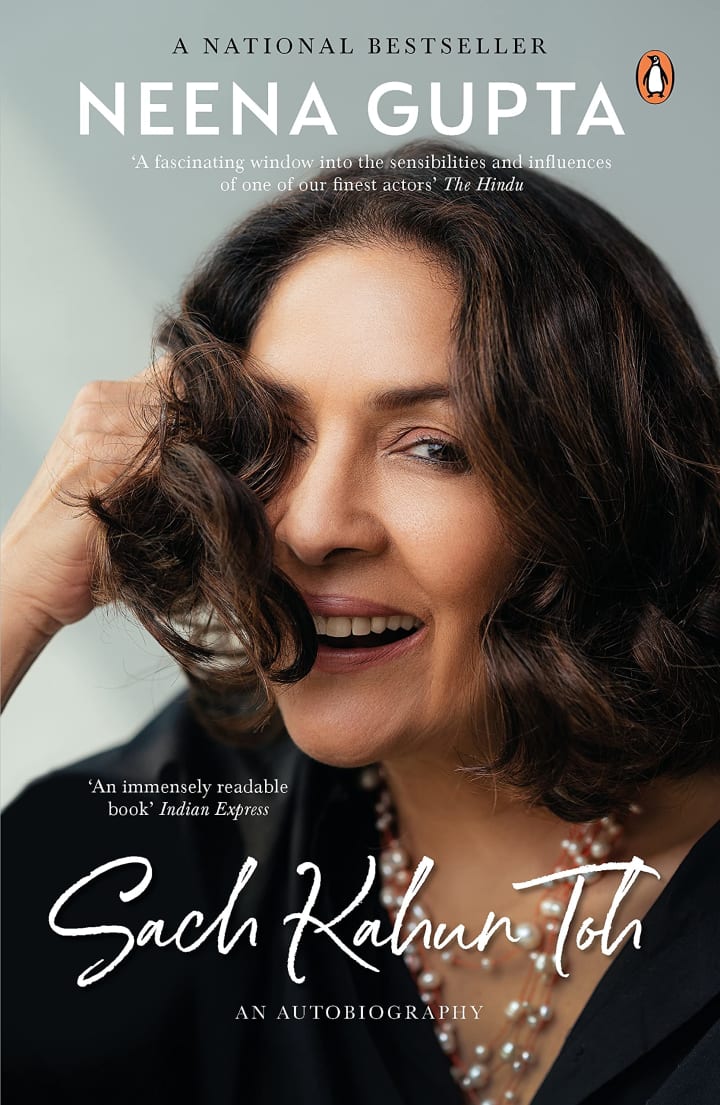 About the Author:
Neena Gupta is a two-time National Award-winning actor, filmmaker, producer and television personality. She started her career in Delhi's booming theatre scene in the 1980s but decided to switch to film and television after acting in the 1982 Academy award-winning Gandhi. She went on to star in several critically-acclaimed television shows such as Khandaan and Mirza Ghalib. She also worked extensively in art-house and independent films such as Mandi, Trikal and Jaane Bhi Do Yaaron. Neena has directed, produced and acted in several television shows including Saans, Siski and Son Pari. Her most recent works include award-winning performances in Badhai Ho, Shubh Mangal Zyaada Saavdhan, Panchayat and The Last Colour.
'Sach Kahun Toh' is a tell-all memoir about the life experiences that has made Neena Gupta an iconic personality. While it gives the readers a glimpse of what makes her a strong woman, it also tries to showcase her as not so unconventional as people perceive her to be. From becoming an actor from a middle-class background, to breaking stereotypes, to being a single parent, to finally finding love and having a family on her own terms-- this is Neena Gupta's story told in her own words. It's noted that the author has tried to have a fine balance between revealing intimate details from her life to respecting other people's privacy by concealing their identities in the book. Overall, the charm of this memoir lies in Neena Gupta's honest and conversational writing style. Fans of the actor would admire her a bit more for being brave and resilient after reading this book.
While little about her life is unknown to the public, in this candid memoir Neena chronicles her extraordinary personal and professional journey. The book is divided into five parts wherein her life story unfolds chronologically. Part one 'Delhi Girl' is about her childhood days in Delhi and years at National School of Drama; part two 'Bombay Girl' is about her early years of struggle in the city of dreams; part three 'The Princess Arrives' is about how Neena's life changed when she decided to become a single-parent to Masaba; part four 'Mad Times' is about her career high in TV followed by finally getting her big break in films through 'Badhai Ho'; and the last part 'Four Guptas and a Mehra' is where she dedicates a chapter each to her close family members.
celebrities
Cinema, Art and Lifestyle correspondent.
Receive stories by Rachel Mukherjee in

your feed