Ruth Goodwin: Q&A
'Private Eyes' actress Ruth Goodwin, best known as Trainee Detective Danica Powers, talks about her character, life behind the scenes of the popular Canadian dramedy, and her acting career.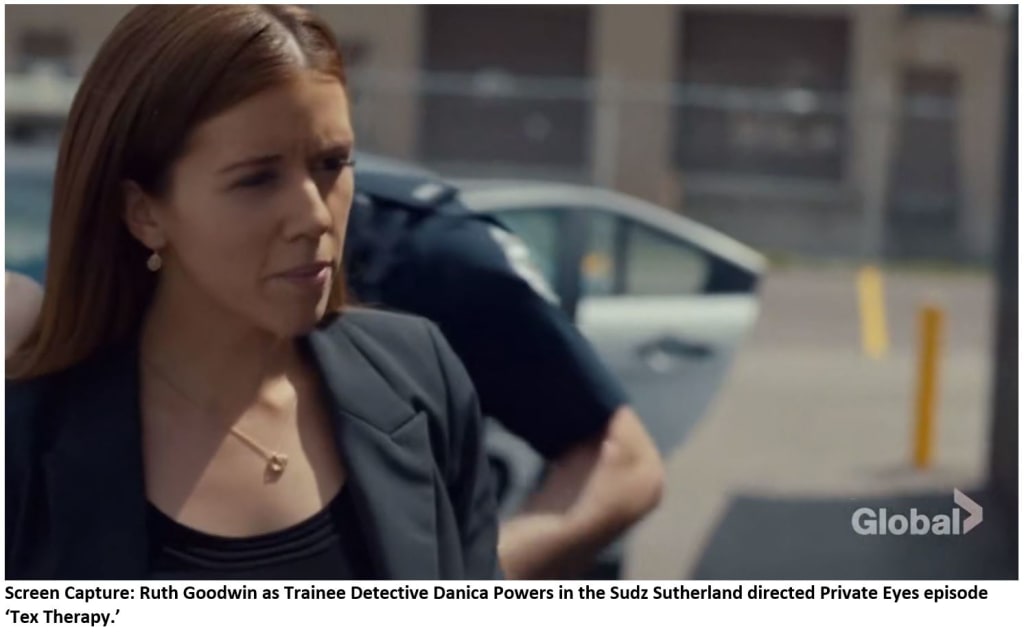 The current season of the Tim Kilby / Shelley Eriksen co-created crime dramedy Private Eyes saw the introduction of Danica Powers in the James Genn directed "The Life of Riley" as a uniformed police officer.
Playing Trainee Detective Danica Powers is Ruth Goodwin. As a trainee detective, Danica is under the supervision of Det Kurtis 'Maz' Mazhari (Ennis Esmer). At first, Maz seems annoyed because he must take Danica under his wing to guide her career. Danica follows police guidelines more closely than Maz, but this could be because she is a recent Toronto Police College graduate.
With Ruth playing Danica, there is a new voice in the mix which adds a new dynamic to the series' episodes. The character shines a positive light on the LGBTQ community. We see this in both her work at the police station, and the way she interacts with her fellow police officers, Angie Everett (Cindy Sampson) and Matt Shade (Jason Priestley).
In "The Life of Riley," even though the man she tackles is only carrying a race starting pistol, Danica does not allow the chance of it not being a real gun stop her. While this wasn't exactly her finest moment, if there is a possibility an individual is carrying a firearm, police officers have a duty to act. Fortunately, it wasn't a real gun, but Danica was not to know that before tackling the man.
More recently, in the Sudz Sutherland directed episode "Tex Therapy," Danica shows Angie and Matt there is no such thing as a free lunch. The private investigators cannot expect her to run license plates and find CCTV camera footage for them without there being a certain amount of quid pro quo, Latin for 'something for something.'
"Pay up," Danica said to Angie and Matt.
This is not something Maz would have done, but Danica is not Maz. Danica is her own woman with her own ideas of how a detective conducts themselves both at the police station and in the field.
With there not being very many episodes remaining in the current season, I took the opportunity to ask Ruth about joining the Private Eyes cast, her character, which direction she sees Danica going in the fourth season, and her career:
Shain Thomas: You play Trainee Detective Danica Powers on Private Eyes. Did you go through an audition process with other cast members before landing the part?
Ruth Goodwin: I did! I actually landed the role of Danica right after a play I was doing in Toronto called Punk Rock with The Howland Company. A casting director's assistant came to see the show. We closed Punk Rock on a Saturday and I auditioned for Private Eyes that Monday!
The first time we see your character was in the James Genn directed "The Life of Riley." Danica, if I recall correctly is in uniform. Soon thereafter, she transitions to plainclothes. Is there any difference in the way you approach the character from this point?
I think the main difference between plainclothes Detective Danica and when she starts out in uniform is a confidence shift. When she arrives on day one to shadow Maz, she is a bit of a nervous wreck.
I'm of the opinion that Danica is an amazing officer, first in her class at the academy, and extremely detail-oriented and hard-working. But when she's faced with Maz and her dream job of becoming a detective, these amazing qualities sometimes come across as a bit try-hard, socially awkward, and intense. I took this from my own life experience having shadowed in the past with people whose careers I admired, and whose approval I wanted so bad that I would just end up saying and doing the most awkwardly keen things. There's a LOT of my life experience in Danica.
You work a lot with Ennis Esmer. Esmer plays Det Kurtis 'Maz' Mazhari on Private Eyes. The characters seem to have a very different approach to their respective jobs. Why would you say that is?
Hahaha. Yes. Maz and Danica have completely opposite approaches to their work. I think Danica comes in very green and very married to the system. She follows the rules almost to a fault, and sometimes it gets her in trouble. Maz, on the other hand, has a much more laissez-faire approach to policing. He takes tips from Private's Eyes, he tries getting out of work early and generally avoids their boss, Inspector Carson. But one of the best things Maz does for Danica is open her eyes to the shades of grey in their work.
Sometimes it's much more valuable to follow your instincts instead of the rule book. That being said while Maz and Danica have different work styles, Ennis and Ruth are very similar attention-seeking hams as actors. Ennis has been one of my absolute favourite people to work with onset. We both come from improv/stage backgrounds, and we love making each other laugh (though he would never admit it).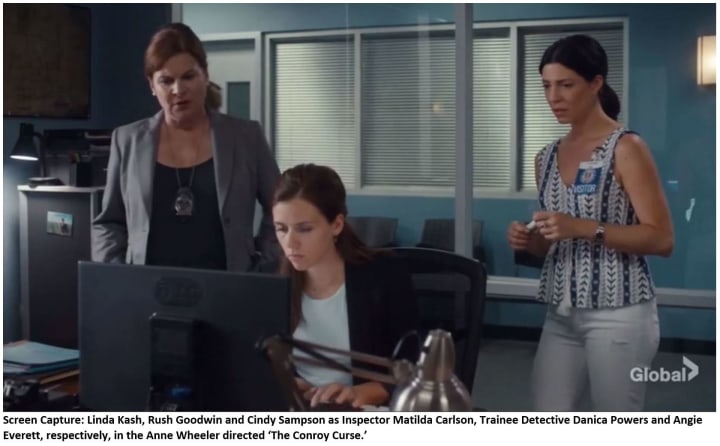 In the Anne Wheeler directed "The Conroy Curse," we get to see the trainee detective works almost exclusively with Angie Everett. During that episode, conversations between the two characters open a door to Danica's personal life. What was it like working with Cindy Sampson as opposed to Ennis?
I cannot say enough good things about Cindy Sampson. Getting to shoot this episode and work this case with her was so much fun, and such a big learning experience for me. Cindy has had an amazing career, and she is such a pro. Watching her work was like a masterclass in acting on camera. She is also so loved and respected by the entire cast and crew (she and Jason both are absolutely adored on this team). Like almost the entire crew we worked with last season are back this season, and I'm sure their positivity is a huge reason people return and want to keep working with them.
I'm particularly gushing about Cindy at the moment, because we're shooting an episode in season four that she's directing at the moment, and oh my god she is incredible. It's so inspiring to watch her juggle being in front and behind the camera at the same time.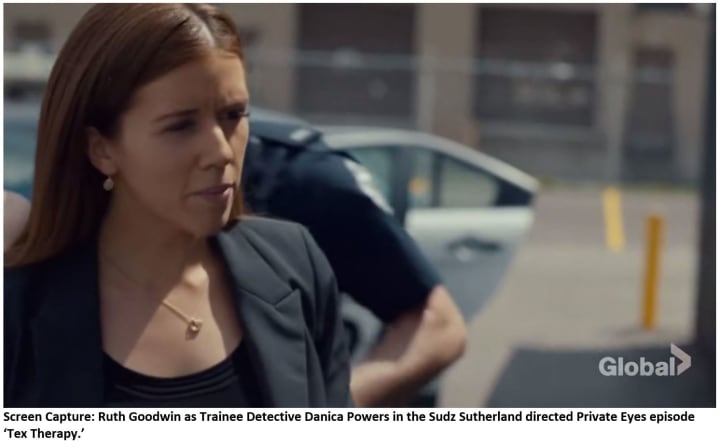 Some actors like to instill in their characters a modicum of themselves while other talents take a significantly different approach. How much is Danica like you? Does your character have interests which mirror your own?
Danica and I are both try-hard workaholics for sure. We both find it very hard to say no to work. For Danica, I think she really nerds out to solving cases, and that's in part why she continues to help out Shade and Angie, because she just can't say no. We also both approach conflict with humour, and we both love very deeply. Next season (season four) we get introduced to Danica's girlfriend, Kate, played by the incredible Supinder Wraich, and we see a little bit into her personal life, and the amazing people she surrounds herself with. I'm excited to share that side of her.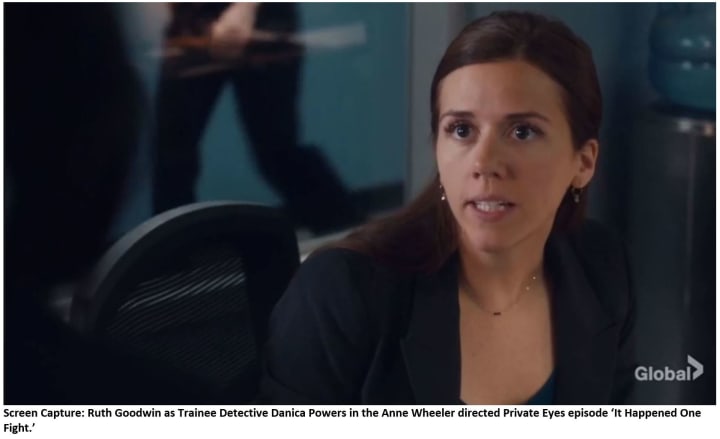 Danica is a positive role model for the LGBTQ community. It is nice seeing television and film production companies moving away from negative characterisations. How do you feel the character is being received by Private Eyes viewers?
What I love most about Danica is that she is a fiercely accomplished, well-rounded character, and I think who she chooses to love really strengthens that. I actually think it's much more than 'nice' to see production companies moving away from queer relationships on screen being met with negativity, it is absolutely necessary. I'm thrilled our writers have created this aspirational world where a queer, female-identifying police officer can openly love who she loves without question.
Currently, we do not yet know if Private Eyes has been picked up for a fourth season. Which direction, if the series is renewed, would you like to see your character go in? (This question was written before the series was picked up for fourth season).
We do know that it IS picked up for season four! Just announced! I'm very excited! We're already back in production, and I'm just so excited we'll be learning more about Danica's personal life. ❤️❤️❤️
To conclude, I'd like to ask you about your acting career thus far. From your IMDb listed credits, the first role you played lead character Allie in the 2012 Michael Tanton written and directed short Fourth Base. Which of the characters you have played would you say is the most rewarding?
I actually worked a lot more in theatre before I booked Private Eyes. I co-run a theatre company in Toronto called The Howland Company with ten other incredible Canadian artists (@thehowlandcompany). I've gotten to play a lot of really rewarding characters on stage—last year I did an improv show with Colin Mochrie, which was an absolute dream for a comedy nerd like myself. But the most rewarding job I've worked in my career was probably producing and acting in the Canadian premiere of The Wolves by Sarah Delappe. (Definitely worth a google) 😊.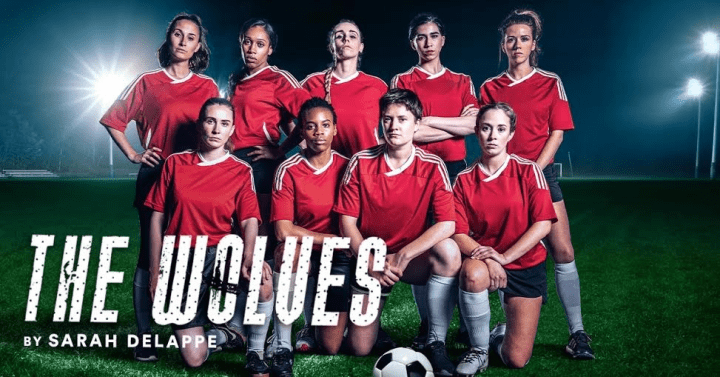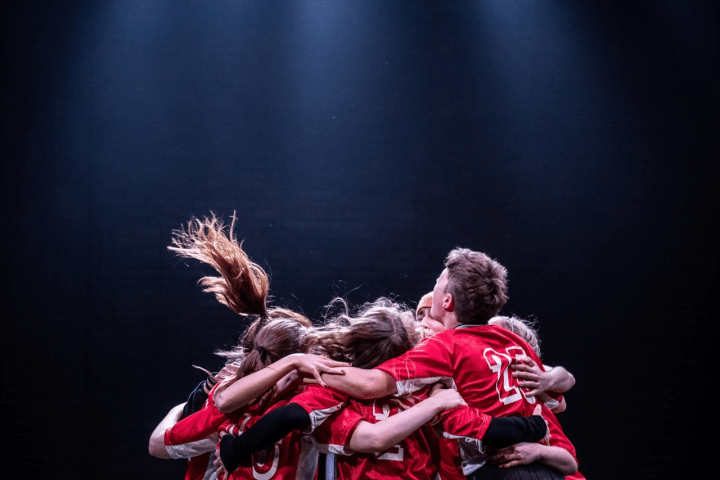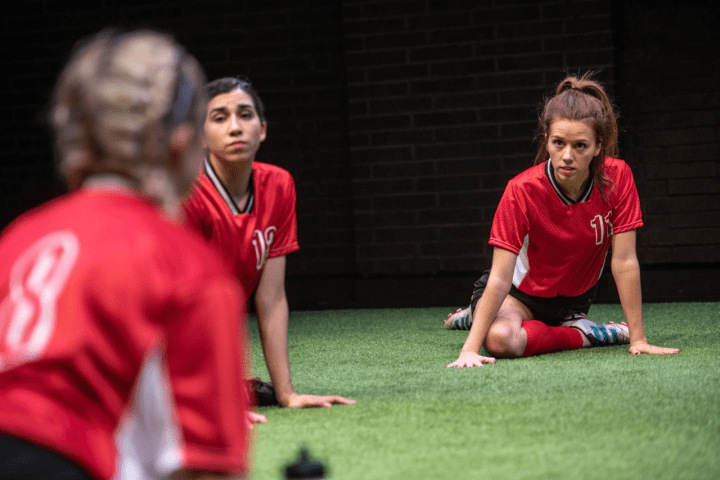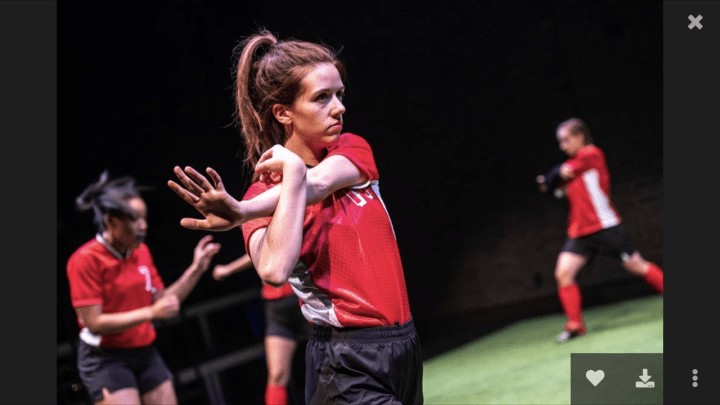 Everyone in Private Eyes, in personifying their respective character perfectly, has real talent. The talent we see come to each episode, inclusive of the main and recurring actors, is exceptional. The second season finale, the Shawn Piller-directed "Shadow of a Doubt," saw Angie Everett (Cindy Sampson) and Matt Shade (Jason Priestley) at the wrong end of a con job, which left Angie under arrest. Colin Ferguson and Laura Vandervoort as Dominik Chambers and Dana Edson, respectively, were perfect for the roles they personified. The same is true of Ruth.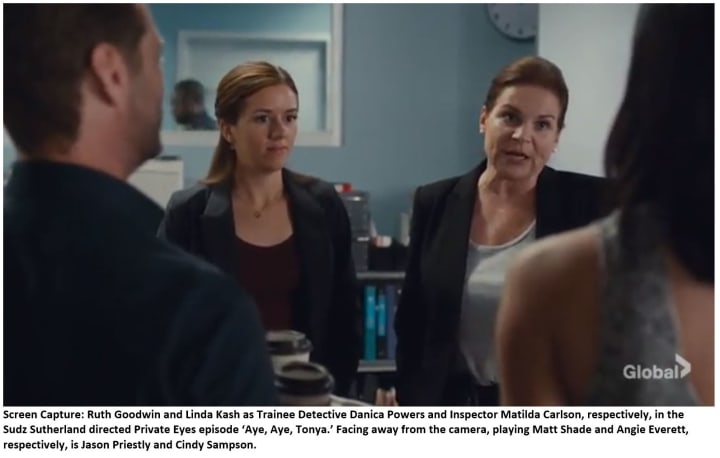 Danica, like Ruth in respect to playing the character, is growing into her new position at the Toronto police station. We see her making a positive impact on both the department and Everett & Shade Investigations.
Don't forget to tune in to Global at eight PM. ET/PT Wed., August 7, 2019 for the Gail Harvey directed Private Eyes third season finale "Dazed and Confused."