'RuPaul's Drag Race' And Symone - We've Got A Winner, Baby
A Season 13 Queen Is Still Two Weeks Away, But I Know My Number One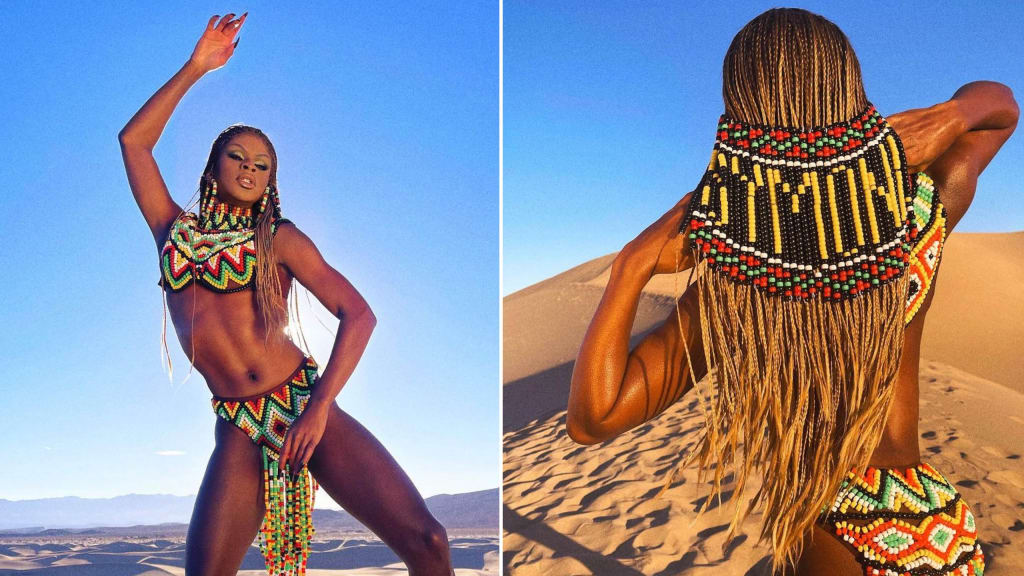 https://media.allure.com/photos/604114d09d5d2a05c2519e28/16:9/w_2560%2Cc_limit/symone-interview.jpg
Well, after a season that has seemed to go on for a few lifetimes, we are now down to a final four on #Season13 of #RuPaulsDragRace. We have #KandyMuse, who's had to lip sync three times and has one win under her belt, #Gottmik, with no lip syncs beyond the opening episode and two big wins (the ball and #SnatchGame), #Rosé, with three wins and no lip syncs, and #Symone, with four wins and two lip syncs beyond the first one. While I have become a big fan of what each of these queens have offered, my money is on Symone for the big win.
I wasn't too sure about Symone at the start of Season 13. I was not a big fan of the #Polaroid dress, and I was just really not sure what Symone would bring to the table because I knew she was pretty young. As the season progressed, though, I was incredibly impressed by the growth she demonstrated throughout. Her fashion was both elegant and on point, she glowed in every runway appearance, and she was genuine in terms of her struggles with who she was.
When Symone was on top, you could see the strength and the personal power she felt. She was clearly feeling empowered in those moments and she moved with the subtle sleekness of a model who knew she looked good. She offered both humor and social commentary and knew exactly what she wanted to bring to the table with every appearance. However, when she struggled, she struggled hard. She often got too far into her own head when she was met with a stumbling block, and her game faltered for a bit after those moments.
However, it seems as though after a talk with #RuPaul, Symone has come to realize that she could take facets of her drag persona and incorporate it into who she is as Reggie Gavin in her day-to-day existence. That is probably the "trick" that Symone needed to hear to finally achieve the pinnacle of her drag excellence, and it came through in the "Lucky" video incredibly well. Her lip sync to "I Learned From The Best" by the inimitable #WhitneyHouston was first rate, and you could finally see that Symone had finally, unequivocally stepped into her own strength after a season where she fought for her own self-acceptance.
I loved the playfulness of Gottmik, who's been on quite the personal journey of his own. He has become an excellent advocate and voice for #transgender men who are embarking on their own journeys of acceptance, whether that be self-acceptance or acceptance from their own families and loved ones. I thought Rosé's cool professionalism and wicked sense of humor - coupled with her incredible singing and dancing ability - was fantastic. Kandy Muse's unapologetic approach to her own drag, and her recognition that she can be hardheaded about how to grow based on what the judges' told her, was refreshing and while I didn't always agree with her approach to drag, I respected her all the same. Plus, she is also super funny.
However, it's Symone who has perhaps had one of the most fully realized journeys in #DragRace and continued to demonstrate drag excellence even when she was having moments of self-doubt. While she is funny - her #SweetToof ad on the show was freaking hilarious - she is by no means a comedy queen, and she recognized that she would not be known as a dancing queen, either. However, the fact that she recognized these things and just realized she needed to work with them and have fun is what makes her the #dragqueen that she is.
It's that approach that will ultimately propel her to the Drag Race crown - a coronation that we will hopefully see in two weeks' time during the Season 13 finale.
tv
About the author
I'm a high school English and French teacher who trains in the martial arts and works towards continuous self-improvement.
Reader insights
Be the first to share your insights about this piece.
Add your insights