'RocketMan' Spoiler Review
I've seen this movie 7 times now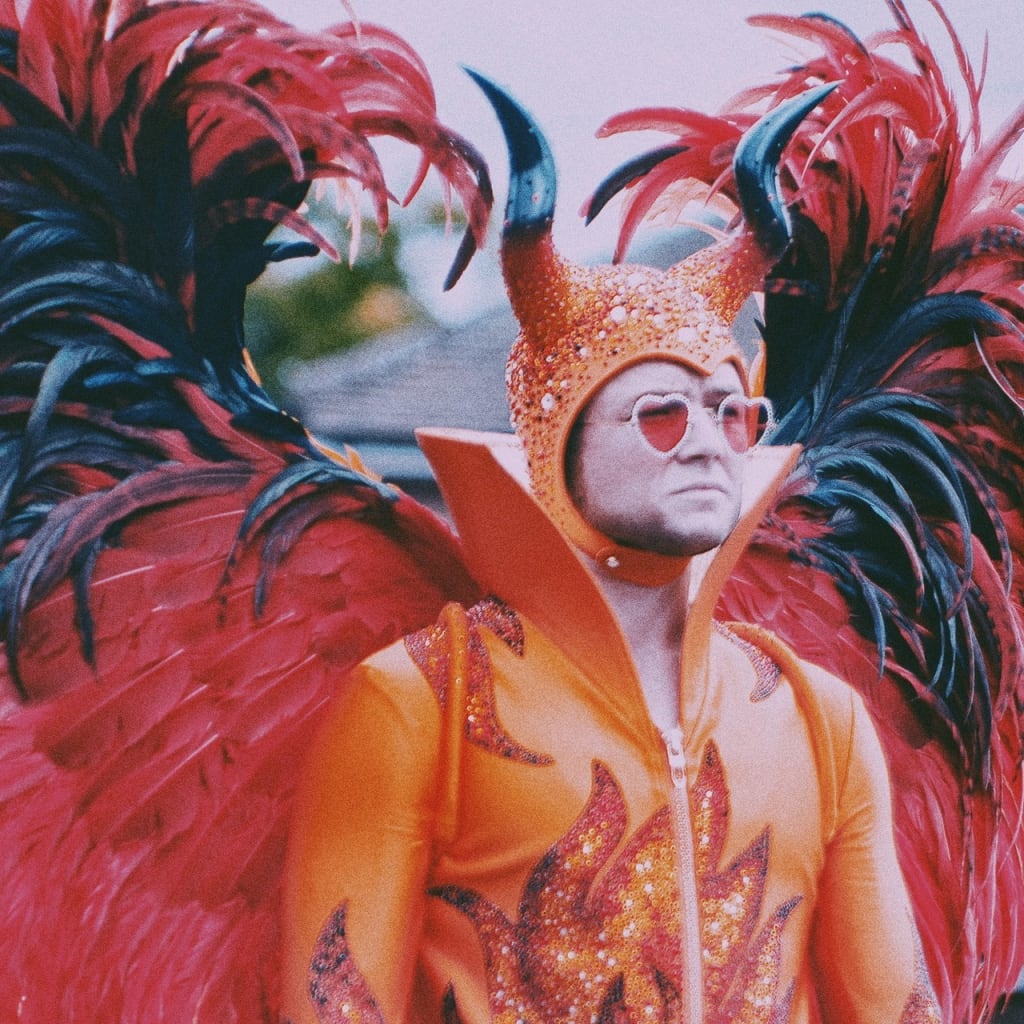 Overview
This is a positive review, because I thoroughly enjoyed this movie, and I will talk about it more in depth. Also this is not a spoiler free review so read at your own risk. The Rocketman film was a biopic film of the singer Elton John who, in the movie, is portrayed by Taron Egerton. The film cast includes Jaime Bell, Richard Madden, Bryce Dallas Howard, Charlie Rowe, and many others. I did not walk in with super high expectations or with an abundant amount of knowledge about Elton John, but the movie was better than I could have thought, and I am a bigger Elton John fan now.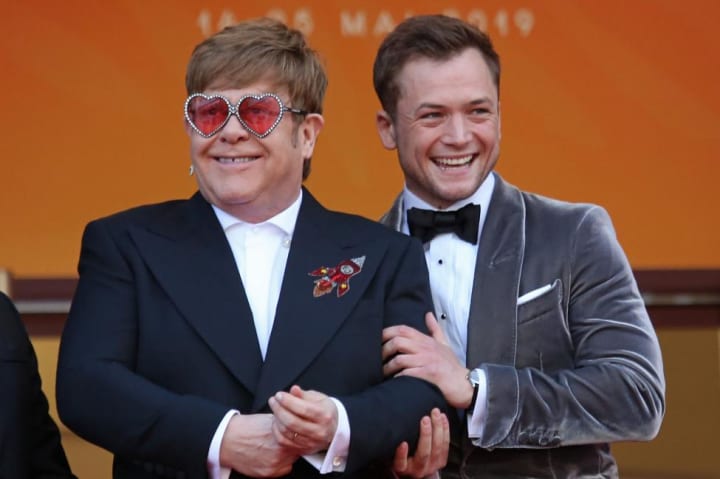 Storyline
The story was, in my opinion, set-up very well; I loved how it starts in a support group and it is Elton who tells us his story. I also like how the story starts from when he was a kid and progresses chronically; every once in a while we are taken back to the support group, and see Elton talking about an event more. It was easy to follow and had a nice coherent flow. The story was clear and I was never confused.
Cast
The cast was perfect. Taron Egerton did spectacular as Elton John and captured Elton's persona in such a perfect way. If you focus enough there are little mannerisms that Taron does, and even though they're just little movements and small facial expressions, they enhance Taron's performance. There were two other actors who played younger versions of Elton, Kit Connor and Matthew Illesley. These actors did amazing as well; Matthew was there for less time, but his performance was great in showing us Elton's innocence as a child. Kit Connor got to showcase his talents more, and I loved his voice. Jaime Bell played Bernie Taupin (Elton's Best Friend) and I loved it. Jaime Bell delivers so well in the emotional scenes of this movie, and he has many with Taron. His entire performance was great, and his chemistry with Taron is so vibrant. Richard Madden plays John Reid (Elton's ex-manager and ex-boyfriend), and I was pleasantly surprised that he did so well. Richard Madden is a great actor, but John Reid is a more villainous character, and I was used to seeing him in more heroic roles like Robb Stark. His performance was charming and manipulative, and you hated his character by the end of the movie, which was what he was supposed to achieve. Before watching the movie I was doubtful of Bryce Dallas Howard playing Elton's mother, but she did great, and I loved how she portrayed the mother. There were many more, but I loved the entirety of this cast, and I am so glad Elton John had so much input.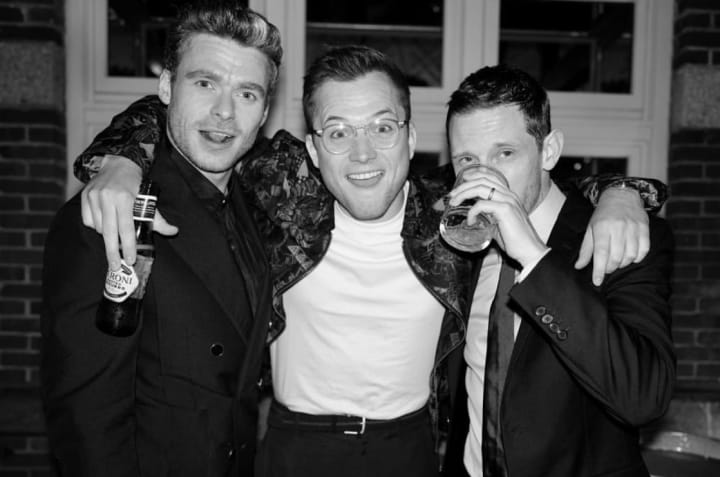 Song Scenes
The use of Elton's songs are mostly out of order, and were not used in the order of when the songs actually came out, but I loved how every single one was used, and the scenes they were used in. I will not talk about the use of all the songs, just the ones I think were most important. The "Bitch is back" was used in the very beginning as a way of old Elton taking us back into the past. The scene was upbeat and there was dancing. This song and scene was a great way to show us how the movie was not going to be realistic, because people were breaking out into song. After that we got to hear the song "I Want Love," and the scene was set up so beautifully. Young Elton, the grandmother, the mother, and the father each had a part, and each part fit extremely well with their characters and was a way for the audience to understand them more. This was my favorite song that Kit Connor sang, and he sang it so vehemently. The song ended with Kit singing "I want love" and it was extremely moving; it also showed us how all Elton really wanted was someone to genuinely love him, and that is very important for the rest of the movie. The "Saturday Night's Alright (For Fighting)" was one of the best choreographed scenes in the entire movie. The song begins with Kit Connor as Elton John, and ends with Taron Egerton as Elton John. The song was upbeat, fun, had great dancing, and it took place in a fair. Overall, the song and scene did great to transition from teenage Elton to young adult Elton. The "Your Song" scene was perfect; Taron sang this song so beautifully it made me cry. I loved the way the camera framed Jaime and Taron, showing how the song really was about each other, and that they love each other so much. The framing of the camera, Taron's voice, the song, and Jaime's and Taron's facial expressions all came together and made that scene one of my favorites from the movie. "Crocodile Rock" was sung in the Troubador, and I thought it was great. There was this slow motion shot while Elton was walking up to the piano to get ready to perform, and it was a great way to show build up and to show how intense that moment was for Elton. Taron, as always, sang spectacularly and they did Elton's trademark "kick" (picture below). During the scene they slowed this moment down and showed him slowly going up, the people who were watching him also started to be lifted up in slow motion. I thought that was an amazing choice, because it was able to slow down that moment for the audience in order for them to see how surreal and spectacular that quick moment truly was for Elton and the people who saw that performance in real life. This was also the song where we got to see the first glimpse of John Reid. I also loved the "Tiny Dancer" sequence, and the way they filmed it. They changed the meaning or purpose of the actual song, and it worked perfectly. The song was originally written by Bernie Taupin for his first wife and as a love song, but how and when the movie used the song made it be about a person who wants someone, but that someone is with another person. The song was not filmed to be a love song, but more of a longing for someone song. They did this with the scene before the song started, and the framing during the song. Elton and Bernie were talking and Bernie decided to go with a woman he liked, and you could tell that made Elton lonely. The song begins with "Blue jean baby, LA lady" and the way they filmed the song makes it clear that Bernie was the "blue jean baby" (he was also actually wearing blue jeans) and the woman who was from LA, because they were in LA was the "LA lady." Not only that, but the LA woman was taller than Bernie, thus literally making him the "tiny dancer." Throughout the song, the camera pans from Elton to Bernie and the woman, which shows you how Elton was looking at them while singing this song. The lyrics go "But, oh, how it feels so real lying here with no one near, only you and you can hear me when I say softly, slowly, hold me closer Tiny Dancer." There are moments when Elton is singing and the camera zooms in and stays on Bernie's face, implying that Elton is singing this song about him; however, it was not because Elton had feelings for Bernie. The longing look in Elton's eyes is not necessarily longing for Bernie, but longing for love and to be with someone romantically. This interpretation makes even more sense because after the "Tiny Dancer" sequence is over, Elton meets John Reid. I will talk more about their relationship later on, but the next song used was "Take Me to the Pilot." This song was used during the sexually explicit scene between Elton and John; the song fits great, and I think it was the perfect song to use during that moment. The "Honky Cat" sequence was everything, I absolutely loved everything about it. The song was a perfect way to show us Elton's introduction to that wealthy and party lifestyle; you can see him start to drink and do drugs in this sequence. The dancing, the background, the set, the acting, etc. I loved all of it. It was a true gift to see Taron and Richard sing together; it was amazing. The "Rocektman" scene was also very well done. I loved when and how they used the song. The choreography, the sequence in the hospital, the Dodgers outfit, etc. It was a great way to show Elton spiraling into drugs, and how even though he is doing all these drugs, he is still performing like he didn't have all these issues. The scene wouldn't have been the same without Taron's acting, once again he did amazing at portraying Elton's downfall into alcoholism, drugs, etc. One complaint I do have is that I wish "Bennie and the Jets" was not used as just an interlude, but as a full scene. "Goodbye Yellow Brick Road" was used amazingly; it was stretched over a pretty long scene, but it worked very well. I love how it begins with Bernie leaving Elton, and going back home, the lyrics fit very well with this. Then it transitions from Elton realizing that he has to stop and get help, which makes sense once more with the lyrics. The song ends with Elton walking into rehab, and everything about the scene is amazing and it gives me chills every time I see it. The song is playing in the background and Elton bursts into rehab, while the melody is at its highest note. Everything about this moment was perfect; the song, the outfit, the framing, the way Taron was walking, everything, and it was just this very beautiful moment. It's hard to describe, and you have to watch the whole movie to really get the effect of that moment. The movie ended with Taron singing "I'm Still Standing" and it was the perfect song to end the movie with. The way Taron sang it, and how it shows him leaving rehab and that he really is still standing. The song use was amazing, and I loved this movie so much I can't pick a favorite scene because it was all done so well.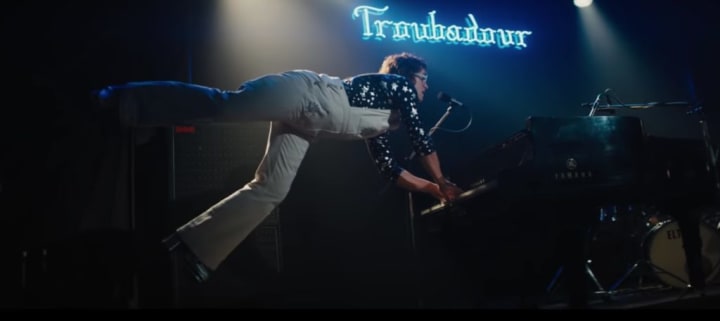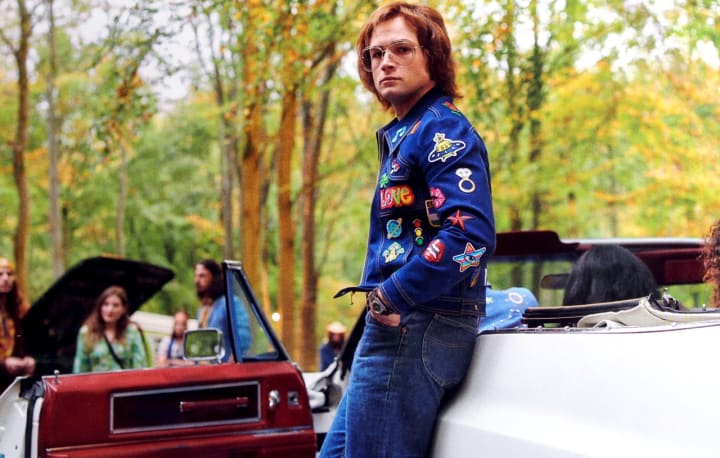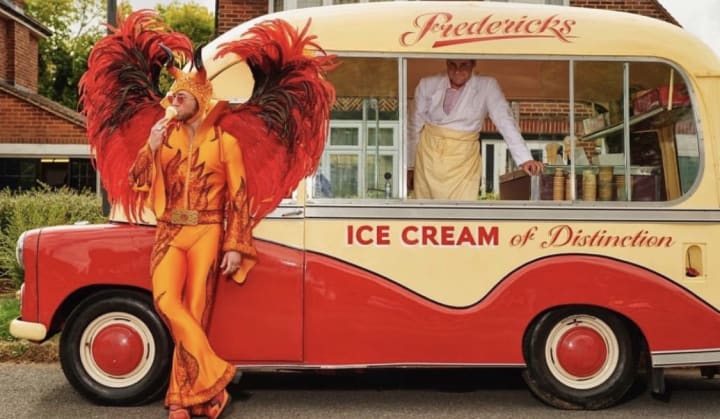 Bernie and Elton
Bernie and Elton's relationship was everything, it was truly the core of this movie. I absolutely loved the scene where they first met, because they immediately have a connection, and it's so nice to see the beginning of this historic friendship. Taron and Jaime have such a raw and organic chemistry, and you see it immediately. I loved the framing during the scene where they met, and the zoom in on their faces. Then we had the sequence of them walking and laughing, which shows how they really clicked right off the bat. There was a scene where Elton was outed as gay and Bernie said "Are you?" Then Elton said "Don't know... would it matter if I was Bernie?" Bernie responded by saying "No not to me," and it was such an emotional scene, and both Taron and Jaime did perfect. Their facial expressions, and their voices, and their mannerisms and everything, they just did so well in that scene. It was also so nice to see this acceptances on screen because LGBTQIA+ people actually go through this, and they don't know whether or not their friends/family will accept them. Once more, Elton and Jaime did such a great job at delivering those feelings and that intensity. I also loved that after Jaime finds out Elton is gay it goes on to a scene of them walking down the streets and Bernie has his arm around him, which is a little thing, but it is so important because it shows how Bernie wasn't repulsed by Elton being gay, and he still loved Elton. Then there is a scene on the roof between Elton and Bernie where Elton tries to kiss Bernie and Bernie rejects him. Bernie says, " I love you man, I do, just not in that way." The way Bernie said that, and his reactions is exactly how you reject a gay friend, and I just loved the way that entire scene played out. Elton later goes on to say that Bernie was the "Brother I never had." I think this relationship is wonderful because its a strong and emotional platonic male friendship; I think we need to see more of these relationships in the media, and Elton's and Bernie's was perfect.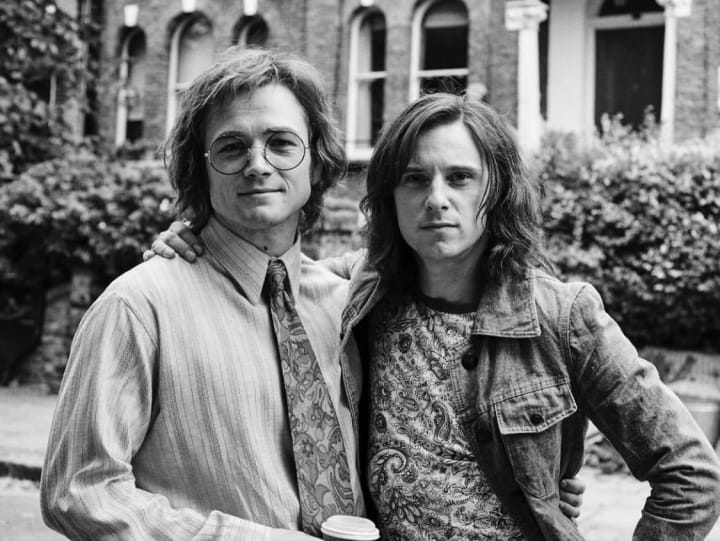 John and Elton
John and Elton's relationship was very interesting to watch, and I loved how it was done. I love Taron Egerton and Richard Madden so much and I never thought I was going to see them play a gay couple, but here we are and they did great. Taron and Richard's chemistry is off the charts, and it is evident from the second Elton and John meet. The video is down below, but they had such raw chemistry. The video of when they first meet is down below, and you can see the attraction and interest. I loved how the camera was really zoomed into their faces, because you can see the little things so much better. For example, Taron looks at Richard's lips so many times, and they both act with their eyes, and again you can see the infatuation and you can hear it. This movie was the first major studio release to include an on-screen gay male sex scene. As I mentioned before, the song choice was on point, and I felt the scene wasn't too short or too long, it was just the right amount. The kisses, the hand placements, framing, lighting, etc. it was done so well, and they nailed it especially for being the first one. You could see the excitement, and even though this relationship would turn out to be terrible, that scene shows you how in the moment it really was thrilling for Elton and John. I also loved how Taron and Richard were so open and dedicated to this relationship, and to getting it right.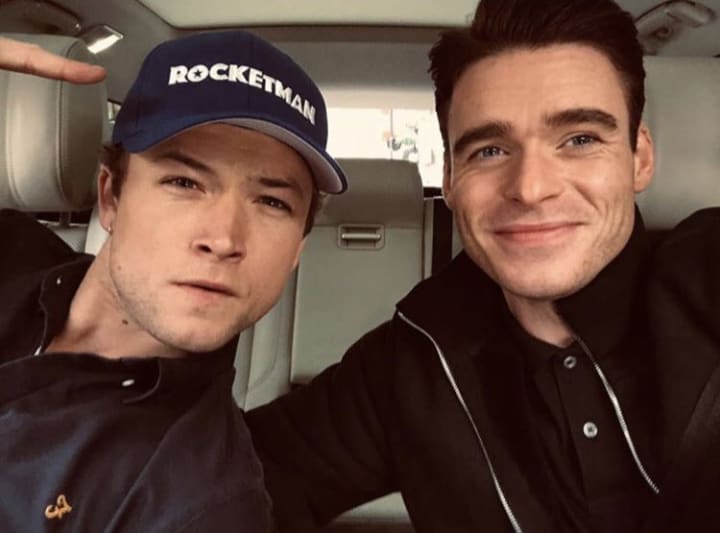 The Portrayal of John
I thought the portrayal of John Reid was done right. This was how you do a gay villain. Elton and John's relationship was very toxic, and we got to see that and it was very intense. By the end of the movie, you hated John Reid, but you hated him because he was abusive and a cheater, not because he was gay. In no way did the story every make it seem, or did it ever insinuate, that he was bad because he was gay; he was a bad guy who was manipulative and greedy, he just also happened to be gay. Once again, Richard did a great job at portraying this, and how bad John was for Elton.
Conclusion
The movie was amazing, and I truly enjoyed every minute of it. The cast was beautifully chosen and the songs were great. Elton John's participation was so important, and I felt that it made the movie so much more authentic. Rocketman was not like the average biopic, it had so many fantasy elements, and it worked perfectly. Elton John did not live a basic life and his movie was just as fantastical as he is. Even though the movie was very intense, and it dealt with a lot of hard hitting issues, it leaves you with such a positive takeaway. You leave the theater uplifted and inspired, because Elton really overcame so much. The movie was truly satisfying and I left the theater happy every time I watched it.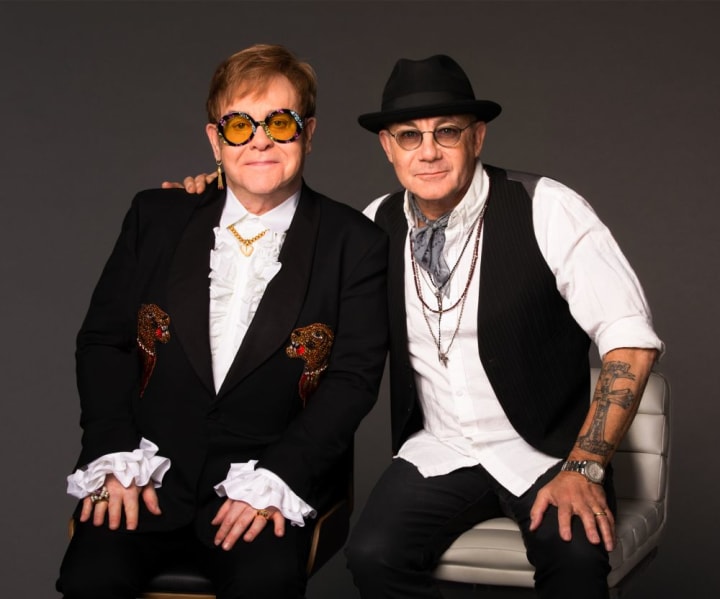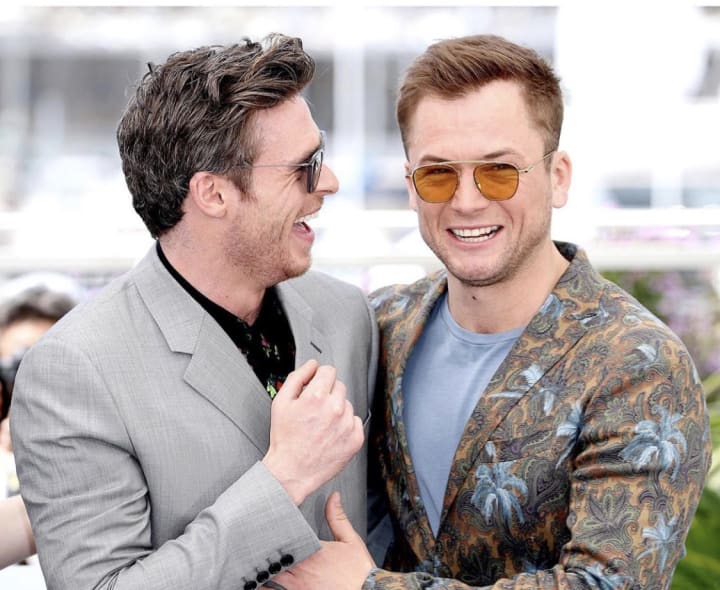 About the Creator
She/Her/Hers-Fandoms-Books-Movies-TV shows-Intersectional Feminist-Slytherin-Aquarius- Just an IB student trying to get CAS hours-
Reader insights
Be the first to share your insights about this piece.
Add your insights