'RHOP:' Karen Huger Is Extra Shady This Season
'Real Housewife of Potomac,' Karen Huger, is apparently with the you know what's this season. Why though?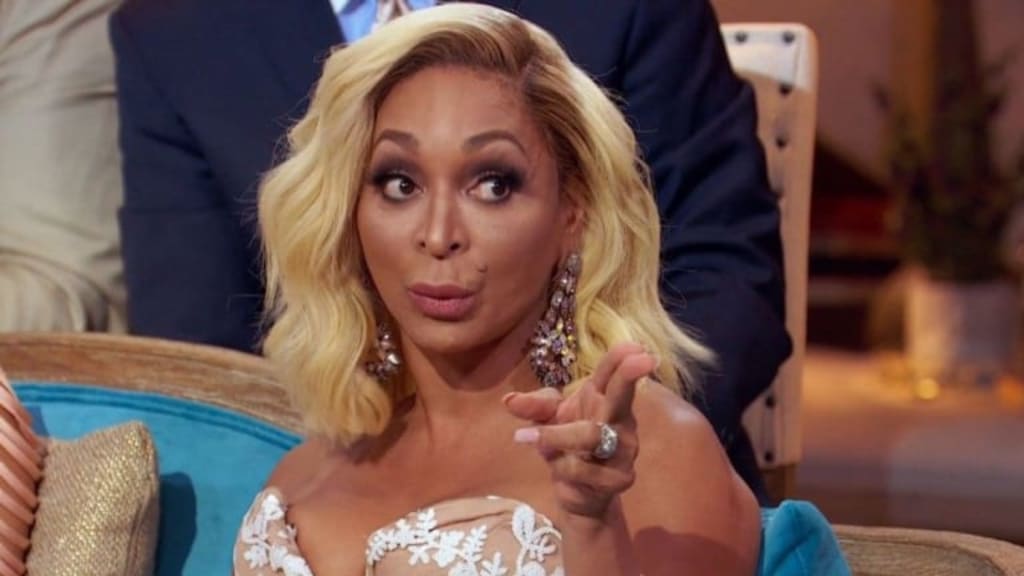 Karen Huger of Real Housewives of Potomac via Media Takeout
While the shade is always apparent and effervescent when it comes to any of the Real Housewives on any of the multiple different shows of the franchise, Real Housewife of Potomac, Karen Huger, seems to have upped her own ante for this season. While she has always seemed like one who wouldn't take much from anybody in particular, she is now dishing out the tea of her own.
From her takes on all the other Housewives, to her witty quips this season, specifically about fellow Potomac Housewife and cast-mate Gizelle Bryant, Karen has become quite the pair of shady boots on her own. In particular, she was especially giddy about sharing what she seems to know about Bryant's on again-off again relationship with former NBA player Sherman Douglas.
Not that she has ever been afraid of throwing her own shade at anybody in particular, but she seems especially comfortable this season in doing so. The question though is why?
Well, if you want to try and conclude a solid answer, there can be only one. If you take a hard look back at last season or recall significant scenes from your memory bank, that should help clarify.
Karen Huger was the punching bag on the show last season. Rightfully or wrongfully, however you choose to see it, almost everyone took turns trying to humiliate Huger during last season.
For example, you could take the scenario where the trio of Robyn Dixon, Ashley Darby, and Gizelle attempted to deliver a pizza to Karen's home, in order to confirm that she did, or validate that she didn't live there. You could also look at the scene where the now infamous "God bless the Hugers" shirt worn by Gizelle made its breathtaking appearance.
With plenty to dive into during this current season, Karen should be chomping at the bit to get her "two cents in." She could choose to take aim at her one time "best friend" in Gizelle. A perfect target would be her hot and cold love life, if Karen saw fit to do so.
She could take aim at Gizelle's ace in Robyn. Robyn is still fixing up the same house from last season, while burning through the "budget" along the way. Robyn is also still wading in the waters of a very murky situation when it comes to her marriage, although she says that her and long-time husband and former NBA player Juan Dixon are in a very good place.
While Monique is very pregnant at this point, and seemingly shying away from the drama right now, she has never been one ashamed of speaking her mind, as well. Will Karen take aim at the new mommy to be before the season is over?
Ashley is a very easy mark and one that Karen probably would love to continue to shade, as she always has a thing or two to say about anybody and everything. They say you shouldn't throw stones when you live in a glass house, and if Ashley's husband Michael Darby's affinity for his male cast-mates isn't enough, she could easily take aim at his pending or past criminal charges.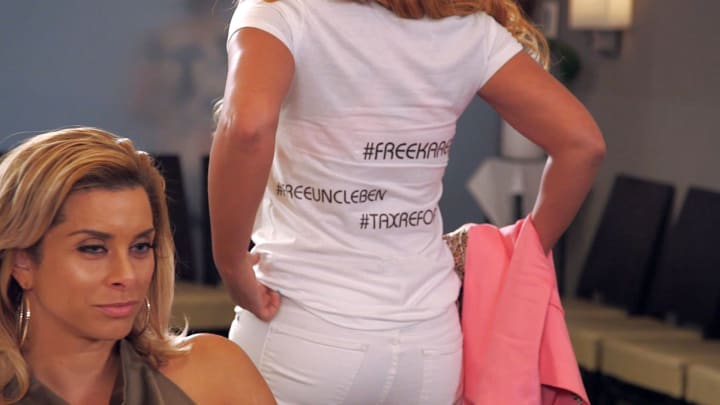 No matter which way you slice it, they came for Karen hard on last season. That is the best explanation for why she is now returning the favors in a furious fashion. It should continue to get even spicier from here on out as the world looks forward to Karen dishing more shade and tea... as she conveniently sips her tea the way she did in that revealing confessional about Sherman's shopping habits.
It should be interesting and we will be watching. *Takes a swig of piping hot beverage.