Review of 'When Women Were Dragons'
When Women Were Dragons is an incredibly empowering and feminist novel that reminds readers of the magic inside us all.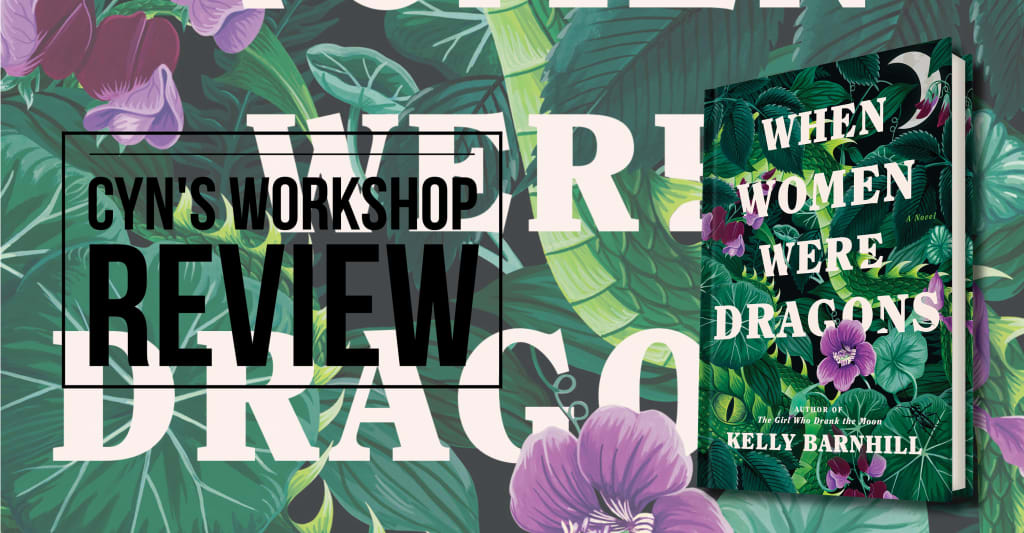 Traveling back to 1950s America, When Women Were Dragons takes a fantastical approach to show how oppressive society was and the drastic way women broke out of those roles.
Incredibly Feminist
I love a good feminist novel, especially one as empowering as this one. When Women Were Dragons paints an incredibly accurate picture of what 1950s American society looked like, with one clear difference: women could turn into dragons.
Women have magic in them; that theme comes up repeatedly throughout the story as Alex, our narrator, recounts her life from childhood to adulthood, trying to understand the Mass Dragoning of 1955. This event changed her life and that of her cousin/sister/daughter. It wove lies into their lives as they tried to live everyday lives while feigning innocence of the events.
Alex's aunt was part of the Mass Dragoning, and early on, it is clear she was not the picture of what a 1950s woman should be. She did not fit the mold. A mechanic with her own business, a woman who bragged of her sister's intelligence and mocked the idea that she was not as "smart as any man," often pressed upon Alex that there was magic in women. And when forced into the mold, Alex's aunt showed her the shackles that came with it and, eventually, the magic of breaking out.
Complex & Thoughtful
But there were consequences.
There are no easy answers here. But it asks questions: Should Marla have (Alex's aunt) stayed human and allowed her sister to change? Should women have been forced to give up who they love and want to be to fit into the status quo? Should anyone sacrifice their happiness for the sake of others? Marla chose not to, but in the end, she ended up burdening her sister with the daughter she abandoned.
Throughout the story, Alex recounts all these events. Through an adult lens, she looks back at who she was as a child, thinks back as a child, and gives the reader a view of what the world looked like.
However, the complexity of the narrative is so compelling and also empowering. It forces the reader to look, to listen, to allow the magic we have in ourselves to awaken. This novel tells the reader to be who they want to be, to reach for the stars, to spread their wings and fly. Some sacrifices may be necessary, but we can all choose our happiness by living our true selves. Life is not easy; it is incredibly complex, and When Women Were Dragons delve into that complexity of what it means to live.
Nevertheless, Barnhill examines the unfairness of gender and the injustice of having people conform to an oppressive mold that forces them to ignore their happiness. So oppressed are these women that when the magic unleashes, it transforms them into fearsome fire-breathing dragons.
Final Thoughts
When Women Were Dragons is an extraordinary novel, there is so much I want to say and applaud that it pains me to end this review here. If I could spend hours and hours talking about this novel, I would. But, for now, this will have to suffice.
Writing Quality : 10/10
Character Development : 10/10
"Couldn't Put It Down"-ness : 10/10
Intellectual Depth: 10/10
Originality: 10/10
Overall Rating: 5 out of 5.
Like this review?
Don't forget to follow Cyn's Workshop on Facebook | Instagram | Twitter | Tumblr | Spotify | YouTube | BookBub | Goodreads | LinkedIn to stay tuned for future reviews.
About the Author
Cynthia Bujnicki graduated from Emerson College with a BA in Writing, Literature and Publishing. She has always loved to read since she was a child. A contributing writer for YA Fantasy Addicts, she is also the Editor-in-Chief for Cyn's Workshop. She lives in sunny South Florida with her husband, son and daughter and their two cats,
Reader insights
Be the first to share your insights about this piece.
Add your insights