Review of 'God Storm'
God Storm struggles to be as engaging as its predecessor as it pulls the story in many directions without a clear direction of the plot.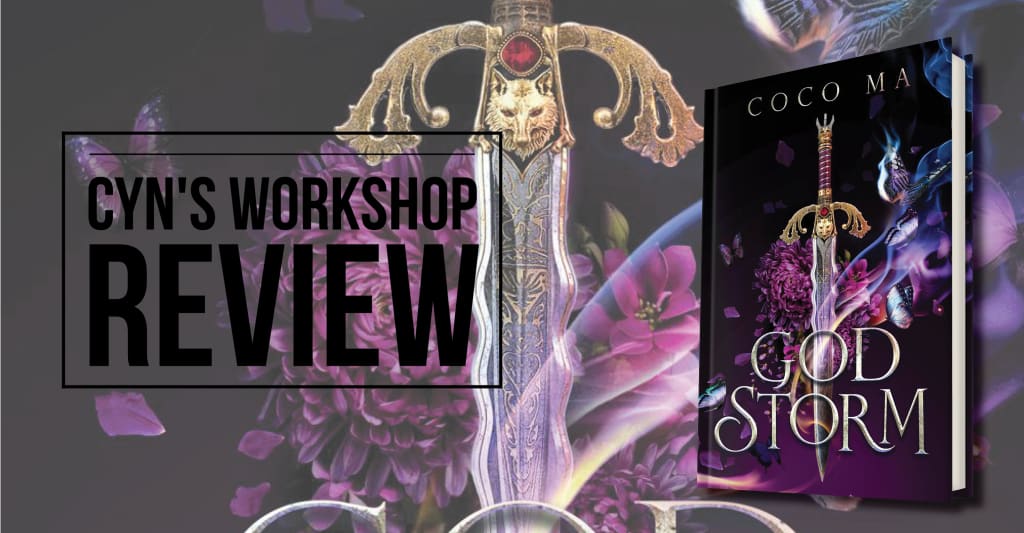 Everything has a price.

In the kingdom of Axaria, a darkness has fallen. After defeating the evil mother who summoned an immortal demon to kill her, newly coronated Queen Asterin Faelenhart should have every reason to celebrate. Her kingdom is safe, forbidden magic eradicated, and her friends are alive. Except Asterin's triumph has come at a devastating cost--forced to choose between a lifelong friend and true love, she's lost both. But the shadows in Axaria have begun to stir once again, and no one is more starved for vengeance than Asterin ...

Yet it soon becomes clear that the shadows plaguing her kingdom are just the beginning. Another realm coexists with the mortal world--the beautiful, nightmarish Immortal Realm ruled by the wicked God of Shadow, King Eoin. When their paths entwine, Asterin realizes that Eoin possesses exactly what--and who--she seeks most. And the fates of all those that she holds dear--Orion, her missing Guardian; Luna, the friend she could not save; Harry, the demon who saved them all; and Quinlan, her beloved broken prince--ultimately rest in the god's hands.

But in a world of magic, not everyone is always as they seem. When shocking discoveries threaten everything and everyone that Asterin has sworn her life to protect, she won't be the only person forced to make a choice ... a choice that will change the mortal world forever.

And maybe even destroy it.
Review
God Storm continues where Shadow Frost left off, following the characters as they deal with magic, dark and powerful.
Interesting Story
I am going to be honest; I got lost reading this novel. However, that is not because the novel itself is terrible. I honestly think part of the reason I could not enjoy this novel as much as I had hoped was that I had forgotten most of what had happened in Shadow Frost.
That does not mean Ma is a poor writer, but I think she relied too much on the reader's ability to remember that she made minimal references to what happened in the first novel. Unfortunately, this is not enough to reestablish the world-building and the dynamics.
There are just too many characters pulling the story in various directions that some world-building would have benefitted the story's foundation. God Storm seems as though it is barely connected to the previous novel, which is part of why some readers may feel lost. The villain is gone, and now something else entirely different is going on.
While the story is interesting, it feels like a far departure from the previous novel.
Characterization
Another issue I had with God Storm was the character dynamics. Luna was terrific in the first novel, as was Asterin. Now, Asterin is still a formidable character when the reader gets to see her in action. Unfortunately, the reader does not see her in action much anymore now that she is Queen.
However, this goes in line with the storytelling. It is a fast-paced story, and Asterin is going places, but it is initially unclear where she is going and why. Transition-wise, the reader may have trouble understanding Asterin's journey as she seeks to solve the mystery behind shadow magic.
Then there is Luna. It is clear Luna has abandonment issues, and her anger towards Asterin is understandable. Asterin's fake mother forced her to chose between Luna or the man she loves. Asterin's choice not to save Luna made her angry, understandably. She feels betrayed, but her anger is blinding her and makes her feel weak. Now she takes out all her anger on Asterin, giving away her freedom to Eoin, God of Shadows. Luna's journey to be a villain makes her development interesting but her constant whining makes her unlikable.
Asterin's mothers' point of view also did not add much to the plot of the story. Asterin's mother was just sort of there, and even by the end, she felt more like a plot device than a character worth caring about.
Final Thoughts
While the LGBTQ+ representation between Orion and Harry was as enjoyable as it was in the previous novel, the rest of God Storm fell flat. Like I said at the beginning of this review, I would probably have liked it more had I re-read Shadow Frost more because God Storm left me feeling lost from beginning to end.
Rating: 4 out of 5.
Like this review?
Don't forget to follow Cyn's Workshop on Facebook | Instagram | Twitter | Tumblr | Spotify | YouTube | BookBub | Goodreads | LinkedIn to stay tuned for future reviews.
About the Author
Cynthia Bujnicki graduated from Emerson College with a BA in Writing, Literature and Publishing. She has always loved to read since she was a child. A contributing writer for YA Fantasy Addicts, she is also the Editor-in-Chief for Cyn's Workshop. She lives in sunny South Florida with her husband and son and their two cats, Mr. J the Kitten and Nyx.