Review of 'Given'
Given has the potential to be something amazing. However, the sexist male lead hinders any readers enjoyment of the story.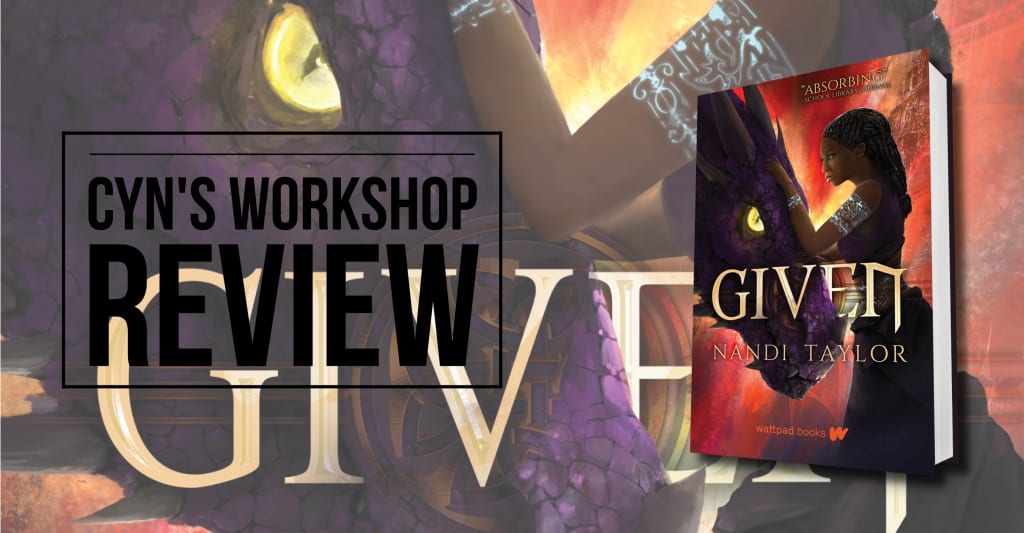 Bound by fate. Divided by duty.

Yenni has never been this far from home. With only her wits, her strength, and her sacred runelore, the fierce Yirba warrior princess is alone in the Empire of Cresh. It's a land filled with strange magics and even stranger people--all of whom mistrust anyone who's different. But Yenni will prove herself, and find the cure for her father's wasting illness. She will not fail.

No one warned her about the dragons. Especially not about him.

Yet there is something powerful and compelling about the violet-black dragon known as Weysh. In human form he's muscular, beautiful--and completely infuriating. What kind of arrogant creature claims a stranger as his Given; as his destined mate? Yenni is no man's--or dragon's--plaything. But other magics must be at work here, because Weysh might just be her best hope at finding the answers she seeks.

Only now Yenni can't tell if she's fighting an attraction to a dragon . . . or fighting fate itself.
Review
Given follows Yenna, a fierce princess determined to learn new magic to save her father and kingdom. However, despite Yenna's excellent characterization, the romance fails to engage the reader.
Sexist Language?
Okay, I wanted to like this novel, and in the beginning, I was in love with it. It had everything I wanted:
Girl power? Check.
Diverse? Check.
Dragons? Check.
Fantasy? Check.
The beginning of the novel was excellent. And then Taylor introduced the reader to Weysh. Weysh is a sexist dragon, and the way he kept referring to her as his "Given." I get it, that is the title of the novel, and I was not oblivious considering the book description does reference it. However, it was the tone, and the way Weysh used it was bothersome.
Weysh keeps calling Yenna his given. The tone is possessive and sexist, especially when he tells everyone, "she is my given." He makes no effort to get to know her and tells people she is his and that when they get married, she will stay home, have kids, her "womanly duties." It was just bothersome especially considering that it is clear they are going to end up together.
When the reader sees them together, the reader does not want Weysh to be with her. First of all, it is not her job to change him. Yes, it is that classic "Beauty and the Beast" trope; the beauty changes the beast for the better, making them worthy of their love. However, that trope did not work here because of how sexist he is and how fierce and fabulous Yenna is.
Final Thoughts
It was hard for me to enjoy the novel because I do not think that Weysh deserved Yenna, and she could have done better. Yes, Weysh grows, but his selfish and sexist attitude lasted much longer than it should have for me to enjoy this novel.
Like this review?
Don't forget to follow Cyn's Workshop on Facebook | Instagram | Twitter | Tumblr | Spotify | YouTube | BookBub | Goodreads | LinkedIn to stay tuned for future reviews.
About the Author
Cynthia Bujnicki graduated from Emerson College with a BA in Writing, Literature and Publishing. She has always loved to read since she was a child. A contributing writer for YA Fantasy Addicts, she is also the Editor-in-Chief for Cyn's Workshop. She lives in sunny South Florida with her husband and son and their two cats, Mr. J the Kitten and Nyx.