Review of 'Comfort Me with Apples'
Comfort Me with Apples is an interesting retelling that will leave you with your jaw hanging open by the ending.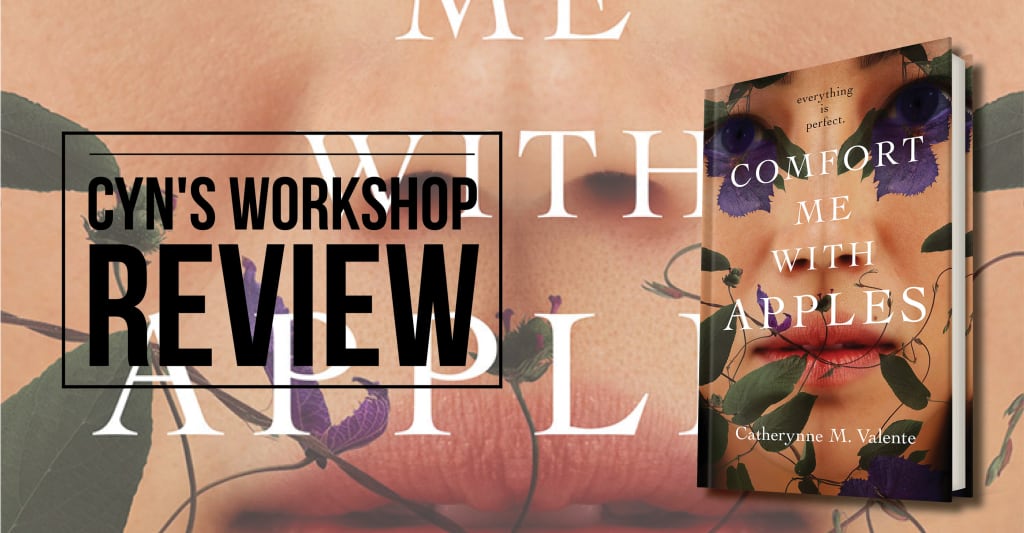 Comfort Me With Apples is a terrifying new thriller from bestseller Catherynne M. Valente, for fans of Gone Girl and Spinning Silver .

"No one can move from sweet whimsy to bone-deep dread with the deftness of Catherynne M. Valente. Comfort Me With Apples is a darkly elegant fairytale-horror story that will haunt you in the best ways. Move it to the top of your TBR." ―Christopher Golden, New York Times bestselling author

"A lush and furious fairytale. Valente always delivers." ―Laurie Penny, screenwriter for The Haunting of Bly Manor and author of Everything Belongs to the Future

Sophia was made for him. Her perfect husband. She can feel it in her bones. He is perfect. Their home together in Arcadia Gardens is perfect. Everything is perfect.

It's just that he's away so much. So often. He works so hard. She misses him. And he misses her. He says he does, so it must be true. He is the perfect husband and everything is perfect.

But sometimes Sophia wonders about things. Strange things. Dark things. The look on her husband's face when he comes back from a long business trip. The questions he will not answer. The locked basement she is never allowed to enter. And whenever she asks the neighbors, they can't quite meet her gaze....

But everything is perfect. Isn't it?
Review
Catherynne M. Valente gives readers an unexpected jaw-dropping delight with Comfort Me with Apples.
Mind-Blowing
Comfort Me with Apples is a retelling. However, it is a retelling most unexpectedly. When I read the synopsis, I was convinced it was a retelling of Bluebeard. But it ended up being so much more than that. One part horror, one part fantasy, and one part thriller, Comfort Me with Apples, keeps the reader guessing.
Valente did such a fantastic job with the narrative. First, the rules regarding the association set up this eerie and disturbing atmosphere that unsettles the reader. From the very beginning, you know something is wrong with this community.
That atmosphere traps you in this community, eager to discover what is happening within the community. Then that line of "Everything is perfect" and the repetition of "she was made for him." Something unsettling is happening in this community; something about this woman is off. You can see that the people are trying to tell her something.
And the writing, the subtle references that come alive the more you read. Page after page, the reader sees what kind of retelling it is. A little Bluebeard, but there's more to it. And I can't say because the revelation to that is mind-blowing.
Valente is incredible with their language and their use of subtext. The double entendres are excellent; they catch the reader off guard. The horror elements, the way the story is able to be a horror and a fantasy and a thriller all at the same time effortlessly remarks on how good of a writer Valente is.
Final Thoughts
Valente keeps the reader guessing from beginning to end in this incredible novella. From every direction, the story is impressive, and when the reader realizes just what kind of retelling it is, their mind will be blown.
Writing Quality : 10/10
Character Development : 10/10
"Couldn't Put It Down"-ness : 10/10
Intellectual Depth: 10/10
Originality: 10/10
Overall Rating: 5 out of 5.
Like this review?
Don't forget to follow Cyn's Workshop on Facebook | Instagram | Twitter | Tumblr | Spotify | YouTube | BookBub | Goodreads | LinkedIn to stay tuned for future reviews.
About the Author
Cynthia Bujnicki graduated from Emerson College with a BA in Writing, Literature and Publishing. She has always loved to read since she was a child. A contributing writer for YA Fantasy Addicts, she is also the Editor-in-Chief for Cyn's Workshop. She lives in sunny South Florida with her husband, son and daughter and their two cats.