Review of 'Auxiliary: London 2039'
Auxiliary: London 2039 offers readers a jaded look at the future with an interesting, if not confusing, noir plot base.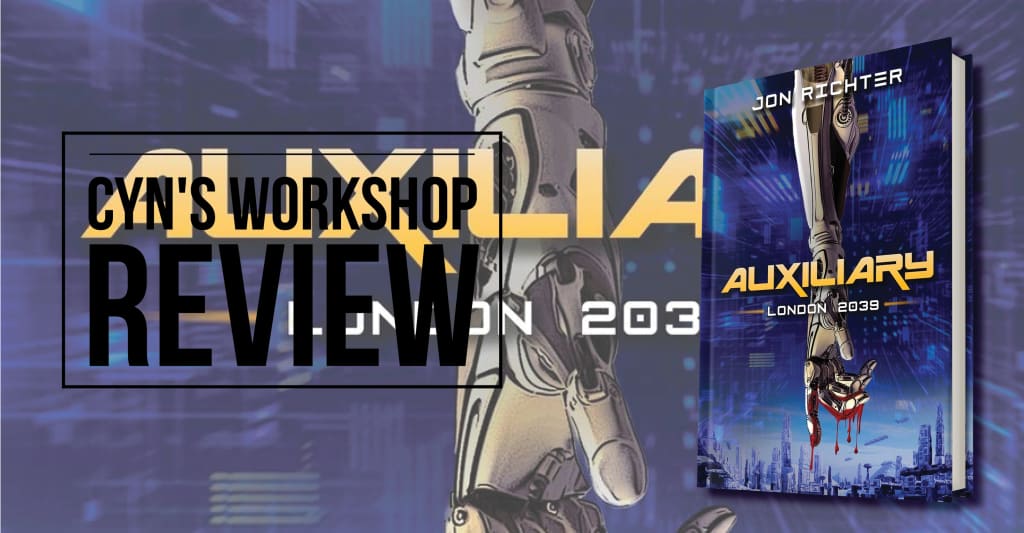 Synopsis
The silicon revolution left Dremmler behind but a good detective is never obsolete.

London is quiet in 2039—thanks to the machines. People stay indoors, communicating through high-tech glasses and gorging on simulated reality while 3D printers and scuttling robots cater to their every whim. Mammoth corporations wage war for dominance in a world where human augmentation blurs the line between flesh and steel.

And at the center of it all lurks The Imagination Machine: the hyper-advanced, omnipresent AI that drives our cars, flies our planes, cooks our food, and plans our lives. Servile, patient, tireless … TIM has everything humanity requires. Everything except a soul.

Through this silicon jungle prowls Carl Dremmler, police detective—one of the few professions better suited to meat than machine. His latest case: a grisly murder seemingly perpetrated by the victim's boyfriend. Dremmler's boss wants a quick end to the case, but the tech-wary detective can't help but believe the accused's bizarre story: that his robotic arm committed the heinous crime, not him. An advanced prosthetic, controlled by a chip in his skull.

A chip controlled by TIM.

Dremmler smells blood: the seeds of a conspiracy that could burn London to ash unless he exposes the truth. His investigation pits him against desperate criminals, scheming businesswomen, deadly automatons—and the nightmares of his own past. And when Dremmler finds himself questioning even TIM's inscrutable motives, he's forced to stare into the blank soul of the machine.

Auxiliary is gripping, unpredictable, and bleakly atmospheric—ideal for fans of cyberpunk classics like the Blade Runner movies, Richard K. Morgan's Altered Carbon, William Gibson's Neuromancer, and the Netflix original series Black Mirror.
Review
Auxiliary: London 2039 is reminiscent of Altered Carbon and Robopocalypse. It has much potential for storytelling, but it lacks a compelling protagonist.
The Story
Auxiliary: London 2039 follows Dremmler as he investigates the murder of a girl. The exciting part is her boyfriend, her murderer claims his augmented robotic arm killed her by itself. On his investigation, he discovers a conspiracy with a connection to his past.
The story moves at a good pace, but there are some issues with pacing. It develops the story well enough but leaves out key details that leave the reader confused. It is jarring, and it does not flow cohesively. There is a chapter from the point of view from the opening chapter death Dremmler is investigating, making the reader question the story's validity.
The overall story is interesting, and the ending mostly was action-packed and filled with some great twists, but it was the journey there and that one chapter that was not paced well.
The Characters
Another issue with the story is Dremmler. Something is disconcerting about his sexual attraction to women. Even at the murder scene, he recounts all her attractive features, making the reader uncomfortable. It is clear Ritcher was trying to create a flawed hero here, but it worked against the story.
Unfortunately, Dremmler is a sexist, misogynistic prick, and it is hard to connect to him.
Sure, in the end, he was able to redeem himself, especially after the numerous twists and turns, but I was more confused as to the turn of events rather than distressed by the ending.
Final Thoughts
Auxiliary: London 2039 is an exciting novel at the end of the day. Is it a novel I would read again? No, once was enough, but the premise is enough to keep the reader engaged.
Like this review?
Don't forget to follow Cyn's Workshop on Facebook | Instagram | Twitter | Tumblr | Spotify | YouTube | BookBub | Goodreads | LinkedIn to stay tuned for future reviews.
About the Author
Cynthia Bujnicki graduated from Emerson College with a BA in Writing, Literature and Publishing. She has always loved to read since she was a child. A contributing writer for YA Fantasy Addicts, she is also the Editor-in-Chief for Cyn's Workshop. She lives in sunny South Florida with her husband and son and their two cats, Mr. J the Kitten and Nyx.