Best of Netflix
Review: Netflix's 'A Series of Unfortunate Events'
Alert: May Contain Spoilers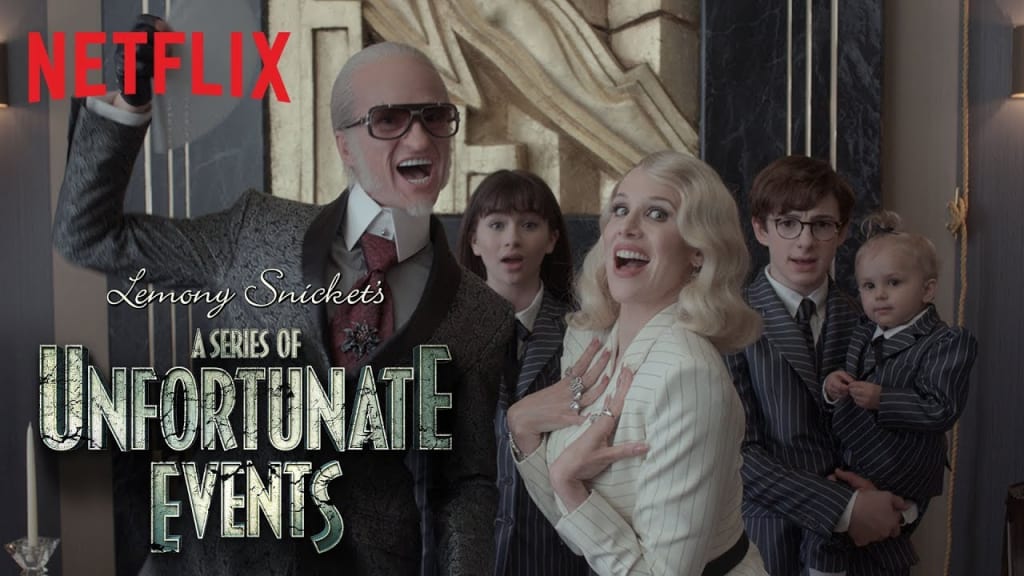 Photo via Google Images
I have had many books that I loved growing up and, of course, a lot were series books—the longer, the better. I loved getting to really know the characters and emotionally going through their trials and triumphs with them; as examples, Harry Potter or Mortal Instruments, so on and so forth. But the one series that stood out the most to me growing up was A Series of Unfortunate Events. The author Lemony Snicket wrote such an intriguing storyline while being hidden in the darkness. It was such a new unique way of writing, 100 percent new to my young eyes and always a great find for me.
The story follows siblings Violet, Klaus, and Sunny Baudelaire, who in the first book have the daunting news of becoming orphans after their home was burned down. You follow their journey of looking desperately for a new happy home, but are chased down by their first caregiver Count Olaf, who is anything but a good happy person, only hoping to get the fortune left to the children when Violet becomes of age to claim it. The series from start to finish was so grasping to me, with a constant question, "how could it get worse?" nagging at my insides as I try not to gasp or cry.
I found the first book, The Bad Beginning, at our local public library. I had never heard of it, but was instantly intrigued by the cover, as I normally am for many books. I read the first few chapters in the library and, of course, checked it out to take it home. It didn't take long to finish it and I needed more. I checked the next couple books of the series out at my next library visit. It didn't take long before I'd realized that I had caught up to the currently published novels, but was informed that they were indeed still being written, which to me was a deep relief. And to keep up to date with the stories, I would check out the CDs of the audiobooks read by the great Tim Curry, and with his voice, the words were even more alive and with them, the characters, too. I kept with this system until the final book was published and even now I've still read them several times.
When the movie with Jim Carrey was released I was very excited to see it. I recognized so many of the actors and actresses, it made it even more exciting to see it. I thought Jim Carrey would be a good Count Olaf, as he certainly looked like him in the commercials. Ultimately, I was disappointed with the production. I have met some people that liked it, and some that didn't. Everyone as always is entitled to their own opinions, I just knew I was not pleased with it at all.
Years passed and I never forgot about those books, even having them as a plan for my son's 11th birthday present. When I heard about Netflix making their own show of A Series of Unfortunate Events, I almost fainted to the floor, not knowing how it will be or who will be there. I saw the first trailer and saw the children with Neil Patrick Harris, getting even more excited as the time went on.
Finally, the release day came. Netflix posted the first season to be viewed. My husband and I sat with our son on the couch, and we hit the button. We watched the first three episodes without moving from the couch, except for the usual run while it buffers the next episode and flying back to the couch. We were instantly hooked and we didn't want to be let go.
Everything about it was perfect: The players, the story, the music, and all of the little details they added. It was as if Lemony Snicket dealt with the script and directing himself, and I wouldn't be surprised at all if he did. And seeing it so star-studded only helped it—not in the sense of we wouldn't have watched it otherwise, but everyone was cast so perfectly that I couldn't even argue with a single cast member.
Especially Neil Patrick Harris. He was so amazingly perfect as Count Olaf. It was magic. And, of course, we loved seeing him sing in the episodes, for it was like Dr. Horrible's Sing-a-Long all over again and it was great. He's definitely perfect for the part; you might even forget about the old movie with Jim Carrey.
The storyline and set were amazing! There's not a thing—as far as I can remember back over the years—missing, and things added only boosted the adventure and mysterious quality of each episode.
Our family highly anticipated all three seasons to be posted, and binged through them like nobody's business. We were proud that they were true to the books and ended at 13. I was honestly concerned that they would try to keep going and risk dropping quality.
My son still watches the episodes and I am even more excited for one day in the future to see him unwrap a boxset of the books. And if for some reason Netflix decided to make a DVD set—if they haven't already—well, they will definitely be present in our home to be watched a million times over.
If you haven't seen Netflix's A Series of Unfortunate Events, whether you have read the books or not, you need to. It is definitely fun for the entire family, and you might learn some new words and songs along the way. Keep an eye out for all the big movie stars because you might be surprised of who you see!