Review: Men in Kilts Episode 1
A Roadtrip with Sam and Graham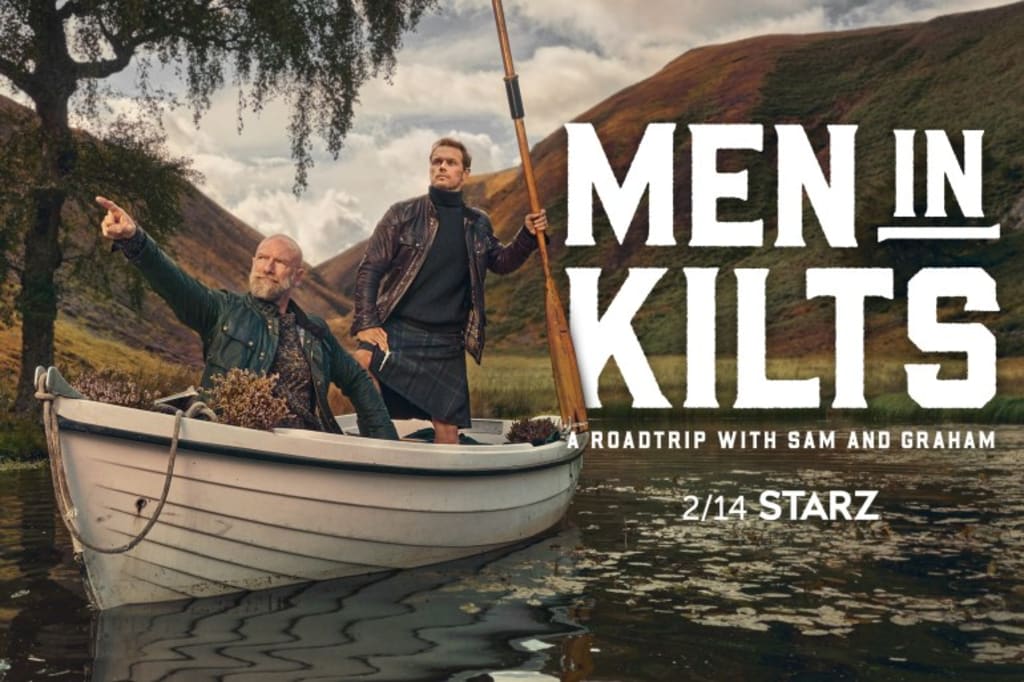 Men in Kilts: A Roadtrip with Sam and Graham follows Outlander stars Sam Hueghan and Graham McTavish as they drive their van through Scotland and experience the wonders of their country. Sam and Graham have a wonderful friendship and amazing on-screen chemistry together. Through the screen, you can tell that they truly enjoy spending time with one another. Their humor is smart and subtle.
When I first saw an ad for this show, I was super excited! I'm a huge fan of Outlander. As a travel show, I thought this would be something I could share with my 13-year-old son who can thank his father for his Scottish heritage. I showed the ad to him and he thought it looked fun enough to hold his interest. We sat down together on Valentine's day to watch Episode One as it premiered.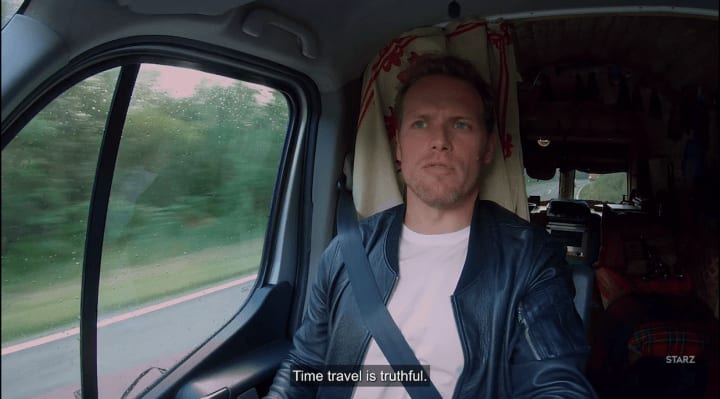 Before episode one begins, we see "adult content" and "brief nudity" warnings. My heart sank. Maybe they will be showing explicit clips from Outlander which will prevent me from watching this with my son. I tell him that we will try watching it but if I tell him to close his eyes, to just do it while I try to turn it off as quickly as I can. For now, we will hope that it's nothing too serious. He is also sad because he wants to learn about the Scottish heritage he got from his father but even so, he obliges.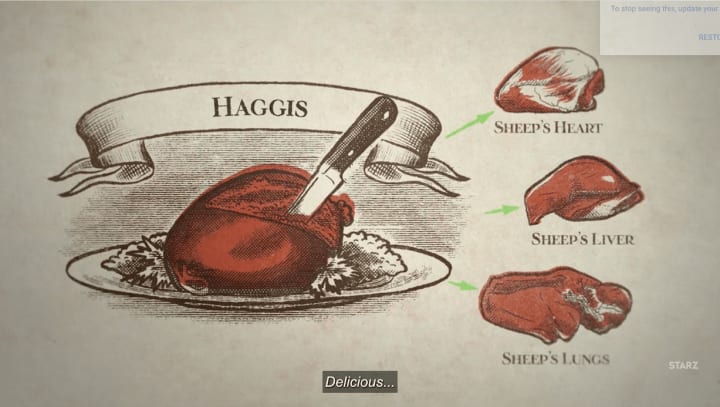 Episode one is titled "Food and Drink." A title which, while accurate, does not encompass the beautiful landscapes and traditional instruments we are fortunate enough to see and hear as Sam and Graham open the show with a voice-over to rival all voice-overs. Yes, Morgan Freeman, you heard me correctly. Sam says, "Scotland. It's an ancient land with incredible history and tradition, castles, warriors, and battlefields." Graham tells us, "It is a land of dark secrets, one-of-a-kind music, delicious bounty, and some of the warmest most welcoming people in the world."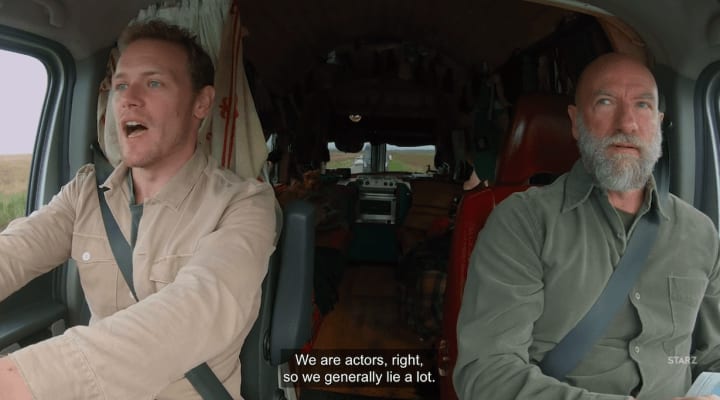 Graham then likens the geographical elements of Scotland to that of woven tartan fabric. As Sam and Graham discuss the Men in Kilts television show coming to fruition, we hear a melodic guitar tune while we see clips of parts of their van, including the tin of shortbread without which it wouldn't truly be a show about Scotland by Scotsmen. Sam and Graham tell us that they were lucky enough to work on a show about Scotland that shoots in Scotland and allowed them to see parts of the country that they may not have visited otherwise. This experience aided Sam and Graham's thirst for exploration of their homeland.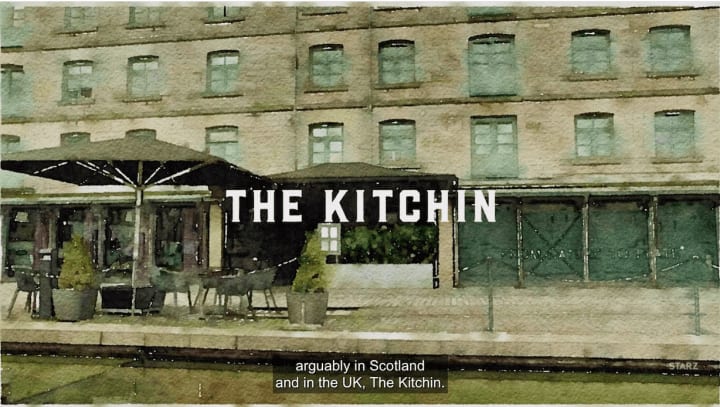 Sam and Graham first visit Edinborough. They dine at The Kitchin, a four Michelin star restaurant. Tom Kitchin, the proprietor, shows the hosts the fresh seafood, most of which was taken from the water earlier that day. He then cooks a handful of beautiful dishes for them. Following their "religious experience", they discuss the inevitability that growing up with the name "Kitchin" would lead the Chef to his occupation. Followed by jabs at Sam's driving. Though Graham would prefer to be the passenger, as it allows him to moan and complain. Sam agrees with Graham that it is always entertaining.
Next, our charismatic hosts take us to Pittenweem, a fishing village in the Kingdom of Fife. Here, they board Captain Kirk Doig's boat, the Charisma. They help the captain fish for prawns. They also catch langoustine, lobster, and various fish in their net. Before heading back to shore, Sam is sure to make a Star Trek joke to Captain Kirk, which I'm sure would have been quite funny to those that are a fan of the show but went right over my head.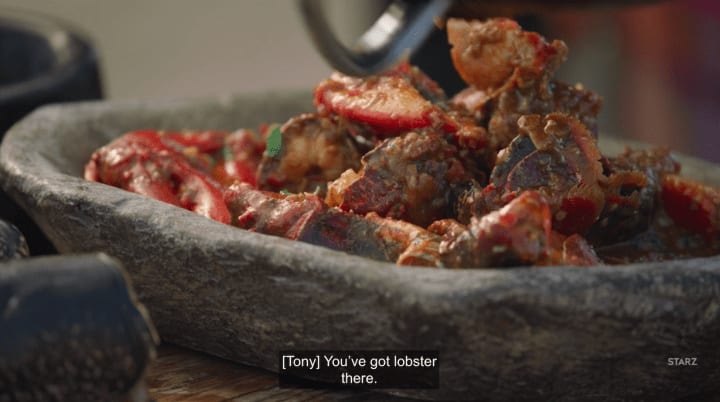 Sam and Graham bring some of the prawns, lobsters, and langoustines they catch to shore with them where they meet Chef Tony Singh. Chef Singh teaches the hosts how to prepare the fresh seafood. While preparing the meal, the Scottish Sikh chef teaches the hosts a bit of Punjabi while also making a joke about Norse mythology. Prior to parting ways, the hosts invite the chef to come along with them on their journey. Chef Singh replies with yet another witty retort. He tells the hosts he will come any time, they just need a signal, ala batman, but perhaps a langoustine might be more appropriate.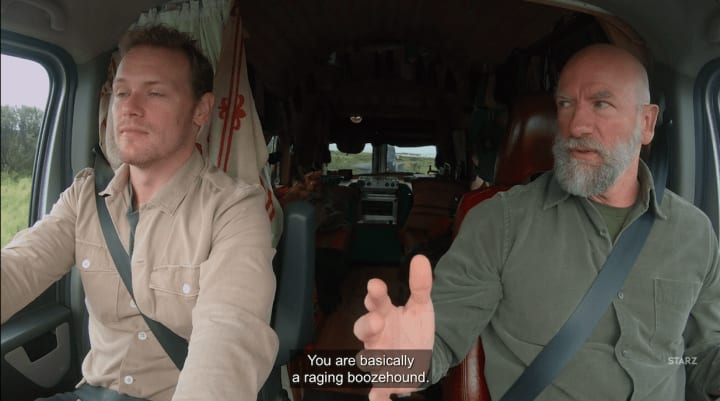 On their drive to Islay to learn more about the national drink: whisky. Sam and Graham discuss the lies they have told so as not to be turned down for roles. Such as their wonderful horseback riding skills. We learn that Islay whisky is a smoky whisky. The smoky flavor comes from smoking the barley in peat. Peat, years and years of decomposed vegetation, is found in abundance in the bogs of Islay. While harvesting peat, distillery manager, John Campbell, jokes about the cow horn on the end of the tool they use. As a side note, I have not yet watched this show with my husband, who I know will see the name "Campbell," spit, then tell me how much he hates Clan Campbell.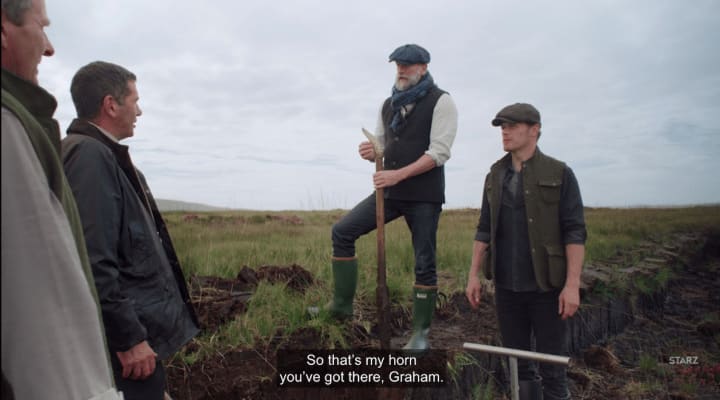 The episode ends with Sam and Graham enjoying a dram of whiskey while they discuss the wonderful things they've enjoyed during the making of this first episode. They then tell us about the things they still have to explore such as history, sports, music, clans, landscape, and Culloden. During this conversation, we finally see why there were warnings prior to the start of the episode. There is a quick shot from behind a naked man, either Sam or Graham I presume, running into the ocean. The show wraps with a shot of their van and the langoustine signal in the night sky.
During the credits, we see a humorous conversation between Sam and Graham about men in minikilts. We then see scenes from the next episode which will focus on sport. Anyone who has seen or participated in the Highland games at their local Highland gathering or renaissance fair should be familiar with some of the sports they preview. As informative and entertaining as Episode One was, I look forward to an even more informative and entertaining Episode Two.
tv
About the author
Sports mom, Dog mom, High School Cheerleading Coach, & Affective Ed/Social Skills guru who loves to write about various subjects.
Reader insights
Be the first to share your insights about this piece.
Add your insights