Review: "King Richard"
Will Smith gives a powerful and layered performance as the enigmatic and controversial father of tennis greats Venus and Serena Williams.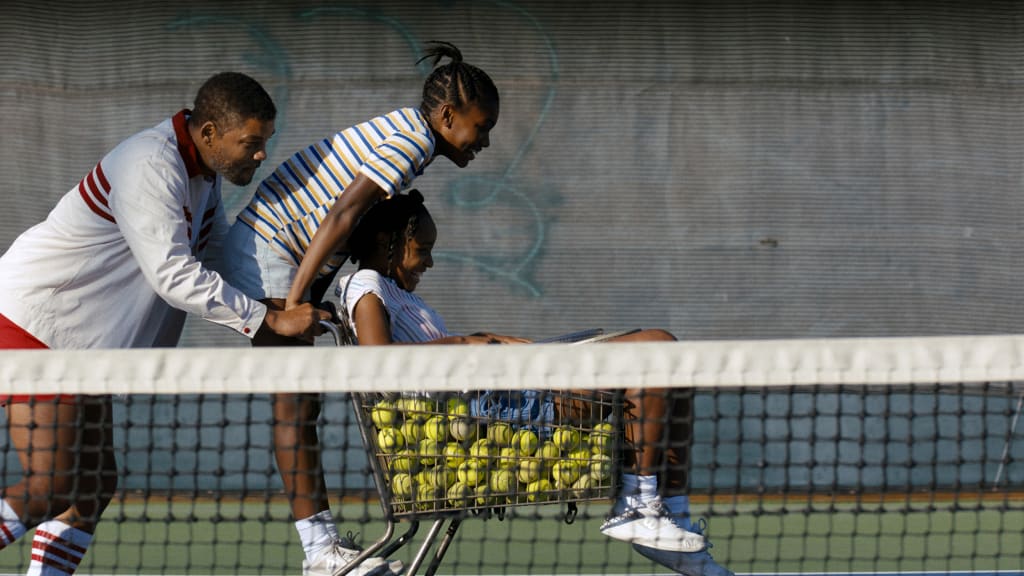 Many sport films follow a simple formula that all too well feature a heartwarming underdog story and at its heart that is exactly what King Richard is. On top of that, it also seems a bit of an "Oscar-bait" type of film as it features arguably one of the best performances of Will Smith's long career. The film tells the story of the man behind two of the greatest tennis players to ever grace the sport, their father, and his pursuit of stardom for them both. During Venus and Serena Williams ascension to stardom, something that constantly made headlines at the time was how controversial their father was. You'd assume this film at its core would be about the two sisters but instead, it shines the light on the father to paint him in a better picture than the media ever did. In the process, it instills in the audience that it is always important to keep sight of what truly matters, the ones you love and protecting them.
The plot follows Richard Williams (Will Smith) as he has a clear vision and regimented plan for his prized and absurdly talented daughters. He is determined to write his two daughters, Venus (Saniyya Sidney) and Serena (Demi Singleton) Williams, into the history books of the predominately white sport of tennis. For Richard, it is a bit more personal for him as he sees tennis as a way for his daughters to avoid a fate he endured himself living in the dangerous streets of Compton, California, and often has to take a beating from the local thugs to keep his daughters save from such heckling. Richard also pushes them to stay focused on their studies as it views it important for them to have a strong educational foundation to fall back on as he and his wife Oracene (Aunjanue Ellis) want to raise not just the next great tennis players but also their other three children. Together, the Williams family looks to defy all the lofty and seemingly insurmountable odds levied against them.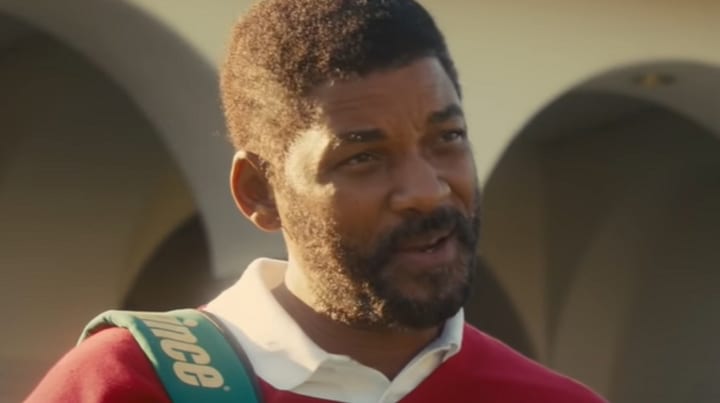 The strength of the film lies within the main character and Will Smith, to no surprise. He has had a long career filled with captivating performances but this may just be his best, rivaling that of his turn in Pursuit of Happiness. It is an uplifting performance and a complete performance as at times he is almost unrecognizable in the role of Richard Williams and captures the love and care that he has for his five daughters wonderfully. Aside from Smith, his co-stars also lift the movie up off of the page as the two young actresses that portray the tennis greats do a great job as well. The chemistry the two have with one another makes it completely believable that the two could be sisters. Aunjanue Ellis also does a great job as the mother.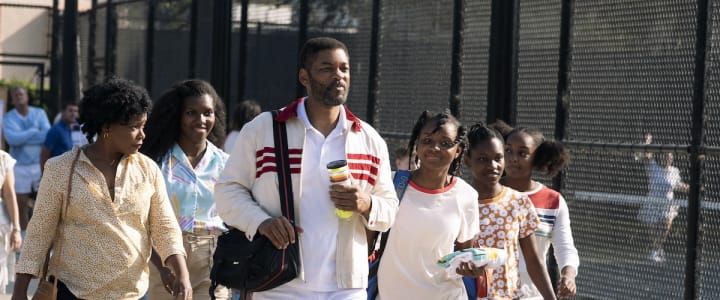 The film tackles themes that are all very familiar in sports films, such as racism and prevailing against the worst odds. However, through the expertise at which director Reinaldo Marcus Green paces the film, it never feels unoriginal. It is an incredibly emotional film from start to finish that really makes you feel for the title character as he is frequently berated and looked down upon in a sport that routinely has certain expectations of its stars. At times as the film progresses it also makes you feel bad for child stars within the sport as they are almost made out to be robots and forgo education and being children in favor of being churned out into a star like a tennis factory. Richard Williams, for all his controversy, always maintained the stance of family first and letting kids be kids. That at its core is something everyone can get behind and agree upon.
In a way, King Richard, wears two hats. One is a sports movie and the other would be a biopic film that closely follows the trials and tribulations that a father endures navigating a landscape that frequently turns away people like him. The problem with going between those two genres is it manages to hit the sweet spots of both all the while falling to the cliches and weaknesses of both. At times Richard Williams is absolutely infuriating to watch as he makes some decisions that are nearly impossible to reason with, but producer Venus and Serena Williams must have been unwilling to ever portray their father in anything other than in a positive light considering the way the media portrayed him when the duo was growing up. However, in doing so, the film manages to narrowly escape from being a completely predictable film. The climax of the film will also surely divide some fans as it can be a bit anti-climatic to some but the director does a phenomenal job crafting a tennis match that has plenty of stakes and drama. The film's strengths again lie within its performances given by Smith and that mixed with its underdog theme will surely find endear itself to audiences.

movie
An avid movie watcher, and I have been writing short stories and novels on the side for years now. Hoping to hone my craft here on Vocal!