DC Universe
#ReleaseTheSnyderCut: Will It Happen?
With Gal Gadot, Ben Affleck, and Jason Momoa tweeting support, will 'Justice League's Snyder Cut actually be released?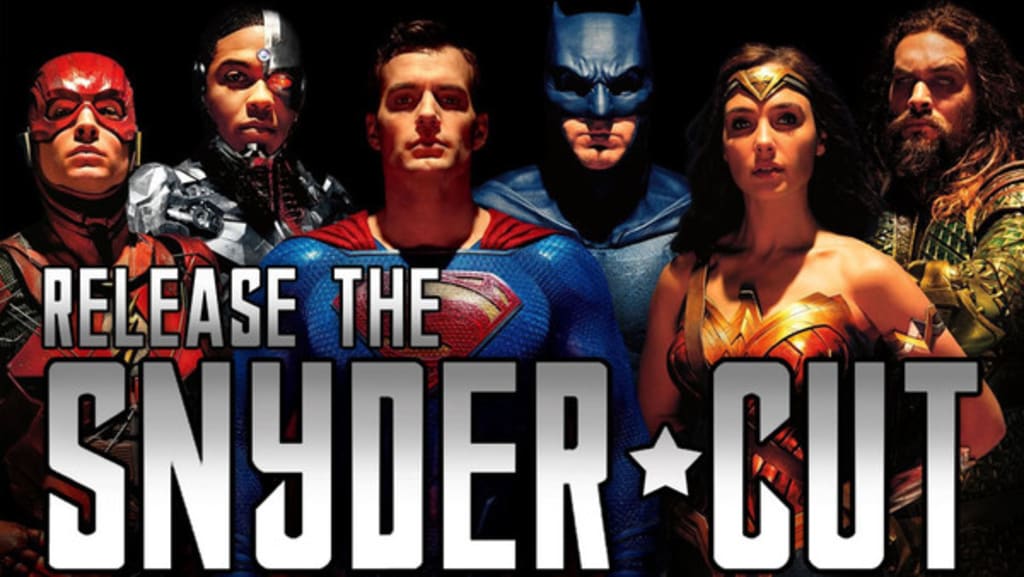 http://cdn3.whatculture.com/images/2019/11/196a68f477d06df2-600x338.jpg
#ReleasetheSnyderCut, already.
The existence of a Zack Snyder version of Justice League is not new. It's fairly common knowledge that Snyder, who was directing the film at the time, left the film in order to focus his energies on his family following the suicide of his daughter. Replacing him, Joss Whedon, who was, of course, the director of Marvel's The Avengers. Reportedly, it was only planned that Whedon would do whatever pickups and other shots that might be necessary in order to finish #JusticeLeague prior to its November release date. It was expected that Whedon would still retain Snyder's initial vision for the film.
While #JusticeLeague actually did OK at the box office, it fell far short of expectations, which basically was setting the DC group of superheroes up to be the equivalent of Marvel's The Avengers. Because Justice League didn't quite reach the expectations that were initially set, there has been an underlying current or belief that there was something more that hadn't been released with the film when it hit North American theaters in November, 2017.
Certainly, #ReleasetheSnyderCut is a hashtag that has surfaced on social media on occasion since Justice League hit theatres. However, it was not until recently that the existence of a Snyder cut of the film has actually been confirmed. #JasonMomoa, who played #Aquaman, released a totally wicked shot on Instagram of his character impaling Steppenwolf with the hashtag #releasetheSnydercut.
Director Kevin Smith, best known for films like Clerks and Dogma, acknowledged that there was a Snyder cut of Justice League, but that it was most definitely not a completed film.
"There were things that went away from the story that they shot that didn't wind up going into (visual) effects or anything like that," he noted, according to The Mix. "So I would assume, based on what I've been told, that large sections of that Snyder Cut are, you know, pre-viz (with) a lot of green screen. We're not talking a finished movie."
Smith guesstimated that it would likely cost the studio $10 million in order to finish the film.
Both Gadot and Affleck have come out on Twitter, imploring for the release of the Snyder cut of #JusticeLeague. Both actors have left the Twitter message pretty much as the hashtag: #releasetheSnydercut.
They aren't alone, however. Joe Manganiello, who played Deathstroke, and Ray Fisher, who played Cyborg, have also posted previously-unreleased shots from the film and tagged them with #releasetheSnydercut.
With the upcoming launch of #HBOMax, buzz surrounding the potential existence of the so-named "Snyder cut" of Justice League has started to rise again. To be sure, there's a lot that can happen between now and the launch of HBO Max, particularly since the streaming service is not slated to hit servers until May 2020, but there's nothing stopping the rumor mill from heating up nearly six months out.
I was someone who really loved the version of Justice League that hit theaters. #GalGadot is quite probably one of my favorite, relatively new actors in films lately; there's something very warm and relatable about her version of Wonder Woman, and as far as I'm concerned, she and Momoa were the heart of Justice League. This is not to say that the other actors stood around looking pretty, but there was just something about Gadot that I loved in the movie, and whenever she was onscreen, I think she was pretty much the focus. As far as I'm concerned, Justice League was pretty darned cool, and Jason Momoa's version of Aquaman really was one of the more exciting characters in the DC Extended Universe.
If the #Snydercut of #JusticeLeague is finally released, I have to admit, I will rather enjoy seeing what the differences are. I may just come to enjoy this film, even in its unfinished state, as much as the original.