ReFrame the World: Gender Parity Success Stories
Tribeca Film Festival: Women in Film Panel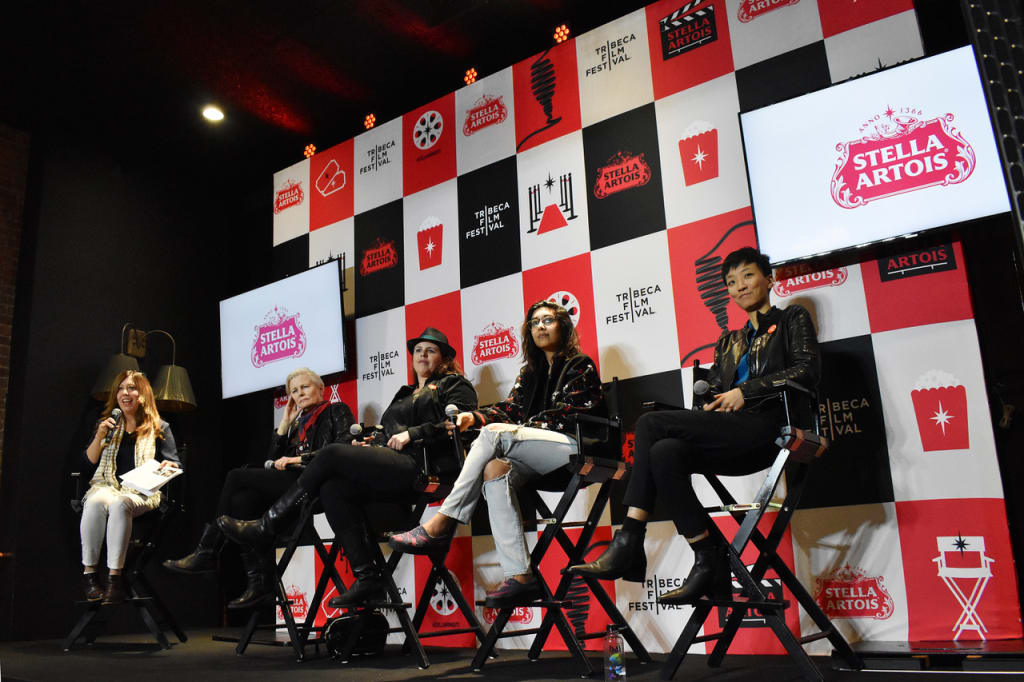 Kirsten Schaffer, Mary Harron, Tanya Wexler, Sonejuhi Sinha, Zoe Sua ChoPhotography By Mustafa ÖNDER @mustafaonderphotography
Tribeca Film Festival keeps delivering a great selection of series and panel discussions, year after year, including women's stories, talks of diversity and inclusion.
This year, the festival brought ReFrame, a partnership between Sundance Institute and Women In Film, with a panel about storytellers who are changing perspectives, and shifting culture with compelling films that feature diverse talent in front of, and behind the camera.
Moderated by Kirsten Schaffer, executive director, Women In Film Los Angeles, with panelists including: Director Mary Harron (Charlie Says), writer and director Sonejuhi Sinha (Stray Dolls), producer and editor Zoe Sua Cho (House of Hummingbird), and director Tanya Wexler (Buffaloed).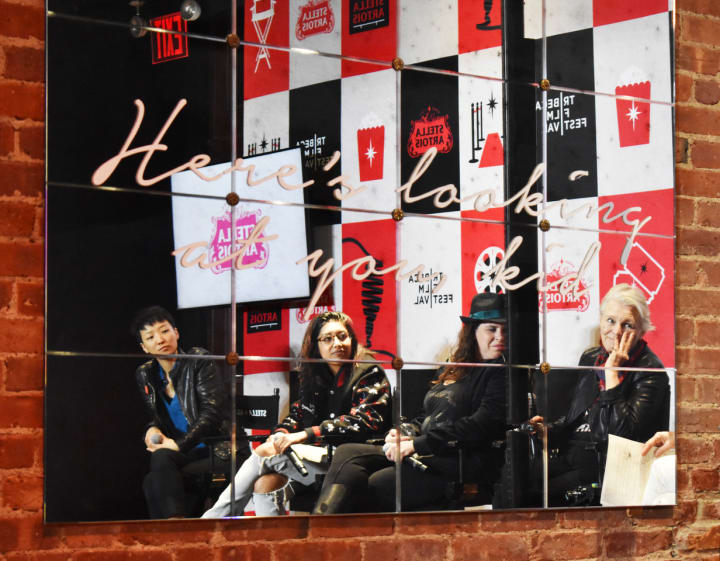 Before introducing the women filmmakers, Kristen talked about the ReFrame program.
We started it about three years ago, after doing a number of years to better understand where and why women fall out of the pipeline. I'm sure many of you are familiar with these statistics. 50 percent of the people in film school are female, 25 percent of the films coming out of the Sundance Film Festival over the last 13 years are by women, and 40 percent of the top grossing films are directed by women. So we have 50 percent in film school, 25 percent of independent film, 4 percent in the top grossing movies. We designed a program to try to change it. We work on establishing a really clear business case, making sure everybody knows that women make money, and movies about women, made by women, are good for business.

One of the things we realized that we could do was issue a stamp for films and television shows, kind of a reward system, such as a lead certification or a good housekeeping seal of approval. Something that people would recognize, get excited about, and want to see films with a stamp.

The panelists have all made films that are playing at the Tribeca Film Festival. Another common ground: They all got the ReFrame stamp.
Kirsten Schaffer:How did you come to the script, develop the script and put the teams together?
Mary Harron: This project came to me through Guinevere Turner, whom I've worked with for the last 25 years. We wrote American Psycho, and The Notorious Bettie Page together, and she was telling me for a couple of years now that she was writing about the Manson Girls. I thought it sounded really interesting, writing about the Manson Girls in prison, as well as the story of the murders. So I said, I would do it if the director dropped out, and that's what happened. Then we got the ReFrame stamp where the writer, director, the Manson Girls cast, and a female producer were a whole female team.
Tanya Wexler: I'm not a writer/director, I'm just a director/director, which is great, but then you're always waiting for the right script to come along. What happened for the first time is that the director dropped off, and someone hired me instead of building everything from the ground up. What was great is that Zoe Deutsch is the lead of the film, she's also the producer, and the director who dropped off was a woman. I think she basically just held her ground, and said, "I want to make sure we meet every female director available." She and I met, I saw this film that was really a traditionally male role, but knew Zoe was this incredible powerhouse who's going to turn into the biggest movie star, and I wanted to see her do that role.
Sonejuhi Sinha: I'm a writer/director and my project, Stray Dolls, really started about four and a half years ago, in 2014. I was actually volunteering for the women's prison association, and began to come across several stories of women incarcerated. From that theme I wanted to create character driven stories, about a flawed central character, which was a woman and a woman of color. So four and a half years ago, with that theme in mind, I made a short film called Love Comes Later, with very little money. It premiered at the Cannes Film Festival in the official competition. Then that sort of catapulted me towards all these labs and development support through various festivals. But, despite those labs and grants, it was quite a challenge to get financing together, and a female writer, director of color, with a lead that's a woman of color. It's a story about two women who fall into a life of crime. We sort of went through this rollercoaster several times, until I decided to produce it with my co-writer, Charlotte Rabate. We partnered with another production company, and then finally ended up getting financing. I started to realize that as writers/directors who are women, and possibly women of color, it's important to produce our own stories. Otherwise, the risk was just not having this project made at all. The learning process was that I had to serve to wear all those hats too, to get the film made.
Zoe Sua Cho: I'm here with a film called House of Hummingbird. I am the producer and the editor of the film. Our premiere starts in 20 minutes, so the director couldn't make it. The film is an autobiographical film, written by Bora Kim, the director. She started writing the film, I believe about six or seven years ago. We made a short film together. It was called the Recorder Exam. This was Bora's thesis film at Columbia University.
House of Hummingbird is an expansion of the short film. It follows a 14-year-old girl, set in Seoul, 1994 in Korea. It's the year when the Seongsu Bridge, which is one of the major bridges in Seoul, collapsed. This was at a time when the economy was booming, and things that we overlook because of rapid growth. And over the year we follow the story of Eunhee, the main character, the various relationships that she has as she's looking for love. She ultimately meets this teacher, a Chinese teacher who really has a bond with Eunhee, and the first adult that ever really understood her.
The film financing was mostly coming from Korea. I think we managed to get every single grant there is in Korea over the course of five years. So, it was this tiny budget movie. We did a lot of the work in the USA; we edited the film in Chicago, which is where I've been living. And we received support from Sundance Institute, IFP, and a number of networks that we attended where we were able to get support in post-production. We premiered in Busan last year, and then in Berlin, where we won the award for Best Film Generation. Today, we have the US premiere of the film.
Kirsten Schaffer: Let's talk about crewing up and challenges around that.
Tanya Wexler: We had to hire all locals in Toronto, so that limited the pool of people I could hire. There's only so many female DPs in the world. I basically said I want the list to be as close to 50/50, or more, as I can. I hate to be the person to say this, because I've been on the other end of this for my entire career, but every female DP who had even close to enough experience to achieve what we need to achieve, was already working.
All the female DPs who are available in Toronto were booked. I got the name Casey Brooks, who did Obvious Child, and thought I'm going to have a female editor. Casey is a dude. I called and asked How many interviews do you get with feminist filmmakers? He goes, "A lot."
Kirsten Schaffer: Mary, how was that for you shooting in California? Was it different at all?
Mary Harron: I feel that at some point, I should make a more concerted effort to have more women in the crew, outside the traditional departments, to always have a female script supervisor. I mean, it's very difficult with DPs. But at some point, I do realize that I could say that about directors, they don't have enough experience. You know, I'm sure people said that about me. So at some point, this is kind of a reminder that sometimes you should just go and say, I set myself this task.
Tanya Wexler: You're usually given a box to fit in, in terms of geography and the budget. There has to be another way you can sort, because there's only so many people you can import, on a small budget.
Mary Harron: I would say it's very important just for the texture of the crew, to have women in really traditional male roles. We had a female grip on set, and that was great. The very first film I did, because it was non-union, we had a lot more women in the crew than I've ever had since, because I then went union.
Kirsten Schaffer:Stray Dolls was shot in New York. How was that experience?
Sonejuhi Sinha:I actually had a certain crew on my short film that I knew I wanted to take and work on my feature together with. Some of them were men, such as my DP and my editor. However, we did have a lot of women; female production designer, female sound, and a female gaffer. We made sure that we had a really nice balance of women on set, although in Poughkeepsie, we did have to hire some local crew there, and that was just almost impossible to get women. I would say it was almost at least 45/55 type of situation. Then again, I was the writer/director, and I have two female leads, so it was a very female production.
Kirsten Schaffer:You talk about the film industry in Korea and sort of the gender breakdown. Do you find that similar to what your colleagues are talking about here in the US, or is it different?
Zoe Sua Cho:I think it's pretty similar over there as well. In terms of filmmakers, I think writer directors who are female are very supportive, but very rarely do they get a chance to direct a blockbuster movie in Korea. The studios think it's too big of a risk. They want you to first direct a melodrama, to prove you can make a film. In terms of crew, for House of Hummingbird more than 50 percent of our crew was female.
Kirsten Schaffer: I'm going to switch gears just a little bit and talk about content. A lot of us who are doing this work are trying to achieve gender parity, or doing it just simply because we believe in equality. I think there's another side of that, too, which is about the stories that get told. I also want the stories to reflect the population, and a true diversity of women. I want to ask if you feel any pressure to make a certain kind of a movie, or if you feel the industry doesn't really allow you to make a certain kind of film.
Sonejuhi Sinha: As I mentioned earlier, the central character is a recent immigrant who happens to fall into a life of crime. I deliberately wanted to create a story that had a flawed and subversive character at the center of it because I think we haven't seen it. We've seen the sort of really good box of women, and especially women of color. And then we see the complete opposite, which is pervasive in media as well, just the total criminal. But we don't see anything in the gray, in the middle, where we see stories about people who we want to root for, but they're making flawed decisions, because of their flawed circumstances. So I really wanted to play in that gray area, because I think complexity is interesting and human. Unless we see women and women of color as fully human, we don't get to relate to them.
On my journey in making that character, I did encounter people reading the script and sort of thinking that it was too edgy, or too provocative, or that maybe it wasn't ready. We weren't ready to see a character like that. That's exactly the reason why we need to have a character like that. It would be a risk not to, we start to break open that box of who we put in these boxes, and who gets to tell those stories. We've seen Michael Corleone, we've seen amazing complex male characters in the canon of cinema, but we don't see that with women, specifically women of color. So I think we have a long way to go. It was a challenge, but also exciting to break that ground and develop Stray Dolls.
Kirsten Schaffer: When you were out talking to financiers, were you pushed to try to change those characters?
Sonejuhi Sinha: Yes, definitely. I had to fight for every nuance of her, fight for every mistake that she gets to make onscreen, and fight for every time she is not empathetic, which is such a weird word to me. Make a sympathetic, empathetic character. But, I think you're robbing them of complexities if you just try to make them a victim, or if you try to simplify them. Of course you empathize if it's nuanced and complex, if you see parts of yourself in them.
Kirsten Schaffer: Mary, your film is all about criminals. I wonder if you have encountered this?
Mary Harron: Yeah, I have to say people will find this with male characters as well. When people finance something, they think in a completely diluted way, that the more sympathetic people will be, the more the main characters are nicer. And that's never been true. The Manson Girls are so obviously problematic, so you either make a film about them, or not. I think a lot of people were put off by that.
Sonejuhi Sinha: That reminded me of a quote, Rainer Werner Fassbinder, German author, said, "The revolution belongs off screen and not onscreen." We have the power to present problems and questions, not just offer easy solutions. If you offer these questions, the audience gets to think about it, and create their own revolution, and so that happens. We, as filmmakers, shouldn't be responsible to create that on screen, to just give the answers. But, people are scared of that.
Tanya Wexler:I think it's funny that, I don't know about Zoe, but the three of us made movies about women who are criminals. There's a subversive territory there. There's always this question that tries to figure out what your brand is, or where you kind of fit in the industry. I think my brand is inconvenient women. This idea of when playing roles, we don't generally like them to play.
I believe there's a flaw in the statistical, in the data gathering design, when the questions are did you like her? This idea that if you can take a character, in this case, an anti-hero, and like her, that you'll like the movie more. There's almost an implied correlation. But, we know from years of mailing anti-hero that people sometimes love those characters, or love to hate them, or love to secretly identify with them. So I wonder if we are pulled away, or like them less, when they are female characters, as we hold female characters to a higher ethical or moral standard.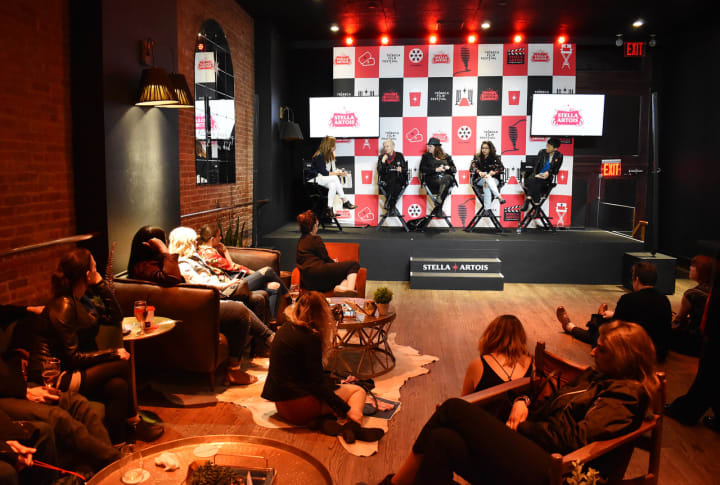 The films Charlie Says, Stray Dolls, House of Hummingbird, and Buffaloed are part of the 2019 Tribeca Film Festival, April 25–May 4 at various venues around New York City. To get tickets and more information select here.
Find out more about ReFrame here.