Rana Naidu Web Series Review: Remake of Ray Donovan
Rana Naidu Web Series Good or Bad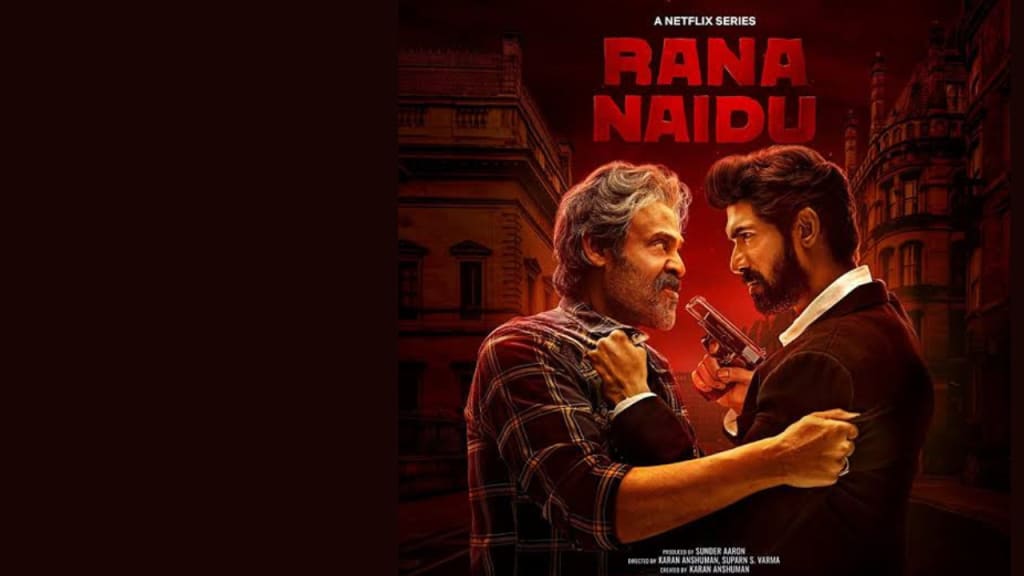 Rana Naidu Web Series Review
Rana Naidu Web Series Review: Guys Recently, an action-type webseries called Rana Naidu was released on Netflix, which I have thoroughly watched and will inform you whether it is acceptable to spend your time watching.
First of all, Rana Naidu is a Hindi remake of the American crime thriller series Ray Donovan, where the story is of a fixer who solves the difficulties of big celebrities. Now there is one thing about this mechanic, who has a total of four sons.
That father is currently serving a sentence in jail.
And after around fifteen years, he comes out of jail after serving his sentence.
After that, he meets his son, but nothing special happens between son and father, so to find out what happens next, you must watch this Netflix show, which has ten episodes and a running time of 50 minutes.
Rana Naidu Web Series Review
If I give a review of the Rana Naidu web series in a few words, it's a decent show; it has flaws as well as goodness, but I still believe that you will be able to enjoy watching this show.
First of all, the story of this series is very good. I mean, inside Bollywood, what is the filth, how scandals keep happening, how dark their world is—all these things have been well highlighted.
The way the dark sides have been explored, I really loved it. The conflict that existed between the father and the son may not be convenient in some places, but you will still enjoy it.
The thrilling portion was quite good; it offered a different experience because of the show presentations.
The core center of this show is family drama, which has been presented decently, but some twists and turns are also present. I would say that the overall work is OK.
Karan Anshuman and Suparn Verma are the creators of this webseries.
Previously, Karan Anshuman directed the well-liked program Inside Edge, and this program shared some similarities with Inside Edge.
And the actor has given a good acting performance in this series, especially Venkatesh Daggubati, whose movies are mostly remakes, but in this show he has played a badass type character. On the other hand, Rana Daggubati's performance was also no doubt good.
Abhishek Banerjee's approach may surprise you at first, but once you get used to it, things will feel natural.
The work of the rest of the star cast was also decent.
For the audience who likes spicy shows, this web series will be best because there are very spicy elements here.
The dialogues of this series are such that I am sure memes on memes will be made in the coming times.
Rana Naidu Web Series Cast
Venkatesh Daggubati as Naga
Rana Daggubati as Rana
Afrah Sayed as Nitya Naidu
Surveen Chawla as Naina
Abhishek Banerjee as Jaffa
Priya Banerjee as Mandira
Adithya Menon as Srini
Milind Pathak as Vijaywada Maharaj
Ishita Arun as Anna
Tenzing Dalha as Arjun
Lauren Robinson as Laura
Samarth Shandilya as Toofan
Anuj Khurana as Aman
Zessica Harison
Flora Saini
Ashish Vidyarthi
Rajesh Jais
Sushant Singh
Drawbacks
The phase of this show is unknown, which means that in the first 1-2 episodes, the phase was amazing, especially in episode 1, but after the third episode, the phasing kept getting worse.
In this show, abuse has been used beyond limits, and adult scenes are also plentiful.
Rana Naidu Web Series Good or Bad
Personally, I didn't understand the ending of this series, and I haven't been able to figure it out yet. I think I will have to watch the end of this show again, but yes, you can definitely experience this series one time.
Keep in mind that this show is not at all like the types of shows that are enjoyed with family.
So guys, this was my review of the Netflix show Rana Naidu. I hope you enjoy.
See you soon.
Reader insights
Be the first to share your insights about this piece.
Add your insights