Queen & Slim
Directed by Melina Matsoukas and Written by Lena Waithe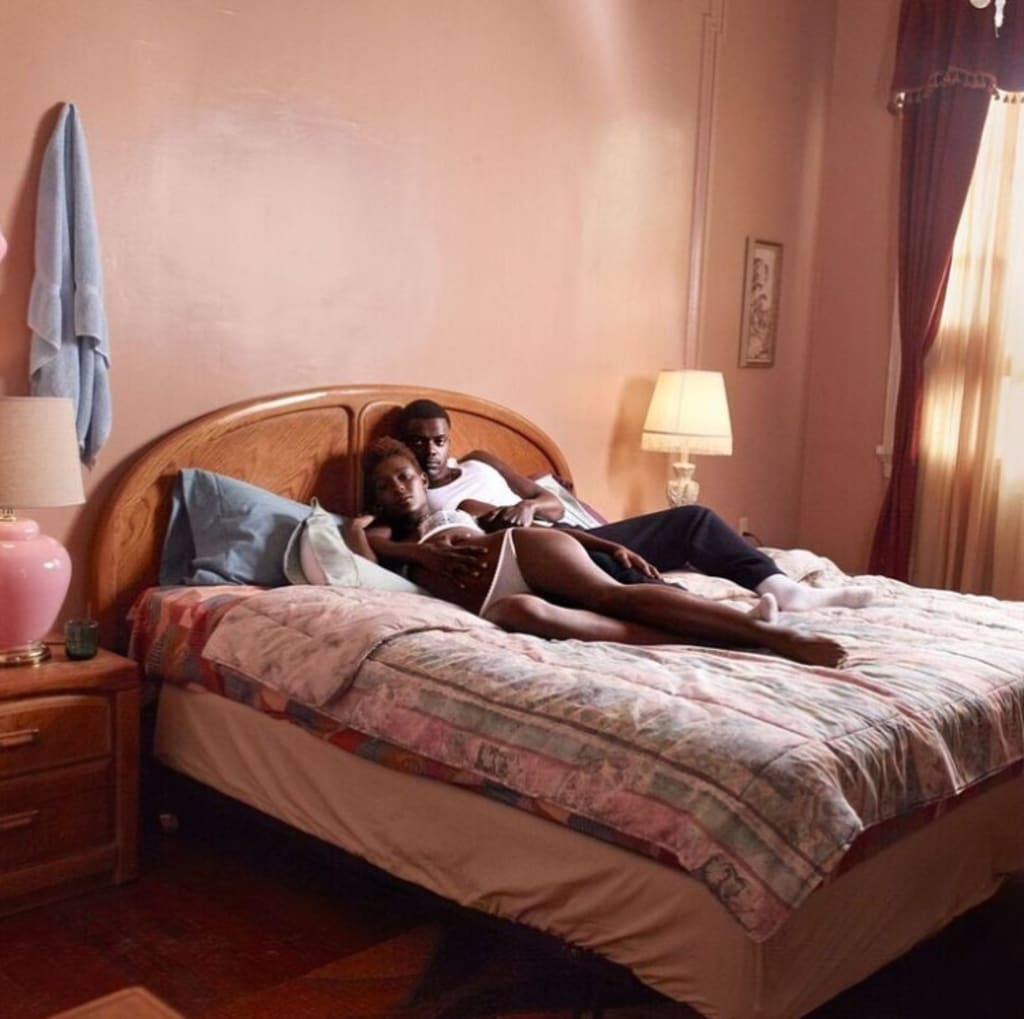 This is not a black Bonnie and Clyde story, it's a powerful authentic portrayal of real life reactions of survival for two strong black characters to escape a reverse of "police brutality" meaning the idea is clear the white cop was going to kill a black man on the verge to than shooting a black woman he's on a date with, while the cop completely disregards this woman simply because she's black in assumes she's a threat. When all she's saying is I am a lawyer, what's your badge number. All leading from cold acts of disregarding their basic human rights leading to further colder acts in a cold environment involved with the police who's shown they lack to take accountability for their actions, from that moment throughout. A story sort of seen before but never in a black context. A black man killing a cop in self defense, always keep that in mind for those with biases. That's no spoiler by the way, and most of my article's contains no spoilers along with this piece I don't like to ruin experiences. Nonetheless a strong, timeless, impactful film, and piece of cinema for the ages while being a love letter to black people. Showcasing black woman as queens regardless of background in a society that sees them as less regardless. Starring Jodie Turner Smith and Daniel Kaluuya.
Iconic Black Woman Director of this Film Melina Matsoukas
A true artist of defining herself with her own true unique style of filming, cinema, creating visuals/videos, and music videos. Diving into the color theory, tones of color, and pacing throughout this scene in particular throughout the movie that envolks moments of feeling and them falling in love. True black love at its pure essence of beginning and cultivating into a beautiful place of being from them.
Lena Waithe words through press are backed by a strong story and overall piece of work
Lena has been criticized for speaking to much on her film besides letting it speak for it's self. When she was only basically referring to white people and of course my people, black people that this is a urgent piece of art that needs to be released to help humanize black people, to further show to white people what's real to us in America and the world that us as black people haven't been considered as that still til this day. Show and proving we are human just like anyone else.
Black Excellence?
Does black excellence just justify your black trauma? A interesting question as said differently in the movie. "Why do us as black people always need to be excellent." Which spawned from as told in a dope conversation above first by Daniel Kaluuya stated. "You know dad always said black excellence is a product of black trauma." Than leading to Lena's comment; "it made me think about that, then it's like oh yeah I'm striving to be excellent to justify the space I take up." Interesting just take time to think on that one.
Music Score composed by Dev Hynes (Blood Orange)
A solid musician, the artists at work in this film are widely held top tier professionals apart of their fields of work. Good music by black artist curated to the film in a nice fashion.
The End and Overall Rating
Queen & Slim overall a solid 9/10 rating for me and 4/5 stars from who I went to see the film with my lovely adoring mother. A near masterpiece film for myself the tone is understandable but if the pace was a little quicker still with the emotions intact it'll be damn near perfect to and hopefully this doesn't get lost in the mist of a oversaturated similar theme of story's about these topics. Nonetheless the movie is original in story, strong written, the explaination of where babies come from is my favorite part and center heart-piece for me. Lastly with strong, focused, performances and dope cinematography a solid 9/10.
The end written by Yenomi Wesley.