Processing My Feelings through Basquiat.
These uncertain times have brought on uncertain feelings that only Jean Michel Basquiat Understands.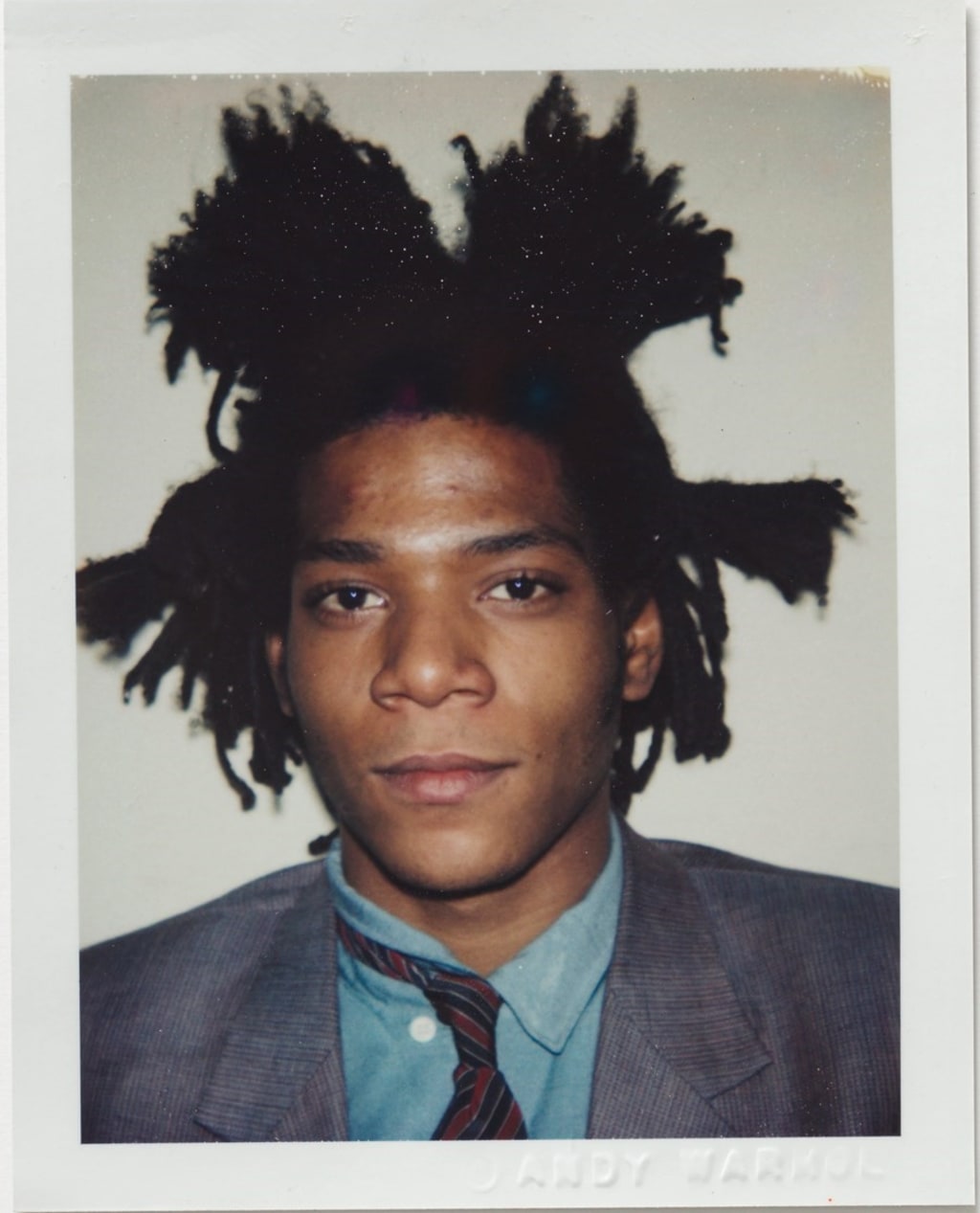 Polaroid of Jean Michel Basquiat by Andy Warhol
Jean Michel Basquiat was a graffiti artist who gained notoriety in the 1980s for his gritty neo-expressionist style. Neo-expressionism is a style of art that communicates vivid and jarring images which often leaves viewers feeling a sense of tension, alienation and ambiguity. Jean Michel Basquiat's work focused on the internal struggle that we can all relate to in this pandemic.
1. Riding with Death- 1988
This was one of Basquiat's last paintings before his death, from a drug overdose that same year. The skull in the painting captures my attention and reminds me of the tough decisions that had to be made during the height of the Covid-19 pandemic. Following the restrictions enforced by governments, quarantining and constantly sanitising in order to avoid catching a deadly disease. Being faced with death is no longer a metaphor but a very real possibility and it is frightening. This painting captures that fear with the stark contrast between the earthy brown background and the milky white skeleton figure.
2. Flexible, 1984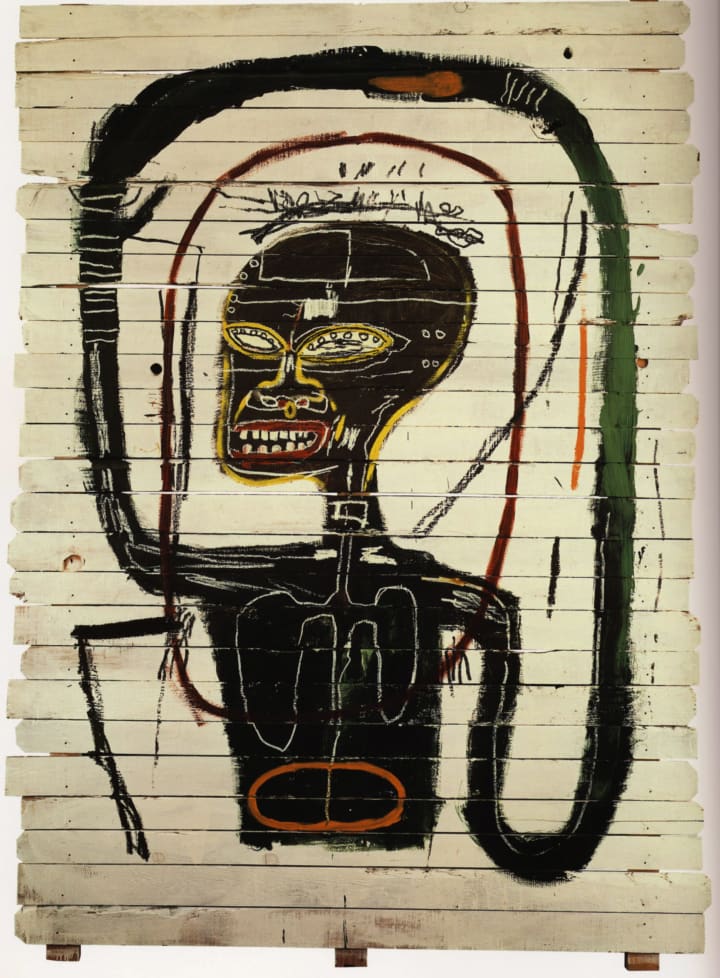 This painting portrays Griot, a storyteller, entertainer and purveyor of stories from West Africa. In the era of the internet, we aren't just people we are brands and our stories are advertised constantly. Much like Griot, we are contorting ourselves to constantly please others with the dramatic retelling of our lives. The constant pressure to keep people interested in you is what I can see reflected in Griot's facial expression. Every one of Griot's stories has to be better than the last, similar to how every social media post has to be better than the last.
3. Furious Man, 1982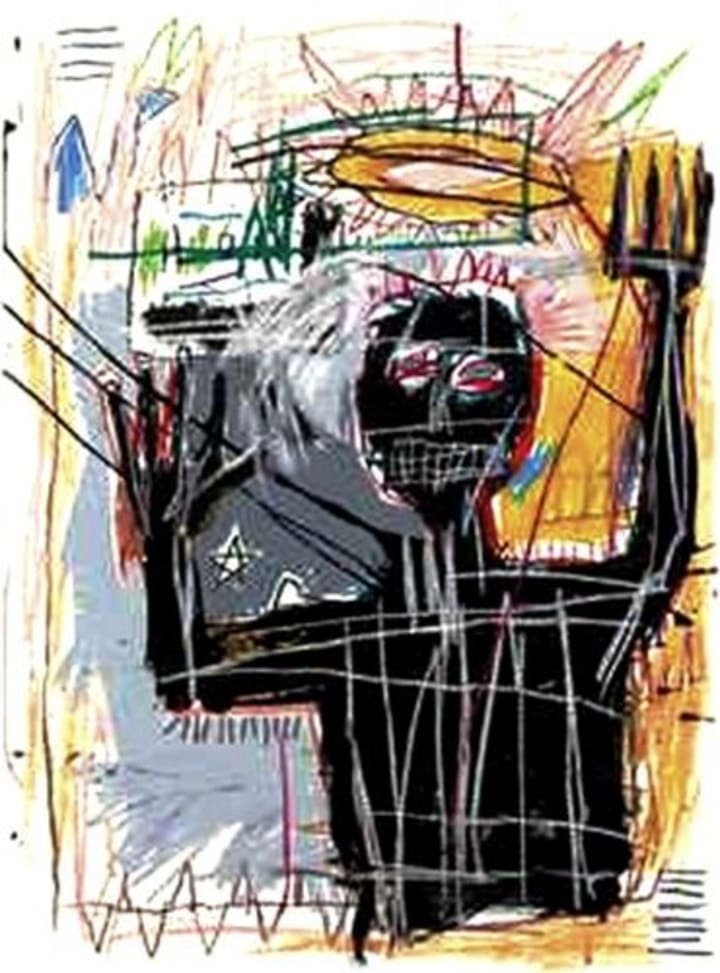 This piece of art was created using a multitude of materials including oil stick, acrylic, wax crayon and ink which adds to the multitude of layers. I believe that anger isn't just one emotion but different emotions layered on top of one another. The figure in the artwork looks as if it is trapped which is often what leads to outbursts of anger. In these times we are all angry; angry at the government restrictions, angry at those who refuse to wear masks and angry that our lives have come to a standstill. There are many layers to our anger that stems from the powerlessness we feel during this pandemic.
4. Hollywood Africans, 1983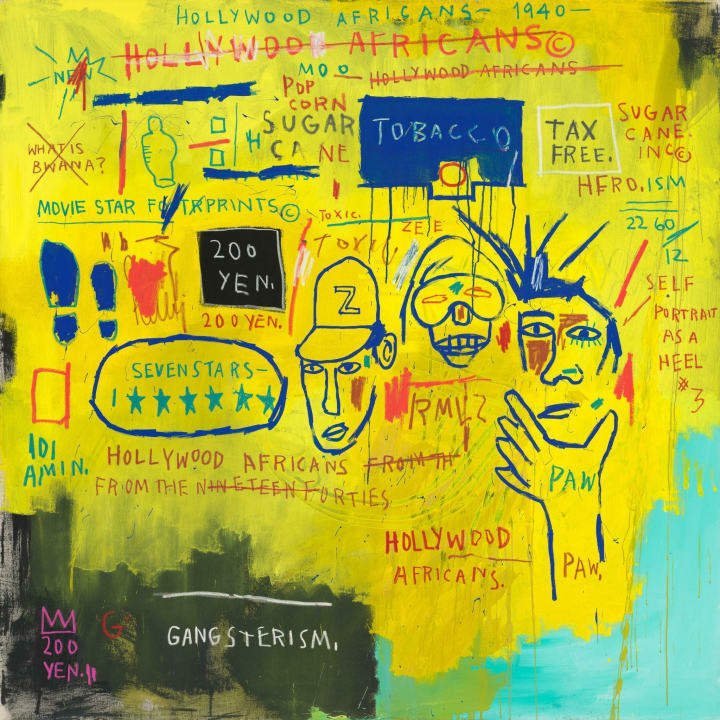 We can all feel trapped in the stereotypes that have come to define our ethnicities and socio-economic backgrounds. Thie piece captures how Basquiat may have felt trapped in his own stereotype of a successful African American man living in Los Angeles at the time. This piece reminds me of Tupac Shakur, the successful musician who often had his artistic achievements mitigated by the "Gangster" stereotype. Tupac Shakur was a passionate advocate for Women's and African American rights and he regularly wrote poetry but that is rarely what he is remembered for. This piece is a reminder to all of us to look past the artificial stereotypes of the people we meet.
5. Obnoxious Liberals, 1982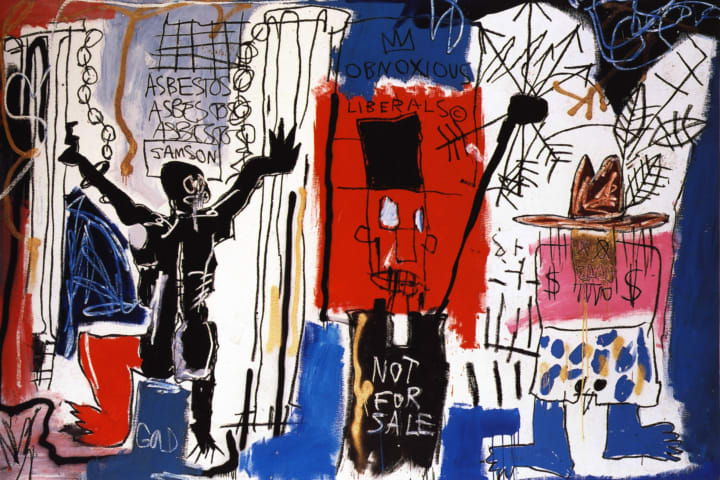 The phrases and facial expressions in this piece depict the urgency of the protesters. There is an urgency now for governments around the world to respond to social injustices not just of racism but homelessness, domestic violence and access to welfare services. The pandemic has highlighted the cracks in the system that "obnoxious liberals" have been advocating for years. There are people who can not wait for laws to be passed, for funding to be allocated or for elections to be won. They are in need now. It is important to remember this before dismissing protesters and their messages.
Jean-Michel Basquiat constructed his images through layering. He layered different materials on one another, words on figures and symbols on plain backgrounds. This is why when looking at Basquiat's work the viewer can feel their own layered chaotic emotions in this unprecedented time reflected back to them.
Reader insights
Be the first to share your insights about this piece.
Add your insights